Vapers Digest 16th June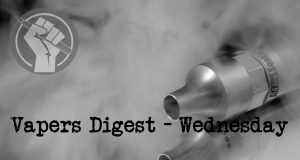 Wednesday's News at a glance:

---
One from Dave Cross, Planet Of The Vapes
The 8th annual Global Forum on Nicotine (#GFN21) is taking place in Liverpool, UK and online on 17 – 18 June. The event provides a platform for rational and inclusive debate about nicotine. The event will be discussing 'The Future For Nicotine', where experts will discuss the role of safer alternatives in the fight against smoking-related death and disease.
---
"One of the great mistakes is to judge policies and programs by their intentions rather than their results."

– Milton Friedman https://t.co/ocx6FzEC5p

— B Fojtik (@PositiveEnerG) June 15, 2021
---
The Consumer Advocates for Smoke-free Alternatives Association (CASAA) condemns police cruelty in all forms and notes that the recent altercation between Ocean City, Maryland police officers and a group of young adults vaping is as horrifying as it was preventable. Prohibition (and the creeping prohibition that often precedes it) is objectively a failure with catastrophic consequences that are experienced disproportionately by BIPOC and low-income communities.
, Reason
"We are horrified and outraged by the incident of police violence in Ocean City, MD, this weekend," reads a statement from an advocacy group, drafted in response to the viral videos of cops using force on vaping teens. "There is absolutely no place for violence and abuse in enforcing tobacco laws."
Jim McDonald, Vaping 360
A violent confrontation that led to the arrests of several black teenagers who were vaping Saturday night on the famous Ocean City, Maryland boardwalk, has gotten attention from civil rights advocates, drug policy reformers, and even rap star Ice-T. But the Ocean City Police Department defended the police officers' actions.
Brad Polumbo, Foundation for Economic Education (Fee)
From banning certain flavors to raising the purchasing age, government regulations restricting vaping are gaining momentum across the US. But viral videos circulated on Sunday remind us of the biggest problem with such nanny-state laws that criminalize victimless behavior: they must ultimately be enforced at gunpoint. (Or taserpoint.)
---

---
Save E-Cigs:
This is the second year the GFN has been held and the second year in the lovely City of Warsaw. This year it attracted more delegates, and dare I say it a few more of the big guns, which reflects the importance that this conference is gaining. Hon Lik the inventor of the modern day e-cig was there – (yes, there was much awe in the room when he spoke!) but also Dr Derek Yach, the man who was responsible for leading the Framework Convention on Tobacco Control….
Scimex:
New Zealand researchers have found that Kiwi smokers using nicotine e-cigarettes for the first time rated them 83 per cent as highly as own-brand tobacco for liking and satisfaction and that females tended to rate them more highly than males. The authors say that their findings suggest that e-cigarettes that contain nicotine – currently not available in New Zealand – may be useful for nicotine replacement therapy with female smokers….
---
Visit Nicotine Science & Policy for more News from around the World

---