Vapers Digest 14th June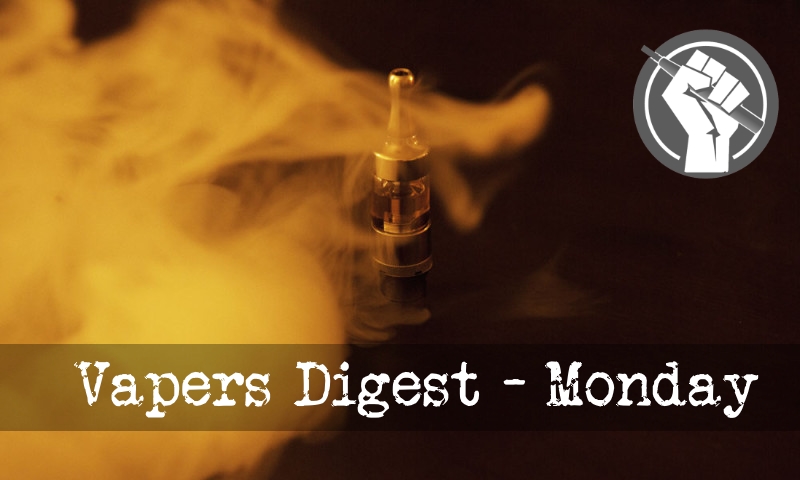 Monday's News at a glance:
COP9 and Its Impact on Vapers – German Parliament Approves Tobacco Tax Hike – E Cigarettes On the NHS – Mayo Clinic Study: Vapers NOT More Likely to Get COVID – Great majority of vapers have managed to quit smoking – Dear Tobacco Control – Vaping store sees record sales post-lockdown – D.C.'s Flavor Ban is Rushed and Hushed – Oregon's New Vaping Restrictions Will Drive Kids to Smoke – Regulate vaping to keep youth vaping incidences to a minimum – Cops Tased and Beat Teens – Vape Flavour Petition Dismissed Despite Mounting Evidence – New Brunswick's rushed flavour ban – Nicotine Science and Policy Daily Digest
Institute of Economic Affairs
On Thursday, June 24th, 18:00 – 19:00 BST, the Institute of Economic Affairs is delighted to host a discussion on the Impact of COP9 on Vapers.

For the first time since leaving the European Union, in November 2021, the UK will send a delegation to the World Health Organisations Conference of Parties (COP) to the Framework Convention on Tobacco Control. The Framework Convention on Tobacco Control (FCTC) is an international treaty under the auspices of the WHO dedicated solely to tobacco control. COP is the supreme decision-making body of the FCTC, where all parties to the FCTC meet biennially to review the implementation of the convention and adopt the new guidance.

The need for a discussion on this obscure bureaucracy arises because COP9 poses a significant threat to the United Kingdoms' successful approach to harm reduction policy.
Tobacco Reporter
The Bundestag on June 11 approved legislation to make smoking in Germany more expensive as of next year, reports Iamexpat. The tax on a pack of 20 cigarettes will rise by an average of €0.10 ($0.12) in 2021. A year later, a further €0.10 will be added, and in both 2025 and 2026 another €0.15 per pack will be added.

The greatest increases however have been reserved for e-cigarettes and tobacco-heating products, which were previously only lightly taxes.

Currently, a 10-milliliter bottle of vape liquid costs around €5 in Germany. In 2022, an extra €1.60 will be added to this price in taxation, and this will rise to €3.20 by 2026. An additional tax is also to be introduced for heated tobacco, so that in future it will be treated similarly to cigarettes for tax purposes.
---

---
In Bid To Stub Out Smoking – Neil Humber
An all party group of UK MPs wants e-cigarettes given out by the NHS to smokers desperate to quit.

The All Party Parliamentary Group on Smoking and Health [APPG] has come up with a 12 step plan to combat smoking and to get the UK Government's 2030 SmokeFree plan back on track.

Chair of the APPG Bob Blackman MP says the 12 step plan should be funded by Big Tobacco adding:
While Enforcing a Local Vaping Ban – Billy Binion
Over the last several years, people across the political aisle have conceded that parts of the drug war only serve to exacerbate certain problems. At the same time, politicians of both stripes have engaged in a bipartisan effort to restrict a new bogeyman: vaping.

So they shouldn't be surprised that such restrictions are colliding with overpolicing—one of the most glaring issues with the war on drugs.

On Saturday in Ocean City, Maryland, officers notified "a large group" that their vaping was in violation of a local ordinance that prohibits vaping and smoking except in designated areas. After walking away, cops noticed one of the same teens, Brian Everett Anderson, reengaging with his vape.
---
Racist tobacco and vaping enforcement in the name of "public health."

Just another wave of our drug war. Different drugs. Same tactics. Same targets. Same results. #NoMoreDrugWar https://t.co/WQjVdiWHkH

— Sheila Vakharia PhD MSW (@MyHarmReduction) June 13, 2021
---
Jim McDonald
Despite dire warnings from tobacco control activists, there is no evidence that vaping increases the risk of being infected with SARS-CoV-2, the coronavirus that causes COVID-19. That's the conclusion of a study just published by a group of Mayo Clinic researchers in the Journal of Primary Care and Community Health.

The team analyzed data from over 69,000 patients who visited Mayo facilities between September 2019 and November 2020, and determined that "current or former e-cigarette use was not associated with COVID-19 diagnosis." The patients' vaping or smoking status was ascertained by their physicians during visits.

Great majority of vapers have managed to quit smoking
A new survey from the organisation European Tobacco Harm Reduction Advocates (ETHRA) has revealed that more than eight out of ten vapers have successfully stopped smoking.

The research, which was carried out in 2020 and includes responses from more than 35,000 residents of the 27 EU countries – plus the UK – that have implemented the EU Tobacco Products Directive (TPD), also revealed that 93% of users chose e-cigarettes as a harm reduction tool.

Vapers participating in the survey consumed an average of 10.2 ml of e-liquid at 4.94 mg per ml nicotine per day. A quarter said they would consume less e-liquid if the EU were to increase the nicotine concentration limit, currently set at 20 mg per ml (2%).
The Daily Advocate
When I finally quit smoking, but didn't do it the way you wanted me to, you continued to judge me. You told me I didn't really quit. You started calling me an addict. I was still scum to you.

When I volunteered (that means I didn't get paid) to help a company owned by someone who used to smoke, develop products they hoped would help other people quit smoking you labeled us as evil. You accused us of marketing to kids because the products were flavored. You never asked why we created those products. You call us Big Tobacco when we have nothing to do with those large companies.
---

---
Ian Bunting
An Airdrie vaping store has recorded its largest ever "quit attempt" by smokers in the town following its reopening after lockdown.

VPZ's, on Graham Street, saw record sales in its 'new to vaping' kits when it welcomed back customers, representing its largest ever uptake.

The firm, which specialises in vaping and alternative tobacco products, has had to adapt to the new way of life following the huge change in the retail landscape that has come as a result of the pandemic.
Despite Mounting Evidence – AVCA
Fifteen months after a Parliamentary petition supporting ongoing access to vape flavours closed, and nearly a year after it was referred to the Health Select Committee, it has finally been reported and ruled on with the official response described as woeful.

Petition organiser, Nancy Loucas, who is co-director of Aotearoa Vapers Community Advocacy (AVCA), said the whole process has been incredibly disheartening, with 17,357 Kiwis who signed the petition dismissed outright despite mounting evidence.
To keep youth vaping incidences to a minimum – Surin Murugiah
KUALA LUMPUR (June 11): Regulating vaping can help keep youth vaping incidences to a minimum, said a UK-based consumer advocacy group.

In a statement today, the London-based Consumer Choice Center (CCC) said that in the UK, where vape is regulated, youth vaping incidences have been minimised.

It cited a report in 2021 by Action on Smoking and Health, which examined the use of e-cigarettes or vape among youths in Great Britain, that found that a large majority of 11 to 18-year-olds have never tried or are unaware of e-cigarettes (83%). This finding has remained consistent since 2017.

Chelsea Boyd
On Tuesday, June 15, the Council of the District of Columbia (Council) is reading a bill that would ban the sale of all flavored tobacco products. This ban would apply across the full spectrum of tobacco products, including combustible, non-combustible and electronic nicotine delivery systems (ENDS). Notably, the Council is skipping a public hearing on this bill, which is a departure from standard processes.

While the bill may be well-intentioned, banning all flavored products is not an effective harm reduction approach to tobacco control. Although there are potential public health gains from banning flavored tobacco products, there are also potential unintended consequences.
---

---
Fails to consider the consequences
The Canadian Vaping Association (CVA) is deeply saddened by New Brunswick's decision to ban flavoured vape products. The CVA warned the province that banning flavoured products would be ineffective for youth protection and would cause a spike in smoking rates and black-market products. Unfortunately, regulators largely refused to engage on the issue and rushed to pass the ill-conceived ban.

Not only has New Brunswick failed the adult smokers that rely on flavoured products to remain smoke-free, but it has also failed to consider the economic costs of the policy. Specialty vape shops are small family run businesses, and their survival is dependent on flavoured products. Unlike the products sold in convenience stores, specialty store products rely on flavours to convert smokers.
Will Drive Kids to Smoke – J.D. Tuccille
Are advocates of vaping restrictions the best marketers ever for traditional cigarettes? That's a logical conclusion as Gov. Kate Brown (D-Ore.) signs a bill banning the online sale of nicotine-containing vaping products to state residents—to protect the children, of course. She approved the restrictive law despite convincing evidence that limiting access to e-cigarettes drives users, especially young people, to traditional cigarettes that pose greater health risks than their high-tech counterparts.

Brown signed HB2261, the vaping-restrictions bill, with little fanfare, but last summer she insisted that "as we are facing the spread of a disease that attacks our respiratory systems, it's even more important that we take steps to protect the health and safety of Oregon's youth, who have been using vaping products at increasingly high rates."
---
A look back at how things have moved on or otherwise…
Freeing the inner vaper in smokers – Michael Russell Oration 2020
Clive Bates, The Counterfactual
The highlight of this year's Global Forum on Nicotine will be the Michael Russell Oration given by the superb Louise Ross on 11 June 2020.  Louise has kindly given permission to reproduce the text of her oration on this blog. This joins the collection of outstanding writing by Louise we host here on the Counterfactual.

My reaction on Twitter…

So here it is, the text as given… and if you prefer, please see video below.
Clive Bates Gives His Expert Opinion On the Future
As you're probably aware the European Union is gearing up for a major TPD review – so what will that mean for vapers?

We've already seen the EU push through a tax on vaping – that could eventually mean higher prices for all – and given that organizations isn't a big fan of vaping, is that just the start?

And come to that – given the UK is about to make a break from the EU, will we create our own vape legislation or follow like sheep?

Clive reckons here in the UK, the government has x3 choices:
---
Visit Nicotine Science & Policy for more News from around the World

---