Vapers Digest 11th June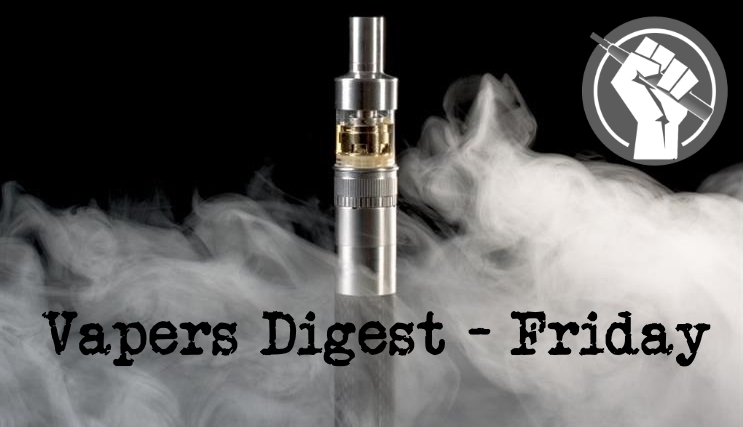 Friday's News at a glance:
ETHRA EU Nicotine Users Survey – ETHRA Survey Says the EU Is Anti Harm Reduction – 3 of 10 EU smokers would switch to snus if it were legal – The War on Tobacco Flavors Is Another Element of the TIP-TOE Game Plan – Protest in Netherlands shows importance of flavours – The Vape Debate: Sticks and stones may break your bones – How to Beat the Tobacco Smoking Epidemic – World No Tobacco Day 2021 – SBA Urges Another Year of Sales for PMTA-Submitted Products – Vaping scare stories undermine international efforts to curb smoking – Between 2 Vapes Episode 7 Dr. Mark Tyndall – Electronic Cigarette Use Is Not Associated with COVID-19 Diagnosis – Minister Seeking Broad Views On Smokefree Applauded – Nicotine Science and Policy Daily Digest
2020 REPORT: THE RISE OF HARM REDUCTION
European Tobacco Harm Reduction Advocates (ETHRA) today publishes the report on its huge EU Nicotine Users Survey. The results – from more than 35,000 EU respondents – confirm that there is an unstoppable movement towards harm reduction in Europe.

Launched online by ETHRA in the last quarter of 2020, the questionnaire addressed consumer use of nicotine products. Topics included smoking and the desire to quit, use of safer nicotine products and barriers to switching caused by European and national regulations. Over 37,000 people, including more than 35,000 EU residents, participated in the ETHRA survey. ETHRA has now processed the data and today we publish our analysis in a report, which opens with a summary of 10 key facts. The data sets and comments for individual EU countries will be made available on the ETHRA site at a later date.
Neil Humber – Ecig Click
I seem to use the phrase anti-vaping a lot and now according to the results from the ETHRA EU Nicotine Users Survey you can add the European Union to the growing list of the dangerously ignorant.

In fact it's not just vaping and e-cigarettes the EU is anti over either, with SNUS and nicotine pouches on its hit list, ETHRA says the results of the survey shows the EU is anti harm reduction putting the lives of millions at risk.

Among other worrying findings, the survey found that should the EU ban flavoured e-liquids or bring in a total vape ban – 28% of vapers would return to smoking whilst 71% would consider buying vape juice and kits from the black market…and we know how that could end.
---

---
3 of 10 EU smokers would switch to snus if it were legal
Nearly a third of EU smokers would consider switching to snus if it were legal, the results of the EU Nicotine Users Survey reveal.  The survey found that 31 percent of smokers who want to quit indicated they would be willing to try snus were the current EU ban to be lifted.

The findings, based on more than 35,000 responses to the EU Nicotine Users Survey, also show that 73.7 percent of European snus users were former smokers. And 75 percent of snus users cited harm reduction as their primary reason for choosing snus. The second most cited reason was quitting or reducing smoking (61 percent).
Is Another Element of the TIP-TOE Game Plan: Tacit Incremental Prohibition – Tobacco Elimination
Brad Rodu, Tobacco Truth
In a recent interview with Strong and Free Podcast producer Christopher Balkaran, I explained why in the 1990's I jumped from a conventional academic career into tobacco harm reduction research and policy analysis.  When I challenged conventional wisdom about smokeless tobacco, finding many of the attacks on it as unsupported and dishonest, I exposed a number of inconvenient truths about the tobacco control community.

Alas, the first recognition of an important concept is frequently ignored, and eventually forgotten.  Dr. Philip Cole, my only tobacco research colleague and coauthor for nearly 10 years, wisely observed, "Our tobacco work will be ignored and vilified.  I prefer the latter, because it means that someone is noticing.
---
Germany: the Tobacco Tax Modernization Act, which has been hanging over the e-cigarette and its future development like the sword of Damocles for many weeks, is coming.https://t.co/0aY3ctlYfV

— European Tobacco Harm Reduction Advocates (@europethra) June 11, 2021
---
May break your bones but inflammatory terminology will cause more harm in the long run
Georgia Mannion-Krase
In this post, Georgia Mannion-Krase (@GeorgiaMKrase) updates us on events at the E-Cigarette (EC) Summit held virtually on the 3-4th of December 2020.

"Needles are not safe, but clean needles are safer than dirty needles." Professor Jas Ahluwalia boils the debate down to the simplest comparison. Researchers can't call vapes safe, much like alcohol or roller-skating there is an undeniable risk, but they are safer than smoking tobacco by far.

Tom Sheldon of the Science Media Centre, a UK charity which helps scientists communicate the evidence on controversial issues to the public through the national news media, articulates a view held by many (if not all) experts in this field, that, "The news bar is set much lower for a scare story on e-cigarettes than a piece on the relative safety of them compared to tobacco.
Shows importance of flavours
Vapers took to the streets of Den Haag on the morning of Wednesday as members of the Health Committee met to discuss the Government's proposal to ban vape flavours.

Standing outside the House of Representatives, vapers and vape shop owners handed out samples of disgusting tasting ice creams, reminding MPs and the public that flavours are integral to the vaping success story that has already seen hundreds of thousands of Dutch smokers make the switch away from cigarettes.

Shows Tobacco Control at a Crossroads – Dr. Derek Yach
Back in 1988, the World Health Organization launched World No Tobacco Day (WNTD) to highlight the dangers of combustible smoking, strengthen global efforts to get smokers to quit and provide an international platform for new anti-smoking policies. The idea was for the organization's member states to present a united front in the fight against tobacco, and their message was stark: quit, or die.

Since then, the development of tobacco harm reduction (THR) technologies has led to a schism between those who support the science and those who reject it as unproven and dangerous. The result is that some of the most effective tools available to reduce health risk, among them e-cigarettes and heated tobacco products (HTPs), are ignored or misunderstood, with many smokers unable to make an informed choice or even access these products at all.
Set E-Cigarette and Snus Taxes Significantly Lower Than Combustible Tobacco Taxes
Charles Courtemanche, Catherine Maclean & Michael F. Pesko
"Follow the science" is a rallying cry in the nationwide fight against the coronavirus. As health economists dedicated to generating scientific data and translating it into sound policymaking, we could not agree more. What worries us is that this same approach appears to be cast aside in our battle against another epidemic: cigarette smoking.

Each year close to half a million Americans die from smoking-related causes, which is comparable to the current coronavirus death toll. Non-combustible tobacco products like e-cigarettes and snus have emerged as less harmful nicotine alternatives with the potential to be more effective than traditional nicotine-replacement therapies (e.g., nicotine gum) in helping smokers quit.
---

---
For PMTA-Submitted Products – Jim McDonald
A federal agency dedicated to advocating for small business has urged the FDA to pursue permission to allow vaping manufacturers to keep products on the market for another year while their premarket reviews are in progress.

In a letter sent to the FDA on June 7, the Small Business Administration (SBA) Office of Advocacy asked the regulators to seek a court order extending for an additional year the current moratorium on enforcement actions against small vape manufacturers who submitted Premarket Tobacco Applications (PMTAs) before last year's Sept. 9 deadline.
---
Dr. Mark Tyndall – Rights 4 Vapers
---
Undermine international efforts to curb smoking
The World Health Organisation (WHO) stirred up controversy by granting Indian health minister Harsh Vardhan a prestigious award for World No Tobacco Day, held on May 31st. Stunningly, WHO chief Tedros Adhanom Ghebreyesus explicitly tied the award to Vardhan's successful effort to ban e-cigarettes in India, a controversial move which has been described as an "own goal" by harm reduction advocates.

One journalist compared the WHO's choice to reward Vardhan's anti-vaping advocacy to awarding the Nobel Peace Prize for banning peace talks, warning that the WHO's short-sighted stance on vaping could cost countless lives, in India and beyond.

Is Not Associated with COVID-19 Diagnosis
This analysis tested the hypothesis that current e-cigarette use was associated with an increased risk of SARS-CoV-2 infection in patients seeking medical care. E-cigarette and conventional cigarette use were ascertained using a novel electronic health record tool, and COVID-19 diagnosis was ascertained by a validated institutional registry. Logistic regression models were fit to assess whether current e-cigarette use was associated with an increased risk of COVID-19 diagnosis. A total of 69,264 patients who were over the age of 12 years, smoked cigarettes or vaped, and were sought medical care at Mayo Clinic between September 15, 2019 and November 30, 2020 were included. The average age was 51.5 years, 62.1% were females and 86.3% were white; 11.1% were currently smoking cigarettes or using e-cigarettes and 5.1% tested positive for SARS-CoV-2.
Guy Bentley
Vapers are at no greater risk of being diagnosed with COVID-19, and smokers are significantly less likely to be infected. That's according to a new study published in the Journal of Primary Care & Community Health.

The study's authors are researchers at the Mayo Clinic who wanted to investigate whether electronic cigarette use might affect risk for testing positive for COVID-19. One of the difficulties in determining the relationship between vaping and COVID-19 has been a lack of data. There is a plethora of data on smoking status among those infected and hospitalized, but the same cannot be said for e-cigarettes.
AVCA
Official information reveals Associate Health Minister Dr Ayesha Verrall is doing well to engage with a broad range of health entities and opinion ahead of the Government finalising its smokefree action plan, says a leading Tobacco Harm Reduction advocate.

Ministerial diary records show that Dr Verrall held teleconferences ahead of releasing the Smokefree Aotearoa 2025 Action Plan discussion document for public consultation. Groups included ASH, Hapai te Hauora, and the NZ College of Physicians.

"These groups are very supportive of vaping's key role in smoking cessation. It's very encouraging then that Dr Verrall is prepared to listen to their on the ground experiences before she finalises her smokefree action plan," says Nancy Loucas, co-director of the Aotearoa Vapers Community Advocacy (AVCA).
---
A look back at how things have moved on or otherwise….
Australian Tobacco Harm Reduction Association (ATHRA)
THE THERAPEUTIC GOODS ADMINISTRATION has failed Australia's smokers by rejecting an application for heated tobacco products to be made available in Australia.

In its interim decision today, the TGA has ignored the scientific literature and international experience that heated tobacco products (HTPs) are significantly safer than combustible cigarettes.
Legalize Vaping Australia (LVA)
Legalise Vaping Australia (LVA) has today slammed the Therapeutic Goods Administration's decision to reject any moves towards legalising reduced risk  alternatives to cigarettes, labelling the decision as a slap in the face for Australia's 3  million smokers and their families.
Australian Retail Vaping Industry Association (ARIVA)
The decision by the Therapeutic Goods Administration (TGA) to ban safer electronic cigarettes but to continue allowing the sale of highly lethal traditional cigarettes is a missed opportunity to help reduce Australia's smoking rate.

Russell Zimmerman, spokesperson for the Australian Retailers Association (ARA) and the Australian Retail Vaping Industry Association (ARVIA), said today's decision is disappointing but retailers remained committed to advocating for safer alternatives to traditional cigarettes to be made legal.
---
Visit Nicotine Science & Policy for more News from around the World

---