Vapers Digest 9th June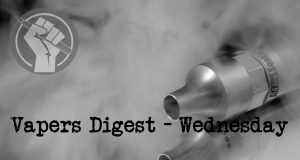 Wednesday's News at a glance:

---
One from Dave Cross, Planet Of The Vapes
Packaging and bottles display graphic warnings about nicotine, often when there is no nicotine inside. Combined with the worries linked to smoking, the general public (and a worrying number of doctors) hold concerns about the substance. Fortunately, experts are speaking out about nicotine, the real level of harm it poses and how it can actually benefit society.
---
British American Tobacco (BATS.L) raised its annual revenue growth forecast on Tuesday as the cigarette maker's focus on e-cigarettes and tobacco-heating devices pays off, sending its shares up 2%.

The London-listed company said it expected revenue growth of more than 5% at constant currencies, above its previous range of 3% to 5% for the year to December. It stuck to its growth expectation for adjusted earnings per share in the mid-single digit range.
Jim McDonald, Vaping 360
The United States Supreme Court today declined to review a challenge to the FDA's authority under the Tobacco Control Act. The lawsuit, brought by Mississippi vape shop and e-liquid manufacturer Big Time Vapes and trade organization the United States Vaping Association (USVA), had been rejected by two lower federal courts.

Rejection by the high court means the lower court decision stands. There is no further legal path for the lawsuit.
Editor's note: Podcast
Over the past few months a spate of high school principals in New Zealand have spoken out about a hazy, sickly-sweet 'epidemic' emerging in their schools: vaping, or e-cigarettes.

Vaping is held up by anti-smoking advocates as a game-changer in helping people addicted to tobacco wean themselves off it.
---

---
Colin Mendelsohn – ATHRA
The Minister announced on 19 June that it would be illegal to import nicotine for vaping from 1 July with an extraordinary penalty of $220,000. A legal pathway for importation with a doctor's prescription was proposed, but was complex and time-consuming and unworkable.
Diane Caruana
The Dutch government is banning fruit and candy e-cig flavours, allowing only tobacco flavours on the market, in a bid to make vaping products less appealing to teens.

In a letter to Parliament, last week State Secretary Paul Blokhuis of Public Health said that tobacco flavours are being exempted so that smokers may continue to use e-cigarettes as smoking cessation tools. "All kinds of organizations are working very hard to make it harder to start smoking and easier to quit. This is also urgently needed because it remains unacceptable that 20 thousand people die in our country every year from the effects of smoking and about 75 children start smoking every day," said Blokhuis.
---
Visit Nicotine Science & Policy for more News from around the World

---