Vapers Digest 17th June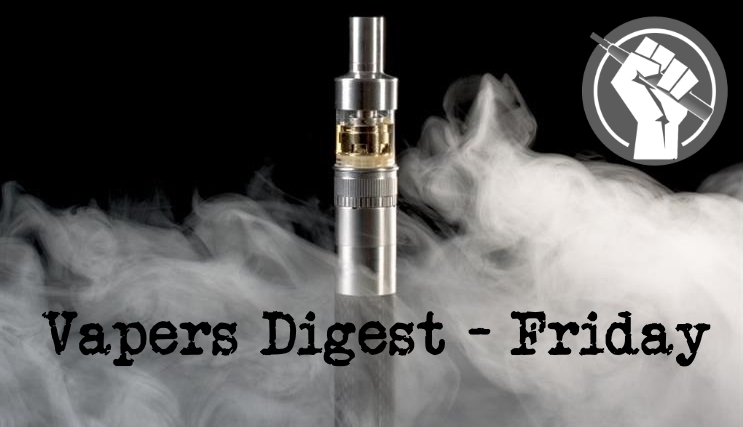 Friday's News at a glance:
GFN: Quit Or Die No Longer An Option – Sweden set to reject controversial e-cigarette flavour ban – "Gone With the Smoke"—San Francisco Harm Reductionist Talks Vapes – 'Huge Problem': FDA Leaders Fear Collapsing Trust In Agency – Steve Forbes Slams Proposed Menthol Cigarettes Rules – How to vape to aid smoking cessation – BAT Looks At The Science – Research launched at Global Forum on Nicotine – Nicotine Science and Policy Daily Digest
Dave Cross
'Quit or die' no longer the only option for 1.1bn smokers worldwide say the organisers of the Global Forum on Nicotine. The ninth Global Forum on Nicotine takes place in Warsaw this week where experts will be discussing the role of safer nicotine products like electronic cigarettes.

As the UK Government-commissioned Khan Review recommends the government "embrace the promotion of vaping as an effective tool to help people to quit smoking tobacco", over 50 international experts and people with experience of using a wide range of safer alternatives to cigarettes are set to speak in front of hundreds of delegates in Warsaw at the ninth annual Global Forum on Nicotine (#GFN22).
Snusforumet
A Swedish parliamentary committee has recommended parliament reject the government's proposed e-cigarette flavour ban.

In a report released on June 15th, the Riksdag's Committee for Health and Welfare expressed support for most of the measures outlined in the government's proposal for a new, tougher law on tobacco-free nicotine products.

Among other things, the bill would implement marketing restrictions, age limits, and warning labels.

These measures embraced by the Swedish parliamentary committee are largely in line with an informal industry framework that has been in place for years in the absence of any formal regulation.
---

---
San Francisco Harm Reductionist Talks Vapes
Helen Redmond
Jason Norelli is a harm reduction navigation manager at Glide in San Francisco. I interviewed him for the video above at his office in the Tenderloin, a neighborhood where there is a large concentration of people who use drugs and are unhoused. Jason is a former methamphetamine user and has experienced homelessness.

He started smoking cigarettes around the age of 12. "I grew up in a smoking family, there were several generations of smokers," he told me. "My mom smoked and everything was timed according to when she had a cigarette. For example she would say, 'We can go to the playground when I finish my cigarette.'"
---
Last week I helped someone who had never smoked to start vaping at 3mg, while helping a couple of her friends to quit smoking. She failed to mention that she's been diagnosed w ADHD. Her experience is worth noting. 1/x

— The Pirate (@SeismicPirate) June 16, 2022
---
FDA Leaders Fear Collapsing Trust In Agency
Jeff Overley
The U.S. Food and Drug Administration's credibility is suffering because of confusion and "misinformation" surrounding its COVID-19 vaccine authorizations and accelerated drug approvals, current and former FDA leaders said Tuesday at a major legal gathering.

The assessments occurred during the nonprofit Food and Drug Law Institute's annual conference in Washington, D.C., where attorneys gathered to hear FDA veterans dish on regulatory priorities and litigation trends. Those veterans expressed nuanced views and did not always find common ground, but they widely agreed that an alarming number of Americans have lost faith in the agency.
Steve Forbes Slams Proposed Menthol Cigarettes Rules | What's Ahead
---

---
MedHeads

Dave Cross
British American Tobacco (BAT) says it is focussing on the science as it conducts the "first real-world study assessing the impact of Vuse on indicators for several smoking-related diseases". It says the results will provide "a first-of-its kind dataset – adding to the substantial amounts of scientific evidence generated about Vuse". BAT says this demonstrates its focus on science and innovation to deliver "A Better Tomorrow" and reduce the health impact of its business.

BAT says it has conducted a first-of-its-kind study of Vuse designed to assess and provide insights into the real-world health impact of vaping. The study compares biomarker measures from Vuse consumers who have been using the product for over six months with the results from smokers, former smokers and never smokers. Protocol details explaining the innovative design of the latest study were published in the Journal of Health and Environmental Research.
Shows WHO's tobacco control measures are failing – and that harm reduction works
A new study launched at the ninth annual Global Forum on Nicotine (#GFN22) in Warsaw shows implementation of the WHO's tobacco control measures known as MPOWER has no clear association with low-levels of tobacco-related mortality in Europe.

Instead, the independent research, conducted by distinguished tobacco dependence researcher Dr Lars M. Ramström, shows that switching from smoking to Swedish-style snus, a safer nicotine product, is a more effective strategy to reduce the harms caused by tobacco.
---
A look back at how things have moved on or otherwise….
Christopher Snowdon,

Institute of Economic Affairs, UK
The Property Rights Alliance congratulates Christopher Snowdon (Institute of Economic Affairs, UK) on the white paper "The impact of COP9 on vapers." This paper brings to light the contra–dictions between the mission to reduce tobacco consumption and the policy recommenda–tions put forth by the World Health Organization's (WHO) Conference of Parties (COP) within the Framework Convention on Tobacco Control (FCTC).

This international treaty claims to serve as a public health guideline but promotes an ideolog–ical agenda against successful quit-aids like e-cigarettes (ECs) and vaping as well as reduced harm products.
---
Visit Nicotine Science & Policy for more News from around the World

---