Vapers Digest 15th June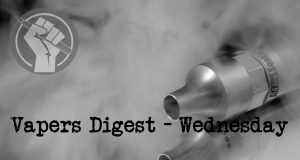 Wednesday's News at a glance:
A targeted approach to using e-cigarettes for harm reduction in adults ~ It's Complicated: Harm Reduction Through Nicotine & Tobacco Use ~ Authorizing Very Low Nicotine Cigarettes Is Short-Sighted ~ FDA's New Plan to Eliminate Most Nicotine in Cigarettes ~ Anti-vaping campaign to send NZ youth back to smoking ~ Experts React to Khan Review ~ Opinion: Taxing vaping promotes smoking. So why is Ottawa doing that? ~ Colby Cosh: Warnings printed directly on cigarettes won't make people butt out ~ Utahns eligible to aid in study exploring if nicotine can improve memory ~ UofL to use $3.6 million federal grant to study the effects of flavorings in e-cigarettes ~ Supreme acquires vaping manufacturer Liberty Flights in deal worth estimated £12m
Elizabeth R. Stevens, Scott E. Sherman, The American Journal of Drug and Alcohol Abuse
Smoking remains the leading preventable cause of death and disease in the US. While e-cigarettes (EC) are undeniably harmful when used by adolescents and nonsmokers, the perpetuation of the increasing negative perceptions of EC and widespread false belief that EC are equal or more harmful than combustible cigarettes (CC) represents a significant missed public health opportunity. EC have great potential to serve as a mechanism for smoking harm reduction among hard-to-treat populations of smokers who have failed to quit with currently available treatments. In this paper, we outline why we need to overcome the hostile EC research environment to explore the potential use of EC as a harm-reduction strategy in hard-to-treat populations.
Elaina Peterkin, Center for Critical Public Health
Discussions among participants about the ways nicotine and tobacco (NT) products relate to the use of other substances has been a recurring topic in our recent tobacco harm reduction study. For participants this included the co-use of NT with other substances (like alcohol making cigarettes more enjoyable) and the use of NT products to alter the effects of other substances (such as smoking a cigarette after using cannabis to wake up), both well-established in 

tobacco use research

.

In a study interested in how participants reduce harm from combustible NT products, unexpectedly our participants emphasized explicitly using NT products as a substitute for other substances they considered more harmful than combustible NT products.
---
Martin Cullip, Filter Magazine
In a surprising decision at the end of 2021, the Food and Drug Administration (FDA) granted a new tobacco company, 22nd Century Group, the right to market its very low nicotine cigarettes—VLN King and VLN Menthol King—as modified risk tobacco products (MRTPs). This is a short-sighted move that may do more harm than good, because limiting nicotine is not a way to reduce the harm from a combustible cigarette.
Jim McDonald. Vaping 360
The FDA plans to impose a product standard that would eliminate most nicotine from cigarettes, making them effectively non-addictive, and neutering the tobacco industry's market power. The story was first reported last Friday by the Wall Street Journal.

The news wasn't unexpected. The Journal reported over a year ago that the Biden administration was considering a revival of former FDA commissioner Scott Gottlieb's "comprehensive plan" that included both mandated nicotine reduction and a menthol ban for cigarettes. FDA and Biden administration officials have so far not commented on last week's WSJ story.
---
"By stirring up anti-vaping hysteria, New Zealand's Asthma and Respiratory Foundation will only send more minors back to smoking and put the country's decade long Smokefree 2025 ambition in jeopardy," says Nancy Loucas, Executive Coordinator of the Coalition of Asia Pacific Tobacco Harm Reduction Advocates (CAPHRA).

Ms Loucas' comments follow the Asthma and Respiratory Foundation (ARFNZ) launching a video series titled Spotlight on Vaping. It claims 'New Zealand is experiencing an epidemic of youth vaping'. Together with the Secondary Principals' Association of NZ (SPANZ), it also claims over a quarter of students have vaped in the past week.
---
While it is good that FDA is authorizing more ENDS, I have a real concern about the message these particular authorizations (for high nicotine salt tobacco-flavored closed-systems) @FDATobacco is implicitly sending to the millions of adults who have for years been vaping (1/3) https://t.co/eqC4hwz2vw

— Azim Chowdhury (@ECIGattorney) June 10, 2022
Editor note:
The article referenced in Elizabeth Stevens' tweet is the 1st link at the top of this edition.
Having #research publications stuck behind a #paywall is a frustrating obstacle for many. So for those #ecig folks, I wanted to recirculate this, which has just been given #OpenAccess for the next 60 days. https://t.co/W8dQcyxtMB

— Elizabeth Stevens (@ERS_PhD) June 13, 2022
---
One from Dave Cross, Planet of the Vapes
The UK Government have published the Khan review, an independent review by Dr Javed Khan into the government's ambition to make England smoke free by 2030. Experts in the field of tobacco harm reduction have responded to Dr Khan's findings and recommendations.
---

---
---

---
Saddlehorse Blues
The Global Forum on Nicotine 2020 just wrapped, their first forum to be held virtually in light of the pandemic. The theme of GFN20 was Nicotine: science, ethics, and human rights. Participants were spoiled for choice with the incredible lineup of speakers and engaging question and area periods. If you did not attend the live event, you can find recordings of the full event here.

Clive Bates, former Director of Action on Smoking and Health (ASH) in the UK and now Director of the Counterfactual, kicked off the forum with a discussion titled What's Gone Wrong? While many of us connected with the tobacco harm reduction field might well have been preparing our own mental lists of 'what's gone wrong', Clive Bates chose to begin his eight point address with 'what's gone right.'
Nicotine, and COVID-19 – Joe Gitchell
In the early reports of patients in the hospital for COVID-19, careful observers noticed an odd pattern. COVID-19 is primarily a respiratory syndrome and smoking badly damages lungs. But hospitalization was not more likely for smokers. In fact, it was less likely. This correlation kept appearing in sample after sample  – though with substantial uncertainty. So these researchers and others began pondering whether something in tobacco smoke might actually be causing a beneficial effect. Their attention turned to two potential roles of nicotine in COVID-19. One role, they reasoned, might be in reducing the risk of initial infection. The other role might be in moderating the overactive response of the immune system.
---
Visit Nicotine Science & Policy for more News from around the World

---