Vapers Digest 13th June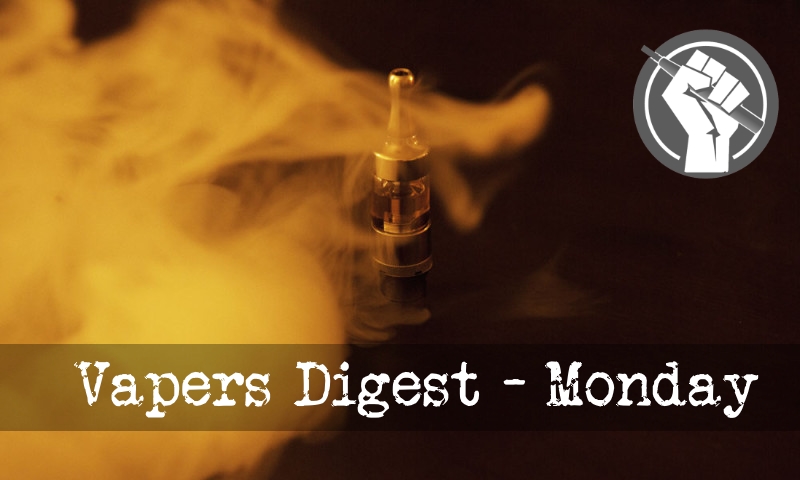 Monday's News at a glance:
Khan Review Released – Countdown to GFN – NJOY Daily Is the First FDA-Authorized Disposable – EU Urged to Embrace Harm Reduction – Not Much Hope for New Tobacco Director – Wrong Turn? | Researcher Reflects on Health Canada's Vape Restrictions – Nicotine Science and Policy Daily Digest
Dave Cross, POTV
The government's independent review "Making Smoking Obsolete" has been released and was met with comments describing it as containing "bold recommendations". It included contributions form experts including Professors John Newton, Linda Bauld and Robert West, and Louise Ross and Sarah Jakes from the New Nicotine Alliance.

"In 2019, the government set an objective for England to be smokefree by 2030, meaning only 5% of the population would smoke by then. Without achieving this objective, the government will simply not meet its manifesto commitment 'to extend healthy life expectancy by five years by 2035'. It will also prevent the government from fulfilling its ambition to save more lives as part of a new 10-Year Cancer Plan," said Dr Javed Khan OBE.
Dave Cross, POTV
Six days left to go before the world's premier nicotine event starts. The Global Forum on Nicotine, the only conference devoted to tobacco harm reduction, will take place 16 June at the Marriott Hotel in Warsaw, Poland. For those who can't fly, most of the conference presentations will be carried online.

Organisers of The Global Forum on Nicotine (#GFN22) say: "Travelling to Warsaw? Dust off the passport (and just double check it's still in date). Joining us online? Remember to register at the website for access to the live-streamed sessions and the full functionality of the conference platform, including Q+A."
---

---
FDA-Authorized Disposable – Jim McDonald
The FDA has authorized sale of the NJOY Daily, the venerable disposable e-cigarette sold mostly in convenience stores and gas stations. A low-powered cigalike-style vape, the Daily is a popular beginner device, and is also widely used as a backup for experienced vapers.

The agency authorized two tobacco-flavored versions of the product: Rich Tobacco flavor (sold only with 4.5% nicotine) and Extra Rich Tobacco (6% nicotine only).

The Daily is the second NJOY product to earn FDA authorization, and the first disposable vape. In April the agency granted NJOY authorization for its Ace pod vape and three tobacco-flavored refill pods. The NJOY Ace is the first modern pod device given the go-ahead by the FDA.
---
---
Tobacco Reporter
Medical and addiction experts called on the EU to embrace tobacco harm reduction during an event organized by the Centre for Economic and Market Analysis (CETA) in Prague.

Debating how a tobacco-free generation—where less than 5 percent of EU-citizens use tobacco—can be achieved by 2040, they concluded that the objectives laid out in Europe's Beating Cancer Plan cannot be attained under current circumstances and that a revised tobacco control policy based on scientific evidence is needed.

"If the European Commission is serious about its plans to reduce the number of smokers and the impact of smoking, it must start considering the concept of risk reduction in the area of smoking," said Czech National Drug Coordinator Manager Jindřich Vobořil, in a statement.

Lindsey Stroud
It was recently announced that Dr. Brian King would lead the Food and Drug Administration's Center for Tobacco Products. The center's previous director retired in April, and an acting director is in place until King takes over in July.

King is the wrong choice and the FDA needs reforms, especially concerning its funding and regulation of tobacco products. While other centers at the FDA receive taxpayer funding through the congressional budget process, the CTP is solely funded by user fees paid by tobacco product manufacturers based upon a percentage of their sales. Only six classes of tobacco products are subject to user fees, and FDA has acknowledged that e-cigarettes are not subject to user fees.
---

---
Researcher Reflects on Health Canada's Vape Restrictions | RegWatch
As discussed on RegWatch over the past year, it appears Health Canada is taking a wrong turn on nicotine vaping.

In a few short years, the regulatory framework, which legalized vaping, seems to have collapsed under the weight of a moral panic over teen vaping and malicious public health messaging linking nicotine vapes to a mysterious respiratory illness.

Dr. Jonathan Foulds, Professor of Public Health Sciences and Psychiatry at PennState University College of Medicine is joining us today to provide insight on the recent restrictions placed on vaping in Canada.

---
A look back at how things have moved on or otherwise…
2020 REPORT: THE RISE OF HARM REDUCTION
European Tobacco Harm Reduction Advocates (ETHRA) today publishes the report on its huge EU Nicotine Users Survey. The results – from more than 35,000 EU respondents – confirm that there is an unstoppable movement towards harm reduction in Europe.

Launched online by ETHRA in the last quarter of 2020, the questionnaire addressed consumer use of nicotine products. Topics included smoking and the desire to quit, use of safer nicotine products and barriers to switching caused by European and national regulations. Over 37,000 people, including more than 35,000 EU residents, participated in the ETHRA survey. ETHRA has now processed the data and today we publish our analysis in a report, which opens with a summary of 10 key facts. The data sets and comments for individual EU countries will be made available on the ETHRA site at a later date.
Neil Humber – Ecig Click
I seem to use the phrase anti-vaping a lot and now according to the results from the ETHRA EU Nicotine Users Survey you can add the European Union to the growing list of the dangerously ignorant.

In fact it's not just vaping and e-cigarettes the EU is anti over either, with SNUS and nicotine pouches on its hit list, ETHRA says the results of the survey shows the EU is anti harm reduction putting the lives of millions at risk.

Among other worrying findings, the survey found that should the EU ban flavoured e-liquids or bring in a total vape ban – 28% of vapers would return to smoking whilst 71% would consider buying vape juice and kits from the black market…and we know how that could end.
---
Visit Nicotine Science & Policy for more News from around the World

---