'Huge Problem': FDA Leaders Fear Collapsing Trust In Agency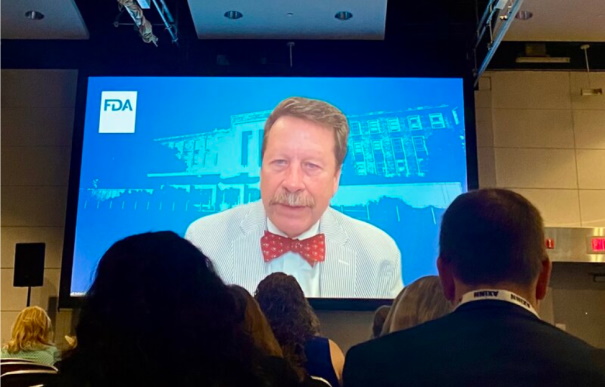 Washington (June 14, 2022, 10:31 PM EDT) — The U.S. Food and Drug Administration's credibility is suffering because of confusion and "misinformation" surrounding its COVID-19 vaccine authorizations and accelerated drug approvals, current and former FDA leaders said Tuesday at a major legal gathering.
The assessments occurred during the nonprofit Food and Drug Law Institute's annual conference in Washington, D.C., where attorneys gathered to hear FDA veterans dish on regulatory priorities and litigation trends. Those veterans expressed nuanced views and did not always find common ground, but they widely agreed that an alarming number of Americans have lost faith in the agency.
"Certainly, lack of trust in FDA as an institution and science is a huge problem," Lowell J. Schiller, who served at the FDA from 2017 to 2020 in several top roles, said Tuesday during a panel discussion titled "FDA and Politics."
Stephen Ostroff, who twice served as acting FDA commissioner before departing the agency in 2019, appeared on the same panel and offered a similarly bleak take on how the FDA's reputation for independence is holding up.
"There's a growing perception outside, and certainly, I think, to a certain degree inside the agency, that more and more, politics is driving some of [what] is happening," Ostroff said. "And unfortunately, a lot of times perception is reality."
Empirical data is mixed regarding the public's esteem, or lack thereof, for the FDA. Some surveys during the past two years found robust and steady support compared to prior years, while others found declining faith in the agency's work. Few polling organizations consistently gauge public sentiment on FDA topics, and views likely vary depending on the wording and timing of surveys.
Whatever the public's actual opinions, speakers on Tuesday suggested that there's ample room for improvement. FDA Commissioner Robert Califf, speaking to FDLI conference attendees via videoconference, repeatedly expressed concern about the proliferation of "misinformation" and "disinformation," saying they have "eroded trust in societal institutions, including the FDA, and regrettably in the science upon which our decisions are made."
"It's causing harm to patients and consumers," Califf said. "There's no more powerful example than the thousands of unnecessary COVID deaths at a time when we have highly effective vaccines and antiviral therapeutics."
Much of the apprehension on Tuesday related to the FDA's so-called accelerated approval program. The program allows companies to sell drugs for serious diseases with unmet medical need based on preliminary evidence of possible clinical benefit. In recent years, heated debate has surrounded the FDA's accelerated approvals of the drug eteplirsen, or Exondys 51, for Duchenne muscular dystrophy, and the biologic aducanumab, or Aduhelm, for Alzheimer's disease, despite a lack of support from its advisory committees.
"In general, I feel very strongly that the FDA should be explaining itself on any decision. … I think that's important," said Joshua M. Sharfstein, a former principal deputy commissioner at the FDA. "And it's particularly important when you're doing something different than the advisory committee."
Califf addressed the accelerated approval program during a question-and-answer session, saying that he's "a fan of accelerated approval" but that "it's been too focused on just acceleration, not enough on the evidence that's needed."
Pending legislation, expected to pass Congress by October to reauthorize "user fees" paid by drug and device makers, is likely to overhaul the program in some respects. Lawmakers want to ensure that drug companies follow through on post-approval research to confirm benefits and that the FDA can expediently withdraw accelerated approvals when products turn out not to work well.
"The pending user-fee legislation, I think, has very good approaches to dealing with this," Califf said.
Several speakers argued that the FDA has failed to keep up with social media and intense interest in agency decision-making during the coronavirus pandemic. Traditionally, the agency has stayed tight-lipped about pending approvals, often citing the confidentiality of drugmaker data. But that caution may not always make sense in the digital age, much less during a pandemic, when Americans urgently want to know where the agency stands.
"FDA should be out there explaining what's going on. It should be answering the public's totally valid questions about what's going on with studies," Sharfstein said, citing protracted uncertainty concerning possible pediatric uses of coronavirus vaccines. "It should be filling the void with real information, because otherwise, it's just letting all kinds of chaos and misinformation dominate."
Schiller floated similar advice, saying that he "would love to see more" from the FDA and that it can protect proprietary information while also being more transparent about its processes and plans.
"There's a lot more of that FDA could be saying along those lines today than it is," Schiller said.
Arnold & Porter partner Daniel A. Kracov, who led the Q&A with Califf, told Law360 at the conference that it was "an extraordinarily difficult time for FDA during the pandemic" and that there was "extreme political pressure on the agency in various ways, including from the White House back in the prior administration."
"It's going to take some time for the agency to recover," Kracov added. "It'll come back, but it was an unfortunate episode."
Mark J. Raza, the FDA's current chief counsel, sought Tuesday to allay concerns about politics pervading the agency. He invoked "themes of continuity and stability across administrations" and noted that coronavirus vaccines were successfully developed by the pharmaceutical industry under "Operation Warp Speed" with support from the Trump administration.
"I feel that I have to mention that these accomplishments may not have been possible without Operation Warp Speed and [officials] in the agency's prior political leadership," Raza said.