Vapers Digest 23rd June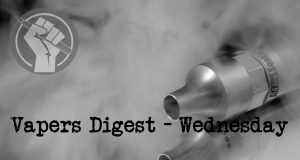 Wednesday's News at a glance:

---
THREE from Dave Cross, Planet Of The Vapes
Following the production of a report by the All-Party Parliamentary Group on Smoking and Health, Parliament debated the Tobacco Control Plan, which was welcomed by the UK Vaping Industry Association (UKVIA).
A motivated quitter might do research, they may hunt online and seek out forums, online community groups, or type into a search engine. But, for most smokers, it will be the day-to-day experiences that inform their future choices. Planet of the Vapes took a trip north to see how easy it is to access harm reduction products and made some basic errors which made the hunt more pressing.
A new study conducted by the Yale School of Public Health (YSPH) and published in JAMA Pediatrics strongly cautions that a San Francisco ban on flavoured vaping liquids may have resulted in 18-24 year olds who would use vaping products instead taking up deadly combustible cigarettes.
---
Oops. Pfizer has a contamination problem with its smoking cessation medication, varenicline. It contains nitrosamines (carcinogens). South Korean govt is investigating. Israeli govt has now banned it.https://t.co/9DZ9H7cKr8

— Charles A. Gardner, PhD (@ChaunceyGardner) June 22, 2021
---
Lee Han-so, Korea Biomedical Review
The Ministry of Food and Drug Safety has launched an investigation into anti-nicotine therapies that use varenicline as its main compound due to concern over the treatments containing nitrosamine impurities, a possible carcinogen substance.

According to industry sources on Monday, the ministry recently instructed pharmaceutical companies to take follow-up measures of nitrosamine impurities in drugs containing varenicline.
---

---
Guy Bentley, Adrian Moore, Reason Foundation
It's hard to believe that before the COVID-19 pandemic, one of the most contentious issues in public health was how to regulate electronic cigarettes. In 2019, an outbreak of lung illnesses and deaths was attributed to e-cigarettes. Confusion abounded because e-cigarettes had never been linked to such illnesses and are promoted by many public health experts as a safer alternative to smoking. E-cigarettes don't contain or burn tobacco, so they are a dramatically safer way for smokers to consume nicotine.
Brent Staffort, RegWatch
With an extraordinary amount of misinformation and vitriol swirling around vaping, it's hard to believe public perception could change any time soon. Yet, there could be an occasion for hope, and surprisingly, the optimism is grounded in FDA's premarket tobacco application process.

In this episode of RegWatch, we are joined by Alex Norcia, staff writer at Filter and former vaping beat reporter at VICE. Hear why he thinks many could be in for a shock this September when FDA grants marketing approval to certain vaping products.
---
The Federalist Society
---
Mawsley, Planet of the Vapes
Jidong Huang is an associate professor of Health Management and Policy at Georgia State University. He recently spoke to China Global Television Network about the problems and challenges of smoking in China. Oddly, for a country that is fuelling the global vape boom, the answer isn't currently electronic cigarettes.

Huang has been involved in many vape-related pieces of research, but it tends to the statistical analysis of previously collected data in an effort to find patterns of behaviour. His most recent work was one such study, where regression analysis was used to look at vaping among "priority populations".
Condemns Smokers to Status Quo – CASAA
The ink is barely dry on amendments accepted during San Francisco's Public Safety and Neighborhoods Committee hearing and the full Board of Supervisors has passed the ordinance that bans the sale of flavored vapor products, tobacco products, and menthol cigarettes. The new law takes effect in April 2018.
---
Visit Nicotine Science & Policy for more News from around the World

---