Vapers Digest 25th June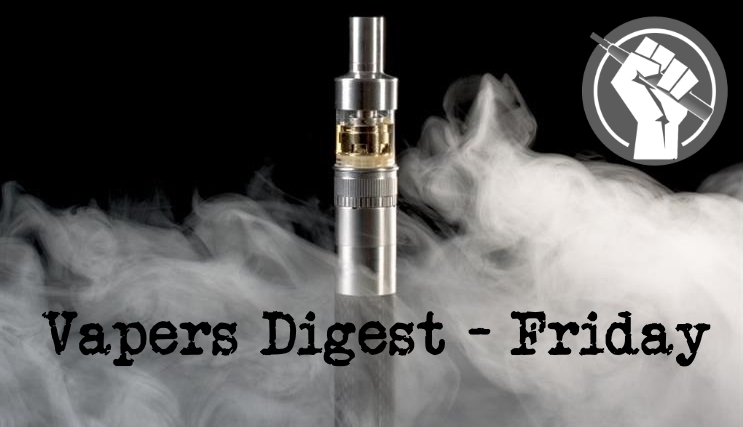 Friday's News at a glance:
Patients should be offered advice on vaping – Matt Myers in 2003 and Today – The Vaping Study You Haven't Heard Of – House Dems Reject Proposed FDA User Fees – World Vape Day – AVCA Applauds Minister – Taxing Times For Europe – Why ignore evidence in the debate – Did Philippines FDA break the law? – Attacks On Vaping, Politically Timed – Anti-Vaping Laws Have Criminal Justice Ramifications – Inside Singapore's Thriving Black Market – Canada: Vape Policies Could Increase Smoking – Public health seen benefitting from harm reduction – Study explores memory benefits of nicotine – Ignorance is bliss? – Vape stores push back – Nicotine Science and Policy Daily Digest
To help them quit smoking, says NICE – Emma Bower
The guidance said evidence suggested that e-cigarettes have a similar effectiveness to short- and long-acting nicotine replacement therapies (NRT) in helping people to stop smoking.

E-cigarettes or vaping devices are not licensed as medicines, but they are regulated by the Tobacco and Related Products Regulations. Unlike NRT they are not available on prescription, however NICE said that people should be able to use them to help stop smoking if they wanted to do so.

It added that combining behavioural support with either NRT or e-cigarettes was more likely to help people successfully stop smoking than vaping or NRT alone.
A Pertinacious Tobacco Prohibitionist – Brad Rodu
Matthew Myers is a founder of the highly influential Campaign For Tobacco-Free Kids (CTFK), where he has served as president for over 20 years (here).  He claims to have "participated in virtually every major US tobacco-related legislative effort" and to have "led the effort that resulted in 2009 in the US Food and Drug Administration being given authority … over tobacco products."

Myers and his organization are warriors for tobacco prohibition and staunch opponents of all forms of tobacco harm reduction (THR).

At a 2003 congressional hearing titled, "Can Tobacco Cure Smoking? A Review of Tobacco Harm Reduction," witnesses included the U.S. Surgeon General, the chairman of the Federal Trade Commission and Myers.  David Sweanor and I testified in support of THR.
---

---
Jacob Grier
Did you hear about the big new study on vaping and COVID-19? If you didn't, that's not surprising. The study didn't find any association between the two—that is, it found no evidence suggesting that people who vape are more likely to be diagnosed with the disease. Research that leads to null results rarely gets much coverage in the media. In this instance, however, it upends the flood of stories throughout the pandemic that reported that vapers are at greater risk. The New York Times, for example, reported in September that "Vaping Links to COVID Risks Are Becoming Clear." CNN, Wired, Scientific American, USA Today, and just about every other major news source you can name ran similar stories.
---
---
Jim McDonald, Vaping 360
For the third year in a row, the Democratic-led U.S. House of Representatives will not approve a White House/FDA budget request to collect tobacco company user fees from vape manufacturers.

The Trump administration included requests for $100 million in vape company user fees in its FDA budgets for fiscal years 2020 and 2021, and the Biden White House made an identical request for FY2022. (Federal government fiscal years begin in October and end in September.)

Tobacco company fees completely fund the FDA Center for Tobacco Products (CTP) and all of its initiatives. The CTP receives no funding from taxes or other sources. Congress approved $681.5 million in user fees for FY2021. The Biden administration requested $780.8 million for FY2022, including $100 million in vape company fees.

Three from Dave Cross, Planet of the Vapes
World Vape Day was an unprecedented success with social media engagement about the annual global celebration up considerably, according to the Coalition of Asia Pacific Tobacco Harm Reduction Advocates (CAPHRA).

"The social media analytics for World Vape Day are impressive. It enjoyed huge growth in the number of postings, followers, and positive comments. Without doubt, #WVD21 gained much more traction than 2020's event," says Nancy Loucas, Executive Coordinator of CAPHRA.
The Aotearoa Vapers Community Advocacy group (AVCA) has applauded Associate Health Minister Dr Ayesha Verrall for seeking broad views on a smokefree approach. They say she is doing well to engage with a broad range of health entities and opinion ahead of the Government finalising its action plan.

AVCA (1) was formed in 2016 by vapers across New Zealand wanting their voices heard in local and central government. All members are former smokers who promote vaping to help smokers quit – a much less harmful alternative to combustible tobacco products. AVCA does not have any affiliation or vested interest in industry – tobacco, pharmaceutical and/or the local vaping manufacturing or retail sectors.
Germany has approved a tax grab on vaping and the figures involved are eye watering. The move signals how the members of the European Union plan on changing their collective approach to vaping and tobacco harm reduction. The European Tobacco Harm Reduction Advocates (ETHRA) has made a formal submission to the European Union's Public Consultation on Tobacco Taxation, pointing out that it needs to ensure that taxation doesn't conflict with its health objectives.

German smokers and ex-smokers who switched to vaping now face an expensive future. The German Bundestag passed measures to levy an increase of 10 cents on a packet of cigarettes in 2021. A further 10 cents will be taxed in 2022, while an additional 15 cents will be added in 2025 and 2026.
---

---
Marc Gunther
Last month, a scientific journal published a peer-reviewed study with encouraging news for anyone concerned by the toll that smoking takes on people's health.

The study in the American Journal of Health Behavior identified more than 17,000 cigarette smokers who purchased a Juul starter kit, which includes a rechargeable e-cigarette and four flavored pods. A year later, more than half said they had stopped smoking and switched to e-cigarettes, which, by nearly all accounts, cause much less harm than combustible tobacco.
Aotearoa Vapers Community Advocacy
Alarmist media stories on vaping are politically timed to inflict the most damage on a practice that's saving thousands of New Zealanders' lives, claims a leading Tobacco Harm Reduction advocate.

Her comments follow a frontpage nationwide newspaper story, headlined 'Vaping – at 10'.

"Why don't we see 'Smoking – at 10', 'Drinking – at 10', 'Drugs – at 10' media stories? It's all about vaping, which is ironic given it's the least harmful," says Nancy Loucas, co-director of Aotearoa Vapers Community Advocacy (AVCA).

AVCA believes the publication of increasingly negative vaping stories is no accident.
Karl Abramson
Disturbing videos from Ocean City, Maryland are prompting public outcry after altercations regarding public vaping resulted in teenagers being tasered, kneed, and violently restrained by police. On a recent Saturday evening, a group of teenagers were observed vaping on a boardwalk and were informed by police of a local ordinance prohibiting such activity. After speaking with the teens, police noticed a teen taking another puff from the vape. The officers re-engaged with the group and videos are now circulating showing the officers attacking the youths.
Hiring tobacco staff with Bloomberg cash? – David Palacios Rubio
The Food and Drug Administration (FDA) in the Philippines is under public scrutiny after being accused of acting unlawfully in accepting foreign donations from The Union, a non-government organisation funded by the anti-tobacco Bloomberg Initiative.

The House Committee on Good Government and Public Accountability in Manila has hosted various hearings and legislative inquiries in recent months at which representatives have accused the FDA of acting against some of the most critical regulations in the public sector.

My patients, like most Americans, believe memory loss is a normal part of aging. But memory loss is never normal. In fact, it can be a symptom of mild cognitive impairment (MCI), a precursor to Alzheimer's disease. Nearly 1 in 7 people age 65-plus have MCI, but there is no treatment — yet.

I'm proud to lead the NIH-funded MIND (Memory Improvement Through Nicotine Dosing) Study, which is testing whether memory and functioning can be improved in people with mild memory loss using an unexpected, low-cost and naturally occurring ingredient — nicotine.
---
---
That Its Vape Policies Could Increase Smoking – Alex Norcia
On June 19, Health Canada, the agency responsible for the country's health policy, released a proposed regulation that would ban flavored vaping products, with the exception of tobacco, menthol and mint.

It's yet another blow for tobacco harm reduction (THR) advocates, who now see Canada—once considered a promising model on nicotine policy—to be a disappointment. The country has been open to other harm reduction measures like safe consumption sites and safe supply programs, and has considered decriminalizing drugs in an effort to curb overdose deaths. For a short time at least, advocates had believed the nation would adopt a THR-oriented approach similar to the United Kingdom.
---
---
Is It Time To Rethink The Vape Ban?
Have you walked through a cloud of sweet smelling, fast dissolving smoke lately? At this point, I'd bet that you have. It's no secret that vaporisers and e-cigarettes are prevalent in Singapore. Their presence has been discussed ad nauseum in mainstream media outlets. From cautionary tales penned by health experts to school teachers who are concerned for the wellbeing of the Singaporean youth. The consensus (from the media at least) is that vaping is scary and bad.

There are a few reasons cited by the well intended fear mongers: unstudied long-term health effects, dubious marketing materials aimed at teens, and vape related fatalities overseas. It seems all parties can agree that vaping is rife in Singapore.
From Investments in harm reduction
Investments in harm reduction or better alternatives to combustible cigarettes are expected to bring benefits to public health, according to a fund manager that focuses on long-term, high-quality investments in the fast-moving consumer goods industry.

Mr. Jonathan Fell, founder of U.K.-based Ash Park, is referring to smoke-free nicotine alternatives such as e-cigarettes, heated tobacco products and Swedish snus. These innovative devices are considered part of tobacco harm reduction, a strategy that aims to mitigate the impact of smoking on public health.
---
RegWatch
---
This is the 21st century – the age of information and ignorance is not bliss anymore. Today, what you do not know will definitely hurt you, especially when it is about your health and wellbeing. And yet, behavioural health illiteracy is on the rise in our country. Take the example of millions of smokers in Pakistan who are left unattended and uninformed beyond mere advice and warnings to stop smoking. As a result, while every year around 25 per cent smokers make an attempt to quit smoking in Pakistan, the success rate is only 2.6 per cent – one of the lowest in the world, while the rest become victims of relapse.
---
VIDA Voices
---
Kelowna retailer reacts to proposed flavoured vape ban
A proposed federal ban on all flavoured e-cigarette and vape products is sparking criticism from the industry in Kelowna.

Health Canada proposed last week a ban on the distribution of all flavoured vape products except tobacco, mint and menthol.

That is news has been difficult for vape store owners like Austin Robertson and his brother Myles, who own 11 vape shops across Canada, including one in Kelowna. Austin says this new law would mean those who were trying to quit smoking by using an e-cigarettes will just go back to tobacco use.
---
A look back at how things have moved on or otherwise….
, Dutch News
The Dutch government is to extend current legislation on smoking to cover electronic cigarettes from July 1, and is also planning an outright ban on flavoured tobacco products for e-cigarettes. The measures, outlined in a briefing to parliament on Tuesday, are aimed at making smoking less attractive to youngsters.
Sarah Basford, Gizmodo
Importing an e-cigarette or nicotine liquid refills will become near impossible if proposed laws by Australia's health minister are passed. The Australian government intends to ask the Governor-General to amend customs regulations, making it illegal to import vaping equipment into the country without a medical prescription.
Malcolm Sutton

, ABC Net AU
Vapers will no longer be able to import liquid nicotine for their devices without a doctor's prescription, if a proposal by Federal Health Minister Greg Hunt is successful.

Mr Hunt has announced he wants to prohibit the importation of vaping devices, or e-cigarettes, containing liquid nicotine, as well as refills, from July 1 — unless the product is prescribed by a doctor and ordered by a medical supplier.
---
Visit Nicotine Science & Policy for more News from around the World

---