Vapers Digest 27th June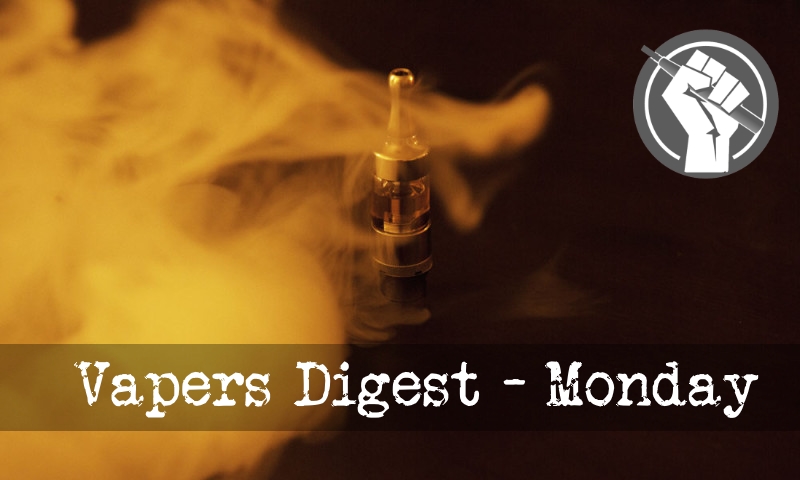 Monday's News at a glance:
Juul Gets a Temporary Stay – Most toxins not detectable in vapour, study – Swedish Billionaire Invests in Sting Free – YouTube Strikes & Bans For Vape Reviewers – Harm Reduction: an International Human Right – Liberty Flights Bought Out – CTFK Sustains Teen Vaping "Epidemic" By Ignoring 2021 Data – US Federal datasets now show end of teen nicotine vaping epidemic – Limiting Access to THR Products Harms Public Health – Retailers demand national policy summit on vaping – Cracking Addiction 3 The Evidence for vaping – Nicotine Science and Policy Daily Digest
Jim McDonald
A federal court has granted Juul Labs a temporary stay preventing the FDA from enforcing its Marketing Denial Order (MDO) that ordered all Juul products off the market. The court also gave Juul permission to file a motion for an emergency stay that would put the FDA denial on hold while the court hears a full appeal.

The MDO, issued yesterday, is now on hold pending further order of the court, which allows Juul to continue selling products for the time being. The stay was granted by a three-judge panel of the D.C. Circuit Court of Appeals, which will also hear Juul Labs' petition for review (appeal) of the FDA's denial order.
Colin Mendelsohn
A ROBUST STUDY of the vapour from a leading commercial nicotine vaping product has provided very reassuring safety data. The analysis of the Relx podvape found that 40 of the most harmful chemicals in cigarette smoke are undetectable or are at non-harmful levels in the vapour produced.

The study tested the five main categories of toxins in smoke identified by the US FDA as harmful to health. The findings were compared to a standard cigarette.

The main toxin categories in smoke are aldehydes and ketones (carbonyls), volatile organic compounds (VOCs), tobacco-specific nitrosamines (TSNAs), polycyclic aromatic hydrocarbons (PAHs), and heavy metals.
---

---
Tobacco Reporter
Swedish billionaire Erik Selin has invested SEK4.4 million ($434,247) in the Swedish nicotine pouch innovation company Sting Free. He has thus become the second largest shareholder in the company, which is now valued at just under SEK31 million. Sting Free's other shareholders include Curt Enzell, inventor of the original snus pouch and Meg Tivéus, a former board member of Swedish Match.

Sting Free has developed and patented a pouch for modern oral nicotine products and snus, where one side has an integrated protective shield for the gums ((also see "Patching the Pouch," Tobacco Reporter, July 2017). The shield effectively reduces the burning sensation and gum irritation that is normally caused by these products.
---
"It's only a matter of time before we see a good old-fashioned pack of Marlboros marketed by our trusted government as "a naturally-sourced, plant-based alternative to vaping.""https://t.co/W5VtoHQiFS

— European Tobacco Harm Reduction Advocates (@europethra) June 27, 2022
Estamos cerca de las 7⃣0⃣0⃣0⃣firmas en defensa del vapeo 🎉

Firma para que los políticos entiendan que se puede dejar de fumar gracias al vapeo.https://t.co/BDIjcfKvaX

— ANESVAP (@anesvap) June 27, 2022
---
Is YouTube In A Mood With Vapers? – Ecigclick
I have seen recently a lot of posts from Video Vape Reviewers about YouTube giving them strikes and bans – even on really old reviews?

This isn't a new thing – YT seem to keep thinking of new ways to penalise reviewers – our lovely Neil H wrote about this in 2018 where CBD videos were being hammered. It seems this new wave of YouTube strictness has come from sharing URLs (Website Addresses) of Vape companies in the video.

Ok simple enough you would think. But when reviewers have been unboxing or showing instructions – the tiny website addresses on the packaging have now triggered YouTube to discipline them.

Two from Dave Cross, Planet of the Vapes:
The latest Briefing Paper from the Global State of Tobacco Harm Reduction, titled: The Right to Health and the Right to Tobacco Harm Reduction, was launched during GFN22 in Poland. The paper recommends that tobacco harm reduction should be promoted as a health rights issue by the advocacy organisations that represent nicotine users, and it argues a human rights approach could offer significant opportunities to challenge the bad laws and policies across the world that currently prohibit, or restrict access to, the safer nicotine products that underpin tobacco harm reduction.

Tobacco harm reduction is not only a potentially life-saving public health intervention for the world's 1.1 billion smokers, but also supported by international human rights law, according to the latest publication launched last week by Knowledge·Action·Change (K·A·C).
One of the oldest names in the world of British vaping and advertiser with Planet of the Vapes, Liberty Flights is being bought out by Supreme PLC. Supreme began life as a small company reselling batteries before growing into a vape powerhouse and becoming listed on AIM, a junior market on the London Stock Exchange.

Long term vapers will instantly know of Liberty Flights, one of the oldest vape companies in the United Kingdom following it beginning business in 2009. Newer vapers will have seen Liberty Flights adverts hosted on the Planet of the Vapes forum. Liberty Flights specialises in premium e-liquids, high-quality devices, and acts as a distributor for a sizable list of third-party e-liquid brands.
---

---
Sustains Teen Vaping "Epidemic" By Ignoring 2021 Data
Brad Rodu, Tobacco Truth
The teen vaping "epidemic" was never real; it was a passing fad, blown out of proportion by anti-tobacco zealots (here, here and here).  There is no question that past-30-day (i.e., current) high school vaping increased from 12% in 2017 to 27% in 2019.  However, by 2021, the high school vaping rate had plummeted to 11%, and smoking rates sank from 8% to 2% during those four years (here).

The "epidemic" may have been fake, but the concocted crisis led the U.S. Food and Drug Administration to ban the sale of millions of lifesaving e-cigarettes and vaping products, the latest being JUUL.
Of teen nicotine vaping epidemic and eradication of tobacco smoking among adolescents. This must be celebrated as a great victory for public health in the US – CoEHAR
The use of e-cigarette among teenagers in the United States is considered a significant public health problem. A close look at federal data now show that the number of young e-cigarette users has markedly declined to below epidemic levels since its peak in 2019.

Vaping by young non-smokers is a legitimate concern, but known risks from vaping are often greatly exaggerated. There has been a surge in electronic cigarette popularity among youth over the past decade, but since 2019 there has been a drastic decrease in the number of e-cigarette users among adolescents. During the same period, smoking rates have constantly fallen to new low record levels.

Harms Public Health – Christina Herrin
The Food and Drug Administration (FDA) has ordered JUUL, a prominent company, to stop selling e-cigarette products.  The June 23, 2022 decision was made because the FDA determined that JUUL did not submit an appropriate premarket tobacco product application (PMTA), submitting "insufficient and conflicting" data. The decision to immediately halt JUUL from selling tobacco harm reduction (THR) products in the U.S. was based on ensuring public safety, according to the FDA.

FDA Commissioner Robert M. Califf stated, "Today's action is further progress on the FDA's commitment to ensuring that all e-cigarette and electronic nicotine delivery system products currently being marketed to consumers meet our public health standards."
The Evidence for vaping – Colin Mendelsohn
Convenience World
Retail leaders from the Master Grocers Association and the Australian Lotteries and Newsagents Association, united by the Australian Association of Convenience Stores, call on the Albanese government to convene a national policy summit to identify urgent actions to quash black market sales of e-cigarettes.

"The ABC's 4 Corners has exposed the chasm in leadership that has supported the rising black market vaping trade which targets and exploits young Australians," says the three groups.

"This current regulatory approach is effectively prohibitionist and is directly contributing to the chaos in the market and enabling illegitimate retailers to sell unregulated products to anyone, including children.
---
A look back at how things have moved on or otherwise…
To help them quit smoking, says NICE – Emma Bower
The guidance said evidence suggested that e-cigarettes have a similar effectiveness to short- and long-acting nicotine replacement therapies (NRT) in helping people to stop smoking.

E-cigarettes or vaping devices are not licensed as medicines, but they are regulated by the Tobacco and Related Products Regulations. Unlike NRT they are not available on prescription, however NICE said that people should be able to use them to help stop smoking if they wanted to do so.

It added that combining behavioural support with either NRT or e-cigarettes was more likely to help people successfully stop smoking than vaping or NRT alone.
A Pertinacious Tobacco Prohibitionist – Brad Rodu
Matthew Myers is a founder of the highly influential Campaign For Tobacco-Free Kids (CTFK), where he has served as president for over 20 years (here).  He claims to have "participated in virtually every major US tobacco-related legislative effort" and to have "led the effort that resulted in 2009 in the US Food and Drug Administration being given authority … over tobacco products."

Myers and his organization are warriors for tobacco prohibition and staunch opponents of all forms of tobacco harm reduction (THR).

At a 2003 congressional hearing titled, "Can Tobacco Cure Smoking? A Review of Tobacco Harm Reduction," witnesses included the U.S. Surgeon General, the chairman of the Federal Trade Commission and Myers.  David Sweanor and I testified in support of THR.
---
Visit Nicotine Science & Policy for more News from around the World

---