Vapers Digest 29th June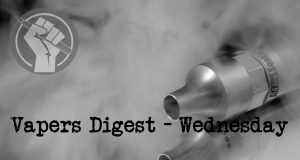 Wednesday's News at a glance:
Analyzing Trajectories of Acute Cigarette Reduction Post-Introduction of an E-Cigarette Using Ecological Momentary Assessment Data ~ Vaping misrepresentations ~ FDA is On a Quest to Snuff Out Harm Reduction ~ Kenya Can Learn From Others On A Smoke-Free Country Journey ~ "Harmful To Public Health": Steve Forbes Warns New Biden Policy Will Harm U.S. Citizens ~ Juul E-Cigarette Ban Creates $1 Billion Opportunity For Vape Companies ~ Warning: This Agency Is Hazardous to Your Health ~ The Road to Quitting Smoking Is Paved With Candy ~ Juul: Dead In The USA? ~ Regional Advocacy Works ~ Compliance Warning For Flouters ~ Juul says FDA overlooked key data in e-cigarette application before banning sales ~ Juul Ban | Consumer Impact & Industry Future ~ AVM Asks FDA to Delay Business-Killing Enforcement ~ FDA'S JUUL CRACKDOWN IS THE LATEST BLOW IN THE IRRATIONAL WAR ON NICOTINE ~ Riot Rehab Bus rolls into Glastonbury Festival helping people to give up smoking ~ Retailers call for urgent national summit on vaping black market
Electronic cigarettes (ECs) may hold great potential for helping smokers transition off combustible cigarettes (CCs); however, little is known about the patterns that smokers follow when using an EC as a CC-substitute in order to ultimately reduce and quit smoking. Our primary aim in this study was to evaluate whether common patterns of CC use exist amongst individuals asked to substitute an EC for at least half of the CCs they would normally smoke. These patterns may elucidate the immediate switching and reduction behaviors of individuals using ECs as a reduction/cessation tool.
R. Holliday, E. McColl, A. Weke, Z. Sayeed, British Dental Journal
Sir, we read with interest a recent research paper1 and 'Research Insights' summary2 on the erosive potential of 'vapes'.

We were disappointed to see several basic errors and misrepresentations. We would like to correct the five most major errors:

E-cigarettes do not contain tobacco and should not be categorised as such3
International Network of Consumer Organizations (INNCO)
Hi Dear Friends,

It's always a pleasure to greet you. The newsletter is back! After enjoying such a delightful time with those of you who were able to attend the GFN and GA, we feel motivated and energized to keep fighting the good fight. We hope we can meet again in person soon and we will be having multiple online meetings in the following months, so please stay in touch.
Soko Directory
Kenya can learn from new research which shows there is no clear association between the implementation of the World Health Organisation's (WHO) tobacco control measures and low levels of tobacco-related mortality, according to the Campaign for Safer Alternatives.

The independent study by Dr. Lars M. Ramström was launched at the ninth annual Global Forum on Nicotine (GFN) in Warsaw at which CASA's spokesperson Joseph Magero was a panelist. GFN brings together leading doctors, researchers, and advocates to discuss how tobacco-free nicotine products can and are being used to reduce smoking-related harm worldwide.
---
---
John Tierney

, City Journal
The Food and Drug Administration has once again exposed a deadly menace to Americans' health: the FDA itself. The rate of smoking has plummeted among Americans in the past decade, but now the agency's empire-building bureaucrats are doing their best to reverse that trend.

The FDA has ordered Juul to stop selling its electronic cigarette (popularly known as the Juul), the most effective technology ever devised for inducing smokers to quit.
---
Kim Murray, Inside Sources
June, National Candy Month, is described by the National Confectioners Association as "a time to celebrate the authentic, fun treats that candy companies have been producing for more than 100 years." 

What many people may not know is that candy has been used for years as a means to help people quit smoking. 

Today, millions of Americans use flavors mimicking such sweet treats to remain smoke-free. Candy and candy flavors aren't new to the efforts to help people stop smoking. A quick Google search provides links to many health groups recommending gum and candy to ward off the craving for a cigarette.
---
https://twitter.com/VaporAmerican/status/1541788499577393154
I just tried a VLNC. Prior to this I made the case that low nicotine cigs should be an option (not the only option though) for smokers concerned about nicotine dependency, even if nic is among the least harmful ingredients in a cigarette. I see a BIG potential problem with VLNCs

— michelleminton (@michelleminton) June 28, 2022
---
THREE from Dave Cross, Planet of the Vapes
Last week, the American Food and Drug Administration's Centre for Tobacco Products issued marketing denial orders to JUUL Labs for all its vaping products. Media outlets predicted the end of JUUL in the USA and Altria stocks tumbled 10% in value in response to the announcement. While the move provoked anger in some quarters, the American Vaping Association pointed to reasons why it may not be game over for the leading vape company.
At the recent Global Forum on Nicotine – #GFN22 – in Warsaw, Poland, the Coalition of Asia Pacific Tobacco Harm Reduction Advocates (CAPHRA) made the case that regional advocacy works and is delivering remarkable results for vaping in Asia Pacific. With 'Tobacco Harm Reduction – here for good' the overall theme, Nancy Loucas, Executive Coordinator of CAPHRA, delivered a keynote address titled 'Community: Regional Networks in THR consumer advocacy'.
An expert adviser on the regulatory regime around vapes warned today that convenience stores and other retailers must expect much closer scrutiny in the wake of the Khan review into smoking. All eyes are on the vaping sector since Dr Javed Khan OBE urged the government to embrace vaping as the most effective tool to help people quit smoking, says the managing director of Arcus Compliance.
---

---
in e-cigarette application before banning sales
Joseph Choi, The Hill
E-cigarette giant Juul argued in court documents filed on Tuesday that the Food and Drug Administration (FDA) had overlooked a mountain of data that it had included in its application that demonstrated its products' benefit to public health and said the decision to ban them was based on "deeply flawed reasons."

In the court documents, the electronic cigarette company said it had included more than 110 scientific studies and over 125,000 pages of data and analysis that showed its products offered "substantial public-health benefits."
Brent Stafford, Regwatch
Since nicotine vapes first hit the market in 2007, the United States has been the lead driver of innovation and consumer adoption of these products, worldwide.

But while the U.S. is still the largest market for vaping products, anti-vaping zealotry and regulatory insolence has all but destroyed the legal U.S. vaping industry. Case-in-point FDA's recent ban on Juul.

Joining us today for a deep dive into the impact of FDA's Juul ban and to discuss how the War on Vaping harms consumers is Alex Clark, CEO of CASAA, the national consumer advocacy organization for smoke-free alternatives.
---

---
Colin Mendelsohn – ATHRA
The Minister announced on 19 June that it would be illegal to import nicotine for vaping from 1 July with an extraordinary penalty of $220,000. A legal pathway for importation with a doctor's prescription was proposed, but was complex and time-consuming and unworkable.
Dr Joe Kosterich
2020 has been an eventful year for all the wrong reasons. It was about to get worse when on June 19 draconian bans on vaping were announced and were due to start on July 1. Fortunately on June 26, following a massive community response saw the Federal Health Minister announce a delay in the introduction of regulations that would have exposed people who quit smoking by switching to a 95% less harmful (according to Public Health UK) option to a fine of $220,000.
---
Visit Nicotine Science & Policy for more News from around the World

---