Vaping Digest 29th June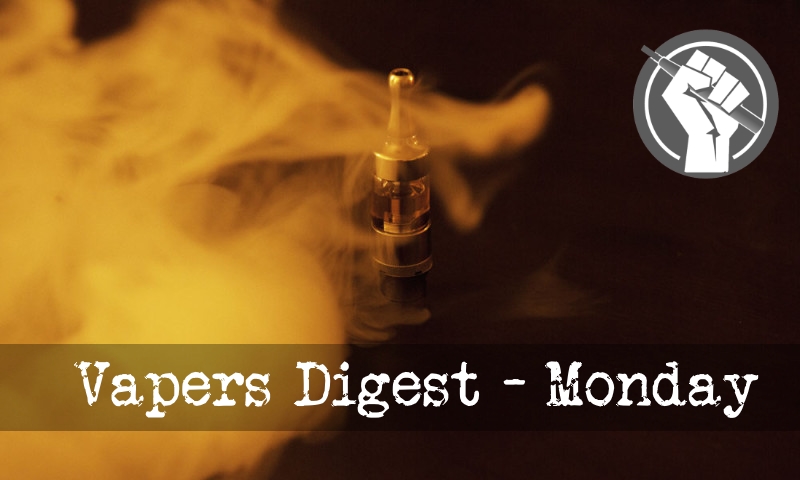 Monday's News at a glance:
Australia's ban on nicotine importation lifted – Vaping In The News ~ June 28th – English Vape Shop Staff Call – Vapo Slams Australia Nic Ban – Do We Really Want More Smokers? – Associations of Flavored e-Cigarette Uptake – Vapers stunned over proposal to ban flavors in The Netherlands – Holland Bans Flavoured Vaping Products – Nicotine Science and Policy Daily Digest
Colin Mendelsohn – ATHRA
The Minister announced on 19 June that it would be illegal to import nicotine for vaping from 1 July with an extraordinary penalty of $220,000. A legal pathway for importation with a doctor's prescription was proposed, but was complex and time-consuming and unworkable.

Shocked and angry vapers were faced with a very real risk of a total vaping ban and most were terrified of returning to smoking or having to obtain supplies from the blackmarket.

The Health Minister had previously commissioned a scientific inquiry into vaping in 2019, at a cost of $750,000, because of widespread support for vaping in the coalition party room. Surprisingly, the regulations to ban nicotine imports were made before the report was available
Kevin Crowley, Vaping Links
Angry Vapers Force Australian Health Minister to Back Down ~ Health Minister delays ban on prescription nicotine-based e-cigarettes ~ Perverse Psychology ~ Trigger ~ HK Ban Prop Dropped ~ First PMTA from an Indie Vape Manufacturer Submitted ~ David Dorn's "The Pleasure Principle" revisited ~ Associations of Flavored e-Cigarette Uptake With Subsequent Smoking Initiation and Cessation ~ The past is not the future in tobacco control ~ Slice & Dice | Vape Crusader Fights Toe-To-Toe | RegWatch
---

---
Dave Cross, Planet of the Vapes
A research project at the University of East Anglia is seeking to understand how the services provided by vape shops have changed during the COVID-19 pandemic. Planet of the Vapes has been asked to help spread the message to vape store employees, asking for them to take part and share information.

Doctors Caitlin Notley and Sharon Cox highlight from the outset: "Taking part is completely anonymous and voluntary. Your data will not be linked to your company."

They add: "We are exploring how vape shops adapted their usual service (e.g., moved online), if at all, during the covid-19 outbreak. We are interested in this because we would like to create an understanding of how vape shops can adapt to meet the needs of different smokers. However, many companies may not have been able to adapt, and it is also important to capture the impact that covid-19 may have had on vape shops. To date, there is no national survey on this topic."
---
The Pleasure Principle, love it! This NEVER enters Public Health rhetoric. There is zero understanding that smokers ENJOY smoking and that ex smokers who switch to vaping, enjoy it EVEN MORE….@LegaliseVaping https://t.co/63oBqOi83X

— Samantha Barratt (@sam_barratt) June 27, 2020
Survey study finds adult smokers who took up non-tobacco flavored e-cigarettes were more likely to subsequently quit smoking than those who used tobacco flavored e-cigarettes. @YaleHPM https://t.co/ofAOpRPifi

— JAMA Pediatrics (@JAMAPediatrics) June 28, 2020
---
Dave Cross, Planet of the Vapes
The largest Kiwi-owned vape company, VAPO, is calling out Australia's draconian crackdown at the border which it says will prove to be a death sentence to many Australians, with smoking rates set to rise. Australia has announced it will prohibit the importation of all e-cigarette products containing nicotine from 1 July.

Ben Pryor, who co-owns leading brands VAPO Australia, VAPO New Zealand and Alt New Zealand, along with business partner Jonathan Devery, says Australia's harsh new regulations will decimate vaping across the Tasman.

Nicotine vaping products remain illegal in Australia unless smokers trying to quit tobacco have a prescription from their doctor but, in reality, no Australian medical practitioners will actually be able to prescribe under the proposed law change.

Dr Joe Kosterich
2020 has been an eventful year for all the wrong reasons. It was about to get worse when on June 19 draconian bans on vaping were announced and were due to start on July 1. Fortunately on June 26, following a massive community response saw the Federal Health Minister announce a delay in the introduction of regulations that would have exposed people who quit smoking by switching to a 95% less harmful (according to Public Health UK) option to a fine of $220,000.

Smoking combustible tobacco remains the biggest single cause of premature death in Australia. The Australian burden of disease study published last year estimated that in 2015 there were 20,933 deaths caused by smoking.
---

---
VIDA News SPOTLIGHT Series
---

---
To ban flavors in The Netherlands – Acvoda
Flavors in e-cigarette liquids are a critical part of the success formula for quitting smokers. This is the opinion of Acvoda, the consumer organisation for e-cigarette users. All members of Acvoda have successfully quit smoking with the help of electronic cigarettes, in which flavors have played an important role. "It is unbelievable that there is no regard for that, while the State Secretary wants to reach a smoke-free generation."

Acvoda chairman Sander Aspers is astonished that State Secretary Blokhuis cites the argument of under aged vapers as justification for his intention. "The reasoning that flavors are specifically on the market to lure young people is simply a fallacy…."
Diane Caruana
The Dutch government is banning fruit and candy e-cig flavours, allowing only tobacco flavours on the market, in a bid to make vaping products less appealing to teens.

In a letter to Parliament, last week State Secretary Paul Blokhuis of Public Health said that tobacco flavours are being exempted so that smokers may continue to use e-cigarettes as smoking cessation tools. "All kinds of organizations are working very hard to make it harder to start smoking and easier to quit. This is also urgently needed because it remains unacceptable that 20 thousand people die in our country every year from the effects of smoking and about 75 children start smoking every day," said Blokhuis.
With Subsequent Smoking Initiation and Cessation
Question  Does the association between vaping uptake and subsequent smoking differ between individuals favoring tobacco- vs nontobacco-flavored e-cigarettes?

Findings  In this cohort study with 17 929 participants, multivariable analyses of nationally representative, longitudinal survey data evaluated differences in smoking initiation and cessation subsequent to vaping uptake among those who used flavored vs unflavored e-cigarettes, separately by age group. Relative to vaping tobacco flavors, vaping nontobacco-flavored e-cigarettes was not associated with increased youth smoking initiation but was associated with an increase in the odds of adult smoking cessation.

Meaning  In this study, adults who vaped flavored e-cigarettes were more likely to subsequently quit smoking than those who used unflavored e-cigarettes.
---
A look back at how things have moved on or otherwise…
Christopher Snowdon, Velvet Glove Iron Fist
Since the demise of the Islamic State, the task of over-turning the Enlightenment has fallen to California. And what a fine job it is doing in the fight against science and reason, condemning glyphosate by jury trial, putting cancer warnings on nearly everything and leading the world in thirdhand smoke research.

San Francisco is the epicentre of the Golden State's insanity. The city has recently plumbed new depths by announcing a ban on e-cigarette sales. Leaving aside the issue of personal freedom – which is irrelevant to people in the Bay Area – why would you ban the safest form of recreational nicotine device and leave the most dangerous on the shelves?
Of Smoking and Smokeless Tobacco Use – Brad Rodu
I have documented how American health authorities refuse to directly compare the health effects of smoking and smokeless tobacco (ST) use.  The results of such an exercise would require them to acknowledge the products' vast risk differentials.  For years, the American Cancer Society has possessed data that would allow this comparison (here, here, and here), but they refused to run the analysis or provide me with the data (here). I recently explained how FDA officials hid the comparison in a New England Journal of Medicine article (here).
---
Visit Nicotine Science & Policy for more News from around the World

---