Vaping Digest June 28th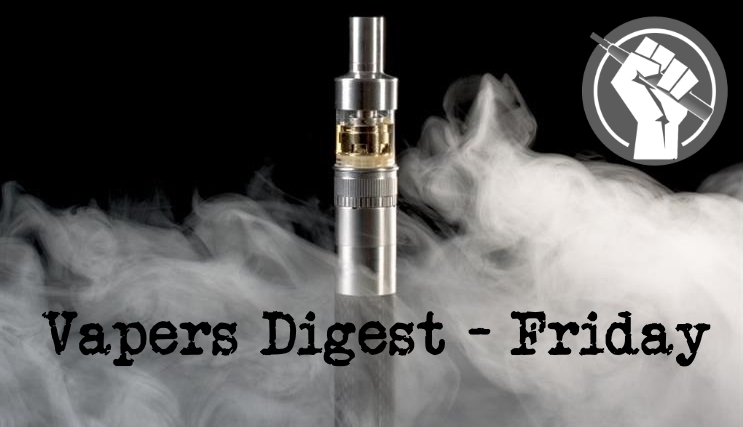 Friday's News at a glance:
San Francisco is broken beyond repair – Finally, A Direct Comparison of Smoking and Smokeless Tobacco Use – Easyway or the highway? – Denial of Nicotine Health Information – Behold the Revolving Door: Gottlieb Joins Pfizer – Big Pharma battles Big Tobacco over smokers – The mad San Fran vape ban – 1-0 To The Villa – Thinking About The Children – Researchers Stick Their Nose In – San Fran Ban Moves to Final Phase – Parliament & THR – Consumer Surplus in the FDA's Tobacco Regulations -Vaping: Controversial, but it has saved lives – Health Ministry sets up special committee – Nicotine Science and Policy Daily Digest
Christopher Snowdon, Velvet Glove Iron Fist
Since the demise of the Islamic State, the task of over-turning the Enlightenment has fallen to California. And what a fine job it is doing in the fight against science and reason, condemning glyphosate by jury trial, putting cancer warnings on nearly everything and leading the world in thirdhand smoke research.

San Francisco is the epicentre of the Golden State's insanity. The city has recently plumbed new depths by announcing a ban on e-cigarette sales. Leaving aside the issue of personal freedom – which is irrelevant to people in the Bay Area – why would you ban the safest form of recreational nicotine device and leave the most dangerous on the shelves?
Of Smoking and Smokeless Tobacco Use – Brad Rodu
I have documented how American health authorities refuse to directly compare the health effects of smoking and smokeless tobacco (ST) use.  The results of such an exercise would require them to acknowledge the products' vast risk differentials.  For years, the American Cancer Society has possessed data that would allow this comparison (here, here, and here), but they refused to run the analysis or provide me with the data (here). I recently explained how FDA officials hid the comparison in a New England Journal of Medicine article (here).
---

---
thatgotmethinkingblog
Just out today is Tobacco Free Research Institute of Ireland's new research paper. Allen Carr's Easyway to Stop Smoking – A randomised clinical trial.

Article as it appears in BMJ Journal Tobacco control.

A couple of quick observations. First, if this is science then I'm a Duck. They compared a €600 seminar versus a free email and text alert system. Do I need to point out the motivational effect of having sunk €600 in an attempt to quit versus a free phone app?
Is a Breach of Human Rights – Michael McGrady
Access to accurate health information about nicotine and products that contain it is a human right. A tobacco harm reduction approach centers this principle, in the same way that the United Nations justifies harm reduction for "harder" drugs. Unfortunately, UN institutions fail to recognize that international human rights treaties and conventions mandate governments to permit full access to information about every form of nicotine use.

Article 1(d) of the Framework Convention on Tobacco Control classifies harm reduction as a pillar of the global tobacco control agenda. Specifically, the treaty states the need for:
---
---
Gottlieb Joins Pfizer – Jim McDonald, Vaping 360
After leaving his job as FDA commissioner, Scott Gottlieb has accepted a part time position to help pay the bills. The ex-FDA boss has been elected to the board of directors at the third largest pharmaceutical company in the world, Pfizer Inc., manufacturer of the quit-smoking drug Chantix.

The move surprised almost no one. According to STAT News, during the last 38 years every FDA commissioner but one (David Kessler) served on a pharma board after leaving public service. And why not? Who would be more attractive to a company that sold more than $53 billion worth of drugs in 2018, as Pfizer did, than someone who until a few months ago created FDA policy and intimately knows the regulatory strategies of the Trump administration? Gottlieb will also serve on the board's regulatory and compliance and science and technology committees.
Carmen Paun
Big Pharma has Big Tobacco in its sights. The drugs industry is objecting to the marketing of e-cigarettes and vape pens as a way to quit cancer-causing cigarettes.

Pharmaceutical companies, which sell their own quitting alternatives like nicotine patches and chewing gum, argue that tobacco and vaping companies are playing both sides of the street, hawking the health benefits of their products without having to undergo the lengthy and expensive approval processes required for medical products.
---

---
Five from Dave Cross, Planet of the Vapes
Twitter user Barthula55 occupies that tiny corner of social media where people rant about things they don't like or agree with and nobody ever pays any attention to them. They have no followers, nobody likes their posts – they are as invisible as their absent avatars. That is, until Barthula55 complained about vaping taking place at the Brandling Villa pub in South Gosforth, Newcastle upon Tyne.

Barthula55 has previously attempted to take Labour MP Jess Phillips to task. Then the grumpy so and so attempted to educate people about a hitherto unknown property of all plastics. Then they got grumpy with a TransPennine Express customer, a Conservative MP, and a charity for a wheelchair basketball team.
Stephen Grizzle is the Superintendent for Fairbury Public Schools in Nebraska. The three-school district has around 930 students, and Grizzle is drug testing them due to a so-called teen vaping epidemic. So far, he has tested 387 students at Fairbury Junior-Senior High School – a place where "vaping has skyrocketed", Grizzle claims.

Superintendent Grizzle recently responded to Superintendent Darrin Peppard – a man whose Twitter feed reads like a self-published motivational novel – where Peppard said: "Vaping is ruining student athletes."
The American Thoracic Society's American Journal of Respiratory and Critical Care Medicine has published a new study by researchers at the University of Kansas, University of Miami and Mt. Sinai Medical Centre in Miami Beach. The senior author claims their findings from petri dishes and sheep 'could' cast doubts on vaping as a harm reduction method for smokers with COPD.

In "Electronic Cigarette Vapor with Nicotine Causes Airway Mucociliary Dysfunction Preferentially via TRPA1 Receptors", the research team claim to have discovered that vaping results "in a decreased ability to move mucus or phlegm across the surface" of the nose.
The San Francisco Board of Supervisors have carried out their second vote on the proposed ban to vaping – and again passed the motion. Now the proposal goes to a receptive Mayor, who has ten days to sign it off. The ban will take place in around seven months' time. It is a triumph of ignorance and greed over common sense and science.

The ban legislation consists of two parts: one section bans the sale of all vape and flavoured products that haven't been through the FDA review process, the second part bans "the manufacture, sale, and distribution of e-cig products on city property".
MP Alex Chalk wanted the smoking ban extended to private homes because of the smell of second-hand smoke suffered by neighbours. Paul Farrelly is concerned about underage vaping, and Lord Teverson is vexed by Philip Morris International and British American Tobacco's involvement with Formula 1 sponsorship.

Alex Chalk, MP for Cheltenham, asked the Parliamentary Under-Secretary for Health and Social Care if the Government has made an assessment of the effect of second hand smoke from residential properties on people in neighbouring properties. He also wanted to know if there are plans to extend the smoking ban to private homes.

Daniel Pryor, Adam Smith Institute
Inspired by countries like Thailand, Cambodia, Vietnam, and the Philippines, puritanical officials in San Francisco have voted to ban the sale of e-cigarettes. The law is due to be signed off by San Francisco's mayor within 10 days and, barring legal challenges, will come into force seven months later. Cigarettes will remain on shop shelves as before.

The vape ban will leave San Franciscans unable to access one of the safest and most popular alternatives to cigarettes. The best available evidence shows that e-cigarettes are at least 95% less harmful than smoking and twice as effective as nicotine-replacement therapy for smoking cessation.
Thanks as always to @dnglos for the YouTubage
Undermines Public Health in the Name of Protecting It – Jacob Sullum
Yesterday San Francisco became the first major city in the United States to ban the sale of e-cigarettes, a decision that undermines public health in the name of protecting it. Supporters of the new ordinance, which was unanimously approved by the Board of Supervisors, offered two main rationales, both of which sound sensibly cautious but neither of which makes sense after a moment's thought, which apparently was more than San Francisco's supposedly enlightened and progressive leaders could spare.
Pierre Lemieux, Reason
Cost-benefit analyses (within Regulatory Impact Assessments) are required for significant federal regulations, including for the Food and Drug Administration (FDA) upcoming regulations on nicotine reduction and flavor bans in tobacco products and e-cigarettes; these cost-benefit analyses should be done correctly. Consumer surplus—how much a consumer values a product or, more precisely, the amount a customer would be willing to pay over and above the price of the good—is a fundamental concept in cost-benefit analysis.
Douglas Otter
Recently, there's been a lot of discussion surrounding proposed legislation to ban flavored vaping products. I've seen and read many articles that cast vaping in a negative light. But, before you throw the baby out with the bathwater, I encourage you to consider the true impacts. Restricting access to flavored vapor products is restricting access to a product that has saved lives and helped smokers quit- including myself.
To study control over e-cigarettes – Malaysia
A special committee under the Ministry of Health (MOH) has been set up to examine issues relating to control over electronic cigarettes and vape.

Health Minister Datuk Seri Dzulkefly Ahmad said the matter was decided at the post-Cabinet meeting yesterday."The task force committee is headed by Deputy Health Minister Dr Lee Boon Chye to ensure commitment to all that we are dealing with this issue seriously," he said.
Indonesia's antidrug agency has come out against vaping, noting that the popular replacement for arguably more harmful conventional cigarettes was prone to misuse.

"Some types of drugs commonly consumed by inhalation could also be taken with electronic cigarettes," said Chief. Comr. Mufti Djusnir, head of the narcotics laboratory at the National Narcotics Agency (BNN).

"Therefore, BNN rejects the distribution of electronic cigarettes," Mufti said during a discussion titled "Review of Electronic Cigarette Policy in Indonesia" held by the National Agency of Drug and Food Control (BPOM) in Jakarta on Tuesday.
---
A look back at how things have moved on or otherwise….
Jim McDonald, Vaping 360
An apparent chemical leak at a Massachusetts industrial manufacturer that hospitalized at least 20 employees was somehow transformed into a vape-related incident by reporters covering the story, and amplified by lazy editors and headline writers.

Thermal Circuits, a Salem, MA, manufacturer of "flexible, etched-foil heaters," doesn't appear to make e-cigarettes or vapor products. The company makes parts for a variety of applications, but vaping isn't one of the many listed on its detailed website. The company has been in business since the 1950's.
in hospitals will save lives and money
Royal College of Physicians
A major new report released today by the Royal College of Physicians (RCP) calls for a radical change in the way the NHS treats smoking, by providing opt-out cessation services as a routine component of all hospital care.

The report, Hiding in plain sight: Treating tobacco dependency in the NHS, says that giving smokers the help they need to quit smoking while in hospital will save lives, improve quality of life as well as increasing life expectancy, and help to reduce the current £1 billion per year cost to the NHS of smoking by patients and staff.
Press Association, Daily Mail
Smokers should be permitted to use e-cigarettes on NHS sites, leading doctors have said. Meanwhile, smoking cessation services should be an "opt out" element of a smoker's NHS care, according to a new report on how the NHS treats smoking addiction. Such a move could double quit rates, the authors said. The report from the Royal College of Physicians (RCP) also calls for e-cigarettes to be used on NHS sites to support smokers to remain smoke-free.
---
Visit Nicotine Science & Policy for more News from around the World

---