Vaping Digest July 1st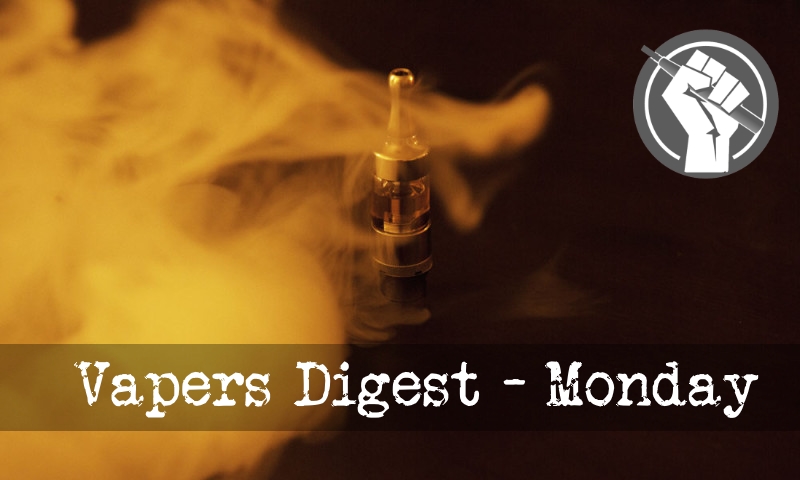 Monday's News at a glance:
San Francisco vape ban becomes law; WHO sticks to anti-vaping line – Brexit Britain's vaping paradise – San Fran Fallout – Canadian Data Causes Celebration – ACLU Objects to Nicotine Testing in Nebraska School – Vaping In The News – June 29th – The Golden Gate City Needs MSA Funds – Vermont Implements the Second Highest Vape Tax in the US – Colin Mendelsohn and Simon Chapman discuss vaping – VPZ to create 1,000 jobs and 200 stores across UK – THR Advocacy-Science and Consumers – Alana's 'uplifting journey' – E-Cigarettes to be banned in Indoor – Governments must find optimal regulatory balance – Nicotine Science and Policy Daily Digest
Fergus Mason, Vaping Post
San Francisco's lawmakers have taken the final step to e-cig prohibition, voting through a new law that will ban all sales of vapour products inside the city as of 1 January 2020. Meanwhile, health officials in Turkey and Indonesia – two nations with massive smoking rates – have chosen to attack vaping instead. Even in the UK, "health" groups continue to attack tobacco harm reduction; vape advocates need to keep up the fight against the creeping tide of bans, taxes and bureaucratic meddling.
Politico
Some U.K. lawmakers think they've found a way to reduce British smoking deaths: Brexit. Large numbers of British cigarette smokers will switch to vaping once the U.K. leaves the bloc, they argue, if looser British tobacco laws replace tighter EU limits on nicotine advertising and packaging.

Tobacco laws appear likely to mark one of the U.K.'s first post-Brexit breaks with EU law.

The House of Commons' science and technology committee recommended a review of tobacco legislation last year, to create a "more risk-proportionate regulatory environment." The government's Department of Health and Social Care agreed, saying it would look to "sensibly deregulate without harming public health" after Brexit.
---

---
Dave Cross, Planet of the Vapes
The toxic news that San Francisco's Board of Supervisors had dropped a bomb on tobacco harm reduction spread around the world like a tornado, becoming the number one item in every news room. Critics lined up to denounce the nonsensical decision to prohibit the sale of vape products yet allow the continued legal sale of tobacco.

Neal Benowitz is a respected expert on the subject of nicotine. The University of California Los Angeles medicine professor announced he was "disappointed and frustrated" by the move, but his response was still guarded: "While I am sympathetic with the parents' concerns, whether e-cigarettes use among adolescents will persist, as opposed to being a fad, and if there are any long-term harms for e-cigarette use in youth are unknown.
Dave Cross, Planet of the Vapes
Research covering the United Kingdom, United States and Canada, looked at the numbers of teens taking up vaping. It is a disappointing hotchpotch that negated to factor in potential causes for the observed patterns. It has been leapt upon by prohibitionists and zealots as a reason to celebrate and implement superfluous restrictions.

"Prevalence of vaping and smoking among adolescents in Canada, England, and the United States: repeat national cross sectional surveys" was published by the British Medical Journal this last week.
---
Ultrafire batteries are crap. This 3000mAh 18650 was found to have an actual capacity of 530mAh when tested. No surprise there, but under the wrapper it wasn't an 18650, it was an 18500 with a spacer added. There was a nut glued in the base of the spacer to add weight. pic.twitter.com/IkAEsWgYWA

— Torchy (@TorchyUK) June 30, 2019
We @daniel_kotz have just completed the first 3 years of the German Study on Tobacco Use (DEBRA) with >36,000 respondents. So excited about the next 3 years @BMG_Bund @SRNT_Europe @HHU_de Latest prevalence rates on tobacco/e-cig consumption are available https://t.co/g1rtquwCC7

— Sabrina Kastaun (@KastaunS) June 28, 2019
---
Jim McDonald, Vaping 360
A Nebraska school district is being challenged by the American Civil Liberties Union for its plan to randomly test students for nicotine. The recently announced policy—which will take effect this fall—has earned major media attention.

Fairbury public schools announced the new nicotine testing policy in a June 19 press release. The school has randomly tested students who participate in extracurricular activities for other drugs for the last three school years. Beginning this fall, Fairbury will add nicotine to the list.
Kevin Crowley, Vaping Links
New study on second-hand JUUL vapour. You can all relax now. ~ Finally, A Direct Comparison of Smoking and Smokeless Tobacco Use ~ Denial of Nicotine Health Information Is a Breach of Human Rights ~ Behold the Revolving Door: Gottlieb Joins Pfizer ~ Scott Gottlieb Elected to Pfizer's Board of Directors ~ Big Pharma battles Big Tobacco over smokers ~ Thinking About The Children ~ Dual Use of Vapes and Cigarettes—Harmful or Harm Reduction? ~ Bad categories, bad science ~ Was Seattle's soda tax a bait and switch?
The Golden Gate City Needs MSA Funds – Lindsey Stroud
After banning the sale of flavored tobacco products, including menthol cigarettes and flavoring in e-cigarettes, San Francisco is snuffing out tobacco harm reduction again. Frisco is now the first city to ban the sale of electronic cigarettes. Mayor London Breed is expected to sign the ban, which will essentially save tobacco companies by wiping out a major competitor: electronic cigarettes and vaping devices.

This is especially ironic because 23 years ago San Francisco became the first locality to sue major tobacco manufactures, after nine states filed lawsuits to recoup state health care funds for smoking-related illnesses. The class-action suit resulted in the largest settlement in U.S. history: the Master Settlement Agreement (MSA).
---

---
Sessi Kuwabara Blanchard
On July 1, the cost of electronic cigarettes and associated liquids skyrockets in Vermont as legislation passed earlier this year takes effect. The tax hike was made in the name of public health, especially of children. But the 92 percent wholesale tax, for which consumers will bear the burden, could hurt marginalized Vermonters and people seeking a safer alternative to combustible tobacco.

Signed into law on May 23, Vermont's Act 28 amended the existing Tobacco Products Tax by redefining "other tobacco products" to include non-tobacco products, such vapes and e-liquids, which it recognizes to be "tobacco substitutes."
Discuss vaping on ABC Newcastle 1st July 2019
Thanks as always to @dnglos for the YouTubage
Henry Saker-Clark
The UK's biggest vaping retailer has said it expects the UK Government to protect vapers from a San Francisco-style ban, as it commits its future to the industry with a major expansion plan.

VPZ has revealed plans to create 1,000 new jobs over the next three years as it looks to open 200 new stores across the UK.

The retailer, which has 125 stores across the country, said that it has outlined the rapid expansion proposals in order to keep up with surging demand as smokers put down traditional cigarettes.
On the potential benefits and risks of e-cigarettes in smoke-free prisons
Ashley Brown, Helen Sweeting, Sean Semple, Linda Bauld, Evangelia Demou, Greig Logan, Kate Hunt
Conclusion Our findings highlight that scientific uncertainty, misunderstanding about vaping, the complexity of prisons as workplaces and prison tobacco control policy all have implications for staff perceptions of the potential place of e-cigarettes in smoke-free prisons. To alleviate staff concerns, there is a need for reliable information on e-cigarettes. Staff may also require reassurances on whether products are 'tamper proof', and rules about vaping indoors.

Charles Yates, NNA(AU)
I recently returned from the Global Forum on Nicotine, where some 700 like-minded individuals gathered to discuss various aspects of tobacco harm reduction. Although the topic of this years conference was "It's time to talk about nicotine", and it is, I was also focused on how best the NNA can maximise its efforts.

How should we move forward and moreover, how can we effect change? Is the consumer element of THR really a significant part of the equation? Can a collective of passionate advocates influence policy and facilitate a shift in government and societal thinking?
Alana Ibbetson's engaged in the fight of her life – a battle against one of the most addictive of toxins, nicotine.

"May 2, about two months ago," the Papamoa mum fires back when asked when exactly she had her last cigarette. Any lapsed smoker could also probably tell you the exact hour, the exact minute.

"But I haven't given up nicotine, I have given up smoking, I have given up cigarettes." She is realistic because her battle, if it's to be won, will be done so with small steps.
Chris Lalonde
Across Canada, underage youth are legally restricted from purchasing alcohol, marijuana, cigarettes and vapes. But according to recently released survey data, they are using them anyway.

The media headlines say it all. A recent report in the British Medical Journal shows that Canada has experienced a "massive," "staggering," and "whopping" increase in teen vaping. Among 16- to 19-year-olds, last-30-days vaping use increased 74 per cent between 2017 and 2018.
With Philip Morris-funded foundation
India's health ministry has asked all state governments in the country not to partner with the Foundation for a Smoke-Free World (FSFW) because of its links to tobacco giant Philip Morris International Inc (PM.N), a letter seen by Reuters showed.

Established in 2017, the FSFW focuses on eliminating usage of cigarettes and works toward smoking cessation using new technologies and alternative products. It says it works independently, but the World Health Organization (WHO) has said there are "clear conflicts" due to the $80 million in annual funding the foundation receives from Philip Morris.
Richie Pergolizzi
If you believe you can smoke an e-cigarette in a traditional nonsmoking area, think again. On July 1st, the ban on e-cigarettes in indoor areas will go into effect.

"I do support it, yeah." said supporter of the ban, Michael Shepard. According to Tobacco Free Florida, 25% of Florida high school students report using e-cigarettes as compared to just 4% of adults.
---
A look back at how things have moved on or otherwise….
Martin Cullip at #GFN18
I'd like to start with a little anecdote of something that I came across a few months ago. I got an Uber – it was fairly late at night and I'd been out with a friend.

We'd been drinking and vaping. He said "Oh, I've been vaping too, I've got an e-cigarette" I said "Oh, that's interesting, what have you got, let's see it?". He said "Oh no, I don't bring it out with me, I don't bring it to work." I said "Whyever not?". He said "Well, Transport for London have banned vaping in private hire vehicles so I can't use it and it's too much of a temptation." And I said "So, what do you do, when you go on a shift?". And he said "Well, I always buy a packet of cigarettes before I start work".
Collective of EU Vapers Associations
The European Commission is holding a public consultation into the taxation of tobacco and vaping products, ending on 3rd September (1). Consumer associations and tobacco harm reduction organizations are issuing an urgent call for mobilization.

Answer the questionnaire >> Public consultation on excise duties applied to manufactured tobacco and the possible taxation of novel products.
---
Visit Nicotine Science & Policy for more News from around the World

---