Vaping Digest 1st July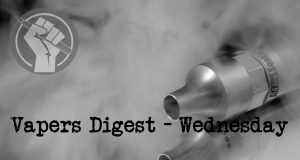 Wednesday's News at a glance:
Samrat Chowdhery appointed as INNCO President ~ Netherlands Flavour Ban – Down To Governmental "Crookedness" ~ Netherlands Plans to Ban Flavors; Other EU Countries May Follow ~ Vaping – Science VS Ideology ~ MPs Must Amend Bill After Compelling Study On Vape Flavours ~ Why the ban on nicotine vape fluid will do more harm than good ~ Smoking risks due to combustion, says international expert ~ BAN DELAYED | Australian Vapers Win Reprieve, Battle Is Not Over ~ U-Turn Hunt ~ Risk Review Ravaged ~ Vaping And Pregnancy in France ~ The Potential and Pitfalls of Providing Vapes to Incarcerated People ~ Vaping during the COVID-19 lockdown period in Belgium ~Philip Morris Says Cigarettes May Start Disappearing in a Decade
Twinkle Goel, News Patrolling
India's eminent harm reduction advocate Samrat Chowdhery has been appointed as the President of the International Network of Nicotine Consumer Organizations (INNCO), a global body of 34 national advocacy groups which has been recognized with UN observer status.

INNCO represents consumers of low-risk, alternative nicotine products, and promotes tobacco harm reduction (THR) at the global stage.
Neil Humber, Ecig Click
The decision to bring in a Netherlands flavour ban has left the country's vapers not only in shock but also scratching their heads in bemusement.

It seems the idea behind the ban of all flavours except tobacco and possibly menthol is down to a couple of completely outdated arguments – vaping is a gateway for kids into smoking, and that e-cigarettes are harmful to health.
Jim McDonald, Vaping 360
The Netherlands' government plans to introduce legislation soon that will ban flavored vaping products (except tobacco) next year, and tax the products that remain. The news came in a letter from health minister Paul Blokhuis to the Tweede Kamer, the Dutch house of representatives.
Asanda Gcoyi, Tech Financials
As the controversy continues raging around South Africa's blanket tobacco ban, with British American Tobacco SA's  (BATSA) court challenge postponed to August, it's time for the government to admit that misinformation – even from scientists themselves – has unfairly biased them towards the safer alternative that is vaping.

---
, Scoop News
A massive international study involving nearly 18,000 participants has revealed flavoured vapes are over two times more effective at helping adults to quit smoking than tobacco flavour alone. Further, flavoured vapes don't lead to more young people smoking.
---
Last week the federal government's Office of Drug Control announced changes to the importation of nicotine-containing electronic cigarette fluids that will seriously affect the estimated 227,000 regular e-cigarette users in Australia.

From January 1, 2021, users will no longer be allowed to import nicotine-containing fluids for use in e-cigarettes, even if they have a prescription.
---
---
Michael McGrady, Filter Mag
How much good can vaping do in a carceral setting? Smoking rates in prisons and jails across the United States and the world are extremely high, yet the question gets little attention.

One briefing from the Tobacco Control Legal Consortium estimated the available research to show that at least 70 to 80 percent of the US incarcerated population smokes or has previously smoked.
Karolien Adriaens, Dinska Van Gucht, Sven Van Lommel, Frank Baeyens, Qeios
Background: Due to the Corona Virus Disease 2019 (COVID-19), the Belgian government has set out a range of measures to prevent the spread of the virus. One measure included closing all non-food shops, including vape shops.
Corinne Gretler, Bloomberg
Philip Morris International Inc. signaled that cigarettes may start becoming obsolete within a decade in some markets as smokers switch to alternative products for nicotine.
---

---
A look back at how things have moved on or otherwise…
Dave Cross, Planet of the Vapes
Research covering the United Kingdom, United States and Canada, looked at the numbers of teens taking up vaping. It is a disappointing hotchpotch that negated to factor in potential causes for the observed patterns. It has been leapt upon by prohibitionists and zealots as a reason to celebrate and implement superfluous restrictions.

"Prevalence of vaping and smoking among adolescents in Canada, England, and the United States: repeat national cross sectional surveys" was published by the British Medical Journal this last week.
Jim McDonald, Vaping 360
A Nebraska school district is being challenged by the American Civil Liberties Union for its plan to randomly test students for nicotine. The recently announced policy—which will take effect this fall—has earned major media attention.

Fairbury public schools announced the new nicotine testing policy in a June 19 press release. The school has randomly tested students who participate in extracurricular activities for other drugs for the last three school years. Beginning this fall, Fairbury will add nicotine to the list.
---
Visit Nicotine Science & Policy for more News from around the World

---