Vaping Digest 3rd July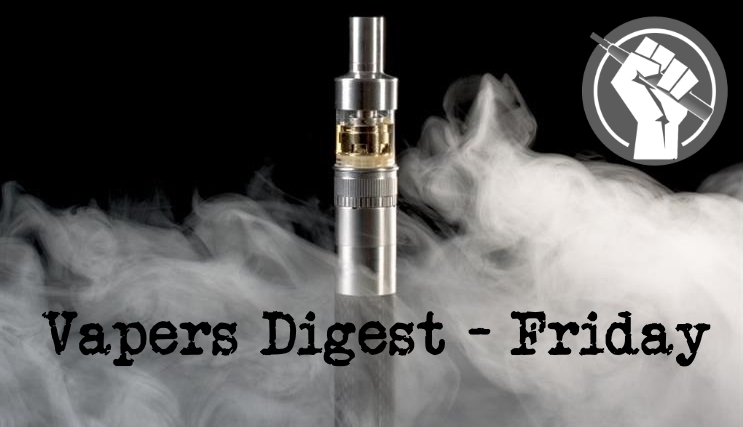 Friday's News at a glance:
The Endgame Revisited – Their Favorite Enemy – ACVODA Astonished – Verboten – Ethics in Programming : The Project I Refused – Vaping and Nicotine Consumer Rights Groups Around the World – THR Advocacy & Awareness Van for Australia – A Welcome Reprieve for Australian Vapers – NZ's Health Select Committee Understands The Importance of Vape Flavours – Why Australia's draconian vaping policies deserve condemnation – New vaping rules in effect in Ontario – Smokers not more susceptible to COVID-19 – Group Urges Thailand To Reconsider Ban On Vaping – How to give up tobacco and focus on harm reduction? – Nicotine Science and Policy Daily Digest
Clive Bates, Tobacco Reporter
In 2013, the journal Tobacco Control published a supplement, "The Tobacco Endgame," setting out various ways in which various experts thought a tobacco-free society could be attained. Ideas included annually increasing age limits, a cap and trade system, outright prohibition, taking control of the industry and making it put itself out of business, and removing most of the nicotine from cigarettes. In the intervening seven years, most of these ideas have not progressed at all. And rightly so, as I argued in a detailed critique, these policies are mostly impractical or excessively coercive and would fail if tried. The only one that attracted any real interest was the idea of lowering nicotine concentrations in cigarettes to make the product subaddictive (i.e., to eliminate the main reason people smoke). But even this de facto prohibition has not fared well. After backing the idea in 2017, the U.S. Food and Drug Administration (FDA) dropped the reduced nicotine rule from its regulatory plan in 2019. The most senior researchers engaged in the idea recently acknowledged that its viability would depend on the availability of credible safer alternatives to smoking.
Stefanie Rossel, Tobacco Reporter
The coronavirus pandemic could have been a chance for public health authorities and governments to promote tobacco harm reduction (THR). Instead, they resorted to well-known, tried-yet-unproven remedies, restricting sales channels or banning tobacco products altogether.

To warn against smoking, an activity linked to respiratory problems, appears to be a no-brainer when a deadly virus with the potential to cause acute lung failure is spreading rapidly around the globe. Yet many governments and public health authorities went much further. The Covid-19 outbreak amplified tobacco control policies that had been in circulation for decades, creating an opportunity to implement measures that would otherwise be unthinkable.
---

---
Dave Cross, Planet of the Vapes
Dutch consumer group Acvoda and the European umbrella organisation ETHRA called on the Dutch government to engage in talks last year as the Association of Physicians for Pulmonary Diseases and Tuberculosis demanded a ban on vaping. Politicians in the Netherlands failed to listen and Acvoda says vapers are "stunned" to hear about a proposed national ban on eliquid flavours.

"Flavours in e-cigarette liquids are a critical part of the success formula for quitting smokers," states the consumer organisation Acvoda. It says that all of its members successfully quit smoking with the help of electronic cigarettes, in which flavours have played an important role.
Dave Cross, Planet of the Vapes
Federal drug commissioner Daniela Ludwig is behind a move to push for a ban on flavoured eliquid in Germany, according to the site 'Vapers Guru'. It says a motion for a resolution is planned for next week in the Bundestag (the German federal parliament).

The parliament is set to debate vape advertising and eliquid flavours, following a similar disgraceful anti-democratic move by Dutch authorities.

Vapers Guru point out that the post of Federal drug commissioner is one tinged in favouritism and cocks a snook at democracy. The previous incumbent, Marlene Mortle, was appointed for her relevant experience of being the daughter of a Bavarian hop farmer and having completed a degree in rural housekeeping.
---
Thread 👇 https://t.co/8fnsf73XNf

— Jukka Kelovuori (@jkelovuori) July 3, 2020
You, I'm afraid, are a classic example of a Bloomberg "front group"

You are exclusively funded to the tune of at least $20 million
…by one individual
…to lobby for one narrow viewpoint
…and shut down debate from anyone who disagrees with it https://t.co/qHrTNC9f5M

— Dr. Moira Gilchrist 🧼🖐🖐 (@DrGilchrist) July 3, 2020
---
The Project I Refused – Christopher C. Johnson
From time to time you hear people in the developer community talk about how we should be more ethical. This usually revolves around A.I. and if a driverless car should prioritize passengers or pedestrians. Yet today I'm going to tell you a story about how I refused to work on a project I felt violated my code of ethics.

I worked in a call-center of a non-profit medical research facility that helped people stop smoking. The idea is that they'd call looking to quit and the agents would help them find a way that best suited their needs. I worked with a small development team to create a new call-center application.
Groups Around the World – Jim McDonald
There are more than 50 vaping and nicotine consumer rights groups around the world now, with more forming all the time. For many of the world's vapers and non-combustible nicotine users, it has never been easier to find an established consumer group that is fighting to protect their right to use low-risk smoking alternatives.

But almost three times as many countries don't have a consumer organization. Among the countries without a group that represents vapers are Australia, Japan, Israel, Russia, Turkey, Pakistan, and Poland. Only one Arabic-speaking country has a consumer vaping group—Tunisia—and it's in Africa, not the Middle East. Some of the listed countries ban nicotine sales, but not all of them.

Andrew Thompson
An Australian dies of smoking related disease every 25 minutes. This burden could be vastly eased by getting Australians to stop smoking, yet the numbers smoking have not significantly changed in six years. Whatever Australia was doing to reduce smoking rates before, is no longer working.

Pleasurable reduced or no risk alternatives (tobacco harm reduction) to smoking, like nicotine vaping, snus (smokeless tobacco) and heated tobacco products – are all banned in Australia. These products have proven effective for getting people to switch away from smoking in other countries. Swedish style snus has resulted in a daily smoking rate of just 5% in Sweden.
But a Rocky Road Ahead – Colin Mendelsohn
Australia's 300,000 vapers were shocked, angry and frightened last week when the Health Minister announced a ban on importing nicotine liquid into Australia with two weeks' notice and a penalty of AUD$220,000 per offence.

Vapers who had struggled to quit smoking for years and finally found a safer alternative faced the repulsive choice of going back to smoking or purchasing nicotine on the blackmarket. Chat groups were flooded with distressed vapers and panic buying was unprecedented. Retail shops were expected to close.

This was a potential disaster for public health. I saw 15 vapers the next day. Thirteen said they would revert to smoking if they could not get nicotine. Some would try to quit and the rest would seek nicotine on the blackmarket.
Deserve condemnation – Michael McGrady,
Over one year ago, I authored a column in these very pages for The Spectator Australia. In that column, I registered my observations with readers by declaring my views that state and federal Australian governments care not for the human rights of nicotine users that rely on non-pharmacological smoking cessation methods. 

In fact, I recall correctly that I referred to the sentiments related to smoking and nicotine use in this country as a "quit or die" scenario which forces users of the drug into statuses of second-class citizens.
---

---
Understands The Importance of Vape Flavours  – Diane Caruana
"The Health Select Committee now better understands the importance of vape flavours in helping Kiwis quit smoking. Subsequently, we may see some sensible softening of the Government's proposed flavour restrictions," said Jonathan Devery, spokesperson of the Vaping Trade Association of New Zealand (VTANZ) last month.

This comment concluded on the Smokefree Environments and Regulated Products (Vaping) Amendment Bill, which was introduced by Associate Health Minister Jenny Salesa last February and finalized last week.
But some flavours exempt – The Canadian Press
New rules restricting the sale of most flavoured vape products have come into effect in Ontario. The rules mean most of the products can now only be sold at specialty vape and cannabis retail stores, which serve customers 19 and older.

Products with menthol, mint and tobacco flavours are exempt from the new regulations, which came into effect Wednesday. The regulations also mean vapour products with nicotine levels higher than 20 milligrams will be limited to specialty stores.

Riccardo Polosa
It's not news that smoking is bad for human health and the leading risk factor for many heart problems and cancers. It also reduces immunity, and makes people more likely to respiratory infections.

But researchers have found recently that smokers might not be more susceptible to infection or illness caused by the novel coronavirus (COVID-19). However, according to Riccardo Polosa, Professor of Internal Medicine at Italy's University of Catania and a world-renowned researcher into tobacco harm reduction, there is still an area of active research and the jury remains out on the claims.
Ban On Vaping – Jeff Mills
With around two out of every five Thai males at risk of smoking related illnesses, it is no surprise to see advocacy groups lobbying for a safer alternative to traditional cigarettes.

One such group, ENDS Cigarette Smoke Thailand, has requested that the government follow the lead of their Hong Kong counterparts and consider removing the existing ban on e-cigarettes. This group is being led by Asa Ace Saligupta, who is pushing decision makers to consider studies that show vaping and other non-smoke producing nicotine products can be a safer alternative.
And focus on harm reduction? – Pinkvilla Desk
Tobacco use is predominant in India with an estimated 300 million Indians using some form of tobacco. That is more than the population of Pakistan and on its own will stand out as the fourth largest country by population in the world. Everyone knows how tobacco affects our health, with people getting hypertension, diabetes, COPD and fatal cancers over time. Quitting tobacco is the best way out; however, that is easier said than done. People start tobacco use for multiple reasons and varied factors can overlap to create a complex emotional state.
Grows $10 billion Massachusetts black market – Elizabeth Sheld
In early June, Massachusetts's ban on flavored e-cigarette products went into effect. Massachusetts is the first state to prohibit the retail sale of flavored vaping products and flavored tobacco products like menthol cigarettes. While flavored e-cig use is still allowed in a handful of state licensed "smoking bars," products in those establishments are hit with a whopping 75 percent excise tax.

An officially licensed "smoking bar" is of no value to those who use flavored e-cigarettes to avoid toxic, combustible tobacco. One of the most important features of an electronic cigarette is that it is an effective substitute for the habit of smoking in everyday life: after a meal, when driving to work, or while watching a movie at home. What use is a "smoking bar" for these folks? Most e-cigarette users vape throughout the day.
Objects To Flavored E-Cig Ban Proposal – Edward O'Brien
A state legislative committee this week voted to formally object to a Montana health department proposal permanently banning the sale of almost all flavored e-cigarette products.

The Department of Health and Human Services announced its intent to enact the ban last month. It said the rule is meant to protect Montana kids, who they say are being specifically targeted with flavored vape products. The agency pointed out six times more high school students use e-cigarettes than legal-age adults – and youth use increased by 243% in the last two years.
---
A look back at how things have moved on or otherwise….
James Wellemeyer, Marketwatch
Taxes on traditional cigarettes may be driving smokers to try vaping.

A $1 tax increase on traditional cigarettes reduces cigarette use by 1.9% overall and by 3.5% for daily smokers, says a new study distributed by the National Bureau of Economic Research (NBER). It also increased vaping rates by 9.7%.
Simon Usborne, Medical Xpress
Karl Erik Lund first puffed on a cigarette at a party not long after smoking rates peaked in Norway. In the mid 1970s, almost half of adults in the country smoked. Lund, who is now 60, was young and would never take to smoking in a big way. But in 1986, as a graduate in Oslo, he spotted an advert for a research role at the government agency that collated tobacco statistics. He needed the money, but he soon became addicted to the data. "I wanted to ask the question: why do people keep going with a behavior that breaks society's rules?" he says.
BioSpectrum
In a letter to the Minister of Health and Family Welfare, the Prime Minister's Office and the Indian Council of Medical Research (ICMR), The Cancer Foundation – a non-profit organisation involved in multi aspect alleviation of cancer problem, shared a rebuttal to the white paper released by ICMR on May 29, 2019
---
Visit Nicotine Science & Policy for more News from around the World

---