Vaping Digest 6th July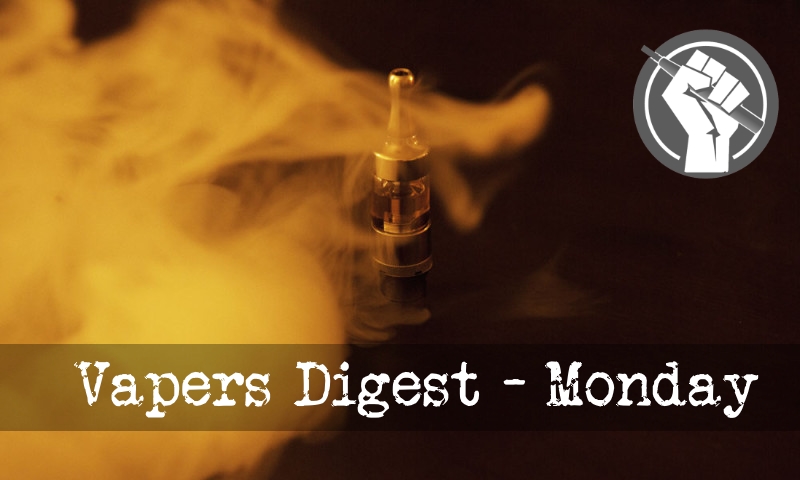 Monday's News at a glance:
Vapers and Public-Health Experts – S.1253 Will Harm Adult Vapers and Will Not Reduce Youth E-Cigarette Use – Vape sales increase eleven-fold – New Zealand's 2020 Budget Did Not Raise Tobacco Taxes – Doc's Dodgy Feelings – Flavours Are Effective For Smoking Cessation – NHS Slow on Cessation – Lies, Hypocrisy and Bluster – Socioeconomic Vaping – UKVIA Wants Tax Parity With NRTs for Vapor – Taiwan Association Says Tobacco Harm Reduction is a Human Right – Freedom Matters in Missouri – Nicotine Science and Policy Daily Digest
Sally Satel
Just a few years ago, e-cigarettes were lauded as a public-health miracle that could wean addicts off of far more harmful smoking habits. Today, the same e-cigarettes are denounced as a public-health nightmare, and their sale is increasingly restricted. How did this happen? And which view is more right?

Guest Sally Satel joins us to tell a story of tone-deaf manufacturers, flawed regulation, media scare-mongering, and an extraordinary lack of intellectual integrity in a prominent sector of the public-health community. And she discusses the implications for America's public-health experts going forward as we continue to fight the coronavirus pandemic.
And Will Not Reduce Youth E-Cigarette Use – AVA
Last Thursday, the United States Senate passed S.1253, the Preventing Online Sales of E-Cigarettes to Children Act, which has been pitched to the public as a way of requiring online e-cigarette retailers to verify ages of customers, including requiring a signature and ID upon delivery.

As is often the case, the words of politicians often conflict with the language in the bills they support. This legislation would also ban the USPS from shipping vaping products — forcing consumers and businesses to use more expensive and less reliable options offered by FedEx and UPS — and require even the smallest of vaping product companies to comply with a byzantine set of rules laws and rules set by both the federal and state governments.
---

---
Better Retailing
Demand for vape products has surged more than eleven-fold since the coronavirus pandemic and the UK ban on menthol tobacco cigarettes.

This is according to vape retailer Every Cloud Vape Shop, which said its sales grew by 1,150% during the three months of lockdown between March and May, compared to the previous three months.

Despite the UK ban on menthol tobacco cigarettes, there was a 69% increase in sales of menthol vape products and e-liquids in May.
---
The @smh has apologised today for falsely claiming that I have received tobacco company funding

In case, you missed it, it is the small paragraph at the bottom of the page ⬇️

Why do critics assume an ulterior motive for supporting #vaping? Surely helping smokers quit is enough? pic.twitter.com/w9mRCJ7OWe

— Colin Mendelsohn (@ColinMendelsohn) July 5, 2020
---
Did Not Raise Tobacco Taxes – Diane Caruana
For the first time after four years, New Zealand's Government did not announce any further tobacco tax increases as part of this year's budget.

"It's good news the Minister of Finance didn't use this Budget to hike tobacco tax, as has been the case for the past four years," said Nancy Loucas, Director of Aotearoa Vapers Community Advocacy (AVCA). Loucas believes that while tobacco tax is used as a way of gaining revenue, it has a negative impact on vulnerable groups and does little to motivate the public to quit smoking.

"AVCA does not support tobacco tax hikes. Too often they've been used as a revenue gathering exercise and always hit the vulnerable the hardest. They're terribly regressive and I would argue have had little impact on the likes of Maori with 31% still smoking."

Five from Dave Cross, Planet of the Vapes:
Dr Roger Henderson is one of those practitioners who has devoted a lot of time to his media career, appearing regularly on television and radio to promote his books. Despite previously being supportive of vaping and tobacco harm reduction, he is now stating "I am not recommending vaping during the Covid-19 pandemic".

Planet of the Vapes covered the marvellous coverage of vaping that has taken place in the magazine Nursing Times last week. The series of pieces covered a wide range of topics and conveyed excellent facts and advice to the nursing community.
Researchers at the Department of Health Policy and Management, at the Yale School of Public Health in Connecticut, had published a paper looking at how flavoured eliquids might lead to future initiation of tobacco products. They discovered that fruity and sweet flavours are over twice as likely to help smokers quit cigarettes.

Abigail Friedman and SiQing Xu looked at if there is an association between vaping uptake and subsequent smoking, and if it differs between individuals favouring tobacco vs non-tobacco flavoured vape products. The cohort study analysed data obtained from almost 18,000 participants.
NHS Hospitals are showing very slow progress on helping people quit smoking, according to a latest report by the British Thoracic Society (BTS). It says staff lack essential training and do not have the tools to help patients quit tobacco. In positive news, the Northamptonshire Stop Smoking Service is showing what can be achieved with a positive approach to vaping.

The BTS' second UK wide audit of the smoking cessation advice and services offered by hospitals to their patients found modest improvement since 2016, with slow progress in referrals, adopting and enforcing smoke free grounds and a decrease in hospitals-funded smoking cessation practitioners.
An employee of the magazine PR Week has been happy to trot out another unwarranted attack on the Foundation for a Smoke-Free World (FSFW), courtesy of the "tobacco industry watchdog", Stopping Tobacco Organizations and Products (STOP). STOP, synonymous with the University of Bath's 'Tobacco Tactics', is part of a coordinated approach to undermine tobacco harm reduction (THR) through slur and innuendo rather than address the actual science.

Arvind Hickman is News Editor for PR Week, but his copy-paste of this latest Bloomberg-funded press release was copied out across the associated platforms to Campaign (UK), AdNews (Australia), Campaign (US), Campaign Asia, Campaign India, and (probably, but who knows or cares, even) Conference & Incentive Travel.
Annual Smoking Toolkit Study data were studied by a team from University College London and the SPECTRUM Research Consortium. Loren Kock, Jamie Brown, and Lion Shahab looked to see whether social and economic factors play a part in smoking cessation and vaping.

The question they posed themselves: "Is socioeconomic position associated with use of e-cigarettes among those who formerly smoked, and has use e-cigarette use changed over time?"
---

---
The call comes amid reports that the Chancellor of the Exchequer considering reducing the VAT rates to stimulate the economy in the wake of the coronavirus.

In a letter to the Chancellor of the Exchequer, the UKVIA urges the government to consider a level playing field for NRT and vapor products to help adult smokers who would otherwise not quit smoking switch to vaping.

The letter points to the recent Public Health England report that found that when vapor products were used to quit, either alone or with licensed medication, success rates were comparable to, or higher than, when using NRTs alone.
Diane Caruana – Vaping Post
The Coalition of Asia Pacific Tobacco Harm Reduction Advocates (Caphra) is supporting a petition by the Taiwan Tobacco Harm Reduction Association (TTHRA), urging the government of Taiwan to allow tobacco harm reduction products, such as e-cigarettes and smokeless tobacco, as part of the key strategy to decrease national smoking rates.

Caphra's executive coordinator Nancy Loucas, said that this request is in line with the WHO's recommendation that countries regulate safer alternatives to protect public health. "This aligns with the WHO declaration that health is a fundamental human right and that individuals should be given the right to determine their right to advance and protect their own well-being," she said.

By Henry Martin
In Missouri we understand that the role of the government is to protect life, liberty, and the pursuit of happiness. Some folks in Washington, however, seem to have forgotten this. Cracking down on small businesses, criminalizing harm reduction, and establishing burdensome red tape has been the M.O. of MO's 6th congressional district representative for far too long. I am running for congress to end this farce.

As a combat veteran of Desert Shield and Desert Storm I have seen firsthand the impact of cigarette dependence on our military. The daily stress and concern for one's life will unnerve even the strongest among us. I can remember vividly the second-hand smoke that would fill the barracks.
On plain packaging laws won't stop its war against public health
After a decade of legal challenges by the tobacco lobby, Australia's pioneering push to eliminate all tobacco advertising finally has clear air.

Its longest stoush, over plain packaging laws introduced in 2012, finally ended last month, when the highest adjudicative body of the Word Trade Organisation affirmed a 2018 ruling the laws did not constitute an effective trade barrier or infringe tobacco companies' trade mark rights.

This is a significant win. But the global war is far from over. While this decision should encourage more countries to introduce plain packaging, the tobacco lobby can still be expected to use legal chicanery to thwart such public health measures.
---
A look back at how things have moved on or otherwise…
June newsletter from the New Nicotine Alliance
June was dominated by the Global Forum on Nicotine (GFN) in Warsaw. This year being the sixth staging, many NNA Trustees, associates and supporters were in Poland for the event which attracted a record 600-plus attendees. There were also a host of journalists, so the NNA took the opportunity to speak about a currently much-discussed topic while over there.

On the Friday of GFN, the NNA hosted a press briefing on the importance of flavours in vaping liquids. A panel representing academia, industry and consumers emphasised how vital flavours are in ensuring vapers do not relapse to smoking once they have found a set-up that works for them.
As E-Cigarette Use Rises Says NHS Report – Neil Humber
Data released by the NHS shows a massive decline in the number of smokers in England and a continued rise in the number of vapers.

The Statistics on Smoking England: 2019 also shows that whilst there's a slight rise in the number of young people trying an e-cigarette once, they too are saying no to lit cigarettes in their droves.

The annual study is prepared by the National Statistics Office and sadly despite the fall in smoking numbers, deaths from tobacco-related diseases still represent 20% of all male deaths and 12% of all female deaths – shocking, to say the least.
---
Visit Nicotine Science & Policy for more News from around the World

---