Vaping Digest 8th July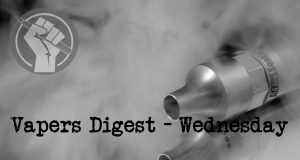 Wednesday's News at a glance:
The past is not the future – what lies ahead for tobacco and nicotine? ~ The shameful history of the anti-smoking crusade ~ The E-Cigarette Revolution That Wasn't ~ ETHRA notes on TPD interview ~ Podcast: the future of the Tobacco Products Directive and EU taxation ~ Adult smoking habits in the UK: 2019 ~ Parliament vaping booths 'too confidential' to discuss ~ English Study Calls for Vape Shop Staff ~ FDA Authorizes Marketing of IQOS Tobacco Heating System with 'Reduced Exposure' Information ~ Philip Morris Allowed to Say IQOS Reduces Harmful Exposure ~ Chowdhery for President ~ Mendelsohn Maligned ~ Our Laws Save Lives ~ Vape Mail Ban Passes the Senate; House Votes in Two Weeks ~ PMK chief urges regulation ease based on 'facts, science' ~ Vapor products can save lives by helping smokers quit ~ Tax Information Bulletin – Nova Scotia ~ Lighting up
Clive Bates, The Counterfactual
Let's have some debate on the future of tobacco, nicotine, tobacco control and the tobacco and vaping industry. Here are three provocative pieces to get things moving.

First, directly below, The past is not the future in tobacco control,  by pro-harm-reduction veterans of the tobacco wars with a historical perspective ending with four recommendations for a changed approach. I reproduce below the abstract and four main recommendations below and include my comments on the recommendations.
Christopher Snowdon, Spiked Online
Jacob Grier's The Reinvention of Tobacco shows how the war on smoking has been built on junk science, class snobbery and plenty of cash.

Jacob Grier doesn't like cigarettes. He doesn't smoke cigarettes. He advises people against smoking cigarettes. And yet he believes that adults should be allowed to smoke cigarettes without being harassed, demonised, over-taxed and thrown out of every building in America, including, in some cases, their own home. This view, which was once so uncontroversial as to go without saying, makes him virtually a libertarian provocateur today.
, National Affairs
In 2014, the Oxford English Dictionary christened "vape" the Word of the Year. The designation was a tribute to the impressive rise of the electronic cigarette, a battery-powered device that heats a flavored solution containing nicotine and converts it into an inhalable, or "vape-able," aerosol. By the close of 2013, six years after e-cigarettes became available in the United States, sales had surpassed $1 billion, prompting financial analysts to proclaim them a threat to cigarette sales. Observers hailed e-cigarettes as "among the most significant public-health innovations of modern times" and a "disruptive technology" poised to "revolutionize" public health.
---
European Tobacco Harm Reduction Advocates
ETHRA was invited to participate in the current review of the TPD, by responding to an online stakeholder questionnaire and taking part in a follow up telephone interview. We have written notes summarising the views we put forward in the interview, together with some background evidence.
Tobacco Intelligence
TobaccoIntelligence managing news editor David Palacios joins Jon Bruford to discuss the implications and impact of the looming Tobacco Products Directive version 3 on the industry.
---
Office for National Statistics, gov.uk
Cigarette smoking habits among adults in the UK, including the proportion of people who smoke, demographic breakdowns, changes over time and use of e-cigarettes.
Nikolaj Nielsen, EU Observer
In an exercise of transparency, EUobserver filed a freedom of information request to get insights into an internal debate on e-cigarettes at the European Parliament.

The issue revolves around the possibility of setting up specialised booths at parliament premises for MEPs who vape. Vaping is banned at the parliament, outside designated areas for cigarettes.
Diane Caruana, Vaping Post
A research project at the University of East Anglia aiming to understand how vape shop services have changed during the COVID-19 pandemic, is calling for vape shop staff to take part in a survey.
---

---
Tobacco Heating System with 'Reduced Exposure' Information
U.S. Food and Drug Administration, FDA
Today, the U.S. Food and Drug Administration authorized the marketing of Philip Morris Products S.A.'s "IQOS Tobacco Heating System" as modified risk tobacco products (MRTPs). This marks the second set of products ever to be authorized as MRTPs and the first tobacco products to receive "exposure modification" orders, which permits the marketing of a product as containing a reduced level of or presenting a reduced exposure to a substance or as being free of a substance when the issuance of the order is expected to benefit the health of the population.
---
This application was sent to FDA in March of 2017. It was accepted for scientific review in August of that year.

Three years. It took three years and they still declined to take a position on reduced risk that was based in science.

How long will vaping applications take? https://t.co/aCKmKTaRnn

— Gregory Conley (@GregTHR) July 7, 2020
---
The FDA just approved a reduced-exposure claim for a heated tobacco product. Bloomberg-funded foundations recommend a ban on all tobacco harm reduction products, so that only tobacco cigarettes will remain available. Which of the two is "fatally" wrong?

— K. Farsalinos (@FarsalinosK) July 8, 2020
---
Angelica LaVito, Bloomberg
Philip Morris International Inc. can market its IQOS products as reducing consumers' exposure to harmful chemicals found in cigarettes, the U.S. Food and Drug Administration said Tuesday.

IQOS heats tobacco rather than burning it, a process seen as less harmful than smoking conventional cigarettes. The FDA last year allowed IQOS, which is an electronic device that uses a tobacco plug, to be sold in the U.S. while it reviewed Philip Morris's modified-risk product application.
---
Jim McDonald, Vaping 360
Bipartisan legislation that will eliminate U.S. Postal Service delivery of vaping products has passed the Senate and is on the way to the House. The Senate passed S 1253, the so-called "Preventing Online Sales of E-Cigarettes to Children Act," by voice vote on July 2.
Jo He-rim, The Korea Herald
Philip Morris Korea Managing Director Paik Young-jay urged Tuesday for the government to come up with differentiated regulations for its heat-not-burn e-cigarettes, as the industry is largely misrepresented due to its "ideological" approach, rather than based on science.
---

---
, Tenneseean
The country has begun its recovery efforts from the coronavirus pandemic, and we are attempting to get back to normal, catching up on those things we missed while the world stopped to deal with the threat. While there has been promising and positive research released in the last few months related to vaping and vapor products, much of it seems to have gotten lost in the mix as news outlets almost exclusively covered the pandemic, rightfully so. Now, however, as the executive director of the Tennessee Smoke Free Association, I believe the public should have this latest information.
Nova Scotia, Provincial Tax Commission
Notice of Amendments to the Revenue Act and Revenue Act Regulations—Prohibitionson Vaping Products

As recently announced, effective 12:01 am, September 15, 2020 there will be limitationson thepossession,sale andtransfer of Vaping Products.
, Breaking Views
---
A look back at how things have moved on or otherwise…
The Scientific American has indulged itself in some very unscientific nonsense in the article "Social Media Bots Deceive E-cigarette Users". It warns its readers that bots are promoting the "unproved benefits of e-cigarettes". The article relies on a poor study, rehashed from 2017, that ignores genuine science and promotes an ignorant fear agenda.

"Vaping is hot," writes Mark Fischetti. "A clever analysis of Twitter posts reveals one possible reason: automated accounts, or bots, may be convincing people that electronic cigarettes are beneficial."
Carl V. Phillips, Anti-THR Lies
I was asked by Clive Bates to expand upon his analysis of this paper (open access link): "Evidence that an intervention weakens the relationship between adolescent electronic cigarette use and tobacco smoking: a 24-month prospective study", which is "by" Mark Conner, Sarah Grogan, Ruth Simms-Ellis, Keira Flett, Bianca Sykes-Muskett, Lisa Cowap, Rebecca Lawton, Christopher Armitage, David Meads, Laetitia Schmitt, Carole Torgerson, Robert West, andKamran Siddiqi, Tobacco Control, 2019. (Scare quotes on by because you know when there are 15 authors, fewer than half of them even read it, let alone wrote it.)
---
Visit Nicotine Science & Policy for more News from around the World

---