Vaping Digest July 8th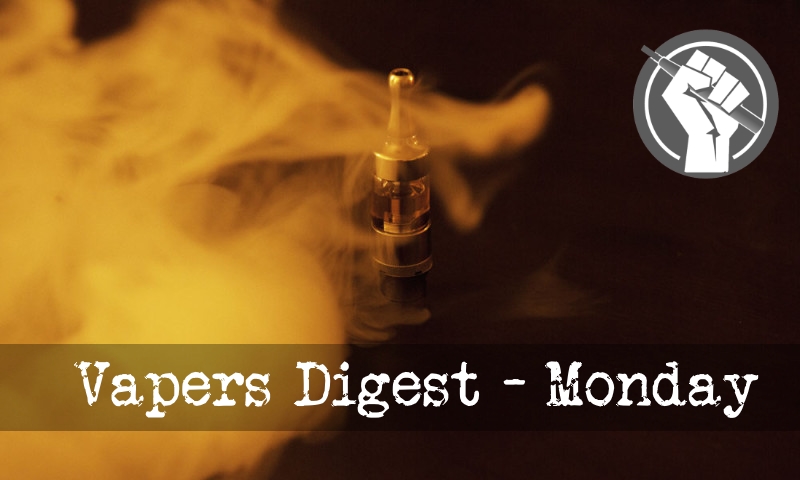 Monday's News at a glance:
Good news from the UK; very bad news from Vermont – Vaping In The News – July 6th – Unscientific American – 10 Dangers of Vaping – "Vaping is a gateway" claims – CDC Data: Vaping Increased in 2018 – Australian researchers claim to have found the mythical gateway! – Albany's Proposed Flavored Tobacco Ban Misses the Mark – Vote no on flavored vaping ban – Vape News Headlines – Nicotine Science and Policy Daily Digest
Very bad news from Vermont – Fergus Mason
New data from the UK shows that, yet again, smoking is down and vaping is up. There's also no evidence to show a "gateway effect" or epidemic of teenage vaping. However, state legislators in Vermont don't seem to care about reducing smoking, as the state's vapers are now paying a crushing 92% tax on all products – despite new US research showing that vape taxes make smokers more likely to keep lighting up. Meanwhile San Francisco's vape ban is facing pushback; the question now is whether the city's voters share their local government's anti-vape fanaticism.
Kevin Crowley, Vaping Links
Vaping Taxes Tempt States but Bring Challenges ~ No sale to minors ~ Grubby Gottlieb ~ You Don't Know Nicotine ~ Vaping and the Mic ~ Australian researchers claim to have found the mythical gateway! ~ The Corporate Wolf in Public Health's Clothing ~ Meanwhile, across the pond ~ The Vaping Legion
---

---
Two from Dave Cross, Planet of the Vapes
The Scientific American has indulged itself in some very unscientific nonsense in the article "Social Media Bots Deceive E-cigarette Users". It warns its readers that bots are promoting the "unproved benefits of e-cigarettes". The article relies on a poor study, rehashed from 2017, that ignores genuine science and promotes an ignorant fear agenda.

"Vaping is hot," writes Mark Fischetti. "A clever analysis of Twitter posts reveals one possible reason: automated accounts, or bots, may be convincing people that electronic cigarettes are beneficial."
In "10 Dangers of Vaping You Didn't Know", Canadian YouTuber Matthew Santoro shamed himself by repeating lies and mistruths about vaping. His top ten lists and "50 Amazing Facts" has gained him 6,366,332 subscribers and this anti-vape propaganda has currently clicked up 158,688 views thanks to the sponsored rubbish from Health Canada.

"23% of students in Canada's secondary schools have tried vaping," opens Santoro. "Teenagers have assumed vaping is safe but research is showing it is far from healthy".
---
---
Carl V. Phillips, Anti-THR Lies
I was asked by Clive Bates to expand upon his analysis of this paper (open access link): "Evidence that an intervention weakens the relationship between adolescent electronic cigarette use and tobacco smoking: a 24-month prospective study", which is "by" Mark Conner, Sarah Grogan, Ruth Simms-Ellis, Keira Flett, Bianca Sykes-Muskett, Lisa Cowap, Rebecca Lawton, Christopher Armitage, David Meads, Laetitia Schmitt, Carole Torgerson, Robert West, andKamran Siddiqi, Tobacco Control, 2019. (Scare quotes on by because you know when there are 15 authors, fewer than half of them even read it, let alone wrote it.)
Brad Rodu, Tobacco Truth
Before 2018 even ended (here), federal officials were obsessed with that year's "teen vaping epidemic," based on a distorted interpretation of data from the National Youth Tobacco Survey (here).  But what about adult smoking and vaping in 2018?  Our government has had the 2018 National Health Interview Survey (NHIS) data for months, but there has been no public release or discussion.  In all likelihood, the results don't fit the government's vision for a tobacco-free society.

There were about 8.07 million American adult vapers in 2018, up from 6.9 million the year before, according to just-released 2018 NHIS data.  That's the first increase since the CDC started tracking e-cigarette use in 2014.
---

---
Claim to have found the mythical gateway! – ATHRA
Australian researchers recently set out to prove that vaping increases the risk of smoking (the gateway theory) in young adults. The study did not find evidence to support the pre-determined conclusion, but the researchers claim to have shown it anyway.

The study was published this week in the International Journal of Health Policy by researchers from the School of Psychology at Curtin University in Western Australia.

Researchers questioned 519 non-smoking young adults (18-25 year olds) online and found that 20 (twenty) had used an e-cigarette once or more in the last month. This group were more curious about smoking, more willing to smoke and had a greater intention to smoke than those who had not used an e-cigarette.
Guy Bentley
Albany County legislators are deciding whether to ban all flavored tobacco products, including e-cigarettes. Driven by the best of intentions and cheered by public health groups, Albany is racing towards being the first county in the U.S. to enact such a prohibition.

States across the country had the opportunity to pass similar legislation this year, but all declined to do so. That's not a coincidence.

From the Royal College of Physicians to the National Academies of Sciences Engineering Medicine, the medical consensus is clear that e-cigarettes are substantially safer than traditional cigarettes.

There are a lot of things that we as a society allow adults to do that we don't allow kids to do. Smoking. Drinking. Gambling. Voting. Joining the military. Entering into contracts. Operating heavy machinery.

We set minimum age limits to protect kids from the potentially harmful effects and to give them time to mature so they can make their own decisions as adults.

By the time we reach adulthood, we're allegedly mature enough and experienced enough to make such decisions and to deal with the consequences. So society entitles adults to do these things.
Neil Humber
Vape Shops Now In UK Hospitals – Canda Calls To Ban Vape Ads – California Cranks Up Anti Vape Laws – Cancer Foundation Says No To India E-Cig Ban and Edge E-liquids Gets Asda Deal
---
A look back at how things have moved on or otherwise….
Diane Caruana, Vaping Post
The New Nicotine Alliance (NNA), a UK registered charitable incorporated organisation "concerned with improving public health, through a greater understanding of "new" (risk-reduced) nicotine products and their uses" is supporting an initiative by French organization SOVAPE.

Last January, the EU Commission delayed a decision on whether to impose the infamous proposed EU-wide tax on vaping products until 2019, as until now they did not gather enough data to justify the move.
New Nicotine Alliance
What's important now for me as a consumer is what you guys do when you leave here, as groups or as individuals. A lot of people are rightly looking to the UK as being a good place for harm reduction, particularly in this field but again, being a Scotsman we don't particularly like the UK and we've got a little saying that says "we're daein well but we're no daein great". I'll translate that into English for you: "We're doing very well but we're not doing brilliantly".
---
Visit Nicotine Science & Policy for more News from around the World

---