Vaping Digest July 5th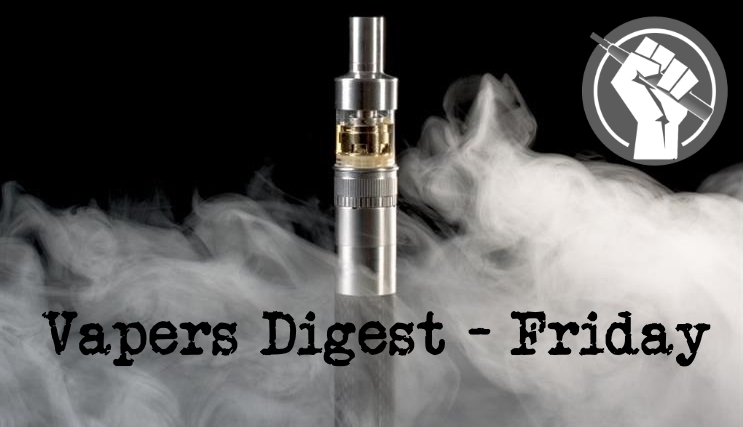 Friday's News at a glance:
Flavour of the month, NNA June newsletter – Smoking Rates Plummet As E-Cigarette Use Rises – Beware anti-smoking campaigners – New NHS Stats – Vapers Save Money – Truth and Lies – Grubby Gottlieb – Vaping Hotspots – E-cigarettes: why I'm optimistic – The Corporate Wolf in Public Health's Clothing -San Fran's idiotic war on e-cigs – Scrutinizing Results of Controversial Teen Vaping Study – The curious case of the proposed ban on e-cigarettes – Fewer teens are smoking despite vape increase – Nicotine Science and Policy Daily Digest
June newsletter from the New Nicotine Alliance
June was dominated by the Global Forum on Nicotine (GFN) in Warsaw. This year being the sixth staging, many NNA Trustees, associates and supporters were in Poland for the event which attracted a record 600-plus attendees. There were also a host of journalists, so the NNA took the opportunity to speak about a currently much-discussed topic while over there.

On the Friday of GFN, the NNA hosted a press briefing on the importance of flavours in vaping liquids. A panel representing academia, industry and consumers emphasised how vital flavours are in ensuring vapers do not relapse to smoking once they have found a set-up that works for them.
As E-Cigarette Use Rises Says NHS Report – Neil Humber
Data released by the NHS shows a massive decline in the number of smokers in England and a continued rise in the number of vapers.

The Statistics on Smoking England: 2019 also shows that whilst there's a slight rise in the number of young people trying an e-cigarette once, they too are saying no to lit cigarettes in their droves.

The annual study is prepared by the National Statistics Office and sadly despite the fall in smoking numbers, deaths from tobacco-related diseases still represent 20% of all male deaths and 12% of all female deaths – shocking, to say the least.
---

---
Simon Clark, Taking Liberties
Prompted by new research published this week I've been doing a bit of reading. On Monday ASH unveiled the results of its latest YouGov survey. As I wrote here it got very little coverage but we shouldn't dismiss it because ministers and civil servants will no doubt be devouring the data to see how far they dare push further anti-tobacco measures.

(On Wednesday, on BBC Radio Sussex, ASH's Vicky Salt took issue with my claim that ASH want to ban smoking in all private vehicles. Not so, said Vicky. That is not "currently" ASH's policy. Maybe not but it won't be long before it is. That's how ASH works – by stealth.)
---
---
Five from Dave Cross, Planet of the Vapes
The Statistics on Smoking, England: 2019 report is a compendium published by NHS Digital, which also includes data from Public Health England and the Office for National Statistics. It shows smoking down, vaping up, no renormalisation of smoking and no gateway effect. In addition, youth vaping remains at very low levels and is confined to current smokers.

The new NHS report highlights how an enlightened approach to vaping and tobacco harm reduction has benefits for society by improving health and reducing costs.
Addiction journal has published a new study that finds switching from smoking to vaping saves money as well as improving health. The researchers are based at the Department of Behavioural Science and Health and the Department of Clinical, Educational and Health Psychology at University College London (UCL).

In "Expenditure on smoking and alternative nicotine delivery products", the team says that the majority of smokers want to quit, mainly to improve their health but a third try to do it to save money.
ABC Newcastle's Mornings, "Informed, entertaining, thought-provoking radio that asks the questions that you want asked", played host to a debate on vaping between renowned harm reduction expert Dr Colin Mendelsohn and science denier Simon Chapman. Dr Mendelsohn is a Conjoint Associate Professor in the School of Public Health and Community Medicine at the University of New South Wales, having been a GP for 27 years. Chapman owns a Twitter account.

Host Kia Handle began the show by mentioning the impending ban in San Francisco and fears about long-term dangers, "they don't want to end up with another cigarette situation. In 10, 20 years' time, we find out there was [sic] negative health implications."
The Food and Drug Administration's (FDA) ex-Commissioner started the job with collective hopes he would bring a dose of common sense due to his background with an ecig company. His tenure went rapidly downhill and now, with the announcement he is to sit on Pfizer's board of directors, he joins a huge list of ex-FDA employees who have feathered their nests with post in the pharmaceutical industry.

Writing in the Wall Street Journal, Gottlieb says: "Electronic cigarettes are less harmful than traditional cigarettes, but they aren't safe. There's evidence they can damage the lungs, and they're also a path to nicotine addiction."
"Dudley is one of country's vaping hotspots" according to the Birmingham Mail, using results from the UK Vape Store Locator (UKVSL) website. UKVSL says it is (hopefully) the most up to date and accurate listing of Brick & Mortar vape shops in the UK at this point in time.
UKVSL says it, "attempts to map every (or as many as possible) Brick & Mortar vape stores in the UK onto an easy to use and informative map."
---

---
They will stub smoking out for good –
There are over a billion smokers across the world – a habit which causes more than 7m deaths per year. We have known that smoking kills for decades, but this simple fact has not been enough to persuade every smoker to quit.

Even more surprising is that the vast amount of evidence about the risks of smoking hasn't been enough to put people off starting to smoke in the first place. If knowing smoking kills doesn't stop people from taking up the habit, what will?
In Public Health's Clothing – Danielle Jones
​The vaping community has always identified Big Tobacco as Public Enemy #1 – and for good reason. Cigarettes are on track to kill 1 billion people by the end of this century, and vapor products were born from the desperate desire to escape that fate. No one disagrees that tobacco companies are responsible for untold premature deaths, but the question is: Are they really vaping's biggest adversary?

Gums, patches, inhalers, and pills made by pharmaceutical giants like GlaxoSmithKline (GSK), Johnson & Johnson, and Pfizer are the only smoking cessation products recommended to people in the United States. But one of the little-known facts about these products is that they have an extremely low success rate.

Elise Amez-Droz and Trace Mitchell
On Tuesday, San Francisco became the first city in the US to ban the sale of e-cigarettes within its jurisdiction. According to San Francisco's Board of Supervisors, the law will ban all e-cigs that have not already received pre-market approval by the Food and Drug Administration. Supporters of the ban argue that it will promote public health, but it is likely that it will actually result in an increase in the use of traditional cigarettes.
Brent Stafford
When University of Waterloo professor David Hammond first shared preliminary results of his teen vaping and smoking study with Health Canada and the media in late 2018, he did so with the "hope" that his findings were just a "blip"; a sentiment he expressed at the time, and again in June 2019 when the study was finally published in the British Medical Journal.
What Professor Hammond and those he selectively shared the data with knew was that the study found a massive increase in the prevalence of teen vaping and smoking (among 16 to 19-year olds) from 2017 to 2018.
Krishna Sarma
There has been a spate of recent reports that among the actionable items under the 100-day agenda of the re-elected Narendra Modi government, the Ministry of Health and Family Welfare (MOH) wants to ban Electronic Nicotine Delivery Systems (ENDS). Backed by scientific research, ENDS products have emerged as a possible alternative to smokers who are not able to quit smoking. These products, while providing the smokers an opportunity to satiate the craving for nicotine — an addictive substance — do not force the smokers to inhale "smoke" from the combustion of tobacco leaves as in traditional combustible cigarettes.
Irish Mirror
Teenagers given good health ­information, I believe, will ­always act responsibly, by and large.

This is proved by ­national surveys in several countries indicating smoking among the young has ­continued to fall in recent years, ­despite a rapid growth in e-cigarette use.

Health professionals have feared vaping might act as a gateway to regular smoking – or prompt young people to see smoking as socially acceptable, referred to as"renormalisation". The good news is, it doesn't.
---
A look back at how things have moved on or otherwise….
Mawsley, Planet Of The Vapes
Despite being the greatest advance in the fight against tobacco-related harm, vaping could be dealt a blow greater than the impact of the Tobacco Products Directive. European legislators are floating the idea that vape products could carry a 'sin tax'. Vapers have the opportunity to send a clear and unequivocal message to the EU by signing a petition on Change.org.
John Summers, NNA Trustee and INNCO board member, had this to say to POTV newsletter subscribers: "The EU has pushed tobacco taxes as being about health. By attempting yet again to leverage a "sin tax" on a far safer alternative they are playing with millions of lives and showing their true colours: Money and Ideology is more important than people."
Cristopher Snowden, Velvet Glove Iron Fist
The Office for National Statistics has just released its annual publication, Adult Smoking Habits in Great Britain, with data for 2017.

2017 was the year that plain packaging and the Tobacco Products Directive effectively began. Both were introduced in May 2016 but retailers were allowed to sell their old stock until 20 May 2017. The tobacco industry made sure plenty of branded packs were available and few smokers saw a plain pack until 2017. The vaping industry also tried to make sure there were good, non-EU regulated e-cigarette fluids available for as long as possible.
Mawsley, Planet Of The Vapes
News has come to POTV that Holland is set to ban shortfills. It is a nonsensical decision that will only increase the volume of packaging waste and increase cost to the end user. Ultimately, this runs contrary to the notion that vaping is a tobacco-harm reduction tool and will dissuade smokers from switching.
The Ministerie van Landbouw (Ministry of Agriculture) has published details via the Dutch Food Safety Authority, the Nederlandse Voedsel en Warenautoriteit (NVWA). The actions go beyond just banning shortfills and place huge costs on business facing a logistical nightmare.
---
Visit Nicotine Science & Policy for more News from around the World

---