Vaping Digest 10th July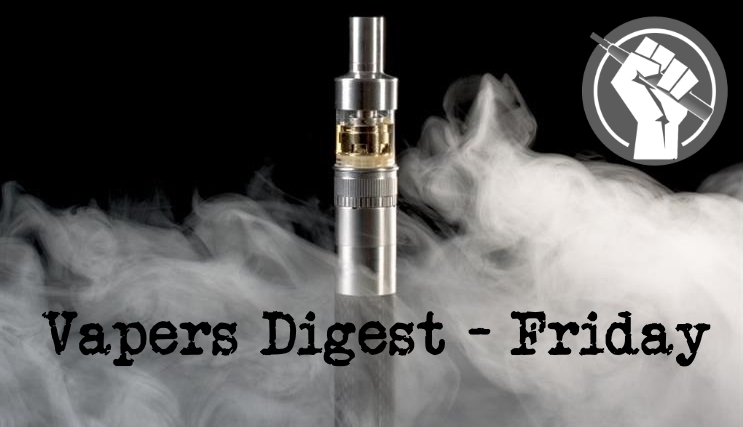 Friday's News at a glance:
New official statistics endorse the UK government's approach to harm reduction – Stop the ban on flavored e-liquids – New EU rule changes would mean bad news for #Smokers and #Vapers – US Mail Vape Ban Passes the Senate – Vape Bans Are Creating a Thriving Illicit Market – Research Roundup – Parliament – Flavour Ban Black Market Boom – Erroneous Europe – Nova Scotia Nonsense – Steve Brine: Making the most of vaping – Massachusetts Regulators Knowingly Drive Vapers to the Black Market – The Black Market of Vaping – Vapers fight against ban – TGA blows smoke up Australia's ash –  Health Canada to ban advertising – Pragmatic tobacco policy can decrease youth use – FDA Issues IQOS Modified Risk Approval – Nicotine Science and Policy Daily Digest
Endorse the UK government's approach to harm reduction
New Nicotine Alliance
On Tuesday the Office for National Statistics – the UK government's official agency for assessing economic and social behaviour – released their latest statistical bulletin on smoking prevalence. It made for interesting reading:

The number of vapers in the UK has not changed much since previous assessments, but smoking prevalence continues to decline at a significant rate.

Many of the direst predictions of the effect of safer nicotine products – not just here but in other countries – have often focussed strongly on the possibility of a 'gateway' from vaping to combustible tobacco use, especially amongst youth. However, in the UK where regulations on reduced risk products are arguably the most liberal in the world, this is simply not happening.
8,485 signatures
State Secretary Paul Blokhuis announced Tuesday June 23, 2020 that in the spring of 2021 e-liquids with flavors will be banned.

We, users and sellers of electronic cigarettes disagree. We cannot let this briefly substantiated policy take place!
Would mean bad news for #Smokers and #Vapers alike
In its conclusions in June, the European Council approved a new consensus on excise duties on tobacco. The member states suggest rule changes that would increase the price of tobacco, and equally affect non-tobacco products such as e-cigarettes, writes Bill Wirtz.

Since 2011, the European Union has had a common minimum excise duty on tobacco products, which notably increased the price of cigarettes in those European countries where the prices are comparatively low. Neighbouring countries with higher taxes were claiming that the prevalence of cross-border purchases was subverting their own public health goals. For instance, German commuters buy tobacco in Luxembourg, as the price is lower than in their local shops.
---

---
Diane Caruana – Vaping Post
If passed, S 1253: "Preventing Online Sales of E-Cigarettes to Children Act," would ban shipments of vape products by the US Postal Service and would force other delivery services to check ID and get an adult signature at the point of delivery. Deliveries by FedEx, UPS or DHL are already much more expensive than mail delivery, so besides the extra hassle, the required signature at delivery will also add additional cost.

If the bill goes into effect, the cost of an online vaping purchase could increase by as much as $20. Additionally, requiring an adult signature would present its own difficulties since most deliveries happen during business hours when most vapers are at work. Moreover, points out Gregory Conley the president of the American Vaping Association (AVA), the signature requirement would create unnecessary points of contact that are counterproductive to the current coronavirus distancing situation.
---
---
Alex Norcia, Filter Mag
On a normal day, Nic Holden makes $150 selling liquid nicotine out of his car. For the past month, he has been meeting customers in parking lots on Long Island, where they get into the passenger seat with cash in-hand. He buys the nicotine from what he refers to as "a reputable wholesale nicotine distributor." Then he measures it out and pre-fills the bottles for purchase, usually ranging from 5-10 milliliters. He spread this business solely through word of mouth and estimates that he already has up to 50 loyal visitors. Holden—a pseudonym that he uses with his clientele—even has a burner phone.

He has had to resort to such a practice because—smuggled into a budget in the early hours of April 3, while most of the state focused on the worsening coronavirus outbreak—New York banned the sale of all flavored vaping products other than tobacco-flavor.

Five from Dave Cross, Planet of the Vapes:
The UK E-Cigarette Research Forum (UKECRF) is an initiative developed by Cancer Research UK in partnership with Public Health England (PHE) and the UK Centre for Tobacco and Alcohol Studies (UKCTAS). Among other things, it brings together genuine experts to look at research related to vaping. UKECRF has released its latest vape research briefing, thanks to funding by Cancer Research UK (CRUK).

The research briefing is part of a series of monthly updates aiming to provide an overview of new studies on electronic cigarettes. The briefings are intended for those involved in research or advocacy, and any others who may not have time to keep up to date with new findings and would like to access a summary.
Lord Kennedy had the COVID-19 pandemic on his mind, while Helen Hayes MP was thinking about the children. Sir Desmond Swayne MP tabled a question regarding menthol, Bob Blackman MP focussed on the government's smoke-free target, and Adam Afriyie MP asked a host of questions. Meanwhile Baroness Northover wanted to see smoking banned from pavements – and who knows what would follow in its footsteps for vaping?

Lord Kennedy of Southwark asked: "What plans [does the government] have to launch a campaign to address nicotine addiction to deliver a better outcome for COVID-19 patients?"
The US state of Massachusetts implemented a almost total ban on the sale of all "flavoured" vape products last month. State licenced smoking bars are allowed to sell flavoured eliquids, but the bottle carry a whopping 75% tax. The state only taxes cigarettes at 40%. As predicted by almost everybody, the prohibition measure and tax hike has led to a massive boom in the black market.

Last November, YouTuber harm reduction advocate Matt Culley called the tax proposals "insane" and "the worst, most regressive war on drugs vaping bill I have seen".
The European Tobacco Harm Reduction Advocates (ETHRA) organisation called upon Germany to "act wisely", but it isn't listening as it pushes forward with regressive measures that will limit access to harm reduction information. The Netherlands is also facing further condemnation from a UK trade body as it plans to implement a juice flavour ban.

Germany is to clamp down on 'tobacco product' advertising from January 2022 as it seeks to align itself with a number of other European nations. It will begin with a ban on outdoor cigarette advertising in 2022, a ban on advertising heated tobacco products in 2023, and a ban on vape ads from 2024.
Canadian province Nova Scotia has published a ridiculous list of prohibitions on vaping products – criminalising most vapers in the process. It was celebrated in the media by calls for legislators to go even further.

In Tax Information Bulletin 5111, notice is given of amendments to the Revenue Act and Revenue Act Regulations – Prohibitions on Vaping Products. As of 12:01 am, September 15, "there will be limitations on the possession, sale and transfer of Vaping Products."

The incredible list is as follows:
---

---
To deliver a smoke-free Britain
Last year, the Government announced plans to make England smoke-free by 2030, building on previous initiatives such as the ban on smoking inside public places, and the introduction of plain packaging for cigarettes and hand rolling tobacco.

A year on, we have yet to see enough detail of how it intends to achieve its ambition, and there are real concerns that England could miss this target unless further clarity is provided.

The UK vaping industry, estimated to be worth more than £1 billion to the economy, can be a valuable partner in helping to deliver on the Government's objectives and address the smoking cessation plateau.
Knowingly Drive Vapers to the Black Market – J.D. Tuccille
It's not often that a government agency admits that its mission is doomed, but that's what the Massachusetts Department of Revenue's Illegal Tobacco Task Force is doing with regard to the state's new ban on flavored tobacco products. As a consequence of severely restricting flavored vaping products, flavored smokeless tobacco, and menthol cigarettes, "the Task Force expects there will be an increase in smuggling activity and black market sales," it admits in its latest report.

But don't expect the Bay State's official busybodies to throw in the towel; to the contrary, they want expanded enforcement power. All we get is an acknowledgment that even the prohibitionists know they're spinning their wheels.
 Sam Nichols
Fraser is adamant about what'll happen if he can't access liquid nicotine: smoking is the last option. "I would figure out a way to get either the nicotine salt, or whatever, to add to liquid, or just go to a place and buy it," he laments.

"I would still rather go through that than smoke."

It's been a stressful three weeks for Fraser. On June 19, the Federal Government announced its intention to further restrict liquid nicotine — which Fraser uses for vaping. Currently, it's illegal to buy or sell liquid nicotine in Australia, but a loophole exists, via the Therapeutic Goods Administration's (TGA) Personal Importation Scheme, which allows anyone to import prescribed, but unregulated, medicine from overseas.

Legalise Vaping Australia (LVA)  today reprimanded the Therapeutic Goods Administration (TGA) for their misleading claim "that the current scheduling of nicotine remains appropriate as there is insufficient evidence to support an exemption from Schedule 7 for nicotine in heated tobacco products (HTPs)." The TGA used old US Food and Drug  (FDA)  positions to support this claim, when the FDA has in fact confirmed HTPs are less harmful than cigarettes.
Geraldine Alphonse
Local former smokers who switched to vaping said they fear for their own lives after the Government announced its proposed prohibition on the importation of vaporiser nicotine.

While the decision was going to be made by July 1, six additional months have been granted and vapers in the area said they would continue their fight to stop this from happening and make vaping with nicotine available in Australia.

Australia's Health Minister Greg Hunt delayed the plans until January 1 next year after 28 Coalition Members of Parliament pushed against the restrictions.
On vape products after noting high 'frequency of use' in youths
Health Canada reported Canadians aged 15 to 19 years old and 20 to 24 years old have the highest rates of trying vaping
Health Canada has announced plans to crack down on advertising vaping products that target youths following an alarming rise in their use.

The Department of Health has ordered storekeepers nationwide to remove all vaping advertising "seen by young persons" under threat of $50,000 fines or six months in jail.
Can decrease youth use without affecting adult smokers – Chelsea Boyd
Officials have referred to youth e-cigarette use as an "epidemic" and have continued to sound alarms that vaping lures a new generation to a lifetime of nicotine use. And while certainly no one wants young people to use any form of tobacco or nicotine-containing product, the data simply doesn't support the argument that youth e-cigarette use constitutes an epidemic. In light of this, blanket bans on e-cigarettes, which also affect adult smokers, may do more harm than good. To interrogate this question, a study by David Braak et al. compares youth e-cigarette use and their means of acquiring these products between the United States, Canada and England to determine the characteristics of young people who purchase vaping products, and the potential impact of minimum-age-of-purchase laws on youth vaping and smoking prevalence.
Michael McGrady
The Food and Drug Administration (FDA) has issued a modified risk tobacco product (MRTP) marketing order for the IQOS tobacco heating system, a major step toward Philip Morris International's stated goal of achieving a "smoke-free world."

FDA Center for Tobacco Products Director Mitch Zeller said that IQOS, developed by Philip Morris International (PMI) as their next-generation flagship product, has been approved for an exposure modification marketing order. As a result, PMI can market the product in America as a replacement to what the industry calls "traditional combustible tobacco products," but most people know as "cigarettes."
---
A look back at how things have moved on or otherwise….
The Telegraph
Two NHS hospitals in the Midlands have opened vape shops in a controversial bid to stub out smoking.

The shops have begun selling e-cigarettes to patients and visitors, as the trust introduces £50 fines for those caught smoking.

It comes as the Government draws up plans which aim to eliminate smoking in Britain by 2030.
Ecigwizard is celebrating eight-years as one of the leading vape retailers in the UK and has been working with smoking-cessation services for the past 5 years. Sandwell and West Birmingham NHS Trust has recognised the role vaping can play in cutting tobacco-related harm and has given the firm the chance to run stores at two NHS sites.
---
Visit Nicotine Science & Policy for more News from around the World

---