Vapers Digest 28th June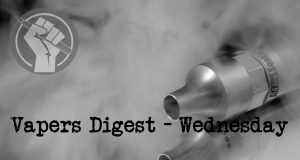 Wednesday's News at a glance:
E-Cigarettes and the Comparative Politics of Harm Reduction ~ My take-home messages from the GFN 23 conference ~ Parliament ~ Health Committee Concerns ~ FDA Poisons the Promise of E-Cigarettes With Its Latest No-Context Report ~ Uneducating Americans on Vaping ~ Youth Tobacco And Vaping Use Is Down In Delaware
---
---
Two From Dave Cross, Planet Of The Vapes
We return to the Palace of Westminster for the final time to round up the questions about vaping and tobacco harm reduction in the House of Commons and the House of Lords. We will be hearing from Lord Naseby, Stephen Morgan, Lyn Brown and Daisy Cooper.
Steve Barclay, the Secretary of State for Health and Social Care of the United Kingdom addressed the Health and Social Care Committee and made disturbing comments. He wasn't alone as Dr Caroline Johnson made some outlandish statements. The meeting points to a subtle yet dangerous shift in Government thinking.
---

---
Dr. Brad Rodu, Tobacco Truth
The FDA Center for Tobacco Products on June 23 published a report titled, "E-Cigarette–Associated Cases Reported to Poison Centers."  Examining data for the most recent full year, they found that the total (n=7,043) represented "a further increase in the number of e-cigarette exposure cases, particularly among children aged <5 years" (6,074 cases or 88% of the total).

The document wrongly implies the existence of a poisoning nightmare: "Health care providers; the public health community; e-cigarette manufacturers, distributors, sellers, and marketers; and the public should be aware that e-cigarettes have the potential to cause poisoning exposure and are a continuing public health concern."
---

---
Jonathan H. Adler, Reason
Since the FDA began regulating vaping products as "tobacco" products, American ignorance about vaping's realtive risks has gotten worse.

Food and Drug Administration regulation of tobacco products is supposed to help protect public health. Yet since the FDA endeavored to regulate electronic cigarette and other vaping products through its tobacco regulation program, Americans' understanding of the relative risks posed by various types of tobacco products has gotten worse. Today fewer Americans understand that vaping poses less risk than smoking, and this ignorance could have significant consequences for public health.
Lindsey Stroud, Independent Women's Forum
The results of Delaware's 2021 Youth Risk Behavior Survey (YRBS) were recently published by the Centers for Disease Control and Prevention. The biennial survey assesses U.S. high school students' attitudes and behaviors on a variety of issues from dietary and physical activity habits to mental health and substance use.

There is welcoming news in the First State as youth use of traditional tobacco products has reached record lows while youth vaping has steadily declined.
---
Visit Nicotine Science & Policy for more News from around the World

---