Vapers Digest 30th June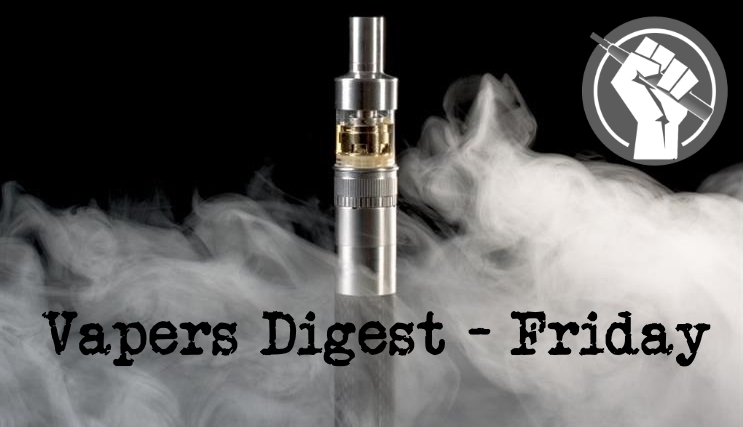 Friday's News at a glance:
Send back the clowns – Finns sign up in droves to fight ban on nicotine pouches – Health Ministry Error – Big trouble in little Panama – New Zealand Should Continue To Follow The Science – Is vaping nicotine the answer? – Smoking is becoming obsolete – Nicotine Science and Policy Daily Digest
Christopher Snowdon
Don't ever try to tell me that modern 'public health' is evidence-based.

From the Scottish Sun…

Scottish ministers are being urged to copy Australia and make e-cigarettes prescription only in a bid to tackle a new "epidemic of vaping" among young people.

Health campaigners at Ash Scotland made the plea amid growing concern over youngsters vaping.

It has now urged the Scottish Government to "strongly consider following Australia's precautionary approach to e-cigarettes" by making products containing nicotine available with a prescription only.

What is precautionary about banning the single most effective way of quitting smoking, a product so effective that many smokers who try it end up quitting smoking without ever intending to? That's not precautionary. It's irresponsible and reckless.
On nicotine pouches – Snusforumet
The sudden arrival of nicotine pouches on store shelves in Finland coupled with a potential ban has left consumers reeling. Thousands of Finns have already signed a new petition supporting the continued legalisation of nicotine pouches.

One of the petition's organisers, former MP Mikko Kärn, spoke with Snusforumet about the campaign, current legislation, and the potential benefits of legalising tobacco-free alternatives.

Tobacco-free nicotine pouches were, until recently, considered pharmaceutical products in Finland, available only through prescription. However, a recent decision by the country's pharmaceutical regulator to stop regulating the products led to their sudden and unexpected availability in stores nationwide. This newfound freedom, though, may be short-lived.
---

---
Dave Cross, Planet of the Vapes
The New Zealand Ministry of Health is pushing ex-smokers back to tobacco use, according to the Coalition of Asia Pacific Tobacco Harm Reduction Advocates (CAPHRA). The advocacy group representing vapers in the Asia Pacific region says that the government's proposed limits on nicotine concentrations in vaping liquids may not help smokers quit and could backfire.

CAPHRA submitted a response to the New Zealand Ministry of Health's proposal to cap reusable vaping product nicotine concentrations at 28.5mg/mL for nicotine salts. CAPHRA executive coordinator and prominent New Zealand public health consumer advocate Nancy Loucas argues in the submission that limiting nicotine levels could push users back to smoking cigarettes.
---
---
COPWatch
The World Health Organization is often criticised for incompetence in a number of its policy focuses, not solely for its calamitous, head-in-the-sand position on lower-risk alternatives to smoking. But in the practice of handing awards to its buddies, it can only be described as a triumphant global expert.

To celebrate World No Tobacco Day in May, WHO Director-General Dr Tedros liberally dished out a number of motivational gongs to high-ranking members of its secretive club, and spoke in particularly glowing terms about a Special Recognition Award to Reina Roa Rodríguez, who is almost royalty in the WHO cabal.

To Follow The Science – CAPHRA
The Coalition of Asia Pacific Tobacco Harm Reduction Advocates (CAPHRA) is calling on the New Zealand government to reject Australia's misguided approach to vaping and continue to follow the science and evidence.

CAPHRA has submitted comments on New Zealand's proposals for the smoked tobacco regulatory regime, which include tightening current restrictions on vaping product safety requirements and packaging and reducing nicotine levels in disposable vapes as well as restricting the location of specialist vape retailers.

"CAPHRA believes that the regulations, as they are, work perfectly well, and that further restrictions will only serve to limit access to safer nicotine products for adult smokers seeking less harmful alternatives to combustible tobacco,"
---

---
To quitting smoking? – John Rule
This article starts on a hopeful note, however, even when we consider that only 75% of this subsample report that they are daily smokers, this still places people with HIV at a considerably higher rate than everyone else (an estimated 10.7% of the Australian population over 18 are daily smokers).

Living with HIV can lead to ways of managing stress and we all know that tobacco smoking is one of them. We also know how difficult it can be for some people to give up cigarettes and we have known for many years the links between cardiovascular disease, smoking and HIV (read more). Both Living Positive Victoria and Queensland Positive People have run support programs for just this reason.

And its end is inevitable
A smoke-free future is possible sooner rather than later, analysts say. When and where where will happen first is being researched by others. Debates on the topic are constantly deepening, especially since there are already good examples from around the world.

Japan has already set the tone, with cigarette sales in the country falling 34 percent over the past few years. 22 percent of adult smokers in the country have given up cigarettes and switched to smokeless alternatives in just four years. This trend can spread to all corners of the world, but it needs the right regulatory encouragement, support from civil society and the full acceptance of science, experts explain.
---
A look back at how things have moved on or otherwise….
Electronic cigarettes (ECs) may hold great potential for helping smokers transition off combustible cigarettes (CCs); however, little is known about the patterns that smokers follow when using an EC as a CC-substitute in order to ultimately reduce and quit smoking. Our primary aim in this study was to evaluate whether common patterns of CC use exist amongst individuals asked to substitute an EC for at least half of the CCs they would normally smoke. These patterns may elucidate the immediate switching and reduction behaviors of individuals using ECs as a reduction/cessation tool.
R. Holliday, E. McColl, A. Weke, Z. Sayeed, British Dental Journal
Sir, we read with interest a recent research paper1 and 'Research Insights' summary2 on the erosive potential of 'vapes'.

We were disappointed to see several basic errors and misrepresentations. We would like to correct the five most major errors:

E-cigarettes do not contain tobacco and should not be categorised as such3
---
Visit Nicotine Science & Policy for more News from around the World

---