Vapers Digest 26th July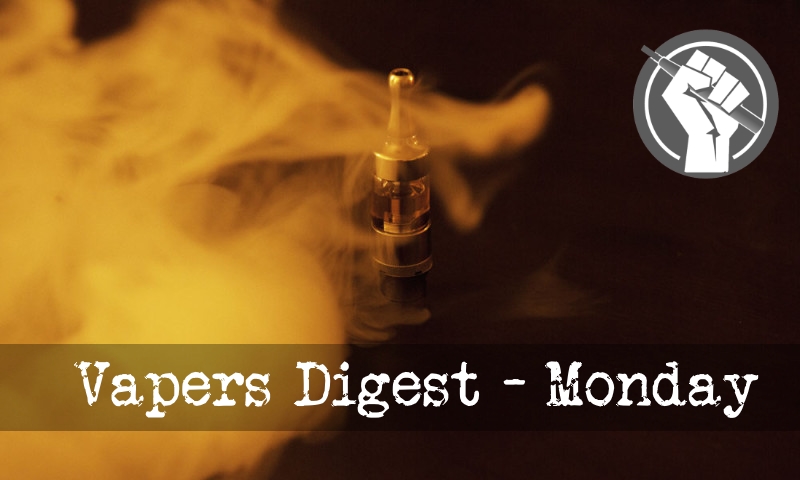 Monday's News at a glance:
Put Consumers At The Heart of Debate – UK report slams Bloomberg – Will WHO wake up to realities of tobacco? – Industry warns of health risks as fake vaping products increase – Weekly Vape News Sunday July 25th – Otago Study Sends Mixed Messages – Giving up smoking through vaping complex – Marlboro Plans To Stop Selling Smokes In The U.K. – Nicotine Science and Policy Daily Digest
Dave Cross, Planet of the Vapes
The All-Party Parliamentary Group (APPG) for Vaping calls 2021 a "pivotal year" in a document published last week. The politicians call for smokers and vapers to have "access to, and information about, a wider range of safer, reduced-risk, nicotine products to help them quit combustible tobacco – ensuring their experiences remain front and centre of the policy debate."

The full report (1) was described by expert Clive Bates as a "genuinely well-founded basis for meeting the [government's] 2030 target".

"It's the first report I have seen that takes the harm reduction concept towards its more logical conclusion, embracing vaping, heated tobacco products, smokeless and new nicotine pouches and trying to tilt the regulatory playing field in their favour, rather than against them."
For undermining rights of consumers in LMICs
A report issued by a parliamentary group in the United Kingdom criticized anti-vaping groups funded by Bloomberg Philanthropies for being hostile to tobacco harm reduction (THR) and for diminishing the rights of consumers and vapers in low and middle-income countries (LMICs) such as the Philippines.

The UK's All-Party Parliamentary Group for Vaping Inquiry (APPG) said these anti-vaping "civil society observers" were allowed to participate in the World Health Organization Framework Convention on Tobacco Control Conference of the Parties 9 (FCTC COP 9) in November this year, concluding that the WHO continues to attempt to discredit UK's science and policy approach to address the smoking problem. It said THR is a public health approach which is supposedly one of the original commitments of FCTC.
---

---
Shantanu Guha Ray
India's health minister Mansukh Mandaviya is addressing many new issues and drawing praise from those in the government and those outside of it. Many say the Indian health sector will now definitely improve.

A World Health Organisation (WHO) press note – embargoed so that every news outlet across the world gets it at the same time – has landed on my desk. And I am amazed to see its big bucks claims, especially those relating to tobacco and anything and everything associated with it.

The WHO, already reeling over criticism of how it has handled the pandemic, says substantive progress has been made in addressing tobacco use. The evidence cited stresses how many people are "covered by" laws or regulations or taxes that reduce consumption of tobacco.
---
Vape and pregnancy: a serious study confirms the reassuring data, another indicates the importance of quitting smoking earlyhttps://t.co/Z6n92UtORe

— European Tobacco Harm Reduction Advocates (@europethra) July 25, 2021
"Une simulation modélisée montre la forte réduction de prévalence tabagisme en Angleterre 2012-19 coïncidant avec la croissance vapotage"https://t.co/aq9GdUh16S@INNCOorg
Eurobaromètre 2020, baromètre santé 2017, le surplus d'ex-fumeurs correspond aux ex-fumeurs [ex-]vapoteurs.

— aiduce (@aiduce) July 26, 2021
---
As fake vaping products increase – Nick Webster
Fake vaping products and less harmful smoking alternatives are creeping into the emerging e-cigarette market and pose a real health risk to consumers, retailers say.

The market for vaping devices, liquids and e-cigarettes is booming in the UAE after the black-market industry was brought into the mainstream by regulators in April 2019.

Mandatory regulations set by the Emirates Authority for Standardisation and Metrology boosted the uptake of less-harmful alternatives to conventional smoking.

Neil Humber
UK Vaping 'Public Health Emergency' – EVALI Myths Dispelled AGAIN – Chantix Recall Over Cancer Fears and UK Kids Not Cool About E-cigarettes!
---

---
On Best Quit Smoking Tool – AVCA
A University of Otago study that claims the transition from cigarettes to vaping is not as straightforward as many think is not helpful to the many Kiwis desperate to quit smoking, says one leading Tobacco Harm Reduction Advocate.

"The process of kicking cigarettes, via vaping, is never straightforward and it does vary from smoker to smoker. However, what the University of Otago researchers fail to acknowledge is despite this, vaping remains the most effective smoking cessation tool in the world by a long shot. What's more, ongoing personalised support is key," says Nancy Loucas, co-director of the Aotearoa Vapers Community Advocacy (AVCA).
 Nina Foley
Slow and steady often wins the race, and it seems quitting smoking is no exception.

A study by University of Otago researchers found that progress was not straightforward as smokers attempted to move away from cigarettes and towards vaping.

Participants were given an electronic nicotine delivery system, commonly known as vapes, and, by using a smartphone, recorded their daily usage for up to 20 weeks while trying to quit cigarettes.

Jaclyn Diaz
Tobacco giant Philip Morris International says it will stop selling cigarettes in the United Kingdom within the next decade — including the company's iconic Marlboro brand.

"It will disappear," the company's CEO Jacek Olczak said in an interview with The Mail on Sunday. "The first choice for consumers is they should quit smoking. But if they don't, the second best choice is to let them switch to the better alternatives."

The development is part of Philip Morris International's reinvention as it abandons traditional tobacco products.
---
A look back at how things have moved on or otherwise…
After a flawed paper induces moral panic about youth vaping and smoking
Clive Bates, The Counterfactual
In June 2019, an influential and well-respected research group published a paper in the BMJ showing both a sharp rise in youth vaping in Canada between 2017 and 2018 – mirroring the rise in the United States.  But the truly shocking finding was that there had also been a sharp rise in youth smoking (not seen in the United States).

Starting from well before publication, the paper had a strong negative influence on Canada's approach to tobacco harm reduction, causing a reversal from a promising and insightful pro-public health approach to making ad hoc responses to a mounting moral panic.  Yet it turns out the smoking figures were wrong – a consequence of a flawed weighting procedure.
How to Make a Public Health Disaster Worse: a 5-Point Guide
The primary concern of tobacco control should be to tackle the extent of the current adult smoking epidemic. This means tackling the projected toll from death and disease which will worsen as populations grow in those lower and middle income countries (LMIC) which already have the highest numbers of smokers.

But by the WHO's own admission, overall, the impact of its MPOWER tobacco control strategy in actually getting smoking under control has been limited. Simply having laws in place is not enough.

Moreover, a BMJ article suggested that the 2005 Framework Convention on Tobacco Control (FCTC) has done little to accelerate declines in smoking in those countries which had been seeing declines well before FCTC was enacted.
---
Visit Nicotine Science & Policy for more News from around the World

---