Vapers Digest 23rd July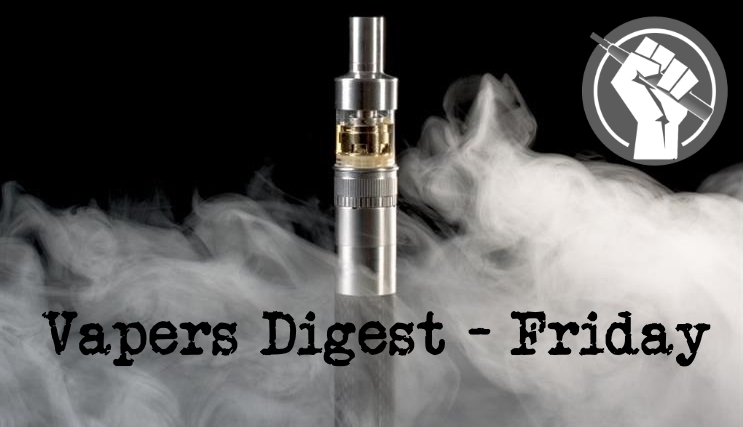 Friday's News at a glance:
MEP support for harm reduction during presentation BECA Draft report – "Epidemic" Teen Vaping Based Only on NYTS – Outbreak of lung injuries often known as "EVALI" – Canada: July 22nd is Last Day to Buy – Not a fair COP – Tobacco Harm Reduction: Time to Change Attitudes – ETHRA Response to Cancer Plan – More Nicotine Increases Quit Rates – Right 2 Switch Petition – Churchill Addresses PHE Priorities – Norwegian Government Proposes Flavour Ban – Parliament – Brookline, Mass. Bans Tobacco, Vape Sales – Vaping flavour bans prove own goal – Mexico Supreme Court Nixes Import Ban – Philippines Senate To Lead Region – Biomarkers of Inflammation and Oxidative Stress – Nicotine Science and Policy Daily Digest
During presentation BECA Draft report – ETHRA
Thursday 15 July saw the first discussion of the Special Committee on Beating Cancer (BECA) draft report, "Strengthening Europe in the fight against cancer towards a comprehensive and coordinated strategy," presented by BECA Rapporteur Véronique Trillet-Lenoir (Renew). The report is the result of months of work involving high-level meetings, public hearings, and exchanges of views with experts. The report provides an overview of areas where the EU can complement and strengthen measures in Europe's Beating Cancer Plan, with a focus on the key areas of prevention, screening and early diagnosis, high quality treatment, and quality of life of cancer patients and survivors.

The presentation and discussion marked the start of the assessment phase of the draft report. The work of the Committee will commence after the summer recess (see link to European Parliament calendar), and this will include the tabling of amendments, a first and second consideration of amendments, and a vote in Committee.
Based Only on NYTS, FDA-Funded PATH Survey Ignored
Brad Rodu, Tobacco Truth
Teen vaping estimates from the CDC and other anti-tobacco crusaders are hyperinflated by the National Youth Tobacco Survey (NYTS).  As I have shown previously, the CDC routinely ignores the federal government's premier tobacco survey, the Population Assessment of Tobacco and Health (PATH), which supports far lower vaping figures.

The chart at left, which includes the latest comparison from 2017, is crystal clear. It shows only underage high schoolers (age 15-17 years), since until recently tobacco products were legal for those 18 or older. Based on the 2017 NYTS, 11.8% of those youths used an e-cigarette in the past 30 days; that contrasts with the 7.3% estimate from PATH.  The NYTS percentage translates to 1.35 million underage vapers; the PATH number is half a million fewer, at 832,000.
---

---
Often known as "EVALI" was nothing to do with nicotine vaping
Clive Bates – Qeios
Many commentators, activists, academics and public health agencies continue to assert or imply that an outbreak of serious and fatal lung injuries that occurred primarily in the United States between mid-2019 and early 2020 may have been caused in part by nicotine vaping. This condition is often known as "EVALI" (E-cigarette, or Vaping, product use-Associated Lung Injury), a term coined by the US Centers For Disease Control and Prevention (CDC). However, an examination of the evidence shows that EVALI cannot have been caused by nicotine vaping. The characteristics of the lung injury outbreak are consistent with localised supply chain contamination. The contaminant has been identified and is known to be Vitamin E Acetate.
To Buy High-Nic E-Juice and Pods – Jim McDonald
Thursday, July 22, is the last day Canadians can legally buy e-liquid in strengths above 20 mg/mL (2%). Health Canada announced the rule last December. The existing rule allows sales of products containing up to 66 mg/mL.

The new limit will apply to all vaping products that contain nicotine, including bottled e-liquid, bulk DIY nicotine, and prefilled closed-system pod- and cartridge-based devices. Canadian vape manufacturers will still be allowed to manufacture products for export that exceed the limit for domestic sales.

Health Canada describes the limit as a tactic to reduce adolescent vaping, and justifies the rule by comparing it to the European Union's identical Tobacco Product Directive (TPD) 20 mg/mL limit.
---
Thread 👇 https://t.co/Nz2Y9Dvxpg

— Phil (@phil_w888) July 22, 2021
Setting aside my outrage for a moment, this is fascinating from a constitutional perspective. The Supreme Court has held that age classifications are subject to a very low level of constitutional scrutiny, but this is not an age classification, it's a generational classification. https://t.co/tZRU8dqVfy

— Paul Sherman (@PaulMSherman) July 21, 2021
---
A two cops story – INNCO
Have you heard about COPs? Not the guys in uniforms, but "Conferences Of Parties (COPs)." Usually, it comes with a number, COP9, COP21, COP26… What does it mean? It's pretty simple: each multilateral United Nations (UN) treaty is signed and/or ratified by some countries. When a country ratifies a UN treaty, it becomes "Party" to the treaty and gains a seat at COPs for that treaty. Each Party sends a delegation to the COP, which is the decision making body for that treaty.

There are many different COPs because there are many UN treaties (currently over 560). UN treaties cover many aspects of our everyday life, binding countries and other bodies to make international obligations.
Dr. Derek Yach
In a speech I gave to the Global Forum on Nicotine in June, I noted that when it comes to harm reduction, policy lags far behind the science. For years, decades, even, politicians and health authorities who should know better have ignored, derided and undermined such measures, stuck in a past in which the tobacco industry played a big, bad role. The result is that much of the public wrongly believes that nicotine causes cancer, e-cigarettes are more dangerous than combustible ones, and there is no leeway between the extremes of 'quit or die.'

This is tragic because important sectors of the industry are in the process of transformation and investing heavily in research that is helping to create one of most profound public health shifts in history, namely, the elimination of combustible cigarettes altogether.

Six from Dave Cross, Planet of the Vapes:
Members of European Tobacco Harm Reduction Advocates (ETHRA) have conducted a mass letter writing campaign to address MEPs in response to the European Commission's draft Beating Cancer Plan report. The European Parliament's Special Committee on Beating Cancer (BECA) was set up to examine actions the EU can take to tackle cancer and the effects it has on people's lives.

The draft report was presented by Rapporteur Véronique Trillet-Lenoir, at a BECA meeting on 15 July, where members discussed it and tabled questions. Ahead of the meeting ETHRA and partners wrote to all 66 members of BECA, "to outline the important role tobacco harm reduction can play in achieving the goal of reducing cancer in Europe, by encouraging adult smokers to quit smoking by switching to lower risk smoke free alternatives."
A paper published in Nicotine & Tobacco Research looked at the differences in using vaping to quit smoking between Juul users in the United States and the United Kingdom. The researchers found that smokers using higher strength pods were more likely to quit smoking.

At the outset, it needs to be highlighted that five of the six names on the research paper work for Juul Labs. This doesn't mean that the science is flawed, or the findings are invalid – the science should be addressed on its merits alone, and publication in a respected journal opens up the opportunity for academics to do just that.
Organisers of the "Right 2 Switch" petition are calling on vapers around the world to take part and add their weight to the campaign. Although some might think this initiative is not directly applicable to vapers and smokers in the United Kingdom, the World Health Organization's stance is very anti-vaping and changing this will be easier if everybody gets involved.

Coming as no surprise to members of the Planet of the Vapes forum, the petition's organisers say that vaping "has been life-changing for many smokers in all parts of the world. It is considered by millions of former smokers, who have used it to successfully stop smoking cigarettes, to be one of the most effective cessation methods available compared to other methods."
Jo Churchill, Parliamentary Under-Secretary of State for Prevention, Public Health and Primary Care, has written to Michael Brodie, the chief executive of Public Health England (PHE), to set out the organisation's strategic remit and priorities for 2021 and 2022.

PHE's Kevin Fenton was the first to acknowledge the potential for vaping back in 2014 when he noted: "Increasing numbers of people are turning to electronic cigarettes – more accurately described as nicotine vapourisers – as an aid to quitting or cutting down their smoking."
The Norwegian government is proposing to ban e-liquid flavours, among other anti-vape measures, according to consumer group Nikan. The organisation, that works to promote reduced harm nicotine products, says the plans will take away the attraction of switching away from tobacco products.

Nikan (1) reports that the Norwegian government has issued details regarding its proposed restrictions on vaping and this includes a ban on all e-liquid flavours other than basic tobacco.
This week's coverage sees a number of questions from vaping supporter Adam Afriyie MP to the Secretary of State for Health and Social Care in the Commons. As usual, the responses come from his Parliamentary Under-Secretary of State. In the other House, Lord Faulkner of Worcester successfully won a vote regretting the Government's failure to ban smoking and vaping from beer gardens, and outdoor seating areas at cafes and restaurants.
---

---
To Anyone Born in 21st Century – Alex Norcia
On July 19, Massachusetts Attorney General Maura Healey approved a law in the town of Brookline that would prohibit the sale of all "tobacco products" to anybody born after January 1, 2000. The restriction, the first of its kind in the United States, is designed to prevent future generations from using not only tobacco but nicotine. It stops any "person, firm, corporation, establishment, or agency" from selling e-cigarettes and vaping products to anyone in that age category as well.

In other words, a person who is 20 years old right now will not be able to purchase any tobacco or vapes in Brookline, ever—even in 2041, when they are 40.
For public health advocates – Louis Auge
The Canadian federal government recently

published

draft regulations to ban almost all e-cigarette flavours across the nation, with only tobacco and mint/menthol flavours left untouched. The proposal would also see most flavouring ingredients, including all sugars and sweeteners, banned from use in vaping products, writes Louis Auge.

The bill's intended purpose is to protect public health by making vaping less appealing to young people. The available evidence, however, suggests that not only could the measure fall short of the mark, it could actually cause more problems than it solves, prompting both young people and adults to take up smoking conventional cigarettes, a far more harmful practice than vaping.
On "Heat-Not-Burn" Harm Reduction Products – Helen Redmond
On July 16, Mexico's Supreme Court ruled that heated tobacco products (HTP), sometimes known as "heat-not-burn" products, will be exempted from a February 2020 presidential decree that bans importation of electronic nicotine delivery systems (ENDS). It was a victory for smokers in Mexico and for those who support tobacco harm reduction. But it was not the outcome that many legislators wanted—including Dr. Hugo López Gatell, head of the government's Undersecretariat of Prevention and Health Promotion and a vehement opponent of vaping and HTP.

A fatal blow to the HTP ban came when it was leaked that the draft of the decree was written by a lawyer working for the nicotine prohibitionist group Campaign for Tobacco-Free Kids (CTFK.)

With Progressive Vaping Laws – CAPHRA
"The world is watching as the Philippines Senate looks set to approve the most progressive and risk-proportionate vaping legislation in Asia Pacific. We're hoping other countries in the region will then follow their lead," says Nancy Loucas, Executive Coordinator of the Coalition of Asia Pacific Tobacco Harm Reduction Advocates (CAPHRA).

In May the Philippines House of Representatives passed the Non-Combustible Nicotine Delivery Systems Regulation Act also known as House Bill 9007. It aims to regulate the manufacture, use, sale, distribution, and promotion of vaping, as well as heated tobacco products (HTPs).
When determining the future of e-cigarettes
America may soon witness a watershed moment with regard to the country's strategy on reducing tobacco-related illnesses. The Food and Drug Administration (FDA) is racing to meet a September 9 deadline to determine whether JUUL—an e-cigarette producer—can continue many of its regular business operations.

"The company is seeking approval for its iconic vaping device, once dubbed the iPhone of e-cigarettes, with tobacco- and menthol-flavored pods in two nicotine strengths: 5 percent, which is equivalent to the nicotine in an average pack of cigarettes, and 3 percent," the New York Times wrote.
And Oxidative Stress Among Adult Former Smoker, Current E-Cig Users
Carol H Christensen, Joanne T Chang, Brian L. Rostron…
Background:Former smokers who currently use e-cigarettes have lower concentrations of biomarkers of tobacco toxicant exposure than current smokers. It is unclear whether tobacco toxicant exposure reductions may lead to health risk reductions. Methods: We compared inflammatory biomarkers (high-sensitivity C-reactive protein (hs-CRP), interleukin-6 (IL-6), fibrinogen, soluble intercellular adhesion molecule-1 (sICAM-1)) and an oxidative stress marker (F2-isoprostane) among 3,712 adult participants in Wave 1 (2013-2014) of the Population Assessment of Tobacco and Health Study by tobacco user groups: dual users of cigarettes and e-cigarettes; former smokers who currently use e-cigarettes-only; current cigarette-only smokers; former smokers who do not currently use any tobacco; and never tobacco users. We calculated geometric means (GMs) and estimated adjusted geometric mean ratios (GMRs). Results: Dual users experienced greater concentration of F2-isoprostane than current cigarette-only smokers (GMR 1.09 [95%CI 1.03, 1.15]).
---
A look back at how things have moved on or otherwise….
Australian Tobacco Harm Reduction Association (ATHRA)
VAPING is now a mainstream quitting strategy for Australian smokers, with the number of vapers more than doubling in the last 3 years. In 2019, 2.5% of the population (aged 14+) or 520,000 people were 'current' vapers (vaped at least once in the last year).

This finding was released last week in the 2019 National Drug Strategy Household Survey and shows that "the vaping genie is well and truly out of the bottle".
Coral Gartner, The University of Queensland Australia
Over the past fortnight Australian media outlets have been awash with alarmist claims about a large increase in youth vaping. The problem was reported as being so dire that it prompted several Sydney private school principals to send letters to parents. These media reports provided no data on the size of the problem.
The National Drug Strategy Household Survey data released a week after those media reports should have clarified the true extent of Australia's youth vaping problem. However, reporting and interpretation of those results by some media outlets was inaccurate and confusing.
James Purtill, Triple J Hack
Last week, Australian school playgrounds were reportedly awash with vaping smoke: Over 65 per cent of adolescents (14-17 year olds) were using e-cigarettes, one major news site said, quoting a new national survey of drug use.
---
Visit Nicotine Science & Policy for more News from around the World

---