Vapers Digest 21 July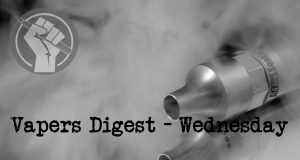 Wednesday's News at a glance:

---
TWO from Dave Cross, Planet Of The Vapes
The Independent European Vape Alliance (IEVA) has today launched an informational website for adult smokers and policy makers who want to learn more about vaping. The new site, Vapingfacts.eu, is intended to provide basic factual information about vaping products, how they work, and the potential benefits smokers can derive from switching from cigarettes to vaping.
Some of the UK's most successful vape retail companies have signed up to use age verification specialist 1account's market-leading technology across their e-commerce sites. The five companies, E-cigarette, Royal Flush, Vapourcore, Vape Superstore and VPZ, between them receive hundreds of thousands of visitors to their sites every month, all of which by law need to be age verified.
---

---
TWO from Jim McDonald, Vaping 360
As governments impose harsh restrictions, excessive taxes, and even outright vape bans, investors remain willing to gamble that vaping has a future in the consumer marketplace.

The latest example is Shenzhen, China-based vape manufacturer Aspire, which is set to launch an initial public offering (IPO) of 15 million shares. The Global Aspire company will be traded on the U.S. Nasdaq exchange under the symbol ASPG.
The town of Brookline, Massachusetts is a tobacco control trendsetter. Not only was the Boston suburb an early adopter of indoor smoking bans, it also passed a Tobacco 21 law way back in 2014, and was among the first cities to cap the number of tobacco licenses available to retailers. In May 2019, Brookline banned sales of flavored tobacco (and vaping) products, beating the state to the flavor ban punch by six months.
---
Steven Greenhut, Inside Sources
When it comes to government regulation, it's sometimes hard to get the details right. There's often a one-way ratchet effect as officials continually push for new and tougher standards—even when the current ones strike the right balance.

We're seeing that at the Utah Department of Public Health, which recently announced proposed new rules that would reduce the amount of nicotine that sellers and manufacturers can include in their "closed-system" electronic cigarettes.
---
Dick Puddlecote:
In the global catalogue of scientific literature, there is no poorer an illegitimate runt than the integrity-free BMJ'sTobacco Control Journal. 

Its 'research' is always almost exclusively policy-based garbage (see here and here for recent examples) which is hardly surprising considering the editorial board comprises a global who's who of tobacco control industry junk 'scientists'. However, an item in their July 2015 rag lowers that bar by some margin…..
The Rest of the Story:
A cartoon appearing in this month's issue of Tobacco Control makes fun of vapers, calling them "idiots." The cartoon features a man vaping and a woman next to him. The man says: "With vaping, I get all the nicotine, none of the smoke and it makes me look cool." The woman responds: "You look like an idiot smoking a laser pointer…."
(1) The importance of narrative and Opinion Leaders vs. Useful Idiots – Carl V. Phillips
The average person, upon learning that there is violent opposition to tobacco harm reduction (THR), is quite reasonably baffled. It is difficult for them to fathom that an entire (taxpayer-funded) industry could be devoted discouraging smokers from switching to low-risk alternatives, or even to discouraging people from making the free choice to use a low-risk product rather than being abstinent….
---
Visit Nicotine Science & Policy for more News from around the World

---