Vapers Digest 19th July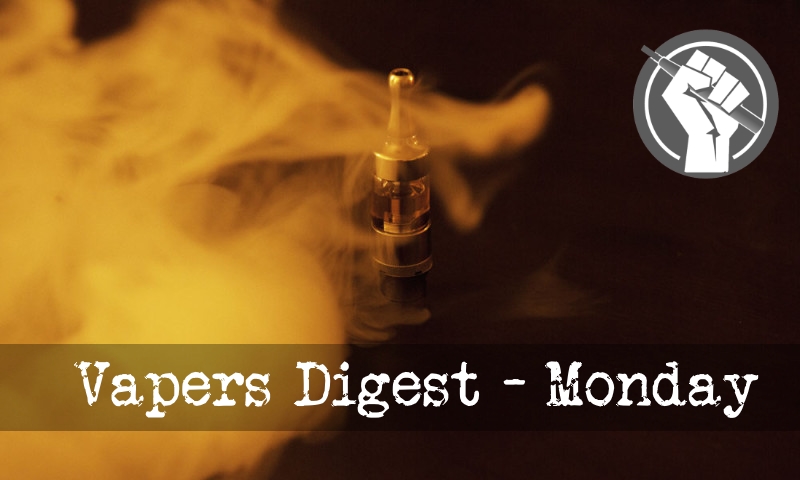 Monday's News at a glance:
Inquiry into UK Tobacco Harm Reduction Opportunities Post-Brexit – The new prohibitionists – How to make a submission about the proposed vaping flavour ban – Hierarchy of Harm Reduction Disagreement – Discussion Reveals Abuse of THR Advocates – WVA's Graffiti Delivers Stark Message – Parliamentary Activity – Tobacco-harm reduction now being globally recognized – Asia asked to follow Japan's model – Nicotine Science and Policy Daily Digest
Post-Brexit: Achieving a Smoke-Free 2030
The UK's exit from the European Union(EU)has presentedthe Government with an opportunity to diverge from EU rules and regulationsin relation to vaping and reduced-risk nicotine delivery systems. This inquiry sought to analyse what domestic legislative changes could, and should, be made to ensure the continued safety of vaping products whilst also ensuring that smokers could make the switch to safer reduced-risk nicotine delivery systems.

I have been conscious ofthe public health benefit of vaping for many years now and in 2014 I launchedthe All-Party Parliamentary Group (APPG)for Vaping to enable parliamentarians to assess the potential of this new technology to assist peopleintheir efforts to quitsmoking.
Marc Gunther
In the epilogue to Last Call: The Rise and Fall of Prohibition, Daniel Okrent's lively and deeply-researched history of prohibition, he writes:

In almost every respect imaginable, Prohibition was a failure. It encouraged criminality and institutionalized hypocrisy. It deprived the government of revenue, stripped the gears of the political system, and imposed profound limitations on individual rights. It fostered a culture of bribery, blackmail and official corruption.

Much the same could be said about the 50-year-old war on drugs, which has been prosecuted with enthusiasm by every president since Nixon.
---

---
About the proposed vaping flavour ban
Unless we protest, Canada will ban all vape flavours except deliberately unpleasant tobacco, menthol and mint flavours with no sweeteners. The ban will apply across the country, with no exceptions, even for people who smoked for decades and have been vaping with flavours safely for many years.

This is a guide for Canadian citizens to make their voice heard by making a submission to Health Canada, based on advice from Christina Xydous, Spokesperson, Coalition des droits des vapoteurs du Québec. ( https://www.droitsdesvapoteurs.ca/) Her full presentation can be downloaded here:
---
---
Evan Hahn
Before 2020, I knew very little about tobacco control. My knowledge did not go beyond what most people know – that cigarettes are bad for your health and could kill you. Subsequently, tobacco harm reduction was a foreign concept to me, although it made logical sense. I volunteered in Lesotho with the Peace Corps; the idea of harm reduction was often used when referring to the HIV/AIDS crisis. Although I did not know much about tobacco control, I was aware that harm reduction had been proven to work in other fields of public health. I joined the Foundation for a Smoke-Free World to help with its mission to end smoking in this generation, despite knowing that advocating harm reduction almost always entails some controversy.

Three from Dave Cross, Planet of the Vapes
Discussion held on The Advocates' Voice revealed the level of abuse tobacco harm reduction advocates are suffering at the hands of anti-vaping groups. The full and frank international panel conversation revealed that the public attacks are increasingly personal, derogatory, and defamatory.

Headlined 'the battle between innovation and bully tactics', the seventh episode of The Advocates Voice (TAV7) led with public health expert, Dr Konstantinos Farsalinos. It was hosted by Asia Pacific's Coalition of Asia Pacific Tobacco Harm Reduction Advocates (CAPHRA).
The World Vapers' Alliance unveiled a new graffiti mural outside the European Parliament, on Wednesday, at the European launch of the global "Back Vaping. Beat Smoking" campaign. The graffiti delivers a stark message – 19 million lives can be saved in Europe with the right policies to beat smoking.

The World Vapers' Alliance (WVA) says it amplifies the voice of vapers around the world and empowers them to make a difference for their communities. "Our members are 23 vapers associations as well as over 14,000 individual vapers from all over the world."
In this latest roundup of parliamentary activity, Clwyd West's David Jones wants more regulation. Preston's Mark Hendrick echoes a concerted media campaign in pushing for a beer garden ban, and Lord Faulkner of Worcester tabled a motion in the Upper House to push for a ban there.

David Jones asked, "the Secretary of State for Health and Social Care, what plans he has to regulate non-nicotine products intended for vaping which are not currently covered by the provisions of the Tobacco and Related Products Regulations 2016?"
---

---
Now being globally recognized as public health strategy – Muhammad Saleem
LAHORE: Tobacco-harm reduction is now being globally recognized as an important public health strategy, to reduce risks to their health and attention is being paid to transfer traditional cigarette smoking to heated tobacco products.

In view of the rapid rise in the number of smokers worldwide, tobacco companies are seeking to introduce innovative, science and research-based solutions in the form of alternatives. One of such reduced risk technology are heated tobacco products.

Rooted in the principle of tobacco-harm reduction, a public health strategy that aims to lower the health risks to individuals and wider society associated with using tobacco products, these devices heat the tobacco instead of burning (which science shows is the main culprit of most smoking-related diseases) it as in conventional cigarettes and cigars.

In addressing smoking problem
A public health policy expert urged Asia-Pacific countries to follow Japan's model in tobacco harm reduction that led to a 42-percent decline in smoking rate in just five years.

"Japan is showing us what can be accomplished. A 42-percent decline in cigarette sales in the first quarter of this year, compared to five years ago is unprecedented. I mean, that is so far beyond what any other major market has ever seen. It can happen," Prof. David T. Sweanor said during the 4th Asia Harm Reduction Forum held virtually from Manila on June 28, 2021.

Sweanor is the chair of the Centre for Health Law, Policy and Ethics and an adjunct professor of law at the University of Ottawa. He is a recipient of Ottawa's Outstanding Individual Philanthropist award and Pan-American Health Organization's Public Health Hero lifetime achievement award.

---
A look back at how things have moved on or otherwise…
Jonny Eccles, Vaped
Professor Stanton Glantz has a particularly tainted reputation within the vaping sector and his latest work has simply worsened it. Recent dubious research from Glantz once again unfairly lambasted e-cigarettes and, this time, it has been shown to be rather misguided by a Professor of Economics.

Dr. Dharma Bhatta and Professor Glantz had a study published in the American Journal of Preventive Medicine, titled 'Use of e-cigarettes is an independent risk factor for respiratory disease in addition to combustible tobacco smoking'. The research suggested that e-cigarettes were harmful on their own; independent of the risk factor of previous or current smoking.
Michael McGrady is back for Return #3, with Chelsea Boyd
The Vaping Weekly Podcast with Michael McGrady is back for Return #3, with Chelsea Boyd.

In this third episode of our second season, I speak with Chelsea Boyd of the R Street Institute. We also chat IQOS approvals and modified risk product approvals.

Also, we dive into the current state of the Australia situation and VAPORESSO's parent SMOORE International Holdings Limited is one of the first vaping manufacturers to be listed on the Hong Kong Stock Exchange.
---
Visit Nicotine Science & Policy for more News from around the World

---