Vapers Digest 16th July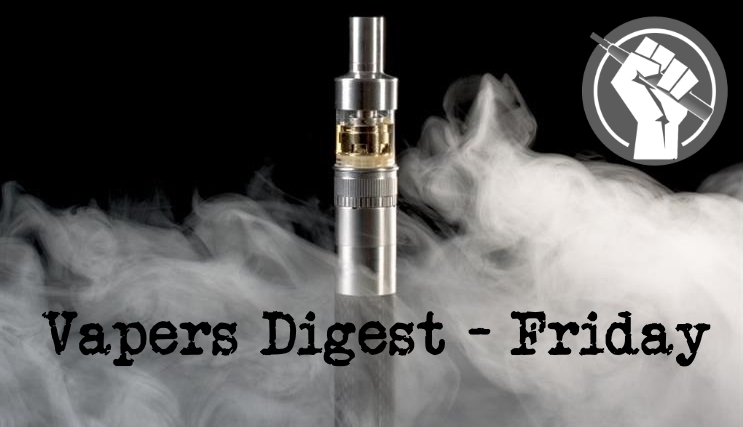 Friday's News at a glance:
The European Parliament's role in Europe's Beating Cancer Plan – Vape Master Settlement: A New Blow for Vaping? – How NIH Funding Undermines Tobacco Harm Reduction – India Banned Vapes but Will Profit from Nicotine Sales Venture – New Hajek Cessation RCT – Rodu Lambasts BMJ Article – ETHRA Comments on TPD Report – Moffitt Cancer Center's Validation of Vaping – Increasing abuse against THR advocates revealed – To Eradicate Youth Vaping, We Need Only Copy the UK – "I Rarely Vape Until Cocktail Hour"- LSD and nicotine could be more important – Public health experts question WHO's campaign – Advancing safer alternatives to nicotine – PMI is busy reinventing itself – Japanese health ministry denies plan – Hundreds of Vape Companies Plead With FedEx – Dr Colin Mendelsohn on vaping in schools – CAPHRA Slams WHO – Nicotine Science and Policy Daily Digest
In Europe's Beating Cancer Plan – ETHRA
On the 3rd February 2021, the Commission published Europe's Beating Cancer Plan with  consultations on the Roadmap running from 4 Feb to 3 March 2020 and on the Report from 4 Feb to 21 May 2020.

Cancer is one of the main priorities of the European Commission in the health domain.

The European Parliament's Special Committee on Beating Cancer (BECA) was set up in September 2020 and is comprised of 63 MEPs, 33 full members and 30 substitutes – the membership list can be found here. The aim of the committee is to examine actions the EU can take to tackle cancer and the effects it has on people's lives. Responsibilities of the committee include: looking at actions to strengthen the approach at every key stage of the disease: prevention, diagnosis, treatment, life as a cancer survivor and palliative care.
A New Blow for Vaping? – James Dunworth
In the USA, states have enjoyed decades of revenue from the sale of tobacco cigarettes. The money was supposed to repair some of the damage smoking has done. In reality, it has been largely frittered away.

The source of the revenue is the Tobacco Master Settlement. While aimed at punishing tobacco companies, the settlement actually ended up helping them.

But with cigarette sales declining, vapes are the next target, and with potentially dire consequences.
---

---
Undermines Tobacco Harm Reduction – Brad Rodu
Have you ever considered the recent years' tsunami of research that emphasizes the dangers of e-cigarette and vaping products?  Was this work spontaneously generated?  How was it funded?

Philip Cole, Elizabeth Delzell and I answered these questions in a manuscript published in 2000 in the journal Epidemiology (available here).  We described how after World War II, universities "changed their mission and became research arms of the federal government…But, with considerable money comes influence and eventually some control. The funds had been flowing for little more than a decade when President Eisenhower, in his 1961 farewell address to the nation, warned universities against accepting encumbered federal funds.
---
16:45 onwards Swanson talking utter b/s
'evidence that ecigs help smokers quit = very skinny'
'growing evidence that not safer'
etc etc
totally outrageous unchallenged commentary. https://t.co/sKj5ONbmBW

— Alan Beard (@Alan_Beard1) July 16, 2021
Norway: Government proposals to restrict vapour products, including a flavour ban, are based on a lack of knowledge about vaping, according to @Nikan_Norge Check out the article for details on how to make an informed submission to the consultation https://t.co/A1iAAC9cqJ

— European Tobacco Harm Reduction Advocates (@europethra) July 16, 2021
---
But Will Profit from Nicotine Sales Venture – Jim McDonald
Indian tobacco corporation ITC Limited—formerly known as the India Tobacco Company—has announced that it will produce nicotine and nicotine salts for export to countries that allow sales of vaping and oral nicotine products like nicotine pouches.

The nicotine processing will be done by a new ITC subsidiary called ITC IndiVision Limited. According to The Economic Times, ITC has already received regulatory approval and invested $6.7 million in the venture. Even before ITC launched its nicotine enterprise, India was a major supplier of pharma-grade nicotine to the rest of the world.

Five from Dave Cross, Planet of the Vapes:
A team featuring Peter Hajek has published a paper documenting a new randomised controlled trial (RCT) looking at the use of e-cigarettes for smoking cessation. It was focussing on vaping versus nicotine replacement treatment (NRT) as a harm reduction intervention for smokers who find quitting tobacco use difficult.

The researchers write: "Among smokers seeking help, most do not achieve smoking cessation even with intensive treatments. Some 80% of smokers treated in clinical trials where various selection criteria apply, and over 80% of those receiving intensive treatment in routine care, smoke one year later.
Professor Brad Rodu has lambasted a recent article carried in the British Medical Journal (BMJ) in a letter written to the editor. The article was penned by two "investigative journalists" currently working for Le Monde and The Investigative Desk – one of which previously penned a vile defamatory piece about Dr Konstantinos Farsalinos.

Brad Rodu is a Professor of Medicine at the University of Louisville. He holds an endowed chair in Tobacco Harm Reduction (THR) research and is a member of the James Graham Brown Cancer Centre at the University of Louisville. He has been involved in research and policy development regarding THR.
Advocacy coordination group European Tobacco Harm Reduction Advocates (ETHRA) has provided a commentary on the report about the application of the European Union's Tobacco Products Directive (TPD). The European Commission published its Report on the application of the Tobacco Products Directive at the end of May (1). The Commission's report looks at how well the current TPD has done and use that to help form future legislation in the form of TPD3, the next iteration of the TPD.

The EC note: "The TPD has aimed to reduce tobacco consumption by 2% within five years of its transposition. Based on the latest Eurobarometer, smoking prevalence among those aged 15+ fell from 26% in 2014 to 23% in 2020 – a drop 5 of 3 percentage points since the TPD came into force, equivalent to 12.5%. Youth smoking rates fell to 20% in 2020 from 25% in 2014, after peaking at 29% in 2017."
Researchers at the Moffitt Cancer Center in the United States looked at how educational intervention can help vapers use their e-cigarettes to quit smoking. In a paper published by The Lancet Public Health, the authors state that "emerging evidence suggests that e-cigarettes can be a helpful tool in smoking cessation".

The research team report results from a "first-of-its kind nationwide study" evaluating a targeted intervention aimed at transforming dual users' e-cigarettes from a product that might maintain smoking into a tool that can be used to aid smoking cessation.
The World Health Organization (WHO)| has been slammed by the Coalition of Asia Pacific Tobacco Harm Reduction Advocates (CAPHRA) for attempting to link vaping with COVID-19. It says WHO's efforts have been "completely discredited" by a significant recent study originating in the United States from researchers at the Mayo Clinic.

Research by the Mayo Clinic (1) (2) published in the Journal of Primary Care & Community Health, titled 'Electronic Cigarette Use Is Not Associated with COVID-19 Diagnosis' involved nearly 70,000 patients. The study concluded that e-cigarettes "do not appear to increase susceptibility to SARS-CoV-2 infection".
---

---
A full and frank international panel discussion revealed public attacks on Tobacco Harm Reduction (THR) advocates are increasingly personal, derogatory and defamatory.

'Headlined 'the battle between innovation and bully tactics', the seventh episode of The Advocates Voice (TAV 7) led with public health expert, Dr Konstantinos Farsalinos.

Hosted by Asia Pacific's CAPHRA (Coalition of Asia Pacific Tobacco Harm Reduction Advocates) the 11 July discussion is available to view on https://youtu.be/l3HH_qzs-08
We Need Only Copy the UK – Dave Morris
In 2006, Campaign for Tobacco Free Kids President Matt Myers said, "The challenge to me is not to eliminate smoking, but the death and disease of smoking. If you had a product that addicted 45 million people and killed none of them, I would take that deal. Then you'd have coffee!"

Since that infamous quote, vaping has proven itself to be the exact miracle of which he spoke, with scientific studies showing it to be at least 95 percent safer than smoking. Now that vaping has been shown to be over six times as effective at helping smokers quit than government-approved methods, it begs the question: Why aren't our public health organizations and politicians embracing vaping?
Patt Denning's THR Journey – Helen Redmond
Dr. Patt Denning has been a leading harm reduction advocate for over 30 years. A co-founder of the Harm Reduction Therapy Center (HRTC) in Oakland/San Francisco, she is also a highly influential author. Her first book, Practicing Harm Reduction Therapy: An Alternative Approach to Addiction, redefined the field and was an instant classic. Her second—Over the Influence: The Harm Reduction Guide to Controlling Your Drug and Alcohol Use, written with her partner Jeannie Little—also broke new ground and is a go-to guide for clinicians and people who use drugs.
To healthcare than we think – Shane MacGuill
As a global society, we are living in reliably unreliable times, bathed in the dubious glow of a bonfire of certainties. Please allow me to add another set of conventions to the pyre: our most maligned and restricted drugs might heal us.

Consumers, the medical community and regulators are beginning to re-examine taboo substances through the fresh light of evidence and experience. Cannabis, nicotine and psychedelics will create a new, transgressive wellness and form part of our collective health and wellbeing in the years to come.

WHO's campaign against tobacco harm reduction
India- Every year, over eight million people die owing to deaths caused by tobacco accounting for economic burden of US$1.4 trillion spent on health care and lost productivity. Over the years, the World Health Organisation (WHO) has been spearheading varied global awareness campaigns and coupled with traditional nicotine replacement methodologies, yet the number of smokers has remained over a billion since 2000.

So, the question is 'Is WHO really doing enough to truly help adult smokers around the globe quit'.
Chukwuma Muanya
*Experts at Global Forum on Nicotine 2021 say public health, tobacco control must unite in fight against smoking-related deaths, diseases

International public health specialists, scientists, medical practitioners, tobacco control experts, industry and investment analysts and consumers convened for the Global Forum on Nicotine 2021 (#GFN21) on Thursday, June 17 and Friday June 18, 2021 in Liverpool, United Kingdom (UK) and streamed free online, to highlight the vital role of safer nicotine products in the fight to reduce global smoking-related deaths and diseases.
As Big Tobacco prepares for life after smoking – Barnaby Page
Philip Morris International (PMI) has always been one of the frankest tobacco companies when it comes to speaking of the smoke-free future, and this is no mere pious nod to public-health desiderata; it's a real recognition that at some point in the not-too-distant future, perhaps measured in decades but not many of them, smoking is going to pretty much end in many countries. It may not disappear entirely, but it will become an obscure pursuit of a very small minority. Smoking cigarettes will be like, say, cigar smoking today.
To widen access to tobacco-free pouches
Regulations governing nicotine pouches in Japan are unlikely to change in the near future despite rumours that officials in Tokyo would be attempting to legalise them for wider use.

The Ministry of Health, Labour and Welfare (MHLW) has confirmed to TobaccoIntelligence that tobacco-free nicotine pouches would continue to be regulated as pharmaceutical products requiring a pharmaceutical licence, as stipulated in the Pharmaceutical Affairs Act. Imports for personal use are allowed.
Plead With FedEx to Reverse Delivery Ban – Alex Norcia
On July 12, more than four hundred vape companies urged FedEx to reverse a policy that prohibits the company from shipping and receiving vaping products. Together, these small businesses signed a letter organized by the American Vaping Association (AVA) that insists the mail carrier's delivery ban will prevent consumers from obtaining the vapes and e-cigarettes they've used to stop smoking. FedEx's current rules do not allow the shipment of vaping products from business to business or directly to vapers, many of whom might have difficulty obtaining them if they live in rural areas.

The letter is something of last-ditch effort, a desperate ask. Tobacco harm reduction advocates, vapers and manufacturers have been waiting tensely since December 2020, when then-President Donald Trump signed a COVID-19 relief bill that updated the Prevent All Cigarette Trafficking (PACT) Act.
---
A look back at how things have moved on or otherwise….
Queen Mary, University of London
Nothing is known about the effects of vaping on the probability of contracting Covid-19, and on its effects on the severity of illness. We are trying to collect information on this, so that vapers can receive appropriate advice.

If you could fill in this brief questionnaire, it would be much appreciated. The more vapers will respond, the more useful the survey will be. We will let you know the survey results.
Renée

O'Leary

,

Riccardo

Polosa, Emerald Insight
This paper aims to overview the need for tobacco harm reduction, the consumer products that facilitate tobacco harm reduction and the barriers to its implementation. The worldwide endemic of tobacco smoking results in the death of over seven million smokers a year. Cigarette quit rates are very low, from 3%–12%, and relapse rates are high, from 75%–80% in the first six months and 30%–40% even after one year of abstinence. In addition, some smokers do not desire to quit. Cigarette substitution in tobacco harm reduction is one strategy that may reduce the burden of morbidity and mortality.
NO EVIDENCE –  Brad Rodu, Tobacco Truth
Drs. Dharma Bhatta and Stanton Glantz published a study in February's American Journal of Preventive Medicine claiming that "Use of e-cigarettes is an independent risk factor for respiratory disease in addition to combustible tobacco smoking." (here)  In a University of California San Francisco press release, Professor Glantz made additional claims: "We concluded that e-cigarettes are harmful on their own, and the effects are independent of smoking conventional tobacco…
---
Visit Nicotine Science & Policy for more News from around the World

---