Vapers Digest 14th July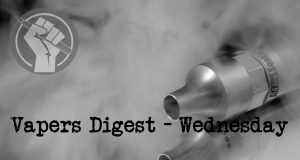 Wednesday's News at a glance:

---
THREE from Dave Cross, Planet Of The Vapes
Sting Free AB produce tobacco-free nicotine pouches with a difference, and business is looking good as it has been joined on the board by serial entrepreneur and investor Andy Cars. Sting Free AB says the move "strengthens the Sting Free AB board" and will help deliver continued success.
The American Vaping Association (AVA), a pro-vaping advocacy organisation, sent a letter to FedEx signed by 428 small business owners that urges FedEx to reconsider its new policy that prohibits the shipping or receiving any electronic cigarette or vaping product. The letter warns that a failure to change policy will lead to unintended consequences, including perpetuating smoking-related deaths, especially in marginalised communities.
The New Nicotine Alliance (NNA) recently hosted a panel debate that discussed the future of tobacco harm reduction in the United Kingdom. The discussion was organised as a parallel event coinciding with the recent Global Forum on Nicotine to ensure expert involvement. It has also issued a call to consumers to get involved and contribute to NICE's consultation process that accompanies its draft guidance on tobacco cessation.
---

---
Michelle Minton, GrimmGreen, TBN
Welcome back to TBN. Vape industry news, advocacy and information. We have really only one main topic today, but it's a doozie. Bloomberg and Campaign For Tobacco Free Kids have been meddling in foreign governments. Michelle Minton from CEI is here to help us break down her recent paper regarding some internal leaked Campaign For Tobacco Free Kids documents.
---
Writankar Mukherjee, The Economic Times
ITC Ltd is diversifying its tobacco business into manufacturing of nicotine and nicotine salts primarily for export to the US and European Union markets to capture the growing demand for nicotine based oral and vaping products there, the company said in its just published annual report.

The conglomerate will undertake this new business through a newly set up wholly-owned subsidiary, ITC IndiVision Limited. ITC IndiVision will be setting up a plant near Mysuru in Karnataka to manufacture nicotine and nicotine derivative products. It has already received regulatory approvals for this plant, the company said.
---
Clive Bates, The Counterfactual
There have been two very encouraging initiatives in the United States in the last month, both captured in the form of letters to recently-appointed FDA Commissioner Scott Gottlieb.

Some of the most experienced US tobacco control experts are showing support for tobacco harm reduction and calling for a rethink of the approach to regulating low-risk nicotine products, such as vaping technologies.
Dr Colin Mendelsohn
Opponents of vaping often base their views on two major international reports, one by the World Health Organisation and one by the US Surgeon-General. Both have been widely criticised. A new publication this week has further questioned the validity of the Surgeon General's report.
---
Visit Nicotine Science & Policy for more News from around the World

---