Vapers Digest 12th July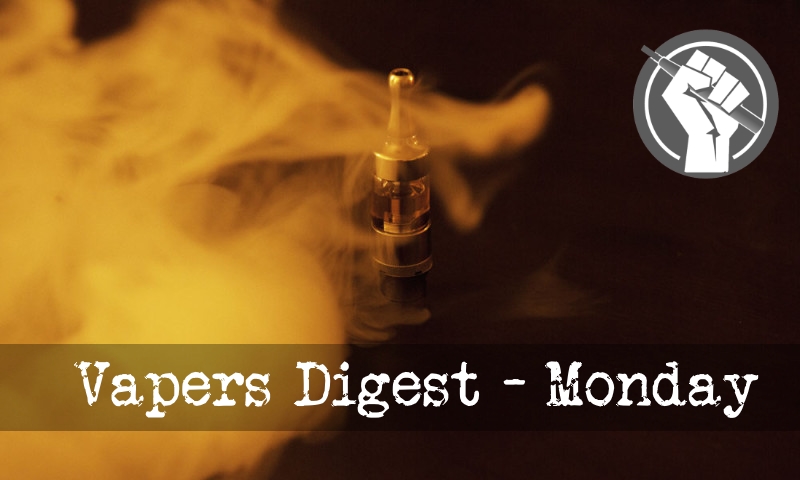 Monday's News at a glance:
Panama Assembly Votes to Prohibit Vape Sales and Use – 400+ Vape Businesses Urge FedEx to Change Shipping Rules – Study discredits WHO's attempts to link vaping to COVID – JUUL Agrees to Pay $40 Million Settlement – Research Roundup – Failing To Promote Vaping Promotes Black Markets – Experts To Explore Anti-Vape Lies – Mayo Study Finds No Covid-Vape Link – Klarna Drama – Thomas Kirsop's Review – Health Canada coughs up counterintuitive vape policy – Doctor says vape, heated tobacco products viable solutions – Nicotine Science and Policy Daily Digest
To Prohibit Vape Sales and Use – Jim McDonald
Panama's National Assembly has passed a bill that would prohibit both sales and use of vaping products. The vape product ban could still be vetoed by President Laurentino Cortizo, who vetoed an earlier version of Bill 178.

The new law would ban sales and use of all vaping products, with or without nicotine. The ban would also apply to heated tobacco products (HTPs) like IQOS. The bill was sponsored by the President of the Assembly, Deputy Crispiano Adames.

While the law would not prohibit exports to other countries, or the reshipping of products from Panama to other countries, it would authorize the National Customs Authority to "stop, confiscate and suspend the sale and commercialization of electronic systems in the country," according to the Assembly. …
To Change Shipping Rules – American Vaping Association
Today, the American Vaping Association, a pro-vaping advocacy organization, sent a letter to FedEx signed by 428 small business owners urging the carrier to reconsider its recent policy change that prohibits them from shipping or receiving vaping products, otherwise known as e-cigarettes. The letter warns that the refusal of FedEx to update their policy will have unintended consequences, including perpetuating smoking-related deaths, especially in marginalized communities.

Small businesses across the country rely on common carriers like FedEx, UPS and DHL to meet customer demands and to get lifesaving products in the hands of those who need them most. Unfortunately, in the wake of the decision by Congress in December 2020 to prohibit the United States Postal Service from delivering vaping products to consumers, these private carriers responded by prohibiting their customers from shipping vaping products to both businesses and consumers.
---

---
To link vaping to COVID – CAPHRA
The World Health Organization's attempts to link vaping with COVID-19 have been completely discredited by a significant study out of the United States, says Asia Pacific's leading Tobacco Harm Reduction consumer advocacy group.

Research by the Mayo Clinic published in the Journal of Primary Care & Community Health, titled 'Electronic Cigarette Use Is Not Associated with COVID-19 Diagnosis' involved nearly 70,000 patients. The study concluded that e-cigarettes 'do not appear to increase susceptibility to SARS-CoV-2 infection'.

"For over a year, we've had to endure WHO's latest round of orchestrated lies about vaping. Outrageously, various WHO briefings and materials on COVID have stated that 'e-cigarette use may increase the risk of infection', without offering any scientific basis whatsoever," says Nancy Loucas, Executive Coordinator of the Coalition of Asia Pacific Tobacco Harm Reduction Advocates (CAPHRA).
---
You know, I'd really like to talk over the future of nicotine, the tobacco and vape industry, public health etc with @MaloneRuth.
But until then, I hope she can do something about *ridiculously* flawed papers in @TC_BMJ?

For example, this one: https://t.co/ZAxKIO4ESo #FFS

— Clive Bates (@Clive_Bates) July 12, 2021
FOCUS : L'interdiction des arômes, une catastrophe pour le vapotagehttps://t.co/W7usxbYkTh

— European Tobacco Harm Reduction Advocates (@europethra) July 12, 2021
---
But Lobbying Disclosures Prove There's More to the Story – Hannah Cox
The e-cigarette company JUUL recently agreed to pay the state of North Carolina $40 million in order to settle a lawsuit that claimed they marketed their products to teenagers.

JUUL has faced increasing criticism and multiple attempts at regulation in recent years over its release of fruit-flavored pods that found popularity with teens. The company has also faced scrutiny for its use of young influencers who market its products to teens, as well as advertisements on homework solutions websites.

As a condition of the settlement, JUUL agreed to abandon any marketing content that appeals to young people (which seems a bit ambiguous), and to only sell its products behind-the-counter in the state

Five from Dave Cross, Planet of the Vapes:
The UK Electronic Cigarette Research Forum (UKECRF) has released its research roundup covering papers published during May and June. The briefings are produced for anyone with an interest in what vape studies are finding but who are non-specialists or short on the time to read through them in full.

"The studies selected and further reading list do not cover every e-cigarette-related study published. Instead, they include high profile studies most relevant to key themes," says the UKECRF, but gives a good indication of the sheer volume of work being carried out.
Promotes Black Markets
If governments fail to promote vaping, then the result will be an increase in black market illegal trade in tobacco, according to a leading tobacco harm reduction advocate. Speaking about a situation occurring in her home nation, Nancy Loucas says that if her government doesn't elevate nicotine vaping as the much safer alternative then cigarette smuggling will become a bigger problem.

A recent investigation revealed that New Zealand customs officers are currently seizing around 125,000 smuggled cigarettes and 155 kilograms of loose tobacco every month. The most recent estimate for the United Kingdom says tobacco smuggling costs the taxpayer £2.2 billion a year
A panel of international experts are going to explore the global web of anti-vape lies and how it influences the public's perspective on vaping and safer nicotine products. Headlined "The Battle Between Innovation and Bully Tactics", the seventh episode of The Advocates Voice, or TAV, will premiere at 11am on Sunday, 11 July.

The panel will be led by Greece-based public health expert, Dr Konstantinos Farsalinos, the panel discussion will be simulcast on the Coalition of Asia Pacific Tobacco Harm Reduction Advocates' (CAPHRA) Facebook page (1).

Live questions from viewers to the panel are encouraged, according to the hosts CAPRHA, and say that TAV 7 will make fascinating and timely viewing.
Following PayPal implementing a ban on most vape businesses using its services last year, despite some apparently continuing to accept PayPal payments, some companies are now reporting issues with Klarna. Klarna was one of the companies the vape sector turned to following PayPal problems, but the online payment and credit provider appears to be stopping vape and CBD customers from accessing its services and freezing accounts.

Vape businesses Not Blowing Smoke (1) and E-liquids UK (2) contacted Planet of the Vapes to tell us of issues being experienced by customers attempting to check out with vape or CBD products in their baskets and the businesses having their accounts locked.
A new study conducted by researchers at Rochester's reputable Mayo Clinic debunks notions that vaping is linked to contracting Covid. Findings produced by Thulasee Jose, Ivana Croghan, Taylor Hays, Darrell Schroeder, and David Warner pour cold water on the lies propagated by anti-vaping activists' claims.

The study (1), "tested the hypothesis that current e-cigarette use was associated with an increased risk of SARS-CoV-2 infection in patients seeking medical care".

The team write how the situation regarding tobacco use and being at increased Covid infection risk is currently unclear. Planet of the Vapes readers will recall how work has been conducted by independent teams following fewer smokers presenting in hospital than would otherwise be expected.
---

---
Tobacco Online Policy Seminar (TOPS) – July 8, 2021

Amending Schedules 2 and 3 to the Tobacco and Vaping Products Act
"I stopped smoking seven years ago by switching to vaping. Not only did Health Canada not approve of my method, but Health Canada was also of the opinion I was breaking the law by quitting according to the notice issued by the department in 2009."

"CTNS 2020 results published in "The Daily" on the Government of Canada website indicate that the physical number of youth who have vaped in the past 30 days (291,300) has dropped by roughly 8.8% from CTNS 2019 (319,295)."

"Hypothetical or potential risks do not provide substantive evidence of definitive harm. "This product will hurt you because the contents might be dangerous" is an illogical statement. This error of logic appears within most Health Canada publishings regarding vaping products."
---

---
Counterintuitive vape policy – Mark Bonokoski
Just when it was thought to be safe to vape rather than smoke cigarettes, the Trudeau Liberals are unwittingly conspiring to resurrect the age-old sin of cigarette smoking.

On July 19, as per the federal Gazette, the Liberals of Prime Minister Justin Trudeau will announce new regulations to not only reduce the nicotine level in e-cigarette vaping products but ban flavoured vape liquids beyond tobacco and menthol/mint.

"Health Canada is pushing smokers back to smoking cigarettes and into the arms of 'Big Tobacco'," says Shai Bekman, president of DashVapes Inc., Canada's largest independently owned e-cigarette company.
Viable solutions to smoking problem
NON-COMBUSTIBLE alternatives like vapes and heated tobacco products (HTPs) are practical solutions to cigarette smoking epidemic, the world's leading cause of preventable death and diseases, said a respected family doctor and tobacco harm reduction (THR) advocate.

Dr. Lorenzo Mata, president of Quit For Good, a non-stock, non-profit organization that advocates real, practical, and tangible solutions to the smoking problem, said the traditional "Quit or Die" approach is not working to substantially reduce the risk of death and disease from smoking.
---
A look back at how things have moved on or otherwise…
Endorse the UK government's approach to harm reduction
New Nicotine Alliance
On Tuesday the Office for National Statistics – the UK government's official agency for assessing economic and social behaviour – released their latest statistical bulletin on smoking prevalence. It made for interesting reading:

The number of vapers in the UK has not changed much since previous assessments, but smoking prevalence continues to decline at a significant rate.

Many of the direst predictions of the effect of safer nicotine products – not just here but in other countries – have often focussed strongly on the possibility of a 'gateway' from vaping to combustible tobacco use, especially amongst youth. However, in the UK where regulations on reduced risk products are arguably the most liberal in the world, this is simply not happening.
8,485 signatures
State Secretary Paul Blokhuis announced Tuesday June 23, 2020 that in the spring of 2021 e-liquids with flavors will be banned.

We, users and sellers of electronic cigarettes disagree. We cannot let this briefly substantiated policy take place!
Would mean bad news for #Smokers and #Vapers alike
In its conclusions in June, the European Council approved a new consensus on excise duties on tobacco. The member states suggest rule changes that would increase the price of tobacco, and equally affect non-tobacco products such as e-cigarettes, writes Bill Wirtz.

Since 2011, the European Union has had a common minimum excise duty on tobacco products, which notably increased the price of cigarettes in those European countries where the prices are comparatively low. Neighbouring countries with higher taxes were claiming that the prevalence of cross-border purchases was subverting their own public health goals. For instance, German commuters buy tobacco in Luxembourg, as the price is lower than in their local shops.
---
Visit Nicotine Science & Policy for more News from around the World

---