Vapers Digest 9th July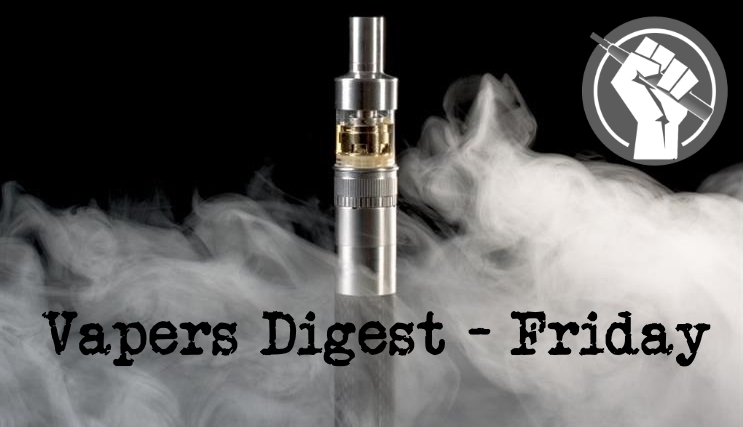 Friday's News at a glance:
Report on the application of the TPD – The British Medical Journal Falsely Claimed – More Prison Sentences for Smuggling Vapes – Fewer exacerbations and higher quality of life in COPD – VPZ Launches Pilot Vape Clinic – Ecig Use in Great Britain – Concerns About Youth Vaping Addressed – 'What About The Children?' – Addicted to smoking or addicted to nicotine? – Arrested for Vaping? – Pro-Needle Exchange but Anti-Vaping? – Why Biden's change in his approach to Harm Reduction – Revenue From Vape Industry Can Help Finance Covid-19 – Over 1,000 Schools Nationwide using SwabTek™ – In for a Shock | Decoding the war on safer nicotine products – Nicotine Science and Policy Daily Digest
ETHRA
On 20 May 2021, the European Commission published its Report on the application of the Tobacco Products Directive (TPD). The report examines the performance of the TPD and will inform future regulations of safer nicotine products and determine whether or not the current TPD should be revised. The report is mandated by Article 28 of the TPD which states: "No later than five years from 20 May 2016, and whenever necessary thereafter, the Commission shall submit to the European Parliament, the Council, the European Economic and Social Committee and the Committee of the Regions a report on the application of this Directive".  See our article "What do we know about the TPD application report" for more details.
"Harm Reduction Advocates and the Tobacco Industry Capitalised on the Pandemic to Promote Nicotine"
Brad Rodu, Tobacco Truth
The British Medical Journal (BMJ) on June 2 published an article, titled "Research Integrity", authored by two investigative journalists.  Aping the position of the World Health Organization, they accuse harm reduction advocates and the tobacco industry of undermining decades of tobacco control.  The BMJ notes that the article was "externally peer reviewed."

The journal has a rapid-response comment system that is managed by the editors.  I submitted a comment on June 9, detailing specific scientific problems with the article's content.  It was not published, so I present it here.
---

---
Jim McDonald, Vaping 360
Fourteen people have been sentenced to prison for smuggling vaping products into Singapore. The products were concealed in seven trucks that were transporting live chickens from Malaysia into Singapore.

Customs officials from the Immigration & Checkpoints Authority said they intercepted more than 54,000 individual vaping products on June 7, according to Channel News Asia. Authorities say the value of the products is over 700,000 Singapore dollars (S$)—or about $519,000 U.S.

The convicted smugglers, who were all Malaysian truck drivers or employees of the company behind the importing scheme, received sentences ranging from five days to two months. All but one will serve at least five weeks.
---
Italy: Tax on e-liquids will return to 2020 levels after an amendment was approved. Effective from 1 August to 31 December a tax of 0.42 cents on 10ml bottles without nicotine and 0.84 cents for those with nicotine will applyhttps://t.co/r55FsVmSCt

— European Tobacco Harm Reduction Advocates (@europethra) July 9, 2021
Why does positive vaping news always have to be UK-related… Can our government not see the potential too?@PattyHajdu @GovCanHealth https://t.co/X69feYscfB

— Rights 4Vapers (@rights4vapers) July 9, 2021
---
And higher quality of life in COPD: Interview with Prof. Polosa
In England, the use of low risk products is recommended in smoking cessation programs from doctors and health workers: we hope that soon we will be able to witness the same change all over the world. Prof. Riccardo Polosa Founder of the CoEHAR

According to my experience, many COPD patients can't or don't want to quit smoking, although It is well known that cigarette smoking is a significant risk factor for COPD. This study, first in its kind, monitored health parameters COPD patients who ceased cigarette consumption after switching to HTPs. At the 3- year follow up, data showed that HTPs use decreased the number of acute exacerbations of COPD by more than 40% and associated improvements in the quality of life and in the ability to exercise. No changes were observed in COPD patients who continued smoking.

Three from Dave Cross, Planet of the Vapes
VPZ, the UK's largest vaping retailer, has launched its new Vape Clinic service which offers smokers a dedicated, one-to-one consultation with VPZ's vaping specialists. The pilot Vape Clinic launched Monday 5th July at VPZ's flagship Newbridge store and plans are now in place to roll out the service across the entire retail estate in the coming months.

With around 78,000 people in the UK dying from smoking year on year, and with many more living with debilitating smoking-related illnesses, the vape clinic has been introduced to support the nation's smokers quit for good.
Action on Smoking and Health (ASH) has released its latest factsheet summarising how behaviour and attitudes to vaping has changed over time. The data are taken from an annual survey, Smokefree GB, carried out for ASH by YouGov.

The survey first began looking at vaping in 2010 and the eleventh update has been produced from the results obtained in February and March.

A summary of ASH's findings shows that "the proportion of the adult population using e-cigarettes has increased this year to 7.1%, the same as in 2019, amounting to 3.6 million people."
The Aotearoa Vapers Community Advocacy (AVCA) reacts to a negative television feature that attempted to promote fears over teen vaping. "Media stories about youth vaping are deeply concerning but significant changes have been made in the past year with more coming," said Nancy Loucas, AVCA co-director.

Loucas' comments followed a story on The Hui, a Maori television show. It investigated "the uptake of vaping amongst rangatahi, which is leading to stand-offs at home and stand-downs at school."
---

---
We Can Discourage Teen Vaping And Accept The Benefits of E-Cigarettes
Teenagers have no business using electronic cigarettes. Public health officials, scientists and even companies that manufacturer and sell e-cigarettes should do all they can to prevent teen vaping.

That said, there's a point at which judicious public health advocacy devolves into ideological activism that actually does more harm than good. We saw an example of this devolution in North Carolina recently, where the vaping company JUUL agreed to pay $40 million over six years to settle a lawsuit alleging it deliberately marketed its e-cigarettes to underage customers. North Carolina Attorney General Josh Stein summed up the case against JUUL for CNN in May 2019:
Decoding the war on safer nicotine products | RegWatch
A focus group study on perceptions of nicotine and addiction
Participants across all smoking status groups associated nicotine with tobacco products, but consistently misperceived that nicotine caused disease. Perceptions of addiction were largely negative and varied by smoking status. Experienced smokers (exclusive smokers, former smokers, and dual users) differentiated tobacco use from other addictions and minimized their own experiences of addiction. Perceptions of addiction across experienced smokers included not only the chemical properties of nicotine, but also the behavioral aspects of tobacco use, including oral fixation, having a smoking routine, and response to internal and external cues. In response to messages, many believed that removing the nicotine would not make cigarettes less addictive because of the multi-factorial nature of smoking addiction that includes nonpharmacological cues.

Police Treatment of Teens Raises Questions – Michael McGrady
Officers for the Ocean City Police Department in Maryland harassed a group of teens visiting the shore from Harrisburg, Pennsylvania.

The teens were visiting the Boardwalk in Ocean City to celebrate high school graduation when police approached to address them about allegedly violating a public vaping prohibition ordinance. New media reports indicate the teens had put the vape away. However, police officers kept following the group and began pestering them for identification. Soon, more police arrived, and things became physical, resulting in a Black teen getting tased.
The Hypocrisy of American Healthcare Policy – Lindsey Stroud
You don't have to be a doctor, or even play one on TV, to see the conflict: American healthcare policy that promotes taxpayer-funded needle exchanges for drug addicts, but opposes vaping as an alternative for smokers.

The Biden administration recently announced a robust plan to address the nation's crippling opioid epidemic, which was responsible for 500,000 American deaths between 1999 and 2019. That harm reduction includes needle exchanges, long a controversial policy. In 1988, Congress barred the use of federal funding for needle exchange programs. In 2015, amid the growing opioid crisis, then-President Barack Obama signed the Consolidated Appropriations Act, "which modified the restriction on use of federal funds for distributing sterile needles or syringes," and allowed for funding to be used for other services, but not syringes.
To Harm Reduction unlock new scenarios in the fight against smoking?
New elected President Joe Biden anticipated since his first statement that we were about to see an epochal change. Now, that change turned into reality. For the first time in the history of the country, the U.S Congress has allocated specific funds for Harm Reduction programs for drug addicts. A historic result fastened by the pandemic, which in the United States has seen an exponential increase in deaths from overdose.

In the United States, drug assistance programs have always been under attack from different sides and any attempt to implement such policies in recent decades has been halted.

Still, U.S President Joe Biden is the first President to set Harm Reduction a priority in the fight against drug addiction.
Can Help Finance Covid-19 Economic Stimulus Packages
To help aid a nation stricken by the pandemic and economic hardship, Prime Minister Tan Sri Muhyiddin Yassin recently announced the RM150 billion PEMULIH aid package which includes a fiscal injection of RM10 billion.

It's the largest stimulus package by the Perikatan Nasional (PN) government since the RM250 billion PRIHATIN package announced in March last year when the country went into a lockdown for the first time to curb the spread of Covid-19.

While the government has been timely in introducing various economic stimulus packages to support the domestic economy and protect livelihoods, it requires the delicate balance of providing aid and managing the financial constraints on the country.
To curb Cannabis and Nicotine use
SwabTek™, leaders in the narcotics and explosives presumptive testing industry, are announcing that two of the ten largest school districts in the State of Georgia are joining the over 1,000 educational institutions across the United States already using SwabTek's products to help secure their school campuses.

The national push for legalization of recreational cannabis use has posed a challenge for many educators and school administrators. The widespread accessibility of cannabis and cannabis-containing products such as edibles and vape pens has resulted in the prevalence of both deliberate and inadvertent consumption among youth.
---
A look back at how things have moved on or otherwise….
Clive Bates, The Counterfactual
Let's have some debate on the future of tobacco, nicotine, tobacco control and the tobacco and vaping industry. Here are three provocative pieces to get things moving.

First, directly below, The past is not the future in tobacco control,  by pro-harm-reduction veterans of the tobacco wars with a historical perspective ending with four recommendations for a changed approach. I reproduce below the abstract and four main recommendations below and include my comments on the recommendations.
Christopher Snowdon, Spiked Online
Jacob Grier's The Reinvention of Tobacco shows how the war on smoking has been built on junk science, class snobbery and plenty of cash.

Jacob Grier doesn't like cigarettes. He doesn't smoke cigarettes. He advises people against smoking cigarettes. And yet he believes that adults should be allowed to smoke cigarettes without being harassed, demonised, over-taxed and thrown out of every building in America, including, in some cases, their own home. This view, which was once so uncontroversial as to go without saying, makes him virtually a libertarian provocateur today.
, National Affairs
In 2014, the Oxford English Dictionary christened "vape" the Word of the Year. The designation was a tribute to the impressive rise of the electronic cigarette, a battery-powered device that heats a flavored solution containing nicotine and converts it into an inhalable, or "vape-able," aerosol. By the close of 2013, six years after e-cigarettes became available in the United States, sales had surpassed $1 billion, prompting financial analysts to proclaim them a threat to cigarette sales. Observers hailed e-cigarettes as "among the most significant public-health innovations of modern times" and a "disruptive technology" poised to "revolutionize" public health.
---
Visit Nicotine Science & Policy for more News from around the World

---