Vapers Digest 7th July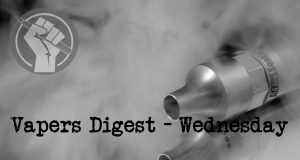 Wednesday's News at a glance:

---
TWO from Dave Cross, Planet Of The Vapes
The We Vape group is launching its Back Vaping Save Lives campaign on Wednesday night in a free to attend live Zoom event. Speakers will be encouraging vapers to become active and speak up about the benefits of vaping they've experienced since sw3itching to electronic cigarettes.
The World Vapers' Alliance (WVA) is has launched a major global campaign titled: "Back Vaping. Beat Smoking." The WVA's goal is to shape international public health policies in order to save 200 million lives around the world.
---

---
Diane Caruana, Vaping Post
Sadly, amongst tobacco harm reduction experts, the WHO has become renowned for becoming aggressively anti-vaping, despite all the scientific data available in favour of e-cigarette use for tobacco harm reduction. CAPHRA Executive Coordinator and AVCA (Aotearoa Vapers Community Advocacy) director Nancy Loucas, has previously highlighted that the health agency's position against e-cigarettes has been influenced and compromised by vested interests that provide funds to the organisation, as in this case.
Jennifer Ross, The American Reporter
Across the world, tens of millions of people have quit smoking for good with the help of e-cigarettes. Vaping has become so big – so quickly – that it sometimes feels as though it has been around forever. In fact, vaping has become an international phenomenon in the span of just over a decade.

Vaping isn't just something that's changed the lives of smokers and been a major boon for public health; it's also created an industry that now spans the world.
will send tobacco users back to cigarettes
Shellie Villarreal, The Salt Lake Tribune
Like those who enjoy their caffeine first thing in the morning, for a pick-me-up in the afternoon or after a good meal, I enjoy nicotine.

For years, I got my nicotine fix from traditional cigarettes. At one point, I was up to a pack a day. But, now, I've quit. It took me a while, but I was able to kick a habit that kills thousands of Americans each year. I applaud people who can quit cold turkey. I don't know any of these people, but I assume they're out there because plenty of lawmakers think it's something all smokers should be able to do – to just quit.
JC Perry and Brad Everett have co-owned a West Toledo vape shop for over eight years.

Their clientele includes a roster of 9,000 customers, and under normal circumstances — before the coronavirus pandemic — they would see around 75 to 100 customers shuffle in and out of their Laskey Road location each day.

But despite their sustained success, which has involved surviving the pandemic and navigating through governmental regulations that have further restricted what specific products can be sold and where they can be marketed, the business owners — like many in their industry — fear they could soon face their biggest threat yet: a ban on shipping vapor products through the United States Postal Service.
---
Dick Puddlecote
Christ! I have so much to write but so little time to do so. My calendar for the next week looks packed so there may be very little on these pages for a while, but here's something I can thoroughly recommend.

While in Warsaw at GFN last month, the keynote speaker was Ethan Nadelmann, founder and executive director of the Drug Policy Alliance. He has worked for a very long time in the field of harm reduction in relation to illicit drugs so his expertise is very much transferable to the tobacco and nicotine debate.
Mawsley, Planet of the Vapes
A paper published in Lancet Psychiatry claims that banning smoking and only encouraging traditional nicotine replacement therapies has led to a decrease in patients committing physical violence. It also highlights a distinctly odd approach to vaping being taken by the South London and Maudsley (SLaM) National Health Service Foundation Trust.
---
Visit Nicotine Science & Policy for more News from around the World

---