Vapers Digest 5th July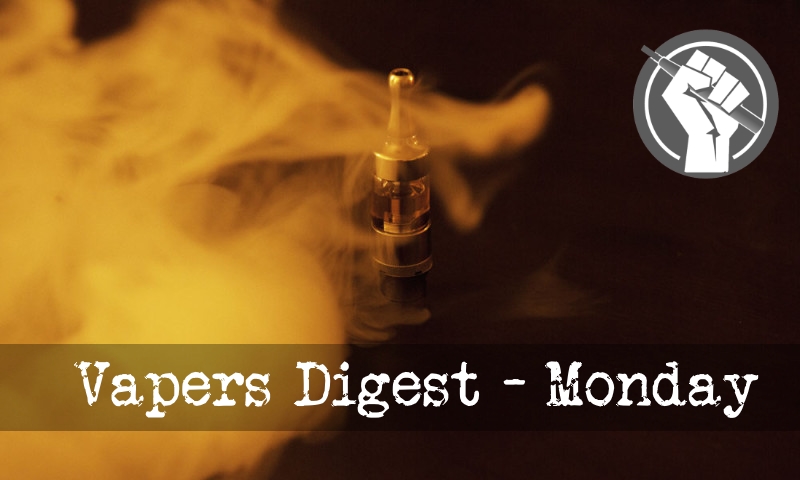 Monday's News at a glance:
A Message to Politicians and Public Health – Why Health Canada cannot be trusted – Cigarette Smuggling Will Worsen If Vaping Not Promoted – Consequences of prohibition on vaping – Teenage Use – Vaping and Harm Reduction in Parliament – Heating Up – Coalition Letter on PMTA Enforcement – In Science We Trust – Groups reveal report on Bloomberg's meddling in PH – Drug, alcohol and nicotine use by teens may have fallen – Nicotine Science and Policy Daily Digest
From A Former Smoker: Fuck Off
In the years since I quit smoking, I've heard more about my "nicotine use" than in all the years that I smoked. And I heard plenty from people before I quit, thank you. It's unavoidable if you smoke. The harassment, the shaming and shunning, is unending. It's so normalized that even the public are in it- friends and family who might otherwise be counted on to be supportive or at least normal regularly harangue and berate, oblivious to the impact that endless shaming and judgment can have on a person and their relationships. The more I talk to people, the clearer it is that they've no idea why people smoke or why they quit and they don't particularly care to learn. Hating smokers is socially acceptable, expected even. It's an activity we can all get in on, guilt-free, and now we're extending it to people who enjoy nicotine in any form. I have one message for all of you, but particularly those working in government and public health: fuck right off.
Luc Martial
Why does the vaping industry keep "applauding" the government for its emerging regulations on vaping products? No amount of professionalism, politeness or patience will ever earn the goodwill sought. Government is not a friend or a partner to the vaping industry. We can all dream for a better tomorrow, but this is not our current reality.

The proof is already sufficiently abundant that many smokers trying to quit tobacco have successfully turned to vaping products as an alternative to smoking and that such products are much more effective than other nicotine products long present in the marketplace (e.g. gums, patches, etc.). In terms of this alternative being a well documented, evidence-based "healthier" one – well that's another story that has yet to be accurately told.
---

---
If Vaping Not Promoted – AVCA
If the Government's smokefree action plan does not adequately elevate nicotine vaping as the much safer alternative, then cigarette smuggling will become a bigger problem at New Zealand's border, says a leading Kiwi Tobacco Harm Reduction advocate.

Her comments follow a media investigation which revealed Customs is currently seizing around 125,000 smuggled cigarettes and 155 kilograms of loose tobacco every month.

New Zealand Customs describes it as a lucrative market. In fact, it's thought to be eight times more profitable than cocaine – and one which has attracted organised crime. Large scale, commercial-grade cigarette smuggling operators are now well established.
---
---
Lindsey Stroud
Multiple videos emerged on social media recently of another confrontation between Black Americans and police officers. Just exactly what was the ruckus about? Several teenagers — all 18 or older — were vaping on the Ocean City, Md., Boardwalk.

What's the issue? For one, smoking and vaping are prohibited on the Boardwalk. The Ocean City Council's top priority in 2014 was banning smoking and use of e-cigarettes there, except in designated smoking areas. The policy went into effect May 1, 2015.

At the time that the ban began, former city manager David Recor commented the city would not "haul people off to jail for smoking on the Boardwalk," and that the city didn't "expect to take a heavy hand, but expect visitors to self-police themselves."

Two from Dave Cross, Planet of the Vapes
The latest reports from the United States show that the number of teenagers who use electronic cigarettes has dropped by a remarkable number. Anti-vape campaigners are still commenting on their fictional "epidemic", but Professor Linda Bauld, a reputed expert in public health, says the data simply doesn't support the notion. In fact, she says the actual number of regular vapers is and always was exceptionally low.

Matthew Myers, president of the Campaign for Tobacco-Free Kids, is refusing to see the truth that is staring him in the face. The National Youth Tobacco Survey (NYTS) research produced by the U.S. Centers for Disease Control and Prevention (1) looked at data from 14,500 school students.
The Palace of Westminster still manages to find things to discuss other than COVID, Dominic Cummings, or who has been caught smooching on CCTV. Baroness Hayman, Lord Goldsmith, Adam Afriyie, Jo Churchill, Crispin Blunt and Mark Pawsey have all discussed matters relating to vaping and tobacco harm reduction.

Baroness Hayman of Ullock asked Lord Goldsmith of Richmond Park what plans Her Majesty's Government has to establish regulations to place an additional tax on the tobacco industry to pay for the cost of cleaning up discarded cigarette butts. She followed this up by asking if there was a timetable for implementing such measures.
---

---
Timothy S. Donahue – Tobacco Reporter
Japan is the world's largest market for heated-tobacco products (HTPs). Brands like Philip Morris International's IQOS, Japan Tobacco's Ploom and British American Tobacco's Glo have garnered a significant share at the expense of their combustible counterparts.

In the first quarter of 2021, domestic cigarette sales in Japan totaled about 25 billion sticks. In 2016, during the same period, Japanese smokers bought 43.6 billion cigarettes. Over the past five years, cigarette sales have declined nearly 43 percent, according to Euromonitor International.

The Honorable Janet Woodcock….
On behalf of millions of taxpayers and consumers across the United States, we, the undersigned 23 organizations, believe that, in the interests of public health, adult access to safe e-cigarette products must be maintained in order to reduce cigarette consumption nationwide and save millions of lives.

A substantial body of scientific evidence suggests these products save lives by reducing the use of traditional combustible tobacco products. Pulling e-cigarettes and other vapor products from shelves will harm consumers and small businesses.

Regulating smoke-free products differently to cigarettes
In a world reeling from the Covid-19 pandemic, the role of science has been brought into sharp focus. Chief scientific advisors, epidemiologists and infectious disease experts have become household names around the world; all hopes pinned on pioneers of modern medicine to provide the escape route: a vaccine. We are guzzling up information with newfound gusto, hungry for the facts of science over the disorientation of hearsay, rumor and rhetoric.

Yet, this spotlight doesn't extend to the wider context and opportunities built on the foundations of scientific understanding to advance humanity are being missed. When science is not leveraged to its full potential….
Manila Bulletin
Consumer groups asked Congress to look into a report by an American think tank about Bloomberg Philanthropies' repeated meddling in the affairs of low and middle-income countries (LMICs) including the Philippines.

The Nicotine Consumers Union of the Philippines (NCUP) and the Philippine E-cigarette Industry Association (PECIA) said the revelation made by U.S. think tank Competitive Enterprise Institute (CEI) about the intrusion by Bloomberg Philanthropies in the Philippines and other countries should serve as a wake-up call to the government.
May have fallen in Colorado during pandemic – Meg Wingerter
A survey of Colorado high school students found they were less likely to report drug use and suicidal thoughts during the pandemic than a year earlier.

The teens surveyed in fall 2020 were less likely to say they'd recently used alcohol, marijuana, tobacco or e-cigarettes than those who had participated in 2019. Fewer reported recently using prescription drugs without a doctor's order, though the decline was small enough that it could have been a random fluctuation.

The survey's mental health questions also suggested some students benefited from the changes of the last year, or at least coped with them.
---
A look back at how things have moved on or otherwise…
Clive Bates, Tobacco Reporter
In 2013, the journal Tobacco Control published a supplement, "The Tobacco Endgame," setting out various ways in which various experts thought a tobacco-free society could be attained. Ideas included annually increasing age limits, a cap and trade system, outright prohibition, taking control of the industry and making it put itself out of business, and removing most of the nicotine from cigarettes. In the intervening seven years, most of these ideas have not progressed at all. And rightly so, as I argued in a detailed critique, these policies are mostly impractical or excessively coercive and would fail if tried. The only one that attracted any real interest was the idea of lowering nicotine concentrations in cigarettes to make the product subaddictive (i.e., to eliminate the main reason people smoke). But even this de facto prohibition has not fared well. After backing the idea in 2017, the U.S. Food and Drug Administration (FDA) dropped the reduced nicotine rule from its regulatory plan in 2019. The most senior researchers engaged in the idea recently acknowledged that its viability would depend on the availability of credible safer alternatives to smoking.
Stefanie Rossel, Tobacco Reporter
The coronavirus pandemic could have been a chance for public health authorities and governments to promote tobacco harm reduction (THR). Instead, they resorted to well-known, tried-yet-unproven remedies, restricting sales channels or banning tobacco products altogether.

To warn against smoking, an activity linked to respiratory problems, appears to be a no-brainer when a deadly virus with the potential to cause acute lung failure is spreading rapidly around the globe. Yet many governments and public health authorities went much further. The Covid-19 outbreak amplified tobacco control policies that had been in circulation for decades, creating an opportunity to implement measures that would otherwise be unthinkable.
---
Visit Nicotine Science & Policy for more News from around the World

---