Vapers Digest 2nd July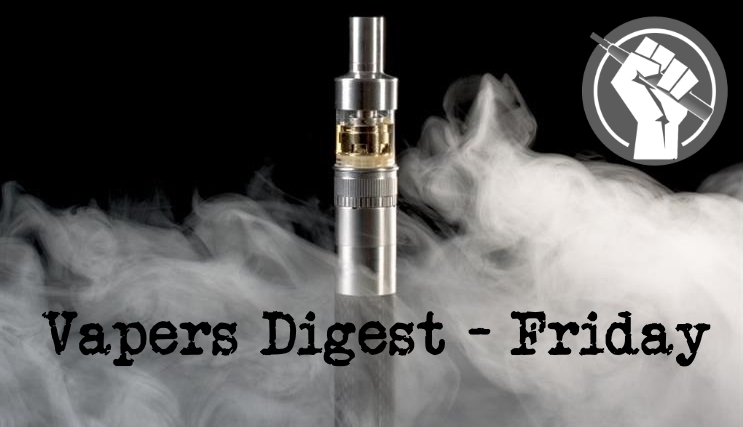 Friday's News at a glance:
ETHRA June news roundup – Polar Opposition Must be Resolved – Germany Passes E-Liquid Tax – Spanish anti-smoking bodies press for tax – Arbitrariness of Tobacco Control in Spain – Snus and The Art of Suppression – Conference Bans Harm Reduction Advocates – COP9 and Its Impact on Vapers – Vape Attacks Suit Big T – £1.7 million To Help Homeless Switch To Vaping – European Parliament's Missed Opportunity – Washington, Votes to Ban Flavored Products – UK Health Agency Reaffirms the Power of Vaping – Back Vaping to Beat Smoking – ATR Leads Coalition Urging PMTA Extension – High excise duty on nicotine pouches is ill-advised – Bloomberg-funded "Campaign for Tobacco-free Kids" – Experts to expose global anti-vape lies – David Clement: Don't ban flavoured vapes – Can India look for safer nicotine products? – Vaping, Police and Race – Nicotine Science and Policy Daily Digest
European Tobacco Harm Reduction Advocates
ETHRA's monthly roundup of news: ETHRA Nicotine Users survey report – Special Committee on Beating Cancer draft report – MPs see sense in Sweden & Estonia – Germany tax update – anti THR measures in Finland & Norway. Read on for more.
Polar Opposition Must be Resolved – Brad Rodu
To put it mildly, the tobacco harm reduction (THR) issue in the United States is polarized.  According to Professor Lynn Kozlowski, on one side are "THR supporters", scientists and policy makers who want to inform smokers about vastly safer smoke-free substitutes for combusted cigarettes, including American moist snuff and chewing tobacco, Swedish snus, a wide array of e-cigarettes and vape products, plus new heat-not-burn tobacco products.  On the opposite side are "abstinence-only (AO) supporters" who reject any divergence from their vision of a tobacco-free society.

Is there a way to bring these opposing parties together to achieve meaningful improvement in public health?  As a THR researcher and advocate for over 27 years, I have never refused to participate in serious discussion of the way forward.
---

---
As EU Decision Looms – Jim McDonald
German vapers will pay more for e-liquid beginning next year after legislators approved a tax that will apply to both nicotine-containing and nicotine-free e-juice. The Tobacco Tax Modernization Act passed the Bundestag (the lower house of parliament) June 11, and was approved by the Bundesrat (the upper house, or "federal council") on June 25.

The government will collect €0.16 ($0.19 U.S.) per milliliter beginning July 1, 2022. The tax will then increase in steps until 2026, when it tops out at €0.32/mL. For a 10 mL bottle of e-liquid (the legal maximum size under current TPD rules) that costs €5.00, that's a price increase of about 30 percent in 2022, rising to 60 percent four years later.
On both e-liquid volume and nicotine – David Palacios Rubio
Spanish anti-smoking organisations have urged the government to introduce a tax scheme for e-cigarettes as part of the new Tobacco Act expected to be approved by the end of 2021.

The umbrella organisation the National Committee for the Prevention of Smoking (Comité Nacional para la Prevención del Tabaquismo, CNPT) has prepared a report for the Ministry of Health suggesting an excise duty based on both volume of liquid and the nicotine content.

Specifically, it proposes a general e-liquid tax at the EU average rate of €0.15 per ml, with an additional element for nicotine content at €0.006 per mg.
---
---
Vaping Today
With mortality higher than COVID-19, every hour about six people die from the consequences of smoking in Spain. The Iberian country, which among adults maintains a prevalence of smoking around 27.9%, has more than half a million ex-smokers who have given up cigarettes thanks to vaping.

In addition, it has a very important and strong business network related to vaping and, according to a study by Consumers Choice Center, the potential lives that could be saved by promoting the change from traditional cigarettes to safer devices for nicotine consumption is more than 2,5 million, from current persons who smoke.
Snusforumet
Why is snus banned in the European Union? How did it happen? Snusforumet, in partnership with author and commentator Christopher Snowdon, brings you the inside story of snus and the art of suppression and how it gave birth to one of the EU's more confounding policies.

First published in 2011, The Art of Suppression: Pleasure, Panic and Prohibition since 1800 by author and commentator Christopher Snowdon, looks at several attempts by policymakers and activists to enact various bans over the last two centuries.

To mark the ten-year anniversary of the book, Snowdon and Snusforumet have joined together to revisit the book's chapter detailing the story behind the EU snus ban.

Five from Dave Cross, Planet of the Vapes
The Asia Pacific Association for Control of Tobacco (APACT) conference has taken the step to ban any tobacco harm reduction advocate or vape consumer who has previously spoken at either the Global Forum on Nicotine (GFN) or the Global Tobacco and Nicotine Forum (GTNF). The ridiculous situation will come as bad news for Mitch Zeller, Director of the US Food and Drug Administration's Tobacco Products Center, as he spoke at GTFN in 2020 (1).

The APACT ban isn't the first-time advocates or consumers have been singled out for exclusion. In 2018, consumers were ejected from viewing the proceedings at the World Health Organization (WHO) Framework for Tobacco Control (FCTC) Conference of Parties (COP8).
The Institute of Economic Affairs (IEA) hosted a webinar looking at the World Health Organization's Conference of Parties (COP9) to the Framework Convention on Tobacco Control and its probable impact on vapers. This will be the first time the United Kingdom will be sending a delegation since Brexit and no longer must toe the official European Union line.

As the IEA points out, "the Framework Convention on Tobacco Control (FCTC) is an international treaty under the auspices of the WHO dedicated solely to tobacco control. COP is the supreme decision-making body of the FCTC, where all parties to the FCTC meet biennially to review the implementation of the convention and adopt the new guidance."
Attacks on vaping "nicely suits Big Tobacco" according to the co-owner of Alt New Zealand and VAPO. Negative press stories about tobacco harm reduction products like electronic cigarettes "suit those who've got most to gain – foreign-owned Big Tobacco companies," says Jonathan Devery.

Mr Devery's comments follow an avalanche of recent negative media stories about vaping. "Vaping is 95% less harmful than smoking yet it's getting 95% of the negative coverage. For those of us dedicated to Smokefree Aotearoa, we're just asking for some objectiveness. Let's not lose sight that smoking kills 5,000 Kiwis a year, and nicotine vaping has reportedly killed no one worldwide. In fact, it has saved thousands of Kiwis from an early death," he says.
A new trial to help the homeless switch from smoking to vaping has been made possible by a £1.7 million grant from the National Institute for Health Research (NIHB). The trial will be led by researchers from University College London (UCL) and London South Bank University (LSBU).

The project is going to be led by Dr Sharon Cox who works in UCL's Department of Behavioural Science & Health and LSBU's Professor Lynne Dawkins. The pair will be operating with academic partners from:
The World Vapers' Alliance (WVA) has expressed its disappointment that the European Parliament's draft report on Beating Cancer doesn't unequivocally back vaping to beat cancer. The WVA remains upbeat that small changes signal the possibility of further shifts in the EU's position, but the draft report also heralds a move to ban flavours and increase taxation.

The WVA (1) said: "The draft report is an improvement on the European Commission's draft, which leaves the door open for flavour bans and higher taxes. But in failing to make a clear statement on the potential of vaping and harm reduction in the fight against smoking-induced cancer, the EP report misses the mark."
---

---
Alex Norcia
On June 29, the Washington, DC Council voted to ban the sale of flavored tobacco products—a designation that includes vapes as well as menthol cigarettes. The legislation now heads to the desk of DC Mayor Muriel Bowser, who has signaled her support for the ban and will likely sign it into law.

Council members debated at some length, mainly about the concern of potentially increasing the number of interactions between police officers and people of color. They ultimately passed the ban, however, with a vote of 8 to 5. (The bill exempts hookah bars.)
The Power of Vaping to Help Smokers Quit
On June 25, the United Kingdom's National Institute for Health and Care Excellence (NICE) published new draft guidelines encouraging health care professionals to disseminate clear and up-to-date information for smokers who want to use vapes to quit cigarettes.

Developed with the help of Public Health England (PHE), the UK's leading health agency, an expert committee advises that nicotine-containing e-cigarettes are "more likely to result in people successfully stopping smoking" when combined with behavioral support; notes that vaping is "similarly effective" to short- and long-acting nicotine replacement therapy (NRT); acknowledges that e-cigarettes are "significantly less harmful than smoking"
University of Oxford Podcasts
World Vapers' Alliance
The World Vapers' Alliance is today launching a major global campaign – 'Back Vaping. Beat Smoking'- with the goal of shaping international public health policies and saving 200 million lives worldwide.

"The weight of research and real-world evidence shows that progressive vaping policies can help millions of smokers to quit. Yet vaping remains under threat as decision-makers face pressure from anti-vaping organisations. Our campaign will make sure the evidence and the voices of vapers are heard, so that Governments will take the opportunity to save 200 million lives", said Michael Landl, Director of the World Vapers' Alliance.
Clinical trial of e-cigarettes to quit smoking
A clinical trial published in Addiction looks at e-cigarettes versus nicotine replacement treatment as harm reduction interventions for smokers who find quitting difficult.

Dr Jamie Hartmann-Boyce, Senior Research Fellow in Health Behaviours, University of Oxford, said: "This study adds to a growing body of evidence showing that e-cigarettes with nicotine help people quit smoking and probably work better than nicotine replacement therapy. In this study, this was found to be the case even in people who had previously tried to quit but not been successful. "

Joe Magero
A proposal by the National Treasury to impose high excise duty on nicotine pouches is likely to make this alternative to smoking unaffordable to most Kenyan smokers.

In his Budget Statement presented to Parliament on June 10, National Treasury and Planning CS Ukur Yatani had set the new tax at Sh5,000 per kilogramme. The net effect of this tax will be to make tobacco-free oral pouches more expensive than tobacco.

It is a backward decision especially in a market where affordability is a key buyer consideration. It would make Kenya the first country ever to impose taxes that will make less harmful alternatives more expensive than cigarettes.
Global Strategy to Ban Vaping Products by Bribing Public Bodies
To people in the United States, billionaire Michael Bloomberg is most well-known as a swashbuckling former New York City mayor who blew a lot of money on an ill-fated presidential primary run.

But around the world, his network of charities and selected groups he provides with millions of dollars in grants are, for all intents and purposes, a sort of private government who influence government leaders, fund the entire salaries of public health officials, and write legislation that is then introduced into legislative bodies, including the recent example of vaping bans in Mexico and the Phillippines.
Karl Abramson
Americans for Tax Reform today led a coalition of 23 organizations urging the Food & Drug Administration (FDA) to follow the common-sense recommendations of the Small Business Administration and seek a court order to allow vaping manufacturers to keep products on the market while their Pre Market Tobacco Authorizations (PMTA) reviews are in progress. The FDA has acknowledged it is unlikely to complete all authorizations by the September 9 deadline, meaning thousands of businesses, who did the right thing, and completed all legal requirements, would be prohibited from selling their life-saving products merely due to FDA delays in processing their application.
An international panel of experts will explore and expose a global web of anti-vape lies that influences the public's perspective on vaping and safer nicotine products.

Headlined 'the battle between innovation and bully tactics', the seventh episode of The Advocates Voice, or TAV, will premiere at 6pm Hong Kong Time – or 10pm New Zealand Time – on Sunday, 11 July.

Led by Greece-based public health expert, Dr Konstantinos Farsalinos, the panel discussion will be simulcast on CAPHRA's Facebook page at https://www.facebook.com/caphraorg. Live questions from viewers to the panel are encouraged.
Earlier this month Ottawa submitted new regulations for vaping products to the Canada Gazette. It wants to ban all vape flavours with the exception of tobacco, mint and menthol.

The rationale behind the ban is that limiting flavours will curb youth access to vaping products. Vapes, of course, should never be in the hands of minors. Their main value is to offer adult smokers substantially reduced risk for consuming nicotine — a 95 per cent reduction according to Public Health England. That reality is why vaping works as a means to quit smoking, something which has been reaffirmed by many peer-reviewed articles.
Shantanu Guha Ray
I found conversations at the Global Forum on Nicotine – held earlier this month in Liverpool – very interesting, experts repeatedly highlighting the vital role of safer nicotine products in the fight to reduce global smoking-related death and disease.

They have reasons to be worried. Nearly four million people have died from the pandemic, a devastating figure that is, sadly, less than half the annual death toll from smoking. Every day, 1.1 billion smokers still light up around the world, a number that has stalled for over 20 years despite decades of tobacco control efforts. Nearly 80 percent of the world's smokers live in lower-middle income countries, least able to cope with the disease burden of smoking and in higher income countries.
Introduction Little is known on whether cigarette filter-related knowledge or beliefs are associated with support for policies to reduce their environmental impact.
Methods A cross-sectional, population-based sample of US adults aged 18–64 years (n=2979) was used to evaluate filter-related knowledge and beliefs by smoking status using data collected between 24 October 2018 and 17 December 2018. Multivariate logistic regression models explored whether these knowledge and belief items were associated with support for two policies, a US$0.75 litter fee and a ban on sales of filtered cigarettes, controlling for demographic characteristics and smoking status.
Jillian Snider and Chelsea Boyd
Last month, police in Ocean City, Md., tased, hog-tied and carried away a Black teenager for allegedly violating a vaping ban on the city's boardwalk. A video of the incident quickly went viral and drew immediate criticism for being yet another example of police use of force.

But what has not been discussed enough is the overcriminalization of tobacco products and the often racially disproportionate enforcement that contributes to ongoing hostility between police departments and Black and Brown communities.
That government may be pushing people back to cigarette smoking
The battle continues in the vaping industry to try to fend off interference from Health Canada and other public health agencies that regard vaping as a less-than-desirable substitute for smoking tobacco.

New rules from Health Canada are aimed at reducing the amount of nicotine that is allowed in a vaping device as well as forbidding the use of flavored vaping liquids that health agencies say are too attractive to younger people.
Saddle Horse Blues
Here we are with another month's roundup of vaping and related news. These lists continue to get longer. That's in part due to the rate of news happening but it's also in part due to increased interest in vaping, both the consequences of banning it and the benefits to supporting it. As you can see from this latest roundup, there is positive news in tobacco harm reduction but the attack against it is ongoing and gaining momentum.
---
A look back at how things have moved on or otherwise….
Twinkle Goel, News Patrolling
India's eminent harm reduction advocate Samrat Chowdhery has been appointed as the President of the International Network of Nicotine Consumer Organizations (INNCO), a global body of 34 national advocacy groups which has been recognized with UN observer status.

INNCO represents consumers of low-risk, alternative nicotine products, and promotes tobacco harm reduction (THR) at the global stage.
Neil Humber, Ecig Click
The decision to bring in a Netherlands flavour ban has left the country's vapers not only in shock but also scratching their heads in bemusement.

It seems the idea behind the ban of all flavours except tobacco and possibly menthol is down to a couple of completely outdated arguments – vaping is a gateway for kids into smoking, and that e-cigarettes are harmful to health.
---
Visit Nicotine Science & Policy for more News from around the World

---