Vapers Digest 30th June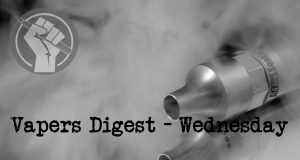 Wednesday's News at a glance:

---
TWO from Dave Cross, Planet Of The Vapes
The 4th Asia Harm Reduction Forum (1) (2) takes place today and the virtual event promises to be a dynamic gathering of global Tobacco Harm Reduction (THR) advocates with significant developments to discuss. The event is being organised from the Philippines, and the Coalition of Asia Pacific Tobacco Harm Reduction Advocates (CAPHRA) (3) has been encouraging its members to take part.
The National Institute for Health Care Excellence (NICE) has published "comprehensive" draft guidelines to tackle the impact of smoking in conjunction with Public Health England (PHE). The document aims to help healthcare practitioners deliver better services and is supportive towards electronic cigarettes and has been produced as part of NICE's consultation process.
---

---
This "historic" action is history repeating itself. Like every other prohibition, this will harm people of color and marginalized groups the most. It will lead to more smoking (see: San Francisco) + send people to illicit markets where no ID is required. Great job, Bloombucks. https://t.co/Q8mJZFMloS

— michelleminton (@michelleminton) June 29, 2021
Ok twitter peeps. I have a serious question.

If regulators fail to regulate, and laws are not enforced, who ultimately should be held responsible?

A)The company who produces a legal product?

B)The government that fails to enforce the laws they created?

— #sonoflibertyradio (@nachtnoir) June 29, 2021
---
Queen Mary University of London
E-cigarettes are more effective than nicotine replacement treatments in achieving long term smoking reduction and cessation, according to the results of a clinical trial by Queen Mary University of London.

Some 80 per cent of smokers receiving intensive treatment continue to smoke after a year. Smokers could benefit from approaches that reduce the harm from smoking without ceasing nicotine use, with an option to stop nicotine later on. Nicotine replacement treatments (NRT), such as nicotine patches, chewing gum, nasal/mouth spray and inhalators, have been licenced to do this for over 30 years. They work, especially if behavioural support is also provided, but the results are modest.
Psychreg
Action on Smoking and Health (ASH) welcomes the launch today of a consultation by the National Institute for Health and Care Excellence (NICE) on revised tobacco guidance, including updated advice for healthcare professionals on what to say to smokers about vaping.
---
, The College Fix
'Their greed is not only reprehensible, it is unlawful,' said one attorney general, of Juul

Over the past two years, a huge number of school districts across the country have joined or threatened to join lawsuits against the big e-cigarette manufacturers, chiefly Juul, for allegedly marketing and selling their wares to minors.
Andrea Riquier, MarketWatch
In 1998, 46 states and several U.S. territories came to a groundbreaking settlement with major tobacco companies. The "Master Settlement Agreement" set rules restricting tobacco marketing and sales, while also requiring the industry to pay states billions of dollars annually — amounts intended to help local governments defray the economic toll stemming from tobacco use.
---
Why Oh Why – Alan Beard:
The TPD especially Article 20 has dire consequences for users, vendors,manufacturers of what is undoubtedly the most popular method worldwide of Tobacco Harm Reduction ie the bloody things work for a vast number of people and THIS is THREATENED

Without a definitive and long winded history of opposition towards the TPD, two campaigns have received modest support from the general public…
The Rest of the Story – Michael Siegel:
There is no evidence that electronic cigarettes are a gateway to smoking, that they are attracting nonsmokers to become regular vapers, or that they are impeding smoking cessation. Nevertheless, even if all three of these were the case, one thing would remain true: smokers who succeed in quitting smoking by switching to electronic cigarettes ought to be congratulated rather than scorned. However, the anti-tobacco community has shown nothing but scorn for the vaping community….
---
Visit Nicotine Science & Policy for more News from around the World

---