Vapers Digest 21st May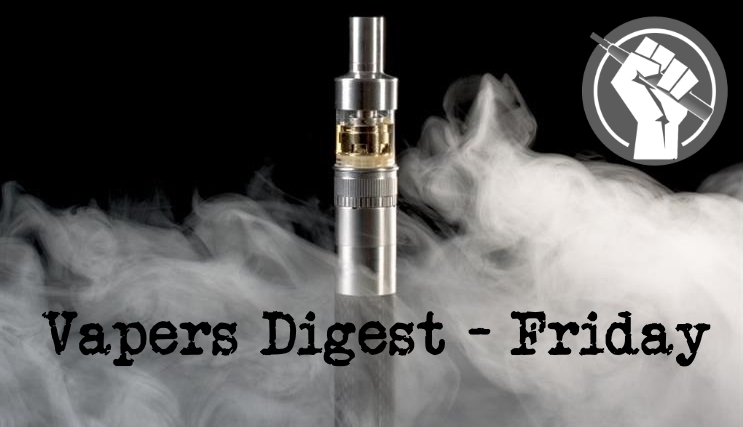 Friday's News at a glance:
Promote Vaping via Mass Media Campaigns – Is the European Commission about to crack down on vaping (again)? – Juul Publication Complaints Absurd – Could Covid be treated with nicotine? – FDA's PMTA List Is Here – The Truth Initiative versus the truth – ASH on the Cost of Smoking – PMI Sharing Truth About THR Products – Effective E-Cigs – Bloomberg Orgs Block Kids Hospital – APPG Wants Your Opinions – ETHRA Responds To SCHEER – Philippines Congress passes vaping bill – Why e-cigarette ban in India will do more harm than good – New Brunswick Lung Association – WHO Reasserts Anti-Vaping Stance – The Vape Debate – The Vape Divide – Nicotine and addiction – Italian research says switch to HTPs – Cops have better things to do – Benefits You'll Notice Immediately – $36.6 million spend on Smokefree 2025 goal – Australia's vaping ban – Nicotine Science and Policy Daily Digest
Says Royal College of Physicians – James Dunworth
The Royal College of Physicians (RCP) has released a major report calling for the UK government to promote electronic cigarettes via a mass media campaign.  This would form part of a campaign that returned funding for anti-smoking campaigns to at least 2008 levels.

The suggestion is just one of a number of recommendations the RCP has made to encourage the use of vapes for smokers who can't or won't quit.

Vape products currently include a message that says they contain nicotine which is highly addictive. (This even applies when the product does not actually contain nicotine, i.e. devices and tanks, requiring a supplementary message saying "only when used with nicotine".)
Christopher Snowdon, Velvet Glove Iron Fist
I've written an article for Brussels Reporter about the clouds gathering over vaping in the EU. Last year, the EU's Scientific Committee on Health, Environmental and Emerging Risks (SCHEER) published a preliminary opinion on electronic cigarettes. As I said at the time…

The final draft was published earlier this month. Some of its claims were toned down but it remains a one-sided and inaccurate piece of work. So what? Well, as I say in today's article…
---

---
Tobacco Reporter
Recent complaints about The American Journal of Health Behavior "Special Issue on Juul" are absurd, anti-scientific and somewhat disturbing, according to Clive Bates, director of The Counterfactual.

In a letter to the editor, Bates said the Juul Labs monograph provides highly salient information on changes in smoking status, drivers of transition, population health impact and retailer behaviors. "The summary for the introduction to the series should be enough to whet the appetite of the genuinely curious and scientifically engaged," he wrote.
Sarah Elzas
In the first few months of the Covid pandemic, doctors treating patients around the world noticed that there were fewer smokers among their most serious cases. Some suggested the nicotine in cigarettes could be slowing down the virus. A hospital in Paris is putting this hypothesis to the test, leading studies using nicotine patches.

It all started with clinical observations that the proportion of smokers in hospitalised Covid patients appeared to be less than the general population.

"This has been observed, and it is accepted as an epidemiological fact, that when you take patient populations with Covid, the proportion of smokers is significantly lower than in the general population," said Zahir Amoura, a doctor at the Pitié-Salpétrière hospital in Paris, told RFI.
---
---
And It's Really, Really Long – Jim McDonald
The FDA today has finally posted the "legal product" list it promised before last September's PMTA submission deadline. The list published today includes all vaping products allowed to remain on the market during the one-year grace period granted for products that were on the market before Aug. 8, 2016 and for which a Premarket Tobacco Application (PMTA) was submitted by Sept. 9, 2020.

The list (actually several lists) includes more than six million individual product SKUs submitted by hundreds of companies. One determined small manufacturer in Texas, JD Nova Group (owner of Vapolocity), submitted more than four million products itself.
Christopher Snowdon, Velvet Glove Iron Fist
America's lavishly funded (by unwitting smokers) Truth Initiative is not happy about nicotine pouches. The pouches are smokeless nicotine products similar to snus which contain no tobacco, but the Truth Initiative doesn't think manufacturers should describe them as such even though it is, well, the truth.

They are tobacco-free alternatives to smoking and they are clearly lower-risk, so what is the problem here?

Does the FDA say that products cannot be described as tobacco-free? I doubt it otherwise the Troof Initiative would have gone straight to them with a complaint rather than writing a crummy study about it.

Six from Dave Cross, Planet of the Vapes
Action on Smoking and Health UK (ASH) has released a report detailing the cost of smoking on social care in England. It is the fourth in the series and details the shocking impact of tobacco use on people's lives – something that could be alleviated if ASH got behind pragmatic, evidence-based changes to the current legislation.

Deborah Arnott, chief executive of ASH (1), said, "This report reveals the shocking extent to which smoking damages the quality of people's lives, and of those around them, before going on to kill them prematurely. On average, smokers need social care at 63, ten years earlier than non-smokers, so if the Government truly wants to extend healthy life expectancy by five years by 2035, ending smoking is a priority…."
Philip Morris International (PMI) is sharing 15 truths about e-cigarettes and heat-not-burn products – something American public health groups and agencies can't manage. The tobacco company has committed to phasing out its burnt tobacco lines and replacing them with reduced harm alternatives.

PMI says: "There are many misconceptions surrounding smokefree alternatives to cigarettes. We've compiled answers to some frequently asked questions."
New research looks at the effectiveness of using e‐cigarettes for quitting compared to other smoking cessation methods. The paper, published in the journal Addiction, was conducted by a team from Kings College London and focussed on adult quitting success.

One member of the team, Dr Leonie Brose, said: "We know that smoking is very harmful. Across the world it kills about 7 to 8 million people per year. In England, about 78,000 people per year die from smoking. Many people try to quit smoking each year, but most aren't successful. We know from surveys that e-cigarettes have become the most popular aid that smokers use when they attempt to quit smoking; about 27% of smokers.
Bloomberg organisation The Union has won its battle to prevent a children's hospital being built and its celebrations left a bad taste in many mouths. It is consistent with other Bloomberg cash being used to prevent COVID-19 patients from accessing face masks, testing equipment, and ventilators.

"The Union congratulates the Kathmandu Institute of Child Health (KIOCH) for rejecting a 'donation' of US$ 400,000 and declining a partnership offer from Surya Nepal Private Limited, the country's largest tobacco company," it writes
Following its hard work at fact finding to inform the UK delegation to the World Health Organization's Conference of Parties later this year, the cross-party All-Party Parliamentary Group (APPG) for Vaping is now after your opinions and experiences about vaping to help steer the United Kingdom to a smokefree 2030.

The sterling work the APPG did in preparation for COP9 concluded: "The UK is a world leader in this field and must fully embrace this position. Whereas in previous years the UK delegation to the FCTC COP has been obligated to adhere to the consensus view within the European Union, post-Brexit it is able not only to forge its own path in terms of domestic legislation on vaping and reduced- risk products, but also to take its place on the world stage as a leader in pragmatic and effective health regulation."
The European Tobacco Harm Reduction Advocates (ETHRA) consumer organisation has responded to the publication of the SCHEER Final Opinion on Vaping. The SCHEER document will be used to form the next version of Europe's Tobacco Products Directive. It was roundly panned by all those working to promote tobacco harm reduction and the use of vaping to combat tobacco related disease and death.

SCHEER's Final Opinion (1) was published at the end of last month and ETHRA (2) says it is, "greatly disappointed".
---

---
That supports harm reduction
The Philippines' House of Representatives on May 19, 2021 approved on second reading a proposed bill that recognizes tobacco harm reduction as a public health strategy by regulating the use of non-combustible alternatives to cigarettes such as vapes and heated tobacco products.

House Bill No. 9007, a consolidation of 23 bills authored by 154 representatives, seeks to establish a clear and effective law and regulation on the manufacture, use, sale, packaging, distribution and communication of electronic nicotine and non-nicotine delivery systems (ENDS/ENNDS) or electronic cigarettes and HTPs in the Philippines.
Will do more harm than good
In September 2019, the government announced a complete ban on e-cigarettes under the guise of preventing potential health risks to India's youth. In what can now be termed as typical, this ruling was passed as an ordinance, without debate or deliberation in the parliament and mostly ignoring both evidence regarding health risks and lessons from India's multiple previous disastrous experiences with bans. About 1.5 years and a pandemic later, it is time to revisit the (de)merits of the ban and possible ways forward.
Rejuvenates health of COPD patients
Patients with chronic obstructive pulmonary disease who abstained from smoking or substantially reduced their cigarette consumption by switching to heated tobacco products showed consistent improvements in respiratory symptoms, exercise tolerance, quality of life, and rate of disease exacerbations.

This was the key finding of a groundbreaking study by a team of Italian researchers published in March 2021 in the scientific journal Internal and Emergency Medicine. It is the first-ever study to describe the long-term health effects of HTP use in COPD patients.

Ahead of World No Tobacco Day – Alex Norcia
As part of a campaign to mark World No Tobacco day on May 31, the World Health Organization (WHO) has reasserted its abstinence-only approach to nicotine.

In a press release titled "Quit tobacco to be a winner," the WHO said that the tobacco industry has "promoted e-cigarettes as cessation aids under the guises of contributing to global tobacco control" while employing "strategic marketing tactics to hook children on this same portfolio of products, making them available in over 15,000 attractive flavors."
Rights 4 Vapers
Vapour products are not combustible. They do not produce smoke. And, nothing is added to make the liquid combustible. These are the facts. If the New Brunswick Lung Association is truly concerned with reducing lung disease, they should learn these facts and stop spreading misinformation.

"A spokesperson for the New Brunswick Lung Association continued the ongoing attack on vapour products and vapers by telling CBC Radio listeners that manufactures add chemicals to vapour liquid to make it combustible. This is verifiably not true," said Maria Papaioannoy, spokesperson for Rights4Vapers
Are critiques of flavours just (tobacco-less) smoke and mirrors?
In this post, Georgia Mannion-Krase (@GeorgiaMKrase) updates us on events at the E-Cigarette (EC) Summit held virtually on the 3-4th of December 2020.

A year on from "popcorn lung" 51% of the British public think that vaping is less harmful than smoking, and they're right according to the world-leading experts at the E-Cigarette Summit.

Professor Sanjay Agrawal's research shows that over the last four years there have been 84 reported cases of adverse events in the UK as a result of vaping.
Kate Mayhew
Every cigarette is doing you damage. But you already know this, because these very words have been the catchcry of anti-smoking campaigns in Australia for decades. But if you rewind just a few years before that, it wouldn't be out of place to see a billboard on the side of the road promoting a brand of cigarette for 'the feminine hand', or another brand that promised to be 'clean' and 'kind to your throat'.

In 1977, smoking could be described as commonplace in Australia – it was a habit of 37 per cent of all adults (45 per cent of men and 29 per cent of women, respectively). But as more people became aware of the adverse health effects of smoking, numbers steadily declined
---
Kellogg College, University of Oxford
---
Than enforce the inane strictures of the smoking Stasi
Brace yourselves, dear readers, for a stunning revelation comes our way.

"Only two of 35 vape shops in North Dakota fully complied with the state's smoke-free law, according to the findings of a study recently published by North Dakota State University," Michelle Griffith reports.

I'm shocked that people who operate vape shops aren't martinets about North Dakota's inane smoking policies. The vapers haven't properly posted their no-smoking signs? Be still my heart.
When You Switch To Vaping
You have considered quitting smoking. Well, what can be better than this? As you might know, it is both a difficult process and needs the courage to take this decision. However, many resources are available that will help you out in the early stages.

The essential one is vaping, which is a simple way to keep yourself away from toxic products like cigarettes.

Here, we will discuss everything that you need to know while switching to vaping from cigarettes. How difficult is it to switch to vaping?
Emma Russell
The Government's $36.6 million spend to help tens of thousands of New Zealanders quit smoking by 2025 has be labelled a "bold move" by one advocacy group.

Over the next four years, that money will be directed to health promotion and social marketing campaigns to support the Smokefree 2025 goal.
Didn't have impressive results. Hong Kong should think twice
The Post's editorial on May 10 in support of Hong Kong's proposed vaping ban is not supported by Australia's experience. Smoking rates in Australia are not declining notwithstanding huge tobacco taxes, plain packaging, a ban on all forms of advertising, draconian point-of-sale restrictions, and numerous quit campaigns. The proportion of Australians who smoke has been stuck at current levels since 2013, even as taxes have risen sharply.

This is not the case in countries where vaping is permitted. Even in the absence of plain packaging, high taxes and other restrictions, smoking rates are steadily declining.
---
A look back at how things have moved on or otherwise….
Jim McDonald, Vaping 360
A respected Canadian vaping advocate is facing life-threatening medical issues, and because he is a vaper, Nova Scotia provincial health authorities are threatening to cut off the oxygen supply he depends on.

Ray Yeates, the founder of the largest Canadian consumer vaping rights organization— the Tobacco Harm Reduction Association of Canada—is a 70-year-old emphysema victim with little money and no resources to fight against the provincial agencies that have decided he should be denied the medical aid he requires.
Harry Shapiro, Nicotine Science and Policy
I had in mind to do a reflective piece when I reached blog 100, not imagining that by the time I arrived here, millions of people across the world would have more time for reflection than they can cope with.

Professor Alex Stevens from Kent University has written an article on the proposition that it is naïve to imagine the scientific and medical advice, given to politicians about COVID-19, is simply adopted and implemented. Of course not – government advisors on any policy issue often feed politicians what they want to hear or have their advice bent to the will of political expediency. And there is a problem with the 'science' of COVID-19: there is no one 'science', no single template of agreed medical advice adopted around the world. Clearly different governments are getting different advice.
---
Visit Nicotine Science & Policy for more News from around the World

---