Vapers Digest 19 May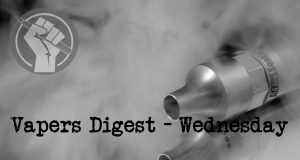 Wednesday's News at a glance:
---

---
TWO from Dave Cross, Planet Of The Vapes
Turkey has opposed tobacco harm reduction and consequently is suffering from a spate of cigarette related fires. Figures from the Istanbul Fire Department show that cigarettes were to blame for a stunning explosion in house fires over the first three months of 2021. The experience in the UK is that house fires can be prevented by encouraging smokers to switch to vaping.
A new report speaks about the terrible impact vape shop closures and increased difficulty in accessing smoking cessation services have had during lockdown. It estimates that over half a million more people are now smoking – despite Action on Smoking and Health previously claiming "record numbers" had quit.
---
Scott Reid, The Scotsman
The firm said it had been inundated with smokers looking to kick the habit since reopening its full estate of more than 150 stores on April 26. It said it had seen a 165 per cent increase in "new to vaping" kit sales in the first week following the relaxation of lockdown measures.

Bosses said they would be launching a new vape clinic concept to create a network of "smoking cessation coaches" across selected stores within its UK retail footprint.
Jeffrey A. Singer, Cato Institute
Reports in 2019 of e‐​cigarette vaping associated lung injury (EVALI) in teen and adolescent vapers added momentum to the already popular idea of banning flavored vaping cartridges, very popular with young vapers. In January 2020 the Food and Drug Administration ordered all companies to cease manufacturing flavored vaping cartridges.

It has been illegal to sell e‐​cigarettes to anyone under age 18 since 2016. The age was raised to 21 for tobacco and e‐​cigarettes in December 2019.
---

---
Paul Barnes, Facts Do Matter
Well. This is it. Today is the last day of the transition period. Tomorrow, May 20th, is the day when any non-notified vaping product can no longer be legally sold. Tomorrow is when the new legislation will really start to bite.

What will happen? There isn't a straightforward answer to that. Let's look at what we, as a community of consumers have been able to enjoy…
Dick Puddlecote
Prior to the EU's disastrous Tobacco Products Directive (TPD) – overseen by a crook and driven through by vacuous MEPs – e-cigs operated as a consumer product in a bustling and innovative free market. It was not – despite what tobacco control liars say – unregulated considering manufacturers were abiding by 20 or so consumer product regulations. The results were stunning! Latest figures for the UK show that there are now 2.9 million vapers, of which over half of them have quit smoking entirely.

This spectacular success all ends tomorrow.
---
Visit Nicotine Science & Policy for more News from around the World

---