Vaping Digest 20th May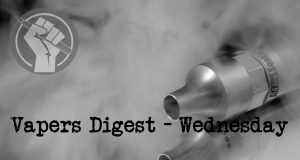 Wednesday's News at a glance:
Nova Scotia Threatens to Cut Off a Vaper's Oxygen Supply ~ Harry's Blog #100: The virus of propaganda ~ Even With Shut Down and Devastating Bans, Vaping Community Still Helping People ~ Why Is Vaping Still Illegal In Australia? ~ #SaveRayYeates ~ Beer Garden Ban Bid ~ Foul Play From Rooney ~ Vape Shop Lockdown Failure ~ Menthol Cigarettes Banned This Week – What It Means For Vaping… ~ PuffPacket: A Tobacco Harm Reduction Gadget, Despite Inventors' Intent
Jim McDonald, Vaping 360
A respected Canadian vaping advocate is facing life-threatening medical issues, and because he is a vaper, Nova Scotia provincial health authorities are threatening to cut off the oxygen supply he depends on.

Ray Yeates, the founder of the largest Canadian consumer vaping rights organization— the Tobacco Harm Reduction Association of Canada—is a 70-year-old emphysema victim with little money and no resources to fight against the provincial agencies that have decided he should be denied the medical aid he requires.
Harry Shapiro, Nicotine Science and Policy
I had in mind to do a reflective piece when I reached blog 100, not imagining that by the time I arrived here, millions of people across the world would have more time for reflection than they can cope with.

Professor Alex Stevens from Kent University has written an article on the proposition that it is naïve to imagine the scientific and medical advice, given to politicians about COVID-19, is simply adopted and implemented. Of course not – government advisors on any policy issue often feed politicians what they want to hear or have their advice bent to the will of political expediency. And there is a problem with the 'science' of COVID-19: there is no one 'science', no single template of agreed medical advice adopted around the world. Clearly different governments are getting different advice.

---
Consumer Advocates for Smoke-Free Alternatives Association, CASAA
One thing that is quickly apparent when joining the vaping community is how exceptionally helpful people are. Vapers are happy to encourage, support and help people who smoke switch to far safer alternatives, whether in a social media group, online forum, local vape shop or just a stranger on the street asking about vaping. Most vape shop owners say they opened their stores because they wanted to help people quit smoking like they did.

Even as vapers and vape shops contend with reduced access to low-risk products due to forced closures, flavor bans and looming regulations, their thoughts turn to helping others.
---
A service which he has used for >3 yrs – and is reliant upon 24/7 in order to LIVE.
Ray uses a 90% PG | 10% VG unflavoured liquid 6mg Nic at <10w only 3/4 times daily. He is adamant that a small qty of PG also relaxes his breathing.
But hey, what would the patient know? https://t.co/IB2FJxX8wX

— INNCOorg (@INNCOorg) May 19, 2020
---
Three from Dave Cross, Planet Of The Vapes
Professor Des Cox, The Royal College of Physicians of Ireland (RCPI), is seeking to capitalise on the staggered relaxation of the COVID-19 pandemic lockdown in Ireland by pushing for a ban on vaping and smoking in outdoor spaces like pub beer gardens. Tory Mark Pritchard, MP for The Wrekin in Shropshire, is pushing a similar line of nonsense in the House of Commons.
The Academy of Oncology Nurse & Patient Navigators (AONN+) couldn't hold its latest fundraiser conference, so it moved it online. Vaping was one of the topics up for discussion, but unfortunately the presenters didn't know the difference between fact and fiction – or simply didn't care.
London Trading Standards (LTS) says that almost all businesses abided by the lockdown restrictions, with just 2% of visits resulting in enforced closures. That said, LTS cites vape shops as some of those most commonly found to still be trading. Many have argued that vape stores were essential shops as they are helping to reduce the impact of smoking related disease – especially as the vape stores in NHS hospitals were allowed to remain open.
---
James Dunworth, Ashtray Blog
It's strange how sometimes something really big can creep in with barely a whisper.

An example of this is an upcoming ban on menthol cigarettes, which will be banned in the UK and the EU from May 20th 2020 – yet many smokers have still not heard of the ban.

The impact could be huge – while estimates vary, there could be as many as 1.3 million people in the UK who suddenly will not be able to (legally) obtain nicotine in their preferred choice of cigarette.
---

---
Helen Redmond, Filter Mag
PuffPacket is a new device that gives vapers a wealth of information. The electronic gadget, which attaches to a variety of vaping products, can monitor when and where a person vapes, how deeply they inhale and how much nicotine is consumed. The data can then be transmitted to a smartphone, which records location, time and activity—such as walking, standing or driving. Think of PuffPacket as a Fitbit for vapers.
---
A look back at how things have moved on or otherwise…
Harry Shapiro – Blog 87
Last week, I was invited to speak at an informal seminar in Portugal under the banner 'Portugal without smoke' with a seminar title: Tobacco control and risk reduction: what are the options? The venue and attendees signalled, I thought, a very important step forward in acknowledging the link between tobacco and drug harm reduction.

The meeting was held in the headquarters of INFARMED, the Portuguese equivalent of the FDA; its President, Professor Maria do Céu Machado, was in the room sitting alongside Manuel Cardoso, Deputy Director of Portugal's drug programme which is acknowledged by drug harm reductionists across the world as a beacon of light in the murky landscape of a prohibitionist-dominated global drug policy.
Global Forum on Nicotine
The Global Forum on Nicotine gets underway in Warsaw in just over 3 weeks and there are many opportunities for consumers to get involved. If your consumer organisation hasn't yet sent me a logo for the consumer banner, please send it very soon, more information in this email, here:

The consumer stand will showcase the vibrancy and strength of consumer advocacy. This is a fantastic opportunity for you to publicise your organisation and what you do. We can print leaflets to display at the stand, at no cost to you. Leaflets may also get inserted into the conference bags.