Vaping Digest May 20th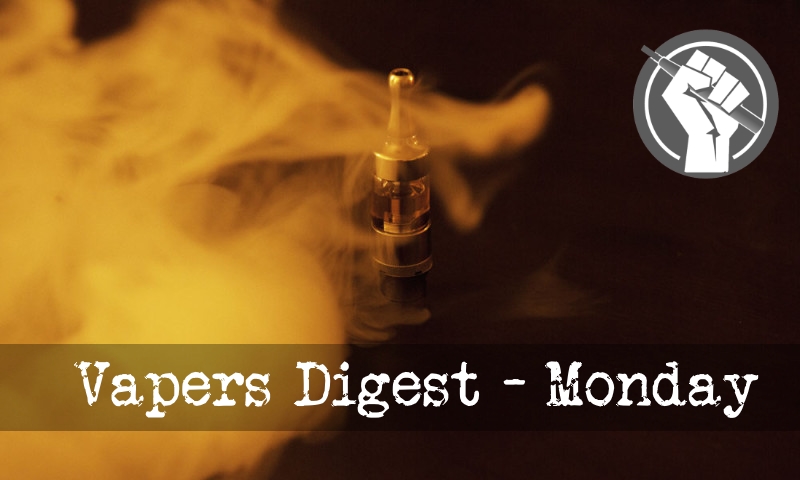 Monday's News at a glance:
A Bridge Over Troubled Waters – Plain packaging – what happened? – Consumers at the Global Forum on Nicotine – Vaping In The News – May 18th – Parliament – There is No 'Epidemic' of Youth Vaping, Only a Moral Panic – Nanny state or progressive politics? – Medieval Thinking In California – TransLink blasted for allowing ads for vaping products – Indian Imperative For A Safer Alternative – Nicotine Science and Policy Daily Digest
Harry Shapiro – Blog 87
Last week, I was invited to speak at an informal seminar in Portugal under the banner 'Portugal without smoke' with a seminar title: Tobacco control and risk reduction: what are the options? The venue and attendees signalled, I thought, a very important step forward in acknowledging the link between tobacco and drug harm reduction.

The meeting was held in the headquarters of INFARMED, the Portuguese equivalent of the FDA; its President, Professor Maria do Céu Machado, was in the room sitting alongside Manuel Cardoso, Deputy Director of Portugal's drug programme which is acknowledged by drug harm reductionists across the world as a beacon of light in the murky landscape of a prohibitionist-dominated global drug policy.
Christopher Snowdon, Velvet Glove Iron Fist
In the first couple of years after plain packaging took effect in Australia, a number of studies were published claiming to find an immediate effect from the policy. Nearly all of them were co-authored by Melanie Wakefield, who was a leading advocate of plain packaging and was later given the job of evaluating it (have I mentioned before that 'public health' is utterly corrupt?).

The studies took many forms. One of them looked at whether smokers were more likely to cover their cigarette packs up after the packaging changed. One of them found that smokers didn't like the new packs as much as the old ones. Another found that adolescents couldn't distinguish between brands as well as they could before. And another claimed that there had been more calls to quitlines after plain packaging began.
Global Forum on Nicotine
The Global Forum on Nicotine gets underway in Warsaw in just over 3 weeks and there are many opportunities for consumers to get involved. If your consumer organisation hasn't yet sent me a logo for the consumer banner, please send it very soon, more information in this email, here:

The consumer stand will showcase the vibrancy and strength of consumer advocacy. This is a fantastic opportunity for you to publicise your organisation and what you do. We can print leaflets to display at the stand, at no cost to you. Leaflets may also get inserted into the conference bags.
---

---
Kevin Crowley, Vaping Links
The 2018 American Teen Vaping Epidemic, Recalculated ~ There is No 'Epidemic' of Youth Vaping, Only a Moral Panic ~ Drugs And The Surgeon General ~ The potential frivolity of the Juul class actions is alarming ~ FDA "Performance Measures" ~ Paper Links E-Cigarette Use To Child Abuse ~ The 15 Sexiest People In Vape ~ Less smoking is concerning for at least 6 "health" groups ~ Let Teens Vape ~ Nicotine and Brain Damage ~ 43 People Indicted for Bank Fraud, $30M in Cigarette Trafficking in Virginia ~ Federal Judge Strikes Down FDA's Postponed PMTA Deadlines ~ New York Times Runs Stealth Anti-Vaping Ad as Op-ed ~ Vaping Harm Reduction ~ A Comparison of Flavorless Electronic Cigarette-Generated Aerosol and Conventional Cigarette Smoke
Dave Cross, Planet of the Vapes
Liberal Democrat's Lord Rennard, and the Conservative's Bob Blackman and Andrew Rosindell all posed questions about vaping and tobacco harm reduction recently. Baroness Blackwood, The Parliamentary Under-Secretary for Health and Social Care in the Lords, and Seema Kennedy, The Parliamentary Under-Secretary for Health and Social Care in the Commons, provided the responses.

Lord Rennard wanted to know if the government had published the terms of reference and membership of the working group of experts set up to consider the recommendations from the House of Commons Science and Technology Select Committee's report E-cigarettes.
---
---
Dave Cross, Planet of the Vapes
The Californian city of San Rafael is debating a proposed ban on the sale of flavoured tobacco products. Vaping, as this is the United States of America, is ludicrously classified as a tobacco product, despite not containing any tobacco. Advocates have been fighting hard to obtain an exemption for "adult-only" vape stores.

San Rafael may call itself a city, but with a population of just 57,713 it's around the same size as a Kettering, two Thetfords, four Berwick-upon-Tweeds, or a 12th century London wracked with leprosy. The reference to medieval times isn't that out of place given the Doomsday looming for vaping in California.
Only a Moral Panic – Sherwin Mena
On September 12, 2018, the U.S. Food and Drug Administration (FDA) publicly declared that vaping among youth was an "epidemic." They issued more than 1,300 warning letters and civil money penalties to "retailers who illegally sold JUUL and other e-cigarette products to minors during a nationwide, undercover blitz of brick-and-mortar and online stores."

According to the Centers for Disease Control, the official definition of an epidemic is: "The occurrence of more cases of disease than expected in a given area or among a specific group of people over a particular period of time."

Despite FDA's use of the word "epidemic," vaping is not a disease, it is harm reduction. Or in the words of the FDA, "a less harmful alternative."
In 'Ban Francisco,' the debate rages on – Catherine Ho
To San Franciscan Chris Chin, the owner of a vape shop in the city's Tenderloin neighborhood, the proposed e-cigarette ban being considered by city officials would be tantamount to becoming the ultimate "nanny city."

"I've renamed it 'Ban Francisco' because you can't do anything in the city," said Chin, whose store, Gone With the Smoke, stands to go out of business if the city enacts the proposed ban. "You can't get a plastic straw or bag, or flavored tobacco. What's next?"

Chin's sentiments capture an undercurrent of frustration that a city once famous for its free-spirited ethos has strayed so far from its roots that many of its policies, framed as progressive, are starting to feel downright oppressive.
---

---
For vaping products in SkyTrain stations – Sean Boynton
TransLink is under fire for allowing ads for vaping products to be prominently displayed throughout at least one Vancouver SkyTrain station.

The underground platforms at Burrard Station are plastered with ads from Vype, a vaporizer manufacturer based in the UK. Nearly every wall past the Compass gates features a large promotion for its "ePOD" vaporizer.

The ads also feature language warning that nicotine is addictive, while also noting the ad's message doesn't "represent the opinions of, and are not endorsed by, TransLink or its subsidiaries."

 R. N. Sharan
The imperative for including technological innovations such as ANDS and tobacco harm minimization as a supplementary tools to our existing arsenal of tobacco control measures should be, in my considered opinion, the collective priority of the public health communities and governments across the globe to adequately and effectively address the scourge of tobacco and its adverse effects.

Tobacco is estimated to be the primary cause of 40% of all cancers in India. The reason why people smoke or chew tobacco is to get 'nicotine', an addictive chemical. Unfortunately, while nicotine is not a carcinogenic chemical entity per se, there are other carcinogens and toxicants present in tobacco which find their way into the user's body causing the morbidity and eventual mortality.
---
A look back at how things have moved on or otherwise….
Philippe Boucher
In 1986, I started to work at the Norwegian Council on Tobacco or Health under one of the giants of international tobacco control, Dr. Kjell Bjartveit, who led the council for more than 20 years. Ever since, I have been involved in tobacco control and –research, working from different places including the University of Oslo, The Cancer Society, Institute for Alcohol and Drug Research (research director for the tobacco unit for 12 years) and Institute of Public Health (current).
Mawsley, Planet of the Vapes
The British Colombia Ministry of Health attempted to subvert open and honest debate about vaping, according to lawyer and tobacco control expert David Sweanor. He spoke to Brent Stafford of Regulator Watch about how and why public health officials conspire to oppose the use of electronic cigarettes.
"We need dialogue to get people talking about these issues," Sweanor explains to Stafford, "to do what we could do about the health costs of smoking."
Mawsley, Planet of the Vapes
UNICEF has written to the (increasingly discredited) journal Pediatrics. The complaint regards "serious inaccuracies and misrepresentations" made by the authors. It follows widespread condemnation of the gateway from vape to smoking study and demands that it is retracted by the journal that is acting deplorably.

Benjamin Chaffee, Shannon Watkins, and Stanton Glantz wrote the risible study 'Electronic Cigarette Use and Progression From Experimentation to Established Smoking', demonstrating a woeful grasp of statistical analysis and concluding: "using e-cigarettes was positively and independently associated with progression to current established smoking".
---
Visit Nicotine Science & Policy for more News from around the World

---