Vaping Digest May 17th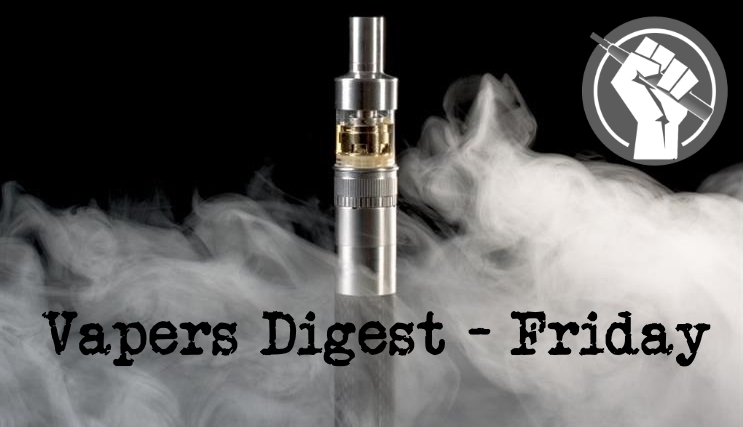 Friday's News at a glance:
The 2018 American Teen Vaping Epidemic, Recalculated – Vaping lauded – No Second-hand Risk – Big T Wars – BMJ Signals Success – UKVIA Industry Forum – North Carolina AG Sues JUUL for Targeting Kids – Federal Judge Strikes Down FDA's Postponed PMTA Deadlines – New York Times Runs Stealth Anti-Vaping Ad as Op-ed – Psychiatrists call for nicotine e-cigs to be legalised – Industry body calls for vaping to be legalised – Health professionals increaingly accept tobacco alternatives – ITALIE : 1 million d'utilisateurs d'e-cigarettes dans le pays – Judge orders FDA to speed up review – Delhi HC extends stay on circular banning e-cigarettes – Nicotine Science and Policy Daily Digest
Recalculated – Brad Rodu, Tobacco Truth
Former FDA Commissioner Scott Gottlieb and other government officials have repeatedly asserted that the U.S. is in the midst of a teen vaping epidemic (example here). Their claim is based on last year's National Youth Tobacco Survey, the full contents of which was finally released six weeks ago by the Centers for Disease Control and Prevention. With that data in hand, I have confirmed some of the assertions made by anti-vapers but easily put the lie to others (here).

Federal officials claim there were over three million high school vapers in 2018. Let's take a look at the actual numbers. Each table below lists the number of high school students who used e-cigarettes 0, 1-5, 6-19 or 20-30 days in the past month, according to whether they were underage or of legal age (18+ years).
Meg Saultry
Benalla's Michael Kerr was on up to 75 cigarettes a day. Now he is on none. The reason? Vaping with nicotine.

Last month, Benalla was one of several stops for vaping advocates aboard the Force One Vape Bus, as they travel the state to raise awareness for legalising vaping with nicotine.

With nicotine the additive quality of a cigarette, its practice in e-cigarettes is currently illegal, but advocacy group Legalise Vaping Australia along with Mr Kerr said nicotine vaping was a good alternative to help people quit smoking.
---

---
Dave Cross, Planet of the Vapes
Spanish researchers have found that second-hand vapour poses a negligible risk to the non-vaping general public. This comes as doctors from Beaumont Health in Michigan spout third-hand danger nonsense on an Apple podcast.

Beaumont Health is Michigan's largest health care system and claims, "to provide patients with compassionate, extraordinary care. Beaumont's commitment to patient and family-centred care contributes to the health and well being of residents throughout the community and beyond."
Dave Cross, Planet of the Vapes
US cigarette sales continue to drop as smokers bin tobacco for vaping. Bitter tobacco rivals are seeking any opportunity to increase their market share in the burgeoning harm-reduction market and targeting attacks on JUUL Labs. IQOS' listing is predicted to be a "boon" for the tobacco-bond market, but JUUL isn't taking this lying down.

Sales volumes of actual tobacco products (not vaping, despite how America would like to term it) fell by almost 9% over the last year. The figure is reported to be in excess of tobacco company boardroom predictions and has signalled a flurry of activity – compounded by the threat to ban the sale of menthol tobacco products.
---
---
Dave Cross, Planet of the Vapes
The British Medical Journal (BMJ) is more used to carrying pieces penned by Martin McKee that attack vaping. This month, it prints a piece by the National Institute for Health Research (NIHR), highlighting the importance of a recent study led by Peter Hajek.

NIHR Signals is a route for the latest important health research evidence to reach key decision makers and clinicians within the NHS. It says it, "provides decision makers in the NHS, public health and social care with the latest important research from the NIHR and other health research organisations."
Dave Cross, Planet of the Vapes
This year's UKVIA Industry Forum was all about "Seizing the Vaping Public Health Prize". Industry leaders and experts met at the UK's only dedicated industry-led conference in the sector to listen to how vaping could achieve this. This article covers the best of the rest of the sessions.

Eliquid Brands' John Dunne said: "It seems like only yesterday that we were here and 'Going for Growth'. This year we have a bigger mission for a bigger prize. Every smoker in the UK needs to hear our message more urgently than ever; in 2017, a shocking 26% of people thought vaping was as harmful, or more harmful, than smoking. We can't allow this state of affairs to persist."
---

---
Jim McDonald, Vaping 360
After a seven-month investigation of JUUL Labs, North Carolina Attorney General Josh Stein has filed a lawsuit against the California-based e-cigarette company, claiming JUUL marketed its products to minors and downplayed the dangerous effects of nicotine.

Stein says JUUL is responsible for a teen vaping epidemic, and that its marketing practices violate North Carolina state law. The lawsuit was filed in a North Carolina state court. North Carolina is home to RJ Reynolds (now a subsidiary of British American Tobacco), the maker of Camel and Newport cigarettes. The state also produces more tobacco than any other.
Michelle Minton
Readers of The New York Times deserve better than advertising masquerading as righteous opinion writing. While reporters at Times get credit for exploring and exposing conflicts of interest among its reporters or sources, their commitment to ethical journalism is not consistently applied. See the paper's coverage of e-cigarette controversies. In "How Big Tobacco Got a New Generation Hooked," writer Alex Bogusky criticizes the marketing practices of tobacco and e-cigarette companies. But neither Bogusky nor the Times disclosed the fact that his firm has been paid hundreds of millions of dollars to advertise on behalf of the anti-tobacco industry! Had readers been informed, they might wonder if that makes Bogusky's piece a true expression of his opinion, or if it is merely marketing material for a client, or an advertisement for his firm?
FDA's Postponed PMTA Deadlines – Jim McDonald
A federal judge has invalidated the FDA's delayed premarket review deadline for vaping products, and ordered the agency to make plans to begin processing premarket tobacco applications (PMTA's) soon.

The plaintiffs and the FDA will each have a 14-day period to submit plans for speeding the review process to U.S. District Court Judge Paul Grimm, after which the judge will decide on a timeline. The decision can be appealed by the FDA, which is what many observers expect to happen. It's unknown if the agency would attempt to appeal before the final ruling, which would be somewhat unusual.

ATHRA
The Royal Australian and New Zealand College of Psychiatrists has come out in support of the "legalisation and regulation" of nicotine-containing e-cigarettes – the first medical association in the country to do so.
In social media posts on Wednesday, the college said people with mental illness had low rates of quitting smoking and would therefore benefit from tobacco harm reduction tools.
"E-cigarettes and vaporisers may provide a less harmful way to deliver nicotine to those who are unable or unwilling to stop smoking tobacco," the college wrote on Twitter.
The Australian Retailers' Association (ARA) is urging whichever party wins the Federal Election to legalise vaping in the country.

The industry body issued a statement last week, following the decision by the US Food and Drug Authority (FDA) to authorise the sale of smokeless heated tobacco systems, which has left Australia as one of the last major countries in the world where these products are still not embraced as a public health priority.
Frost And Sullivan
A majority of healthcare professionals in New Zealand view Electronic Nicotine Delivery Systems (ENDS), such as e-cigarettes and heated tobacco products, as a viable alternative to cigarettes if they are legalised and regulated appropriately, according to new research conducted by Frost & Sullivan.

Over 500 adults in New Zealand (including current, former and non-smokers), as well as 60 healthcare professionals (including GPs, medical specialists (such as psychiatrists, surgeons and radiologists), nurses, pharmacists, and allied healthcare professionals) were interviewed as part of an opinion research study to gauge the level of understanding and attitudes towards alternatives to cigarettes.
Et 20% des fumeurs en route vers la transition ! – Marc Deniger
En Italie les choses semblent bouger ! En plus de l'opération « #Maggiorvapore = #Minordanno » lancé il y'a quelques semaines, il semble qu'aujourd'hui on compte plus d'un million de vapoteurs dans le pays. Selon certains cigarettiers ancrés dans le secteur de la vape, le marché des produits du tabac alternatifs continue de croître et 20% des fumeurs italiens envisagent la transition vers la cigarette électronique comme une alternative.
Matthew Perrone
A federal judge is siding with public health groups suing the Food and Drug Administration to begin reviewing thousands of e-cigarettes on the U.S. market.

The ruling handed down Wednesday in district court states that the agency shirked its legal duty when it postponed reviewing all U.S. vaping products by several years.

The American Academy of Pediatrics, Campaign for Tobacco-Free Kids and other groups filed the federal lawsuit in Maryland last year. The groups say the lack of FDA oversight has led to an explosion in underage vaping by teenagers, threatening to hook a generation of Americans on nicotine.
The Delhi High Court on Friday extended its stay on the ban on a Directorate General of Health Services (DGHS) order banning the sale, manufacture, distribution, trade, import and advertisement of Electronic Nicotine Delivery Systems (ENDS) including e-cigarettes, till August 22, the next date fixed for further hearing.

Justice Vibhu Bakhru's decision came on a plea by Litejoy International Pvt Ltd challenging the DGHS' February 22 order on the matter.

On March 18, the court had stayed the order on the ban on ENDS till May 17. On Friday, it extended the stay till August 22. The court also granted more time to the Centre to file a reply to the plea.
---
A look back at how things have moved on or otherwise….
INNCO
We're behind you.
TOM LASSETER, DUFF WILSON, THOMAS WILSON and PARITOSH BANSAL, Reuters
In seeking regulatory approval for a new smoking device called iQOS, Philip Morris International Inc is claiming the electronic gadget is less likely to cause disease than traditional cigarettes. But the iQOS holds another, less obvious advantage over regular smokes: the ability to harvest personal data about users' smoking habits.

The tobacco giant is already building a database of iQOS customers who register with the company. And it has developed a software application that could take things a step further.
---
Visit Nicotine Science & Policy for more News from around the World

---