Vaping Digest 18th May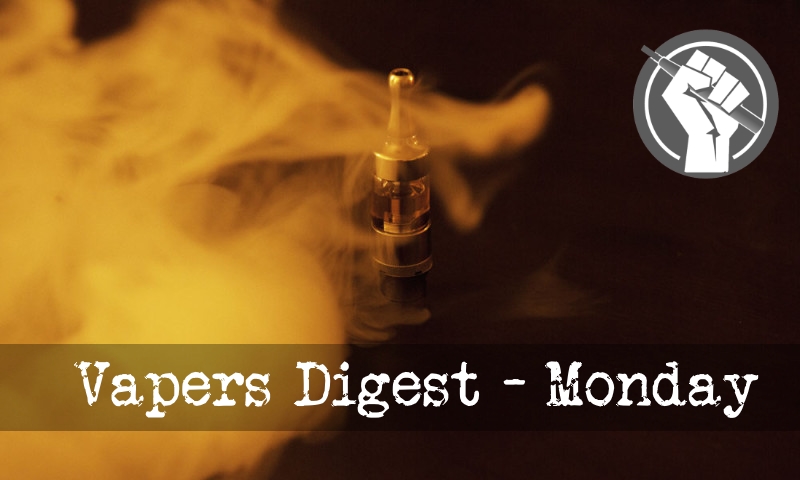 Monday's News at a glance:
Ray Yeates the Vaper Refused Oxygen Classed As Drug Addict For Using CBD – Vaping In The News ~ May 16th – Teen Vaping – Nicotine and Breastfeeding – Going Into BAT –  Plan to study nicotine patches as potential coronavirus treatment – Media attention Esigbond after release of survey results – EU urged to encourage "harm reduction tools" in fight against cancer – Smoke, not nicotine, causes death – Juul Adds Canada Ex-Health Minister – Altria Submits PMTAs for Oral Nicotine Products for FDA Review – New Report Unveils The Extent To Which The CDC And FDA Lost Focus – Misguidance
Classed As Drug Addict For Using CBD – Neil Humber
If the story about Ray Yeates, the vaper refused oxygen because he vapes is shocking enough, his treatment prior to this could be classed as even worse.

I've been contacted by Jackie Awrey, a friend and fellow director alongside Ray at the Tobacco Harm Reduction Association of Canada.

And she wants the world to know just how desperate Ray's current plight is, and how he got to the awful life threatening position he's in.

The timeline of events leading up to the current threat of 'forcibly' removing Ray's oxygen supply, shows just how dangerously ignorant, the local health service is, deciding wrongly that before he could be considered for sheltered housing, he needed to be:
Kevin Crowley, Vaping Links
Death Sentence For A Vape Advocate Refused Oxygen Because He Vapes ~ The Bizarre Attack on Vaping ~ Tracking Vapers ~ Nicotine Could Prevent the Spread of COVID-19, Studies Suggest ~ First Study of ZYN, A Novel Consumer Nicotine Product ~ New Report Unveils The Extent To Which The CDC And FDA Lost Focus ~ Since I switched to vaping ~ Piss poor methodology ~ United States Vaping Association- USVA ~ Mitch Zeller with AMJ Public Health (Podcast).
---

---
Dave Cross, Planet of the Vapes
"Vaping among Canadian teens doubles in 2 years," reports news outlet CBC. It follows the release of a study that looked at vaping in teen populations in Canada and compared the findings to what they say is happening in England and the USA. What isn't being shouted about is the impact vaping has had on teen smoking rates.

University of Waterloo's David Hammond, Vicki Rynard, and Jessica Reid looked at data sets covering the years 2017, 2018, and 2019, because "there are concerns over increases in vaping among North American youths".
---
First hints on how SARS-CoV-2 could interact with nicotinic acetylcholine receptors, explaining why nicotine and other cholinergic agonists could potentially offer benefits…https://t.co/zBh2TfsJMC

— K. Farsalinos (@FarsalinosK) May 18, 2020
Proud of public health comrades in England – they have their eye on the prize and the prize is quitting smoking and doing it in a way that works for users who want to quit. https://t.co/9uk2x1v4JN

— Clive Bates (@Clive_Bates) May 18, 2020
---
Dave Cross, Planet of theVapes
"Breastfeeding moms' exposure to nicotine linked to infant skull defect," say a quartet of researchers at Ohio State University. The findings from the mice study fly in the face of findings by Public Health England (PHE) and the advice from the UK's National Health Service (NHS).

James Cray, Amr Mohi, Rajiv Kishinchand and Emily Durham claim: "Lactating mothers who use e-cigarettes or nicotine replacement therapies may be putting their breastfed babies at risk for skull defects."

Dave Cross, Planet of theVapes
British American Tobacco Plc (BAT) will be sending tobacco controllers into a state of apoplexy with the news that a vaccine it has developed to combat COVID-19 is ready for human trials. When BAT told the world it was working on something to combat the pandemic, many ideologues appeared to prefer that people die from the virus than have a big tobacco company involved in the solution.

BAT has announced that human trials could begin as early as June as it seeks to see if the experimental vaccine it developed has potential to combat the virus. The trials would be dependent on the firm obtaining authorisation from drug regulators.
As potential coronavirus treatment – Ben Quinn
Plans are being made to investigate the potential of nicotine patches to combat Covid-19 after the idea was raised by doctors at a hospital in Wales where the improvised treatment is being practised.

France moved last week to prevent the stockpiling of nicotine products after its health minister took an interest in a French study that suggested smokers may be much less at risk of contracting the virus.

However, doctors in Wales who published their own suggestions in January on the use of the stimulants in coronavirus treatment have been discussing the possibility of a formal trial.
---

---
After release of survey results
The image of the electronic cigarette as a less bad alternative to smoking has been severely damaged in the Netherlands after worrying reports from the United States, new research shows. That country suddenly experienced inexplainable deaths after using the e-cigarette.

In the US, dozens were killed during the fall of last year due to a mysterious lung disease among so-called 'vapers'. By now, research has concluded that those affected had filled up their e-cigarettes with THC-liquid (the psychoactive substance from cannabis), banned in the Netherlands, and vitamin E acetate in stead of regular nicotine liquid. This is an odourless and viscous mixing liquid.
With Derek Yach, Gerry Stimson
Bone integrity relative to cigarette smoke after 6-month inhalation in an ApoE–/– mouse model
Cigarette smoke (CS) exposure is one of the leading risk factors for human health. Nicotine-containing inhalable products, such as e-cigarettes, can effectively support tobacco harm reduction approaches. However, there are limited comparative data on the effects of the aerosols generated from electronic vapor products (e-vapor) and CS on bone. Here, we report the effects of e-vapor aerosols and CS on bone morphology, structure, and strength in a 6-month inhalation study. Eight-week-old ApoE–/– mice were exposed to aerosols from three different e-vapor formulations—CARRIER (propylene glycol and vegetable glycerol), BASE (CARRIER and nicotine), TEST (BASE and flavor)—to CS from 3R4F reference cigarettes at matched nicotine concentrations (35 µg/L) or to fresh air (Sham) (N = 10 per group).

Charles Gardner
On May 6, 2020, the American Journal of Public Health (AJPH) published an article by Brian Erkkila, Patricia Kovacevic, and Derek Yach titled, "Restricting Flavors in ENDS Could Have Repercussions Beyond Youths' Use." The authors review recent US Food and Drug Administration (FDA) regulatory guidance on electronic nicotine delivery systems (ENDS), including plans to restrict access to nicotine vaping 'flavors.'  The new FDA restrictions were driven, in part, by concerns about underage nicotine vaping.

Some US tobacco control advocates and experts claim that 'flavors' attract teens, and that restricting 'flavors' will reduce under-age nicotine vaping (which is already illegal). For evidence, they point to surveys showing that teens initiate nicotine vaping with 'flavor,' and that teens say they like 'flavors.' There are serious flaws in that logic.
"harm reduction tools" in fight against cancer
Europe's Beating Cancer Plan continues to disregard harm reduction tools, such as e-cigarettes, which, it is claimed, potentially meet the Commission's objectives of eradicating smoking-related cancer. That is one of the messages to emerge from public consultations on the plan.

Another message is that the EU should not overlook the best practices on harm reduction in the UK and Sweden and should approach measures that have proven efficient in preventing cancer. The submissions came from NGOs, academics and scientists, vapers associations as well as vapers.
The Manila Times
A public health expert clarified that smoke, not nicotine, causes thousands of deaths among cigarette smokers each day.

"There have been many decades of research on the health effects of cigarette smoking, and we have known since at least the 1970s that the primary cause of the cancers, heart and lung diseases is the repeated inhalation of smoke," said Prof. David Sweanor, chairman of the advisory board of the Center for Health Law, Policy and Ethics at the University of Ottawa.
To E-Cig Giant's Board – Angelica Lavito
Former Canadian Health Minister Rona Ambrose has joined Juul Labs Inc.'s board of directors, the company said on Friday, as the e-cigarette company tries to reset its relationship with global regulators. Ambrose is a well-known former politician who has held numerous roles in government, including interim leader of Canada's Conservative Party. She is the first woman to join Juul's seven-member board.
For Oral Nicotine Products for FDA Review
Altria Client Services filed premarket tobacco applications (PMTAs) for on! oral nicotine pouches for regulatory review.

In all, the tobacco company submitted 35 PMTAs to the Food and Drug Administration (FDA) for on! products on behalf of Helix Innovations LLC, an Altria joint venture responsible for manufacturing and selling on! nicotine pouches globally.

The oral nicotine pouches are available in seven flavors and five nicotine levels.
To Which The CDC And FDA Lost Focus
A new report from the conservative Competitive Enterprise Institute (CEI) peels back the curtain on just how much the nation's preeminent public health institutions have pivoted to controlling lifestyle choices over preventing infectious diseases such as COVID-19.

CEI Senior Fellow Michelle Minton found that a vast majority of congressional funding allotted to the Centers for Disease Control (CDC) and Food and Drug Administration (FDA) went towards reinforcing public behavior while only a fraction of the agency budgets were targeted towards fighting emerging pathogens that have given rise to the public health pandemic today.
---
A look back at how things have moved on or otherwise…
Recalculated – Brad Rodu, Tobacco Truth
Former FDA Commissioner Scott Gottlieb and other government officials have repeatedly asserted that the U.S. is in the midst of a teen vaping epidemic (example here). Their claim is based on last year's National Youth Tobacco Survey, the full contents of which was finally released six weeks ago by the Centers for Disease Control and Prevention. With that data in hand, I have confirmed some of the assertions made by anti-vapers but easily put the lie to others (here).

Federal officials claim there were over three million high school vapers in 2018. Let's take a look at the actual numbers. Each table below lists the number of high school students who used e-cigarettes 0, 1-5, 6-19 or 20-30 days in the past month, according to whether they were underage or of legal age (18+ years).
Meg Saultry
Benalla's Michael Kerr was on up to 75 cigarettes a day. Now he is on none. The reason? Vaping with nicotine.

Last month, Benalla was one of several stops for vaping advocates aboard the Force One Vape Bus, as they travel the state to raise awareness for legalising vaping with nicotine.

With nicotine the additive quality of a cigarette, its practice in e-cigarettes is currently illegal, but advocacy group Legalise Vaping Australia along with Mr Kerr said nicotine vaping was a good alternative to help people quit smoking.
---
Visit Nicotine Science & Policy for more News from around the World

---