Vaping Digest 15th May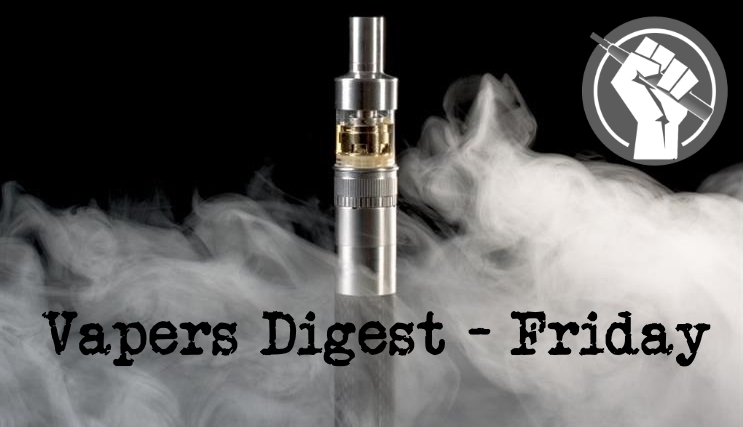 Friday's News at a glance:
Death Sentence For A Vape Advocate Refused Oxygen – Vaping More Effective Than Just Counseling – Scientists Studying Nicotine's Potential to Treat COVID-19 – Misleading Information about Smoking/Vaping Links – Help MOVE With COVID Data – VPZ Quit Record – Dutch Vapers Scared Back To Smoking – Nicotine and Breastfeeding – Pause Sales Call – California Political Leaders Introduce Punishing Vape Legislation – Flavors Aren't Main Driver of Youth Use – The worst way to avoid public discussion is – ATHRA's first Facebook live stream – The 2019 EVALI 'Misinfodemic' – EU urged to encourage "harm reduction tools" – EU Magistrate Says Countries Can't Ban CBD Imports – Good News Tobacco Tax Not Hiked Again – Nicotine Science and Policy Daily Digest
Refused Oxygen Because He Vapes – Neil Humber
I wrote about Nova Scotia's latest draconian new vaping laws this week and now a pioneering vape advocate refused oxygen because he vapes is facing a slow lingering painful death.

Just let that sink in for a moment.

And not only that, he's been refused to even be considered a new sheltered home for him and his wife – who suffers from dementia – because the local law bans smokers or vapers from being given them.

As it stands right now, Ray Yeates is forced to live in a tiny hotel room whilst caring for his desperately sick wife, and could soon have his life-saving oxygen supply taken away for no other reason than he is a vaper.
Than Just Counseling For Smoking Cessation – Diane Caruana
In line with previous studies, a clinical trial presented at the American College of Cardiology's Annual Scientific Session Together with World Congress of Cardiology (ACC.20/WCC), concluded that smokers who used nicotine-containing e-cigarettes alongside counselling, were more likely to quit smoking than those who received counselling alone.

Vaping significantly improved the quitting rate and reduced the consumption of daily cigarettes at 12 weeks. In line with recommendations by vaping advocates across the globe, the researchers pointed out that given that the long term health effects of e-cigarettes are unknown, the devices should only be used for smoking cessation purposes.
---

---
To Treat COVID-19 – Guy Bentley
The world is hoping and waiting for a COVID-19 vaccine and treatment breakthroughs. When something is viewed as a potential treatment, we've seen the twists and turns of remdesivir, hydroxychloroquine, favipiravir, and others garner speedy write-ups and hefty attention. Now, one hypothesis that's raising eyebrows and drawing outright hostility in some quarters is that nicotine could potentially play a role in treating COVID-19.

In March, Dr. Konstantinos Farsalinos of the University of Patras examined Chinese data on COVID-19 patients. What he found surprised everyone who cared to look: Smokers were dramatically underrepresented relative to their share of the population. "An unusually low prevalence of current smoking was observed among hospitalized COVID-19 patients compared to the expected prevalence based on smoking prevalence in China," he wrote.
---
1/ Breaking: WE NEED YOUR HELP! More specifically, one of our eldest, oldest and most passionate consumer advocates needs OUR help – URGENTLY!
Ray Yeates is a 70yr old Canadian Vaping Advocate and has been the Director of THRA Canada @THRA since he formed it in 2014.

— INNCOorg (@INNCOorg) May 15, 2020
"One in every six submissions … recommended the EU Cancer Plan to consider policies that encourage harm reduction tools, such as vaping products by smokers" https://t.co/0uIHl2PdTZ

— European Tobacco Harm Reduction Advocates (@europethra) May 15, 2020
---
About Smoking/Vaping Links to COVID-19
The virus that causes COVID-19 attacks the respiratory system, and it is well settled that smoking makes one more susceptible to respiratory infections. Transmission of the virus could also happen through hand-to-mouth action of smoking, vaping or waterpipe smoking, and potentially, through exhaled air.  Hence, to prevent COVID-19 infection; smoking, vaping, and waterpipe smoking have been discouraged by experts; some jurisdictions also temporarily ban the same. However, stories that spread in the media about smoking and vaping send a different message to the public,  and some of these articles have links to the tobacco industry, including those funded by Philip Morris.

Five from Dave Cross, Planet of the Vapes
Dr Carmen Escrig has issued a call for vapers to help with a brief survey. The vaping advcoate helps to coordinate the activities of Spanish consumer group EFVI and MOVE (Medical Organizations Supporting Vaping and Electronic cigarettes). The survey seeks to counter the unscientific claims being made that state vaping makes people more likely to contract the COVID-19 virus.

Carmen received her doctorate in Cell Biology and Genetics at the Autonoma University of Madrid and gone on to participate in several research projects in molecular virology. As an expert, she is concerned about the spread of disinformation by anti-vape activists during the COVID pandemic.
VPZ is the UK's largest vaping retailer with over 155 stores in the UK. Today, it has released data showing that more NHS staff are quitting smoking than ever before. It has also issued instructions on how NHS staff can access a massive 50% discount so they can join the other successful quitters.

The vaping specialist announced that in the last month alone, over 1,100 NHS staff have used their discount scheme to access products to help them stamp out cigarettes for good.
Misinformed vapers are returning to smoking cigarettes according to Dutch trade association Esigbond. The organisation is issuing a call for objective information to be considered, "now that the facts are known."

Esigbond says: "Nearly half of the e-cigarette users in the Netherlands who stopped vaping at the end of last year did so because of negative reporting of inappropriate use of e-cigarettes in the US. Two-thirds of those who stopped vaping during that period also started smoking tobacco again."
"Breastfeeding moms' exposure to nicotine linked to infant skull defect," say a quartet of researchers at Ohio State University. The findings from the mice study fly in the face of findings by Public Health England (PHE) and the advice from the UK's National Health Service (NHS).

James Cray, Amr Mohi, Rajiv Kishinchand and Emily Durham claim: "Lactating mothers who use e-cigarettes or nicotine replacement therapies may be putting their breastfed babies at risk for skull defects."
Raja Krishnamoorthi, a Democrat from Illinois, has called on the American Food and Drug Administration (FDA) to ban all sales of vape equipment and juices because of the COVID-19 pandemic. This is just the latest in the chairman of the House Oversight Subcommittee on Economic and Consumer Policy's attacks on tobacco harm reduction and another example of his vape benefit denialism.

According to the dim-witted Krishnamoorthi, the FDA would be able to strike a blow for victory in the battle against coronavirus by cancelling all sales of vape products. Writing for The Hill, he said: "While news outlets have reported heavily on a number of vulnerable populations including seniors, another one facing elevated risks from COVID-19 is vapers. To reduce the risk e-cigarettes pose during the pandemic, the federal government should move quickly to pause e-cigarette sales for the duration of the coronavirus crisis."
---

---
Introduce Punishing Vape Legislation – Jim McDonald
A bill that would ban retail sales of all vaping and tobacco products in flavors other than tobacco passed the California Senate Health Committee today. The bill also would ban "flavor enhancers," which might mean any flavoring agents sold with the intent of modifying unflavored nicotine. In other words, bill SB 793 might ban DIY mixing products.

The bill passed the committee by a vote of 8-1, and will now move on to the Appropriations Committee. After appropriations, it will have to pass one additional committee hearing before being voted on by the full senate. A companion bill in the state assembly will probably begin moving through that body soon. If both bills pass, a final version will go to the governor for signature.
Of Youth E-Cigarette Use – Lindsey Stroud
A new "research letter" in the pay-to-publish JAMA publication finds youth are not using JUUL due to flavors.

In a text survey of 1,129 respondents between the ages of 14 and 24 years, only 4.7 percent of respondents cited "flavors" as a reason for people their age to use JUUL. Conversely, 62.2 percent of respondents cited social reasons.

The findings are similar to state-based data on youth e-cigarette use. For example, in 2019, only 10 percent of Vermont high school students cited "available in many flavors" as the primary reason for vapor product use.
---
New Studies Show Smokers Do Better with COVID19
---
Thomas Kirsop
I normally avoid referencing organizations and people by name when I disagree with their position statements or viewpoints. It's considered bad form, and as I sit on the board of directors for such an organization that is not without it's own vaping industry controversy, it's generally a grand invitation to start a very public squabble that would accomplish little beyond providing a "Jerry Springer Show" like entertainment extravaganza for an afternoon.

I am not going to do that today.

On May 7th of 2020, the Canadian Vaping Association published the following tweet, referencing a CVA press release published via GlobeNewswire (1) on the same day:
A resounding success – Colin Mendelsohn
ATHRA's first facebook live stream was a resounding success (after some minor technical problems!). The video has had over 1,300 views on Facebook, 220 comments and wide sharing so far (Facebook link here). Thank you to all who took part and made it a success.

We plan to have regular live streams in future. Please send us any questions you would like answered.

Some of the key points made in this session were:

Charles Gardner
The Foundation for a Smoke-Free World recently commissioned an independent analysis of media coverage before, during, and after the 2019 US EVALI (e-cigarette, or vaping, product use-associated lung injury) outbreak. Our analysis covered over 18,000 news stories published by top-tier media outlets in the United States, United Kingdom, India, and South Africa between January 1, 2019 and March 31, 2020.

In August 2019, one month before the outbreak peaked in September, the US Centers for Disease Control and Prevention (CDC) coined the term EVALI. Our goal with this media analysis was to uncover how journalistic coverage of the EVALI outbreak influenced public perceptions surrounding nicotine.
"harm reduction tools" in fight against cancer
Europe's Beating Cancer Plan continues to disregard harm reduction tools, such as e-cigarettes, which, it is claimed, potentially meet the Commission's objectives of eradicating smoking-related cancer.

That is one of the messages to emerge from public consultations on the plan.

Another message is that the EU should not overlook the best practices on harm reduction in the UK and Sweden and should approach measures that have proven efficient in preventing cancer. The submissions came from NGOs, academics and scientists, vapers associations as well as vapers.
Since introduction last year
Excise revenue from white snus has grown by 25 percent on year, to €753,000, in the first quarter of 2020 (Q1 2020), pointing to a significant growth in its consumption. This growth has also contributed to a decline of illicit sales of regular snus, which so far as the European Union goes is legal for sale only in Sweden.

White snus, tobacco-free nicotine pads usually inserted under the top lip for maximum effect, differs from regular snus (not to be confused with snuff, a dry powder snorted into the nasal cavity-ed.) in being both tobacco-free and not moistened during its production process, was first introduced to the Estonian market last year.
Countries Can't Ban CBD Imports
European Union member states can't ban the import of the popular cannabis extract CBD, a magistrate for the EU's top court said Thursday.

When Sébastien Béguerie and Antonin Cohen-Adad launched Kanavape in 2014, they expected their cannabis e-cigarettes would attract a lot of attention. They didn't expect it to land them in jail.

In his nonbinding opinion for the European Court of Justice, Advocate General Evgeni Tanchev said Thursday that the cannabidiol, or CBD, in Kanavape's products shouldn't be illegal to move between EU countries because CBD, an extract from the hemp plant, isn't considered a narcotic drug.
Of single e-cigarette aerosol droplets in situ by laser-trapping and Raman scattering
Grégory David, Evelyne A. Parmentier, Irene Taurino, Ruth Signorell
The partitioning of components between droplets and the gas phase in e-cigarette aerosols has a significant impact on deposition within the respiratory tract. However, exclusive detection of droplet composition has, so far, been elusive. Consequently, the dynamics of partitioning between droplets and the gas phase remains unknown. Here, we combine optical trapping of single droplets with in situ Raman scattering for destruction-free monitoring of e-cigarette droplet composition with a time resolution of seconds.
Aotearoa Vapers Community Advocacy
"It's good news the Minister of Finance didn't use this Budget to hike tobacco tax, as has been the case for the past four years," says Nancy Loucas, Director of Aotearoa Vapers Community Advocacy (AVCA).

Ms Loucas' comments follow the Government not announcing any further tobacco tax increases, following four consecutive excise duty increases announced in the 2016 Budget. The last annual tobacco tax increase of 11.5%, on 1 January this year, took an average pack of 25 cigarettes to over $41.
---
A look back at how things have moved on or otherwise….
Ivo Vegter, Daily Maverick
The World Health Organisation has adopted a hardline authoritarian stance on tobacco that threatens to do more harm than good. It should promote vaping, instead of recommending prohibiting or restricting its sales.

World No Tobacco Day is on 31 May 2019. On the surface, it seems hard to quibble with the World Health Organisation (WHO) when it warns that tobacco smoke is harmful to the lungs, and to health in general. It certainly is, though I'm not convinced we need a special day to remind us of that.

However, in recommending strict regulations for vapes, also known as e-cigarettes or electronic nicotine delivery systems, the WHO is going beyond its mandate and against the evidence.
Joseph Magero, Medium
You'll be surprised to know that Sweden is the only country to have reached the WHO F.C.T.C goal of reducing cigarette smoking to less than 20% of the adult population. Sweden has one of the most effective anti-smoking policies in Europe, measured by the significant reduction of the numbers of smokers. Snus has played an important role in achieving this goal, since 54% of the snus consumers are ex-smokers.
Brad Rodu, Inside Sources
Walmart added momentum to the Tobacco 21 movement by announcing recently that it would raise the minimum age for tobacco sales in July.  So far this year the number of T-21 states has doubled to 12, and Senate Majority Leader Mitch McConnell has called for congressional action to implement the policy across the United States.

However, everyone is not in favor of curbing underage access — sort of.
---
Visit Nicotine Science & Policy for more News from around the World

---