Vaping Digest 22nd May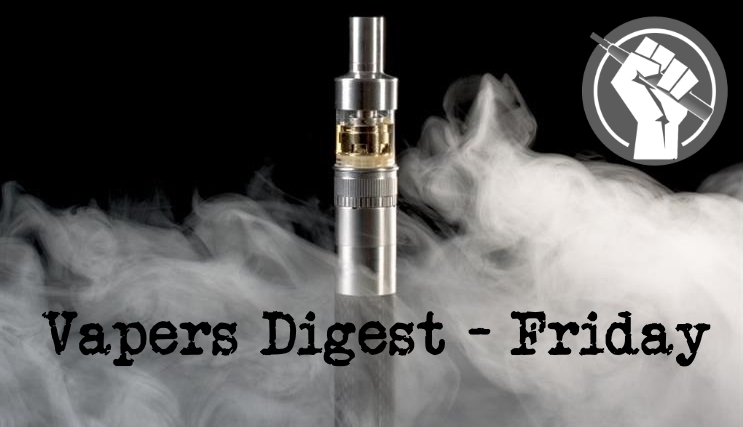 Friday's News at a glance:
BAT: Potential COVID-19 Plant Based Vaccine – Vaping, Tobacco Harm Reduction and the Coronavirus Pandemic – WHO Praising Harsh Vape Regulations – First peer-reviewed study to show nicotine offers potential protection against Covid-19 – Melbourne moves to ban vaping – Menthol Banned – Will The Menthol Ban Be A Boost For Vaping? – Look At The Evidence – Welsh Push For COVID-Nic Study – Cali Home Clampdown Call – Why ATHRA opposes the TGA nicotine amendements – Special LIVE Report: Ray's Fight for Life – Anti-Vaping Activism Driving Smokers Back to Cigarettes – Tax hike on vaping is the wrong priority – EU court advises against hemp-derived oil imports ban – Michigan appeals court sides with vape shop – CVA's Response to Rob Cunningham – Where Did All the Smokers Go?
Ready for Human Trials – Diane Caruana
Last month it was announced that KBP, an American subsidiary of the British American Tobacco (BAT), was carrying out clinical trials on a potential vaccine for the Coronavirus. Last Friday, the tobacco company said that the vaccine is now ready to undergo human trials.

Kentucky BioProcessing (KBP), an American subsidiary of the British tobacco company BAT, has been working on a potential vaccine against COVID-19. Last month, BAT said that it was "hopeful that, with the right partners and support from government agencies, between 1 and 3 million doses of the vaccine could be manufactured per week, beginning in June."
Vaping, Tobacco Harm Reduction and the Coronavirus Pandemic
Guy Bentley – Reason
Discussion on what is known about the coronavirus and vaping at this time, the impact misinformation is having on tobacco harm reduction, and regulating alternative nicotine products in the age of COVID-19.

Numerous sources have suggested vaping could be a risk factor for either contracting or increasing the severity of COVID-19. Some politicians have gone so far as to demand the Food and Drug Administration (FDA) temporarily ban e-cigarettes until the coronavirus pandemic subsides. And the World Health Organization (WHO) claims the tobacco industry is creating doubt about the risks of nicotine and tobacco product use and COVID-19.
---

---
Applauds Finland's Tough Approach – Neil Humber
The headline is all you really need to know and it's astonishing the WHO is praising the harsh vape regulations currently adopted in Finland.

And this 'statement of support' for the Finnish Government, could be just the start of an all out assault on vaping not just in that country – but across Europe.

Sadly it's not unexpected given this faceless bureaucratic un-elected monolithic organization is as anti-vaping as you could possibly get.
To show nicotine offers potential protection against Covid-19
Konstantinos Farsalinos
There is no clinical evidence that current smoking is a predisposing factor for hospitalisation for Covid-19. On the contrary, the data I and other experts have studied, suggests that current smokers are significantly less likely to be hospitalised.

The Chinese are amongst the biggest smokers in the world, with more than half of all adult men indulging in the habit.

As a cardiologist with a career devoted to tobacco harm reduction, I obviously closely monitor health developments in the country that consumes approximately one third of the planet's cigarettes.

So, when Covid-19 was already on its relentless march around the globe earlier this year, I was struck by one apparently paradoxical statistic that kept standing out in the blizzard of new data emerging from China, ground zero of the disease.
---
"What really matters"? "Science"? When the virus was spreading rapidly around the world in January, your organisation was tweeting about the fictional dangers of e-cigarettes.

Why do you still have a job? https://t.co/VcatpywZa8

— Dick Puddlecote (@Dick_Puddlecote) May 20, 2020
---
Leaves Whitmer's Flavor Ban on Hold – Jim McDonald
For the fourth time, a court has ruled against Michigan Governor Gretchen Whitmer in her attempt to impose an emergency ban on flavored vaping products. Michigan vaping businesses will continue to sell flavored e-liquid until a final decision is made in the lawsuit brought against the governor by vaping businesses.

A three-judge panel from the state Court of Appeals unanimously held that Court of Claims Judge Cynthia Stephens was correct to issue an injunction preventing the ban from being enforced while the consolidated lawsuit brought by Marc Slis and 906 Vapor and A Clean Cigarette Corp. was being decided.
In the business district 'to clear the air' – ECigIntelligence
The Australian city of Melbourne is working to implement new regulation that would prohibit the use of e-cigarettes in the city's central business district.

In late 2019, when the city banned smoking in some streets, lord mayor Sally Capp said banning vaping was not "part of the policy" at that moment. But the local government soon started to draft new ordinances to extend the definition of smoking to include tobacco-alternative products.

Five from Dave Cross, Planet of the Vapes
Menthol cigarettes have been removed from shelves across the UK from today. As of this morning, menthol flavoured cigarettes, loose tobacco and skinny cigarettes are banned due to the Tobacco Product Directive (TPD).
The ban applies to any flavoured tobacco product and includes "click" cigarettes that can change flavour by pressing the filter.

The regulations state: "No person may produce or supply a cigarette or hand rolling tobacco with:
As of Wednesday 20th May 2020, all menthol and flavoured cigarettes are banned in the UK. This extends to the sale of menthol tobacco products bought in conjunction with cigarettes or rolling tobacco including a filter, paper, package, capsule or a technical feature allowing the consumer to modify the smell, taste, or smoke intensity of the product.

Menthol cigarettes have been a staple product in the UK tobacco industry since the 1920s, with an estimated 890,000 people claiming these as their main form of cigarettes. With this in mind, a huge proportion of people are essentially being left out in the cold once the ban has commenced. Obviously the government introduced this measure to help boost the hopeful target of becoming a smoke-free nation by 2030, however it's extremely speculative to expect all of these people to give up nicotine straight away.
The Aotearoa Vapers Community Advocacy (AVCA) is asking the Ministry of Health to reject information peddled by the World Health Organisation (WHO) which inaccurately and negatively reflects on smoke-free nicotine products. In Europe, advocates are calling on the EU to rectify vaping's omission from Europe's Beating Cancer Plan.

As New Zealand's Ministry of Health prepares to present at the Ninth Session of the Conference of the Parties (COP9) to the World Health Organisation's Framework Convention on Tobacco Control (WHO-FCTC) at The Hague, in the Netherlands, this November, AVCA has written to Associate Health Minister, Jenny Salesa, calling for New Zealand's position to support current global scientific evidence instead.
Cardiff University's Professor Judith Hall is seeking funding for a study looking at nicotine and its potential use with the COVID-19 virus pandemic. It follows Welsh doctors commenting that they had seen benefits with patients using nicotine patches, mirroring the experience of clinicians at the Pitié Salpétrière hospital in France.

Professor Hall said she is approaching funding sources for obtain support for a trial looking at using nicotine to manage the symptoms of Covid-19. She said: "Getting trials under way is of course time-consuming and complicated business, but we must try and advance new ideas as quickly as possible in this crisis."
California zealots continue to wage their war on facts, freedom and fairness as the University of California Los Angeles publishes a "study" claiming that residents of multioccupancy dwellings are subjected to "second-hand smoke" from vapers. They demand legislation to ban vaping at home.

Commenting on the study, Dr. Tony Kuo, director of the division of chronic disease and injury prevention at the Los Angeles County Department of Public Health, said: "As more people are spending time at home due to the current COVID-19 pandemic, it is important that tenants feel safe about their surroundings and protected from exposure to unwanted environmental risks like second-hand smoke. We are hopeful that multiunit housing owners, tenants and community stakeholders can come to a solution that protects our communities from this danger in their homes."
---

---
Nicotine amendements – Colin Mendelsohn
THE DEPARTMENT OF HEALTH has asked the medicines regulator (the Therapeutic Goods Administration) to amend the guidelines for nicotine in the Poisons Standard. However, the proposed changes miss the opportunity to correct a glaring inconsistency in nicotine regulation.

Nicotine in its most lethal form (tobacco prepared and packed for smoking) is specifically exempt from the Poisons Standard and is freely available, while the far safer substitute (liquid nicotine for vaping) is restricted to prescription-only access.
---
---
Lindsey Stroud
There's a saying in politics to "never let a good crisis go to waste," with Republicans and Democrats alike swarming upon all crises to push their policies and themselves.

Unfortunately for the American public, this nefarious thinking doesn't apply only to politicians. In fact, our own public health agencies are just as culpable as the suits on Capitol Hill at embracing crises to promote their own agenda.

America is in the middle of a viral epidemic. As of May 21, 2020, COVID-19 has killed over 94,000 Americans, infected hundreds of thousands more, and has brought American unemployment to its highest levels since the Great Depression.
Back to Cigarettes – Michael McGrady
Altria, the maker of Marlboro cigarettes, reports their data show smokers 50 and older are returning to traditional cigarettes after having switched to e-cigarettes.

This trend is reportedly due to a mix of bad press, regulatory crackdowns on nicotine vaping, and — indirectly —  the coronavirus pandemic.

CEO Billy Gifford told investors the news on Altria's first-quarter earnings conference call on Apr. 30. Older vaping consumers, Gifford said, are primarily purchasing discounted cigarettes after the sustained vilification of the vapor product category and the Food and Drug Administration's (FDA) push towards the premarket tobacco application (PMTA) deadline.

Of the relationship between cigalike e-cigarette use and cigarette smoking among adult cigarette smokers without immediate plans to quit smoking
Introduction: This study examined the association between the introduction of an e-cigarette and subsequent change in cigarette smoking among smokers who were not immediately interested in quitting.

Methods: The Moment Study was a 21-day intensive longitudinal study with an online follow-up survey at 30 days. After observing baseline cigarette smoking for one week, participants received 10 cigalike e-cigarettes on Study Days 6 and 13. Participants reported cigarettes per day (CPD), e-cigarette puffs per day, and e-cigarette satisfaction using text-message based surveys.
At the wrong time – Peter Blocker
Given the economic turmoil that Californians are going through, it is surprising that state legislators are considering a tax increase that would hit hard-working Californians.

Lawmakers are debating a proposal from the governor that would dramatically increase existing taxes on electronic cigarettes, with the goal of taxing the products so much that adult Californians can no longer afford this product. Paradoxically, this is happening at the same time they are trying to reduce marijuana taxes because the current rates are driving sales into the black market.

This is another example of Sacramento politicians dictating how we live our lives, and what we should and should not buy.
Oil imports ban – Gerardo Fortuna
Prohibiting imports of cannabidiol oil (CBD) from other member states is contrary to EU law since there is no scientific evidence that hemp-based products have psychotropic effects, according to a non-binding opinion from the advocate general of the EU's top court.

On 14 May, an adviser to the European Court of Justice (ECJ) said in a legal opinion that  the import of  CBD cannot be banned under the bloc's free movement of goods.

CBD is a lighter chemical compound extracted from hemp plants but containing less than 0.2% of the active substance tetrahydrocannabinol (THC).
Against flavored vaping ban – Robin Erb
A court ruling Thursday has cast into further doubt Michigan's 2019 emergency rules against flavored vaping products.

A three-judge panel of the Michigan Court of Appeals upheld a Court of Claims preliminary injunction against Gov. Gretchen Whitmer's September public emergency that banned flavored vaping products — products that Whitmer and the state's health department argued lured young people into unhealthy, addictive habits.
Canadian Vaping Association
Cunningham stated his belief that Canada's significantly higher increase in youth uptake compared to that of the UK is a direct result of the entrance of Big Tobacco owned vape brands and their aggressive advertising campaigns in the Canadian market. Rob explained that products such as Juul and Vype have nicotine content ranging from 57-59 milligrams per millilitre, which make them both highly addictive and attractive to youth. Prior to the entrance of these products, the European Union had already limited nicotine concentrations to 20 milligrams per millilitre. As a result of this regulation, the appearance of these brands had little effect on youth vaping rates throughout the EU.
Could not be conclusively linked to vaping: coroner – Lisa Fernandez
A 45-year-old woman's death that was used to show the harms of e-cigarettes could not be conclusively linked to vaping, according to the coroner.

Roger Fielding, the chief deputy coroner for the Marin County Sheriff's Office, told KTVU on Thursday that Amanda Arconti's death was "was not able to be directly linked to vaping or that her vaping habit was not able to be implicated as the cause of her death."

Fielding said the medical examiner noted her Nov. 7, 2019 death was a natural one, caused by a history of health problems.
---
A look back at how things have moved on or otherwise….
Filter Staff, Filter Magazine
On May 17, Filter hosted a panel entitled "Tobacco Harm Reduction, Vulnerable Populations & Health Justice" at New York University, attended by students, harm reduction advocates and Filter readers.

Panelists included Dr. Sheila Vakharia, a researcher for the Office of Academic Engagement at the Drug Policy Alliance; Senior Editor Helen Redmond, LCSW of Filter; and Dr. Marewa Glover, the director of New Zealand's Centre of Research Excellence on Indigenous Sovereignty and Smoking.
Michael McGrady, Inside Sources
Despite its approval of the IQOS heat-not-burn system for sale in the United States, the Food and Drug Administration continues down a troubling path that could lead to the prohibition of certain nicotine products. While we can rest assured modified-risk cigarettes or non-tobacco oral nicotine alternatives like Zyn will not be removed from the market in the United States, an analysis of what comes with specific nicotine prohibitions is required.
---
Visit Nicotine Science & Policy for more News from around the World

---