Vapers Digest 18th September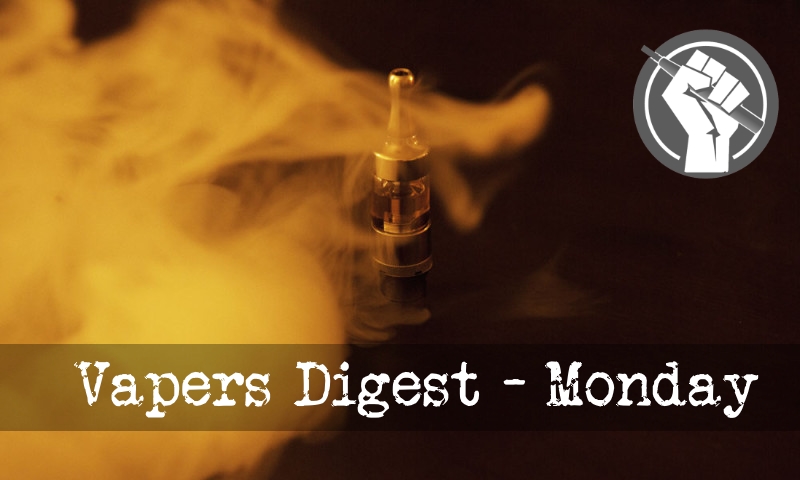 Monday's News at a glance:
Disposable vapes ban 'would cost lives' – Disposable vapes could still be available to smokers through NHS – Is US teen nicotine use increasing? – No "Epidemic" – Time to quit the harmful narratives around vaping – We must strike the right balance – Rethinking the WHO's approach
'Would cost lives by making it harder for smokers to quit' – Joe Davies
A BAN on disposable vapes to stop kids getting hooked would cost lives by making it harder for smokers to quit, campaigners have claimed.

Experts warn that the proposed move could kill off many people who want to kick nicotine by first converting to throwaway e-ciggies.

Vapes are seen as less harmful because they do not contain cancer-causing chemicals — although the long-term effect of their use is not yet known.

Christopher Snowdon, of the Institute of Economic Affairs, said vapes should be thought of as "life-saving products".
To smokers through NHS scheme despite Government ban
Poppy Wood – iNews
Disposable vapes could still be given to smokers to help them quit cigarettes, despite the Government drawing up plans to ban them, i understands.

Ministers are understood to be finalising plans to ban single-use vapes amid concerns they have sparked an epidemic of youth vaping across Britain, with a decision set to come as early as next week.

However, health department sources suggested that disposable vapes could be still available to smokers under NHS "swap to stop" schemes, despite any potential ban.
---

---
Charles A. Gardner
Almost everyone in America is now firmly convinced that nicotine vapes ("e-cigarettes") have created a "whole new generation addicted to nicotine." Click-bait media helpfully reminds the public almost daily. Is it true?

The answers can be found in two surveys: the US Centers for Disease Control and Prevention's (CDC's) National Youth Tobacco Survey (NYTS; 1999–2022), and the US National Institutes of Health's (NIH's) Monitoring the Future (MTF) survey (for years prior to 1999).
---
---
New Dose of Youth-Vaping Alarmism – Lindsey Stroud
Just in time for the new school year, the Centers for Disease Control and Prevention (CDC) is not letting a good non-crisis go to waste.

A series of videos published on Labor Day once again sound the alarm on youth vaping, urging educators—from coaches to principals to teachers—to talk to their students about it. The videos serve up a few morsels of truth with large helpings of fear-mongering and misinformation.

We should no longer be surprised by such fare from the nation's leading health authorities. The United States Food and Drug Administration (FDA) recently admitted its failure—if not its culpability—in communicating relative risks of nicotine and tobacco products, with growing ignorance among health professionals and the public.

Around vaping – Alex Clark
Since the 2019 peak, teen vaping rates have been freefalling. Kids today are vaping at about the same rate they were in 2014, a decrease of nearly 50%.

Yet the public health narrative remains stuck in the past. Officials bemoan teen vaping rates, while ignoring the benefits e-cigarettes and other smoke-free nicotine products provide adults who smoke.

It's time for experts to update their priorities – and ensure that efforts to prevent kids from habitually using nicotine don't undermine the fight to get adults off traditional cigarettes.
---

---
In our approach to a smoke-free future – Craig Whittaker MP
Every smoker's journey is unique. Their reasons for starting, their challenges in quitting, and their ultimate quitting methods all vary. For nearly 40 years, I enjoyed almost every cigarette I had.

Despite continuous prodding from loved ones, quitting seemed out of reach.

As such, my surprise was palpable when I came across heated tobacco on a wager that it might actually work to help me quit cigarettes. Life as an MP can be incredibly fast paced and stressful, but I can safely say I have had my final regular cigarette. Now, having lost the wager, I've adopted heated tobacco daily.

Samaa Web Desk
The World Health Organization (WHO) has been a vocal critic of e-cigarettes and other non-combustible tobacco delivery systems (NCTDs). The organisation has argued that these products are harmful and should be regulated as tightly as cigarettes.

However, there is a growing body of evidence to suggest that NCTDs can be a less harmful alternative to smoking. A study published in the British Medical Journal in 2020, titled Nicotine replacement therapy and risk of death from smoking-related diseases: a systematic review and meta-analysis, found that NCTDs were associated with a 56% reduction in the risk of death from smoking-related diseases.
---
A look back at how things have moved on or otherwise…
To an Increase in Youth Vaping – Martin Cullip
For the past few years, the United States public health community has been amplifying irrational fears among certain sections of the public toward youth vaping. At times, it has reached such fevered levels that one could be forgiven for forgetting that respected public health bodies in the United Kingdom have estimated vapes to be at least 95 percent less harmful than the combustible cigarettes they typically replace.

So it was interesting to see the UK response last month to a recent uptick in youth use of e-cigarettes. This had led the press—just as excitable in the UK as in the States—to produce several sensationalist articles ramping up a moral panic around vaping that is, of course, unrepresentative of the situation.
Of Soliciting Bribes – Jim McDonald
Police officers in Thailand are under investigation for soliciting bribes from three men caught entering the country carrying vaping devices and e-liquid. The events happened in Songkhla province, which borders Malaysia.

Thailand has one of the world's strictest vape bans. Sales and importation of e-cigarettes and other vaping products is illegal in Thailand, and vapers are sometimes even prosecuted for possession of the devices. But despite the ban and sometimes harsh enforcement, the country maintains a thriving black market in vaping products.
---
Visit Nicotine Science & Policy for more News from around the World

---