Vapers Digest 15th September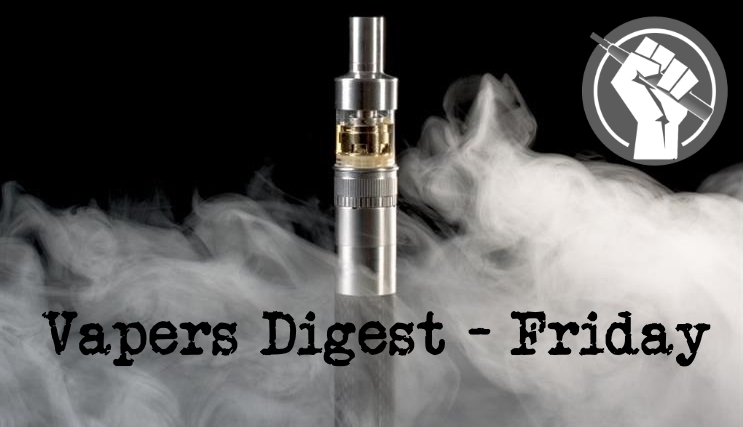 Friday's News at a glance:
Responses to the Disposable Ban – Is A UK Disposable Vape Ban On The Horizon? – Vaping myths and the facts – Banning smoking outside pubs – Charles A Gardner, PhD Talks To Ecigclick!! – Low nicotine, low profits – ONS Updates Smoking and Vaping Knowledge – LGA In Fantasy Land – UKVIA Responds to Ban Rumour – FDA "Youth-Appealing" Warnings – Canada's individual cigarette warnings – Is the Health Minister telling porkies … again? – New Global Vape Alliance Unveiled – Most effective stop-smoking aids – Scientific Evidence – Panama's e-cig ban unconstitutional – Biden's Cancer Plan Misses the Mark – Parliament's legal missteps erode public trust – Are novel nicotine products the game changer
Dave Cross, Planet of the Vapes
A number of individuals and organisations have made comment following the news that the UK Government is considering banning the sales of disposable vapes in England. A minister refuses to rule out a ban, the Health Department talks about the need to protect kids, the Welsh Government want the same ban imposed on them, and Angela Rayner admits to being a bit of a "dragon".

A spokesperson for The Department of Health and Social Care issued a statement saying: "We are concerned about the rise in youth vaping and the environmental impacts of disposable vapes. That is why we launched a call for evidence to identify opportunities to reduce the number of children accessing and using vaping products – and explore where the government can go further. We will set out our response in due course."
Michelle – Ecigclick
On September 11th 2023 there were a lot of mutterings about there being a ban on single use (disposable) vapes.

For instance The Guardian ran with the headline – "Ministers set to ban single-use vapes in UK over child addiction fears".

The Guardian article is full of negative messages about disposable vapes in particular but is also slating vaping full stop.

I am pleased to see a follow up article from the Guardian – "Ban on single-use vapes in UK may 'flood market with illegal products'".
---

---
Better Health – NHS
There can be some confusion about vapes (sometimes called e-cigarettes or e-cigs). This is not surprising, because there is lots of misleading information out there.

Here are some of the most common myths about vaping, and the facts based on scientific evidence and data.
Is another step on the road to misery Britain – Joseph Dinnage
Picture the scene. You're walking to the pub after a day of graft, music ringing in your headphones as thoughts of the day's stress give way to childlike excitement for the first sip of continental lager. You arrive, order your chosen brew and assume an outside seat. Just as you've always done, you produce your favourite cigarette to accompany your pint and before you can light it, a nasal 'excuse me' is heard from a smug punter, who reminds you that this is now illegal. Welcome to misery Britain.

Surely such grimness could never come to pass, not in the land of 'Hurricane' Higgins and Oliver Reed? Well, they're both dead, and the cultural landscape is now populated by fashion influencers and TikTokking teenagers.
---
Deborah Arnott, chief executive of ASH, said: "The government must act to address the rapid growth in youth vaping, but a ban on disposables is risky, as without far greater resources on enforcement it could turn the flood of illegal vapes into a tsunami"https://t.co/KE18IVsQHp

— European Tobacco Harm Reduction Advocates (@europethra) September 14, 2023
---
If you are a THR (Tobacco Harm Reduction) fan there is no doubt you will have seen Charles on Twitter / X standing up for the rights of those who want to use lower risk options to quit smoking!

He caught my eye first with his Twitter campaign which started as an offer of $100 to anyone who could provide confirmed proof of even one death caused by inhaling nicotine vapour.

This gained a lot of traction and the "pot" has increased to $9,500 (by various followers donating) and still no proof!
Christopher Snowdon
There is a well known scene in The Simpsons in which the CEO of Duff beer announces that he has taken all the alcohol out of his product and expects to sell more of it because "our customers buy Duff for its robust taste, not its alcoholic content". Thirty minutes later he is hanging up an "Out Of Business" sign on the factory gates and saying "Well, that's the end of me."

It was impossible not to think of this when reading the news that the US-based 22nd Century Group Inc. (XXII) has "initiated a process to evaluate strategic alternatives with respect to the Company's tobacco assets". Beneath the corporate jargon is an admission that the company's ultra-low nicotine cigarettes are not selling as well as expected. Some analysts think it is a prelude to a federal bankruptcy filing. The company's share price peaked at $77 in 2021 and is currently trading at $1.25.

Three from Dave Cross, Planet of the Vapes:
The Office for National Statistics (ONS) has published fresh official Government estimates for the rate of smoking and vaping in Great Britain. The latest information shows an ongoing decline in the number of smokers but some commentators are concerned that teen vaping has increased again. Other experts welcome the news as it shows vaping is not a gateway into smoking.

Action on Smoking and Health's Chief Executive Deborah Arnott commented that the results display "slow progress on smoking" by the government.
The Local Government Association (LGA) celebrated yesterday's announcement that the Government looks set to ban disposable vapes from its lofty perch in fantasy land. It attempted to combat objections to an outright ban on the sale of single-use ecigs in England with a FAQ on its website.

Yesterday, Tuesday 12 September, we announced how the Government looks increasingly likely to take the ill-informed, populist driven route of banning disposable vapes from sale in England.
The UK Vaping Industry Association (UKVIA) is the first vape industry organisation to respond to the strong rumours that the UK Government is set to ban disposable vapes in England. Unsurprisingly, it does not believe that the rumoured ban is either wise or practical – pointing to the fact that recyclable e-cigs would solve environmental concerns and that single-use products have a role to play in combatting tobacco related harm.

John Dunne, Director General of the UKVIA, said: "It's important to point out that this is about a consultation and that no decisions have been made on the future of disposable vapes.
---

---
Are ultimately smoke and mirrors – Martin Cullip
In the realm of legislative overreach, there are few things more emblematic than the Canadian government's recent move to force tobacco companies to emblazon individual cigarettes with warning messages. While the intention to safeguard public health is admirable, this measure reeks of pointlessness and misdirection. In the grand scheme of tobacco control, this endeavour is akin to placing a band-aid on a leaking dam. More importantly, if this trend extends to Britain and impacts vapes, it risks undermining more effective deterrents while setting a dangerous precedent.

The very notion of mandating warning labels on individual cigarettes is grounded in the assumption that smokers are somehow oblivious to the risks they are taking. It assumes that the sight of a prominent label featuring the grim message "Poison in every puff" will be the proverbial straw that breaks the camel's back, turning avid smokers into instant quitters.
Include Basic Kanger Vape Pen – Jim McDonald
The FDA has issued 14 new warning letters to online vape retailers and distributors, almost all for sales of unauthorized disposable vapes. The actions follow the agency's recent blueprint of seeking enforcement targets by searching online for obscure sellers linked to search keywords like "Elf Bar" and "Lava disposable."

The FDA also warned longtime Chinese manufacturer Kangertech for wholesale offerings of a vape pen and replacement coils that are practically fossils in the fast-moving vape market. The items cited in the warning letter were listed as "Kanger TOP EVOD Kit, Kanger T2 Replacement Coil – 5PK, Kanger SOCC Replacement Coil – 5PK – 2.2OHMS." The EVOD is a low-wattage vape pen based on the early eGo-style devices used with clearomizers.
NO SYMPATHY | How Tobacco Control Ignores People They Purport to Help
Tobacco control has no sympathy for the smoker, says Samrat Chowdhery tobacco harm reduction expert and consumer activist. He says there has to be a more humane way to tackle the tobacco problem and tobacco control needs to start thinking more like drugs control.
Colin Mendelsohn
THE MINISTER FOR HEALTH is on a mission this week, waging a war on vaping. In an effort to "make Australia great again" in the field of tobacco control he has committed to stamp out "this public health menace".

Mark Butler makes vaping sound scary, but are his bold claims evidence-based? Many of them are not.

I fact checked several of his claims and found that truth is the first casualty of his war.
Independent European Vape Alliance
A new Global Vape Alliance has been announced today at InterTabac Trade Fair in Dortmund alongside a groundbreaking declaration to foster collaboration, promote responsible practices, and champion the cause of harm reduction in the vaping industry.

The Global Vape Alliance for the first time brings together major international vaping bodies including the Electronic Cigarette Industry Committee of the China Electronics Chamber of Commerce (ECCC), the US Vapor Technology Association (VTA), the "UK Vaping Industry Association (UKVIA)" and the Independent European Vape Alliance (IEVA).

And dual nicotine replacement therapy identified as most effective stop-smoking aids
Nicotine e-cigarettes and two prescription medications that curb symptoms of withdrawal are the most effective stop-smoking aids, according to a comprehensive, multinational review by a team of scientists, including a University of Massachusetts Amherst public health and health policy researcher.

Dual forms of nicotine replacement therapy (NRT), such as combining a patch with gum or a lozenge, were found to be nearly as effective.

Smoking remains the leading cause of preventable disease and death worldwide, and many people who want to quit smoking find it very difficult, due to the addictive nature of nicotine.
Should Suggest a Middle Way – Yudho Winarto
Inaccurate information regarding alternative tobacco products remains pervasive in Indonesia. This misinformation is often spread despite an absence of strong or proven scientific evidence.

Realizing this, Prof. Dr. drg. Amaliya, M.Sc., a researcher and lecturer from Indonesia's Padjadjaran University's Dentistry Faculty, was determined to collect sufficient evidence and conduct research on alternative tobacco products by promoting a harm reduction approach. Today, eight years have passed since she began pursuing this field of expertise in tobacco harm reduction.
And violates health rights
Panama's ban on the use, sale and import of e-cigarettes is unconstitutional, according to the Panama Association for theReduction of Damage by Tobacco Use (ARDTP), who filed a lawsuit with the Supreme Court. They argue that the ban infringes on citizens' health rights by denying access to less harmful nicotine and tobacco alternatives, citing issues with the parliamentary process.

Tomás Sánchez, ARDTP President, says a study reveals a surge in the illegal e-cigarette market post-ban, and 93% of nicotine products in Panama are now illegal. He said, "The worst part is that electronic cigarettes from unknown and questionable origins continue to be circulated throughout Panama."
By Overlooking Harm Reduction – World Vapers' Alliance
As President Joe Biden unveils an ambitious plan to cut the cancer death rate in half over the next 25 years, the World Vapers' Alliance (WVA) calls on the Biden Administration to join countries like the United Kigndom and Sweden in prioritize tobacco harm reduction. The President's cancer moonshot initiative aims to reduce smoking rates, but the WVA argues that it could be far more effective by embracing less harmful alternatives to smoking, such as vaping.

Michael Landl, Director of the WVA, states, "If President Biden is serious about beating cancer, then embracing tobacco harm reduction is not just an option, it's a necessity. Sweden and the United Kingdom are leading examples that have proven the effectiveness of vaping and other less harmful products in reducing smoking rates. …"
Kurt Yeo
Parliament has suffered a string of legal setbacks recently, which have not only undermined its legitimacy, but also threaten to call into question its very purpose. If the courts are repeatedly called on to rectify parliament's missteps and MPs continue to wave through flawed legislation in total disregard for minimum public participation requirements, let alone their own oversight responsibilities, then what is parliament for?

This question has profound implications for a country already battling to uphold basic respect for the rule of law, because laws that lack popular legitimacy invite further lawlessness, which even a well-resourced police service would be unable to control.
The game changer towards smoking cessation?
"Smoking may be hazardous to health" is a notice that we have seen and heard on adverts or on packages of cigarettes for many years.

Not that we really cared about it. We would see it and forget about it. And really, that warning has never been a deterrent for those who smoke. So why should it bother us non-smokers; we say.

Many of us would testify to having a relative or two who have smoked tobacco cigarettes for the better part of their lives. And some continue to do so because they are yet to see the hazards being spoken about.
---
A look back at how things have moved on or otherwise….
To an Increase in Youth Vaping – Martin Cullip
For the past few years, the United States public health community has been amplifying irrational fears among certain sections of the public toward youth vaping. At times, it has reached such fevered levels that one could be forgiven for forgetting that respected public health bodies in the United Kingdom have estimated vapes to be at least 95 percent less harmful than the combustible cigarettes they typically replace.

So it was interesting to see the UK response last month to a recent uptick in youth use of e-cigarettes. This had led the press—just as excitable in the UK as in the States—to produce several sensationalist articles ramping up a moral panic around vaping that is, of course, unrepresentative of the situation.
Of Soliciting Bribes – Jim McDonald
Police officers in Thailand are under investigation for soliciting bribes from three men caught entering the country carrying vaping devices and e-liquid. The events happened in Songkhla province, which borders Malaysia.

Thailand has one of the world's strictest vape bans. Sales and importation of e-cigarettes and other vaping products is illegal in Thailand, and vapers are sometimes even prosecuted for possession of the devices. But despite the ban and sometimes harsh enforcement, the country maintains a thriving black market in vaping products.
---
Visit Nicotine Science & Policy for more News from around the World

---