Vapers Digest 16th September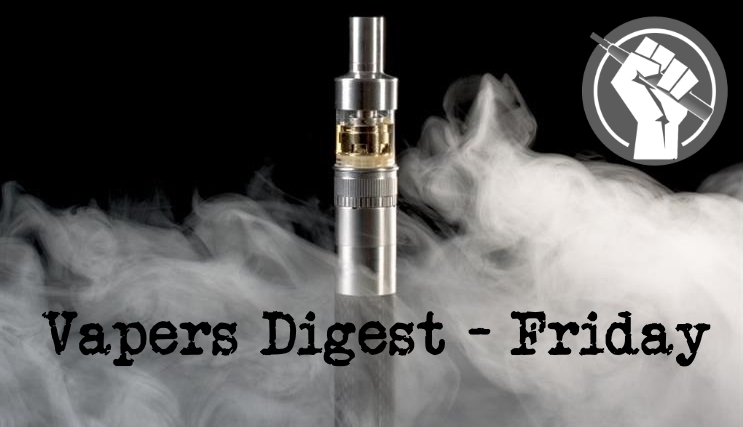 Friday's News at a glance:
How to Respond Sensibly to an Increase in Youth Vaping – Thailand: Vapers Accuse Police of Soliciting Bribes – Tobacco Harm Reduction in Sub-Saharan Africa – Arizona Youth Tobacco and Vaping Rates – Vaping Petition Reaches 10,000 Signatures – Oz Facts Need Checking – Study Shows Positive Long-Term Impact – Parliament – Should the FDA Force 30 Million Americans – ATR Proud to Have Protected Vaper's Rights in 2022 – Unintended consequences of taxes – Cause exploration – New Zealand anti-smoking group – Vaping businesses boom in Nepal – FTC Hearing on Vaping Case –Nicotine and the Iron Law of Prohibition – Former WHO Director Supports Ecigs – Nicotine Science and Policy Daily Digest
To an Increase in Youth Vaping – Martin Cullip
For the past few years, the United States public health community has been amplifying irrational fears among certain sections of the public toward youth vaping. At times, it has reached such fevered levels that one could be forgiven for forgetting that respected public health bodies in the United Kingdom have estimated vapes to be at least 95 percent less harmful than the combustible cigarettes they typically replace.

So it was interesting to see the UK response last month to a recent uptick in youth use of e-cigarettes. This had led the press—just as excitable in the UK as in the States—to produce several sensationalist articles ramping up a moral panic around vaping that is, of course, unrepresentative of the situation.
Of Soliciting Bribes – Jim McDonald
Police officers in Thailand are under investigation for soliciting bribes from three men caught entering the country carrying vaping devices and e-liquid. The events happened in Songkhla province, which borders Malaysia.

Thailand has one of the world's strictest vape bans. Sales and importation of e-cigarettes and other vaping products is illegal in Thailand, and vapers are sometimes even prosecuted for possession of the devices. But despite the ban and sometimes harsh enforcement, the country maintains a thriving black market in vaping products.
---

---
GSTHR
By global comparisons, smoking prevalence is relatively low across the continent of Africa. Yet by 2025, the World Health Organization (WHO) projects the total number of tobacco users in Africa will increase to 62m, of whom 51m will be smoking combustible tobacco.[i] The opportunities to reduce the burden of non-communicable disease, suffering and premature deaths presented by tobacco harm reduction (THR) are therefore huge. Appropriate, accessible and affordable safer nicotine products (SNP), supported by product regulation, could help create a smoke-free Africa and, unlike most tobacco control interventions, this can be achieved at minimal cost to governments. This makes THR particularly well suited to resource-stretched low and middle-income countries (LMIC), such as those in Sub-Saharan Africa which are the focus of this Briefing Paper.
At Lowest Levels Recorded – Lindsey Stroud
There's great news out of the Grand Canyon States, in 2022, youth tobacco and vapor product use rates reached their lowest levels recorded.

According to data from the Arizona Youth Survey (AYS), in 2022 only 3.7% of 8th graders, 6.2% of 10th graders and 9.4% of 12th graders reported ever trying a combustible cigarette. Since 2016, ever use among 8th graders has declined by 73.4%, among 10th graders by 70.5%, and among 12th graders by 69.8%.

Current cigarette use, defined as having smoked a cigarette on at least one occasion in the 30 days prior to the survey, has declined as well. In 2022, only 1% of 8th graders, 1.6% of 10th graders and 2.5% of 12th graders reported current combustible cigarette use…
---
---
Brad Radu, Tobacco Truth
I just read an interesting piece in Filter about the Iron Law of Prohibition, a theory described by Richard Cowan in a 1986 National Review article.  Referring to banned substances, he wrote: "the more intense the law enforcement, the more potent the drugs will become."  Cowan's Law may very well apply to nicotine vaping products.

With millions of users around the world, e-cigarettes and vaping are here to stay.  The nicotine solutions in these products are satisfying in single puffs, and the vaping cartridges provide the equivalent of up to a few packs of cigarettes, depending on size.  They are not highly toxic when used as intended, but the liquid is dangerous if swallowed.  A tsunami of misinformation about vaping has prompted considerable discussion about the lethal dose of nicotine if swallowed.  The most common claims are based on old references and distorted facts.  For a review, please read the excellent summary by Bernd Mayer in Archives of Toxicology.
CAPHRA
A petition urging the World Health Organisation (WHO) to respect consumer rights and end its lies against vaping has been signed by over 10,000 people. Organisers now want to hit 20,000 signatures by COP10.

Launched during the 2021 Voices4Vape webinar, the Right2Switch petition calls for WHO to 'stop lying to us and only provide guidance based on sound scientific facts, methodologies and principles.'

Leading Asia Pacific vape advocate, Nancy Loucas, says WHO's continual insistence that safer nicotine products are as harmful as combustible tobacco and should be banned or heavily restricted is costly millions of smokers' lives globally.

Four from Dave Cross, Planet of the Vapes:
Australia's publicly funded 'vaping facts' need investigation, says Nancy Loucas, Executive Co-ordinator of CAPHRA (Coalition of Asia Pacific Tobacco Harm Reduction Advocates). "The vaping lies getting peddled in Australia are an outrageous misuse of public expenditure which should be directed towards improving Australia's healthcare system," she stated.

Loucas' comments follow the New South Wales Government ramping up its threats to law-abiding retailers about vaping products and continuing to stand by a controversial $300,000 joint 'education campaign' on vaping with the Department of Education.
BAT has published the full results from a year-long study, which show the positive long-term impact of switching from cigarettes to glo, BAT's flagship Tobacco Heating Product. The researchers found that smokers switching exclusively to glo, BAT's flagship Tobacco Heating Product (THP), achieved significant and sustained improvements in several indicators of potential harm associated with early disease development compared to smokers who continued to smoke. This included lung disease, cancer, and cardiovascular disease (CVD).

The full findings, which have been published in Internal and Emergency Medicine, build upon the favourable changes reported at three and six-months. The improvements observed were sustained over the 12 months of the study, adding to the weight of evidence that supports glo as a less risky alternative for adult smokers who would not otherwise quit.
Tikki Pangestu, a former World Health Organisation Director of Policy Research and Cooperation, has spoken out about the potential for vaping to help improve public health. Professor Pangestu made the positive statement as part of an online discussion titled "Reducing the Harm of Smoking: Is Tobacco Harm Reduction Feasible?"

Professor Tikki Pang is now a Visiting Professor at the Yong Loo Lin School of Medicine at the National University of Singapore. He was previously Visiting Professor at the Lee Kuan Yew School of Public Policy before becoming a WHO Director. Prior to this, he was Professor of Biomedical Sciences at the Institute of Postgraduate Studies & Research, University of Malaya.
Alexander Stafford, Conservative MP for Rother Valley, has posed a series of questions to the government about vaping and electronic cigarettes. He is concerned about youth use, the sustainability of disposable vapes, and the enforcement of current legislation.

Alexander Stafford MP asked last week's Secretary of State for Health and Social Care if an assessment of the implications for the policies of the paper by Action and Smoking and Health entitled Use of e-cigarettes among young people in Great Britain 2022 will be carried out. He also wanted to know if the Secretary of State would take any steps in the department to help prevent the underage use of e-cigarettes.
---

---
To Face Their Addiction? – Amanda Hagerman
At some point in the next year, the U.S. Food and Drug Administration (FDA) could require tobacco companies to cut nicotine levels in cigarettes by up to 95 percent, forcing nearly 30 million Americans to go practically "cold turkey" overnight. This government-mandated anti-smoking program would be one of the most radical experiments known to date and, sadly, there will be unintended consequences—all while the government withholds products that could help wean smokers off of cigarettes.

These bans would be the most sweeping prohibitions the country has seen in over 100 years. States like West Virginia, Kentucky, Mississippi, and Arkansas could all face a harsh reality when 20 percent of their populations wake up without access to their daily dose of nicotine—potentially catapulting millions of Americans into the painful symptoms of withdrawal.
Karl Abramson
With Governor Dunleavy's veto of Alaska's SB 45, all 2022 legislative sessions nationwide have now concluded. Americans for Tax Reform is pleased to report that zero anti-vaping bills succeeded this year, and as such, the rights of people who vape to choose safer nicotine alternatives has been appropriately protected.

To mark this occasion, below are "highlights" of this past legislative session.

Unintended consequences of e-cigarette taxes
Newly published research led by a University of Wisconsin Oshkosh professor might cause policymakers to pause the next time implementing e-cigarette taxes are up for debate.

The Effects of E-Cigarette Taxes on E-Cigarette Prices and Tobacco Product Sales: Evidence from Retail Panel Data, published this month by Journal of Health Economics, features Chad Cotti as lead author. Cotti is an economics professor and serves as chair of the economics department in the UW Oshkosh College of Business.
Cigarette smoking kills millions of people every year. We spend a lot of money trying to reduce this number, but much of it is ineffective because we're focused on getting people to stop doing something they enjoy. It's demonstrably better to help them use products they would like just as much as cigarettes, but don't cause health problems. Most of the alternatives involve ingesting nicotine without burning tobacco, and donors have an opportunity to (1) advocate for removing restrictions on them, (2) inform consumers that they're available and safer; and (3) fund innovation to improve them.
Offers a less strident approach to vape flavours
E-cigarette flavours – especially sweet and fruit flavours – are prime weapons in a devilish plot by the tobacco and vaping industries to hook a generation of innocent children into a lifetime's dependency on nicotine, right? That may be putting it slightly more strongly, but it's essentially what public health groups such as the Campaign for Tobacco-Free Kids, the American Lung Association and myriad others take every opportunity to hammer home.

The counter argument, that flavours are crucial to attracting smokers away from combustibles and then keeping them away, also tends to come repeatedly from a cast of usual suspects, many of them e-liquid manufacturers and retailers, who can hardly be considered objective or disinterested commentators.
Sakshi Agrawal
Walk into a bar or restaurant and chances are you will spot teenagers and young adults inhaling out of a dark-coloured cylindrical-shaped device and releasing smoke.

Actually, it's not only limited to bars and restaurants anymore. Even the streets dictate the same story.

The culture of vaping took off in Nepal less than a decade ago, as more and more physical stores and online businesses set up shop to meet the growing demand of the local consumers. Despite health warnings against vaping and prohibition on such products, these businesses do not have plans to go anywhere any time soon.
Between vaping and youth smoking – Dennis Gutierrez
Major international studies have found no evidence that the use of e-cigarettes and heated tobacco products (HTPs) are leading non-smokers and the youth into cigarette smoking in countries such as the United States, the United Kingdom, Australia, Japan, France, and Switzerland.

Results of these studies are timely given the enactment into law of Republic Act No. 11900 or the Vaporized Nicotine and Non-Nicotine Products Regulation Act in the Philippines that regulates the importation, manufacture, sale, packaging, distribution, use, and communication of vaping products such as e-cigarettes and HTPs.
Shows Antitrust at its Worst – Ryan Young
Earlier this week, the Federal Trade Commission (FTC) held a public hearing about a seemingly resolved antitrust case about the vaping market. In 2018, Altria bought a 35 percent minority stake in vape manufacturer Juul, and soon after took its own money-losing vaping products off the market. The FTC thought this timing was suspicious and sued on antitrust grounds in 2020. The case was resolved in February of this year, and the FTC lost.

As Jessica Melugin and I wrote recently in National Review, that would usually be the end of the matter. But this case was not tried in a standard court, as outlined in Article III of the U.S. Constitution. This case was tried in the FTC's in-house court. Nearly 30 agencies maintain these administrative courts.
---
A look back at how things have moved on or otherwise….
Jamie Hartmann-Boyce, Oxford Centre for Evidence-Based Medicine (CEBM)
When electronic cigarettes (e-cigarettes) first emerged, they became a popular way for people to quit smoking. But in 2019, a mysterious lung condition emerged that primarily affected young people, particularly those who vaped. This left many questioning the safety of e-cigarettes.
Hank Campbell, Science 2.0
In 2021, it is vital that the public trusts epidemiologists when it comes to disease transmission. The cultural obstacle is that epidemiology is such a large field, much of it populated by woo. Osteopaths hurt their own reputations by not demanding that hucksters like Joe Mercola have his license revoked, while epidemiologists who want to be trusted guides now need to recognize they have to overcome suspect claims about some new fad food linked to increasing longevity, trace chemicals linked to changes in hormones, and that particulate matter so small it takes an electron microscope to see it is linked to early deaths.
---
Visit Nicotine Science & Policy for more News from around the World

---