Vapers Digest 14th September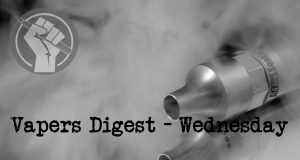 Wednesday's News at a glance:
Nicotine: the drug too stigmatized even for Portland ~ Oldham GP calls on vaping industry to end smoking in pregnancy ~ GEG Bill should be based on scientific evidence, says FPMPAM ~ 3 Thai police suspended for soliciting bribes in e-cigarettes case ~ Kiwi Doc Association Side-Tracked ~ ASH School Guidance ~ Survey Confirms Flavours Matter ~ Why does YouTube hate on Harm Reduction? ~ Time to send the EU's irresponsible anti-vaping regulations up in smoke ~ Expert Smokefree Submissions Deliver Answers – AVCA ~ The end of vaping in the Netherlands? ~ FDA Targets Unauthorized Vapes With Lawsuit Threats, Destruction Orders ~ Calls for better regulation of vapes as black market booms ~ Jury Orders RJR to Pay Altria $95 Million in Vuse Alto Patent Dispute ~ Extracting Juul Settlement Is About the Money, Not the Truth ~ Prohibition is a bad way to deal with flavored tobacco ~ Colorado Youth Tobacco And Vape Use Is At Record Lows, Despite Lawmakers' Persistence In Banning Flavors
Imogen Clyde-Smith, The Oldham Times
Dr Anita Sharma from South Chadderton, who has been awarded the Most Supportive Public Health Professional by the UK Vaping Industry Association (UKVIA), is urging the vaping industry to encourage pregnant women to quit smoking. She said: "Responsible vaping has proved an effective method of helping smokers quit the habit, which is why the NHS recommends it as an alternative to cigarettes.
Dr Steven Chow, New Straight Times, NST Business
The Federation of Private Medical Practitioners Associations Malaysia (FPMPAM) today renewed its call to the Ministry of Health (MoH) to consider the science of harm reduction before rushing ahead with the generation endgame(GEG).

FPMPAM president Dr Steven Chow said there are many credible studies with supporting evidence for harm reduction.
---
Even researchers who I consider to be biased nicotine/tobacco #HarmReduction skeptics…

…agree that nicotine vapes ("e-cigarettes") are far far safer than cigarettes.

DISCUSShttps://t.co/Tt7CQKVp5n pic.twitter.com/NFTe6ZEPhl

— Charles A. Gardner, PhD (@ChaunceyGardner) September 14, 2022
---
Innco
Hi Dear Friends,

It's always a pleasure to greet you. We kindly remind you about the survey forwarded by Charles Gardner, in case you haven't got the chance to fill it out. We really need more responses.

If you haven't got the chance yet, we encourage you to read our latest article on Medium, "Letter to Gabriel" which is a letter sent by Charles Gardner, PhD. to someone who questioned his methods related to smoking cessation. If it sounds interesting to you, please check it out.
---
THREE from Dave Cross, Planet of the Vapes
The Royal New Zealand College of General Practitioners (RNZCGP) got completely side-tracked when presenting to Parliament's Health Select Committee on the smokefree bill, says Nancy Loucas co-founder of the Aotearoa Vapers Community Advocacy (AVCA).
Action on Smoking and Health, a health charity working to eliminate the harm caused by tobacco use, has released vaping guidance for schools. The release has come about in response to requests for help and delivers national guidance for schools, to support staff in developing their policies around electronic cigarettes.
A survey conducted by the World Vapers' Alliance (WVA) among its members found that 97% of respondents prefer vaping flavours or a combination of flavours and tobacco taste. Additionally, higher taxation would push almost a third of vapers to the black market. The WVA urges politicians to listen to consumers and avoid regulations and bans, creating a public health disaster.
---

---
Allison Boughner, World Vapers' Alliance
Lately, more and more reports are coming in of strikes, removals and other restrictions that are being handed out left and right to YouTubers that promote tobacco harm reduction. Nick Green tweets that they are even going back as far as 2009 on his channel, affecting over 150 of his videos.

So what gives?
Martin Cullip, CAPX
Ever since the Brexit referendum result, ministers have promised us a long overdue 'bonfire' of EU regulation. One area where this is desperately needed is the approach to tobacco harm reduction. The Government has committed to the goal of Smokefree 2030, meaning smoking prevalence of 5% or lower nationally. To stand a chance at achieving that the UK must get rid of nonsensical EU regulations that are damaging public health – and quickly.
Aotearoa Vapers Community Advocacy, Scoop
"We are relying heavily on MPs to read and act on the valuable submissions to Parliament's Health Select Committee which provide expert and practical solutions to help New Zealand achieve Smokefree Aotearoa 2025," says Nancy Loucas co-founder of the Aotearoa Vapers Community Advocacy (AVCA).
European Tobacco Harm Reduction Advocates
The Dutch Government has opened a public consultation on the final stage of its flavour ban by proposing an amendment to the Tobacco and Smoking Products Order. The consultation will run until 28 September and can be accessed here: https://www.internetconsultatie.nl/smaakjesverbod

Unlike previous flavour ban proposals that we've seen, this one seems to go a step further. The National Institute for Public Health and Environment (RIVM) and Ministry of Health have set out a list of 16 'approved' substances which can be used to make tobacco flavoured e-liquids.
---

---
Alex Norcia, Filter Magazine
On September 6, Brian King, the relatively new director of the Food and Drug Administration's Center for Tobacco Products (CTP), would not say in an interview with Politico whether the agency was willing to take unauthorized vaping products off the market. It was the first time that King had granted a media interview since beginning the role in early July. Though everybody was eager to hear what he'd divulge, they all likely ended up disappointed. He said that he was "committing to explore all viable pathways that are legally and scientifically defensible," adding that "nothing is off the table."
Emily Feszczuk, The Western Weekender
Jim McDonald, Vaping 360
A federal jury in North Carolina last week awarded Altria Group $95 million in damages from rival RJ Reynolds Vapor Co. after finding that Reynolds infringed on three Altria patents. The disputed patents concerned the pod-based Vuse Alto—currently the most popular vaping product in the convenience store/gas station segment of the vaping market.
---
Helen Redmond, Filter Magazine
Juul is back in the news, this time for tentatively agreeing to pay a whopping $438.5 million in a multistate agreement to settle numerous allegations (without admitting wrongdoing) related to youth vaping. The money is to be paid out over a period of six to 10 years.
William Shughart, Josh T. Smith, The Orange County Register
On November 8, 2022, Californians will be able to vote up or down a law prohibiting the sale of flavored tobacco products statewide. The referendum, Proposition 31, would undo Senate Bill 793, a 2020 law that bans the sale of many flavored tobacco products but has yet to go into effect. The prohibited products are vapes, menthol cigarettes, and of special note, fruity and sweet flavorings like sour apple and gummy bear.

Californians will be better off without the ban, which disproportionately affects the vaping market. It does more harm than good by pushing users toward unflavored tobacco products, typically cigarettes. Tobacco policy should focus on harm reduction—and vaping is less harmful than smoking.
Lindsey Stroud, Independent Women's Forum
Youth tobacco and vapor product use continues to decline in the Centennial State, according to results from the 2021 Healthy Kids Colorado Survey (HKCS).

In 2021, only 30.4% of high school students reported ever using an e-cigarette and only 16.1% reported current use, defined as having vaped on at least one occasion in the 30 days prior to the survey. Since 2019, ever use of e-cigarettes has declined by 33.8% and current use has declined by 37.8%.
Dave Cross, Planet Of The Vapes
The United Kingdom's independent Committee on Toxicity of Chemicals in Food, Consumer Products and the Environment (COT) looked at electronic nicotine and non-nicotine delivery systems and found vaping products "are likely to reduce the harm to health if used as a replacement for conventional cigarettes".

The COT is a committee of independent experts that provides advice to the Food Standards Agency, the Department of Health and Social Care and other government departments and agencies on matters concerning the toxicity of chemicals in food, consumer products and the environment.
---
Visit Nicotine Science & Policy for more News from around the World

---