Vapers Digest 18th August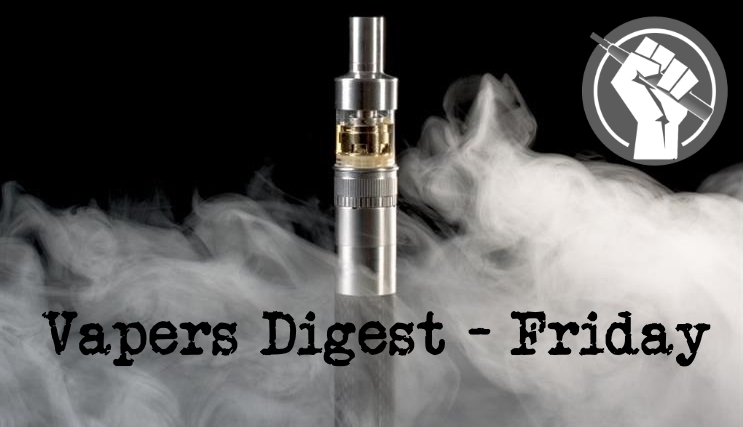 Friday's News at a glance:
Vapegoating e-cigarettes – More trouble in little Panama – Surge in Adult Vaping Underlines Our Harm Reduction Priorities – How to deal with the vaping in schools – Vaping Could Save NHS £500m – Excessive Regulation in Hungary – New Zealand: A Model for Success – GSTHR Paper Explains COP10 – Comparison of US and UK Physicians Advice on Nicotine and Vaping – The Hypocrisy of Anti-Thr Groups
Christopher Snowdon
A study published last year found that if you lie to people on Twitter, some of them will believe you. The researchers showed 2,400 smokers some tweets about vaping, most of which were categorically untrue, and found that those who were exposed to misinformation were more likely to have a poorer understanding of the risks of e-cigarettes than those who were exposed to accurate information.

So far, so unsurprising. What was remarkable was the level of ignorance displayed by nearly everyone, regardless of what tweets they were shown. Of the people who were told that vaping is as harmful or more harmful than smoking, only 29 per cent believed that e-cigarettes contain fewer toxins than cigarettes.
COPWatch
In June, Copwatch mentioned, in passing, that a series of nationwide protests and blockades had taken place in COP10 host country, Panama, recently. Cost-of-living concerns, mistrust of government officials, poverty, inequality and corruption have led to much discontent.

The upcoming arrival of 1200 delegates for the WHO's conference in November is not likely to lighten the mood. Panamanian news outlet, TVN Noticias, has broken a story on Instagram which must feel like a slap in the face for the country's struggling citizens.
---

---
Underlines Our Harm Reduction Priorities – Lindsey Stroud
While youth vaping continues to dominate news headlines, adults who use vapes have been sidelined. Unfortunately, the Centers for Disease Control and Prevention (CDC) has been less than transparent when providing data on adult vaping in the United States. But recently, the agency did provide updated numbers, and these indicate that adult nicotine vaping is fast increasing.

The good news—the news that should dominate headlines—is that increases in adult vaping correlate with significant decreases in smoking.
---
---
Colin Mendelsohn
THE MEDIA IS AWASH with alarming reports of kids vaping in classrooms and toilets at schools. Understandably this has created great concern among parents and teachers.

Schools do not have the resources to police vaping and the current punitive strategies of bans, suspensions, vape detectors and toilet raids are not working. We need a fresh approach which acknowledges the reality that kids will vape, whether we like it or not.

This is my 7-point plan for teachers and school staff to deal with school vaping

Five from Dave Cross, Planet of the Vapes:
A new study from Brunel University London says that encouraging smokers to switch to vaping could help save the NHS a whopping £500 million per year. The team says that smoking remains a huge drain on NHS resources despite the harmful effects of tobacco smoking being well known.

Despite the widespread knowledge about the harmful effects of tobacco smoking, tobacco use remains the single biggest cause of preventable illness and premature deaths in England.
The World Vapers' Alliance (WVA), "a leading global vaping consumer advocacy group", has expressed its deep reservations over the Hungarian Government's draft Decree which aims to amend the current regulation of nicotine pouches and vaping. The proposed regulations, if enacted, would introduce restrictions that may hinder access to safer alternatives for smokers and harm reduction options.

Commenting on the Hungarian proposals, Michael Landl, Director of the World Vapers' Alliance, said: "While it's important to ensure the safety and proper labelling of nicotine products, it's equally crucial to avoid excessive regulation that could impede the availability of harm reduction products for smokers looking to transition away from combustible cigarettes."
New Zealand leads the way in tobacco control says the Coalition of Asia Pacific Tobacco Harm Reduction Advocates (CAPHRA), calling the country "a model for success". The announcement comes following the recent release of the New Zealand Health Survey 2021/22 which provided a clear snapshot of the nation's health, including significant progress in tobacco control.

The New Zealand Health Survey reveals a remarkable decrease in the prevalence of current smokers, from 13.7% in 2019/20 to 10.9% in 2020/21, and further down to an impressive 9.2% in 2021/22.
The Global State of Tobacco Harm Reduction project (GSTHR) is reminding harm reduction advocates and vapers that it has produced a detailed Briefing Paper covering the World Health Organization's (WHO) Framework Convention on Tobacco Control (FCTC) and the Conference of the Parties (COP). The FCTC COP10 is taking place in Panama City from 20 – 25 November.

In short, the FCTC is an agreement between countries on how to tackle tobacco related issues and the COP is the conference where they come together for a jolly.
Trade body The UK Vaping Industry Association (UKVIA) has welcomed Brunel University London's latest study showing that switching smokers to vaping can save the NHS £500 million. UKVIA says the findings echoes a UKVIA report on vaping's NHS money saving potential.

UKVIA says: "The findings closely echo the findings of the first economic impact assessment of the UK vaping industry which was carried out by the Centre for Economics and Business Research (Cebr) on behalf of the UKVIA and published in January."
---

---
Study of e-cigarette use and respiratory symptoms in adolescents and young adults
Dr Lion Shahab, Professor of Health Psychology, University College London, said:

"This longitudinal study following adolescents and young adults across four years finds an association of past 30-day cigarette use with shortness of breath, wheezing and bronchitic symptoms. This study took care to undertake some sensitivity analyses to assess the robustness of findings. While these results highlight the need to continue monitoring the health effects of e-cigarette use and point at potential respiratory effects, it is important to consider some limitations of this study."

On Nicotine and Vaping – Roger Bate
In 2020, an academic paper suggested that more than 80% of U.S. physicians mistakenly thought that nicotine was a carcinogen. The implication of this finding was that perhaps physicians thought vaping (and even nicotine-replacement therapy) to be almost as dangerous as smoking. But physicians are busy people and I suggest that some, maybe most, might have misunderstood the question in the survey and assumed the researchers were asking about smoking.

To test this hypothesis, I surveyed physicians to learn more about their actual knowledge and opinion. Additionally, the UK government is more supportive of vaping and other nontraditional nicotine-replacement therapies than U.S. government, so a comparison of UK and U.S. physicians was undertaken to see if government policy and advice affects physician knowledge and opinion
Allison Boughner
PAVE (Parents Against Vaping) is known for its prohibitionist views and constant exaggerations of youth vaping. If you look at their Twitter page, you will see tons of posts and praise to lawmakers for the "takedown of tobacco", aka prohibition of harm-reduction products that adults use and depend on to stay smoke-free.

And while we all agree that youth should not illegally obtain and use these products, the adults being stripped of their right to vape is never mentioned.
---
A look back at how things have moved on or otherwise….
On the NHS could help entrenched smokers quit
Giving out vape starter kit vouchers on the NHS could help even hardened smokers quit, according to a new study from the University of East Anglia.

Researchers worked with GPs and the NHS stop smoking service, which is commissioned locally by Public Health at Norfolk County Council, to set up a pilot vape shop voucher scheme to help patients who had tried and failed to quit smoking in the past.

An evaluation of the scheme, funded by Norfolk County Council, showed it was a big success – with 42% of the entrenched smokers who were referred to it and redeemed their vape voucher having quit within a month.
Martin Cullip | The Taxpayers Protection Alliance
This week, the Food and Drug Administration (FDA) launched a new initiative designed to tackle "the growing spread of rumors, misinformation and disinformation about science, medicine, and the FDA." Describing this move as "rumor control," it is primarily aimed at myths and false information about COVID-19 vaccines, but in the tobacco and nicotine policy area, the FDA itself has been guilty of providing very damaging misinformation of its own.

Announcing the initiative, FDA Commissioner Dr. Robert Califf declared that the "distortions and half-truths of misinformation and disinformation pose enormous dangers to the effectiveness of science and to public health itself, through the negative impact it has on individual behavior." And he promised to make "combating misinformation one of [his] priorities."
---
Visit Nicotine Science & Policy for more News from around the World

---