Vapers Digest 16th August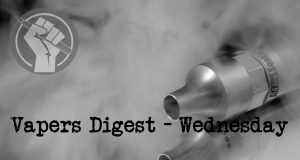 Wednesday's News at a glance:
A Missed Opportunity for Effective Youth Protection ~ Many adults who smoke cigarettes wrongly think that vaping is worse for them, say Hollings researcher and FDA Center for Tobacco Products director ~ The government is right to be concerned about youth vaping, but it mustn't overreach ~ ~ Swap To Stop Research ~ Branding and Promotion Under Attack ~ Researchers fear a ban on e-cigarettes could hinder people from quitting smoking ~ FDA Tobacco Official Will Be New Truth Initiative CEO
World Vapers' Alliance (WVA)
Reports from Politico today indicate potential tighter regulations on vaping flavours within the European Union. MEPs and industry figures mentioned in the article support stricter rules on flavours to curb youth vaping. However, this approach faces criticism from consumers who fear limitations on choice, endangering the significant progress achieved in reducing smoking rates.

Non-tobacco flavours are widely used by vapers in the EU to move away from the taste of cigarettes, and research shows that their use can increase the odds of quitting by 230%. Restricting flavours will just drive many vapers to the black market or back to smoking.
Leslie Cantu, Medical University of South Carolina
There are no safe tobacco products. But different products have different levels of risk. Cigarettes and other smoked tobacco products are the most harmful, while products like e-cigarettes may be lower-risk alternatives for adults who already smoke.

Unfortunately, that message seems to have gotten twisted in the public's mind. A recent survey published in the journal Addiction found that only about 20% of the respondents thought that e-cigarettes had fewer harmful chemicals than cigarettes. This misperception even exists among some health care providers who may not realize where each product sits on the continuum of risk.

Related: Many adults who smoke cigarettes wrongly think that vaping is worse for them, say researcher, FDA director
Martin Cullip, 1828
Scaremongering around the "epidemic" of Youth Vaping has captured headlines and no doubt the inboxes of policymakers and politicians across the UK. Responding to this manufactured alarm, the Prime Minister is reportedly considering a disposable vape crackdown. While there are industry problems that do need to be addressed, the argument also needs balance, and there is a line at which government intervention should stop.

No one wants vapes in the hands of children but the furore about advertising should be put into some perspective. For the tobacco industry, it is simply not sound business to market directly to children. The latest Action on Smoking and Health (ASH) survey estimates that only 2.3 per cent of 11–17-year-olds who regularly vape never smoked.
---
Two From Dave Cross, Planet Of The Vapes
A recent study from the University of East Anglia (UEA) confirms that handing out free vape starter kits to smokers appeals to most of them – but not all. The government's 'Swap-to-Stop' scheme was announced earlier this year and aims to provide vape kits to one million disadvantaged smokers to help them quit their tobacco addiction.
The branding, promotion, and advertising of vape products is under attack once again from a member of Parliament. This time it is the turn of the British Labour Party MP, representing Dulwich and West Norwood, Helen Hayes and her Ten-Minute Rule Motion.
---

---
---

---
Jim McDonald, Vaping 360
In a move that will surprise no one, a high-ranking official from the FDA Center for Tobacco Products (CTP) will replace Robin Koval as president and CEO of the anti-nicotine organization Truth Initiative. Truth, a private non-profit company, already works closely with CTP and other government agencies.

Kathleen Crosby, the current director of the CTP Office of Health Communication and Education, will take over at Truth in October. Like outgoing CEO Koval, Crosby worked for years in the advertising industry before her stint at the FDA.
---
Visit Nicotine Science & Policy for more News from around the World

---